Want to put a little more fiesta in your summer? I have just the inspiration today by the way of mouthwatering Chipotle Lime Crusted Chicken Tenders. Not sure about you but the combination of chipotle and lime always make me say yes please.  These are perfect for any fun celebrations that you want to take to the next level. They only take 15 minutes to bake up in the oven.  Now, that makes me smile big time! Post Sponsored by Lunchbox. All opinions are 100% my own. Today, I'm sharing how Target is making that easier for all of us with Cartwheel offers on everything you need to host a fantastic fiesta.

Since we've moved across the country, I've been starved of friends and family. Luckily we get visits about every 6 weeks and boy to we take advantage by cramming it lot's of fun! My best friend and family promises to visit soon, they have a pretty big family and some of those little guys are picky.  I think this recipe will win them over, we shall see. My hubby and son both said this was the best chicken I've ever made. I try not to take that personally, lol. Isn't it funny how an amazing compliment can make you question the things you've done in the past or in this case all of the chicken I've ever made in my life.  Ha! I totally have Target to thank for this unbelievable recipe idea using a delicious Hellmann's Mayonnaise mixture for the base.  It took me just minutes to prepare, I had these ready in under 30 minutes! Ooh yeah!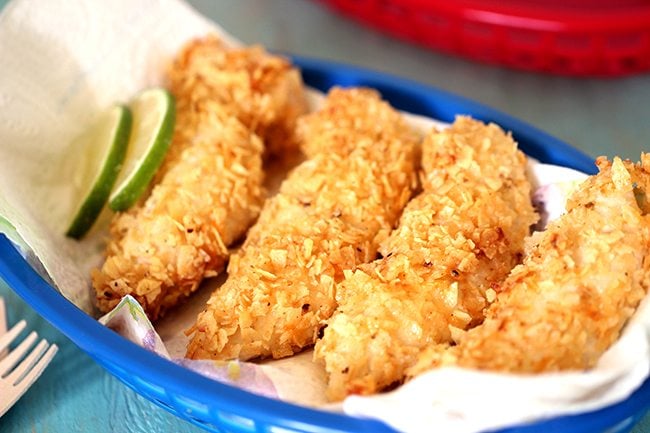 When you're hosting a part-tay, the last thing you want to do is serve up recipes that will take you away from your guests. In my opinion, it's all about simple, but delicious cuisine and lots of shortcuts. As long as the company is excellent, things will always be perfect.  That's where Target can come in.  Hopefully you're ahead of the game, but if not, no worries.  You have to check out their awesome additional mobile savings program called Cartwheel. There are some amazing savings that you'll want to get in on in order to save on all of your very own summer fiestas! More on that in a minute, let's get this recipe!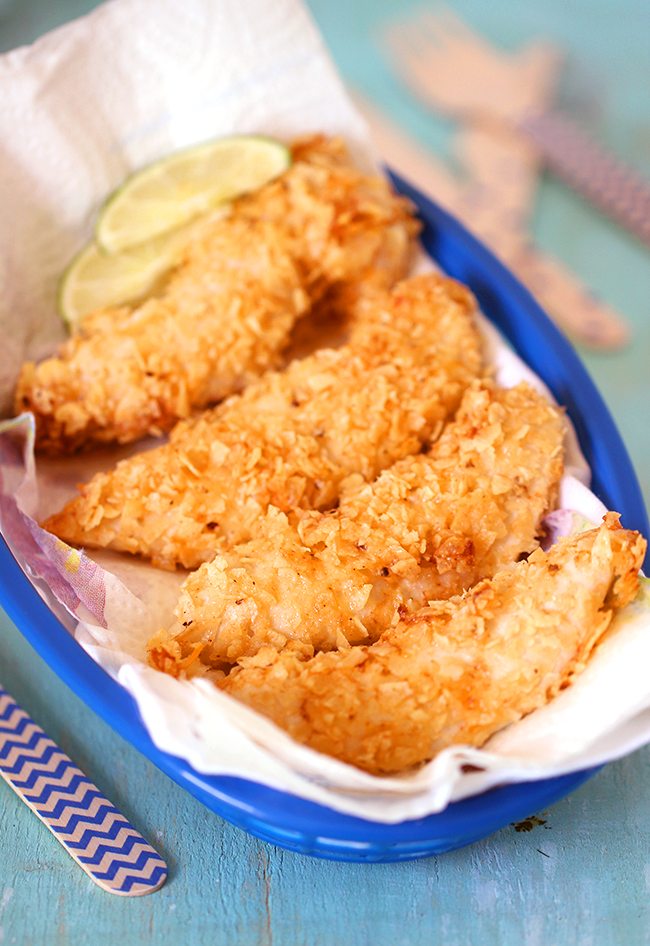 Chipotle Lime Crusted Chicken Tenders Recipe
The combination of Hellmann's Mayonnaise, lime juice, Monterrey Jack shredded cheese & chipotle chile pepper make the perfect base for this crushed tortilla crusted chicken. Mmm.

Chipotle Lime Crusted Chicken Tenders Recipe
Ingredients
2/3 cup Hellmann's® or Best Foods® Real Mayonnaise
1/3 cup finely shredded Monterey Jack cheese
1 Tbsp. lime juice
1/4 tsp. ground chipotle chile pepper
4 boneless, skinless chicken breast halves, cut into strips
1/2 cup crushed plain tortilla chips
Instructions
Preheat oven to 425°. Combine Hellmann's® or Best Foods® Real Mayonnaise, cheese, lime juice and ground chipotle in medium bowl. Stir chicken tenders into Mayonnaise mixture to coat all sides. Roll or toss tenders in tortilla crumbs, pressing crumbs into chicken. Arrange chicken on baking sheet sprayed with no-stick cooking spray. Bake until chicken is thoroughly cooked and tenders are crunchy, about 15 minutes.
7.8.1.2
163
https://cutefetti.com/chipolte-lime-crusted-chicken-tenders/
Fiesta Party Savings with Cartwheel
To start saving with Cartwheel with Target is simple, just get the app for your device.  It boils down to just "choosing" your savings, shopping, scan your device at checkout to save! Voila! Right now you can score awesome savings on these awesome products:
Add Hellmann's Savings
Add Knorr Recipe Mix Savings
Add Lipton Recipe Secrets Savings
Add ICBIN Savings
Add Country Crock Savings
Add Fruttare Savings
Are you planning any backyard BBQs, picnics or special summer girl;s get-togethers this summer? What are your favorite party supply items to buy at Target?