Piñata style waffle stack with pastel whipped cream on top and lots of sprinkles coming out of the center.
I'm obsessed with surprises! So, why not surprises for breakfast? Just say yes! Now, do you know what is even better than a surprise for breakfast? Sprinkles! Enter these fun piñata waffles!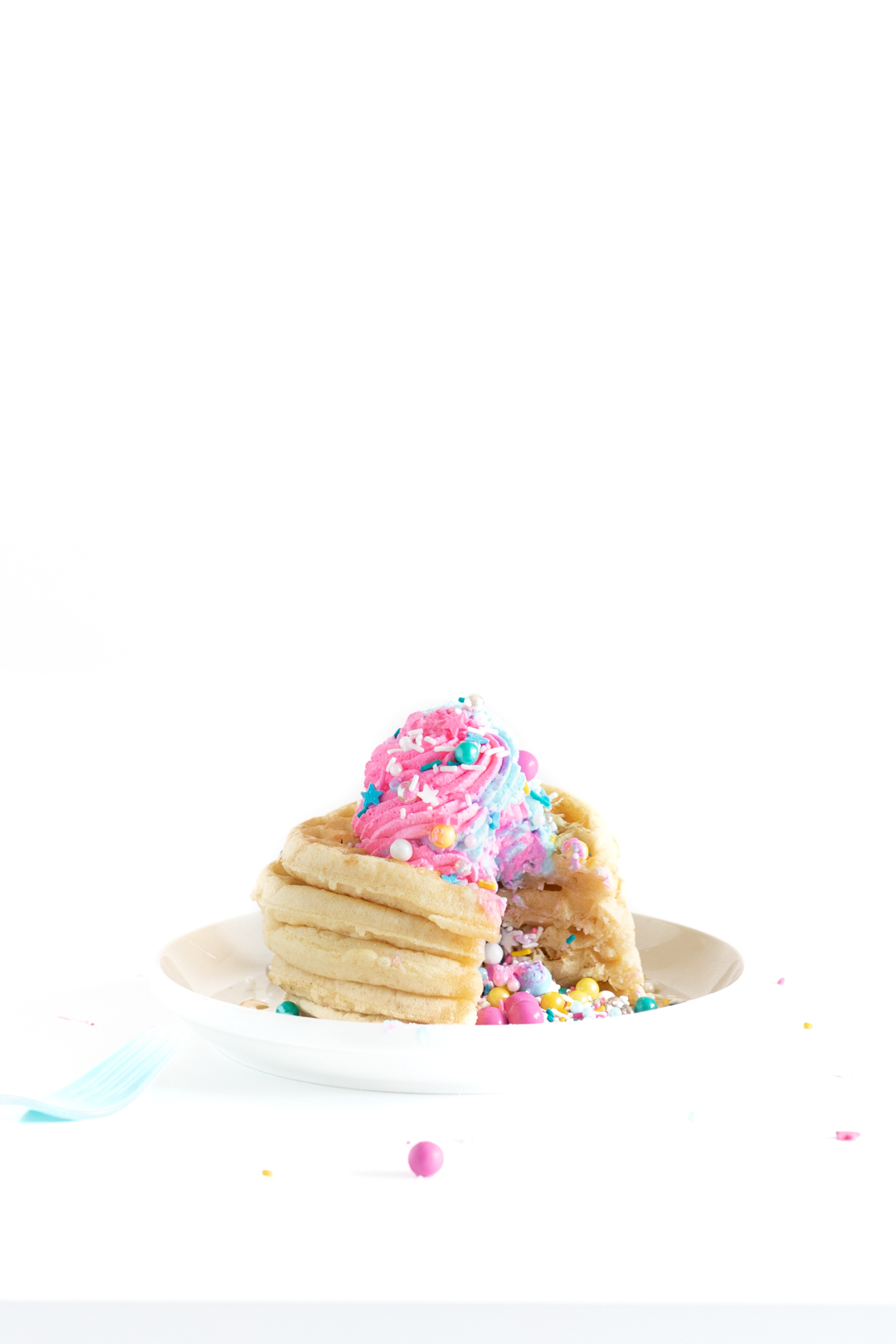 Let me show you this fun and extremely simple idea that will make any morning way more fun.
PINATA WAFFLES RECIPE
With just a handful of fun ingredients, you can make a special waffle breakfast presentation to make anybody's day better. You can even add a candle on top to make the perfect birthday breakfast, too!
With a simple stack of waffles, some sprinkles and perfectly colorful whipped cream, these piñata waffles will be an instant hit. These would also make the best breakfast for a sleepover!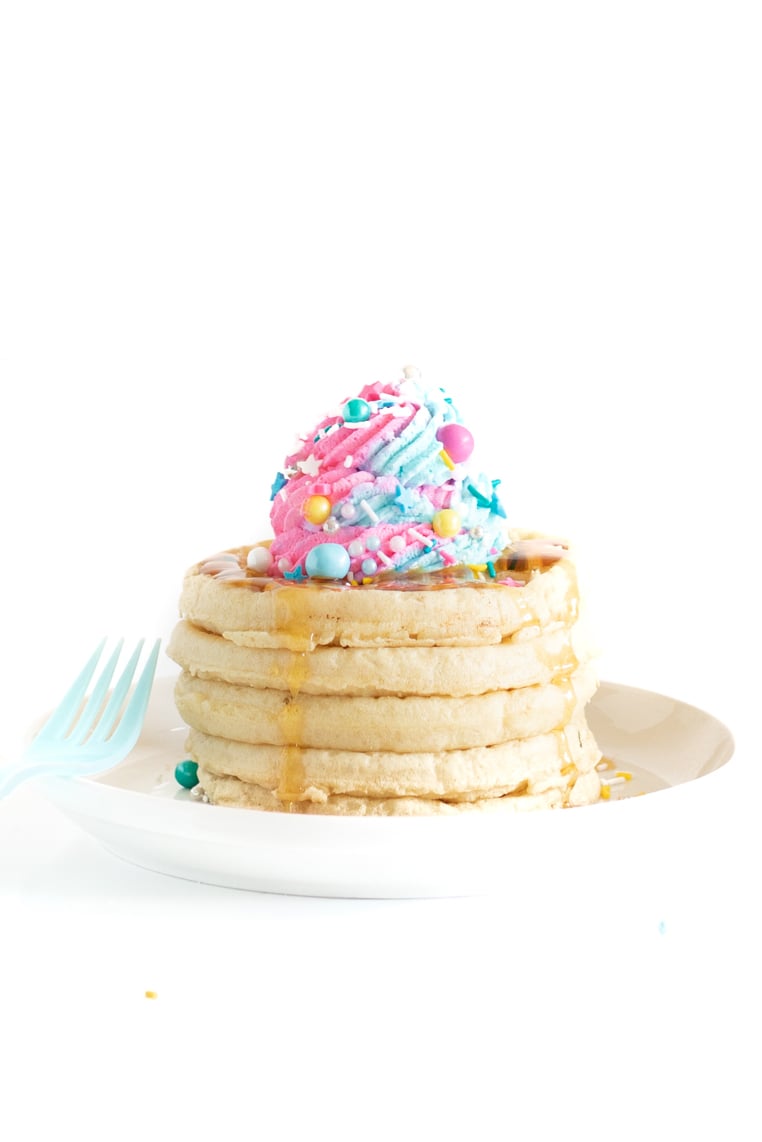 PINATA WAFFLES INGREDIENTS
FROZEN WAFFLES - you can use any kind of waffle you like for this as long as they are about the same size for the perfect stack. Store-bought waffles are typically symmetrical so they work really well for this fun idea.
SPRINKLES - This fun idea is all about the best sprinkles. This is the fun part. You get to choose your favorite sprinkle mix for this.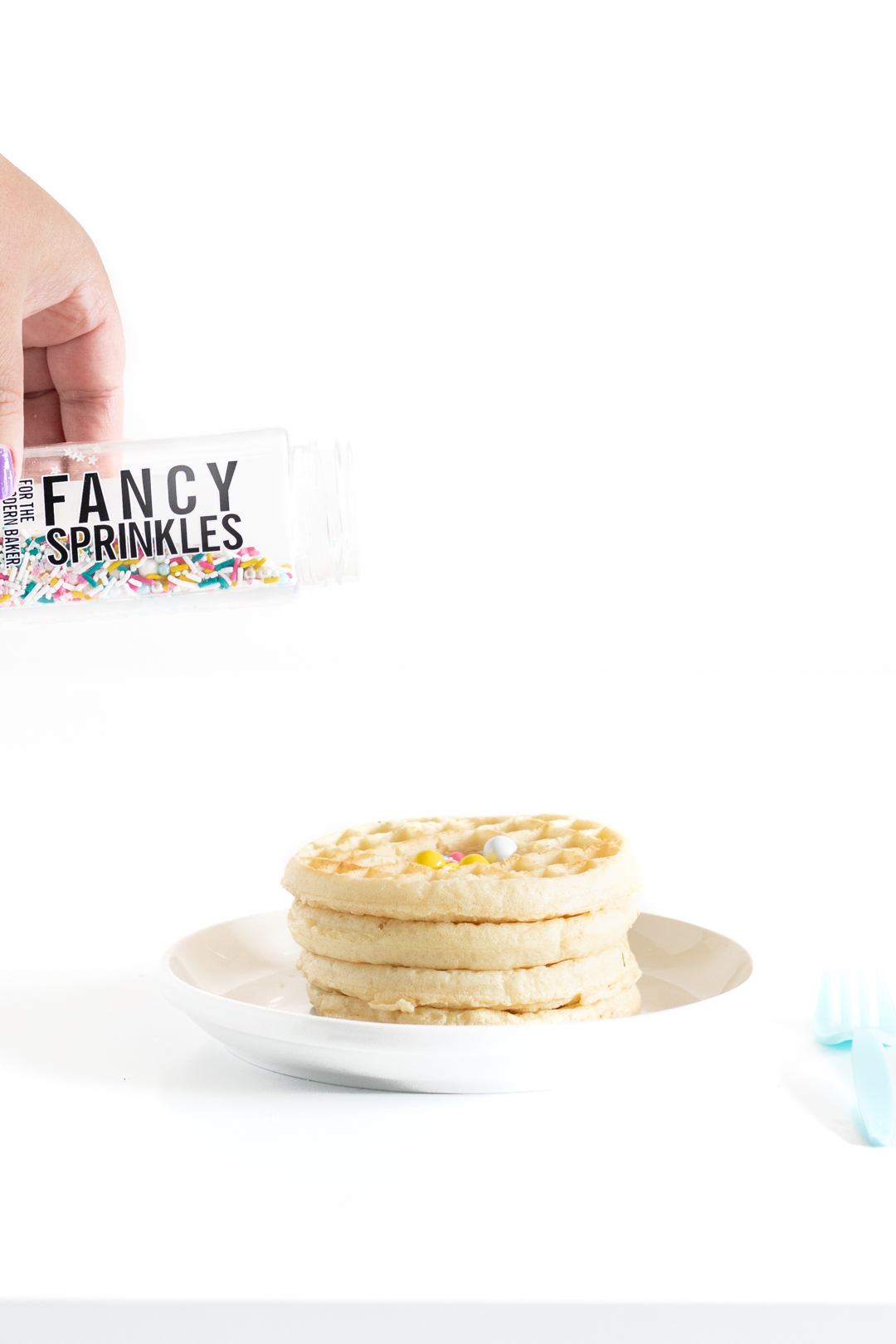 WHIPPED CREAM OR WHIPPED TOPPING - You can choose whichever you like. I used whipped cream for this one, but you can very easily do a store-bought whipped topping such as Cool Whip. Then we will add gel food coloring to make it extra exciting.
GEL FOOD COLORING - You can certainly choose your favorite colors and make them match your sprinkle mix. I chose blue and pink together and adore how it came out. Be sure to use gel coloring so that your whipped cream or topping does not become too watered down.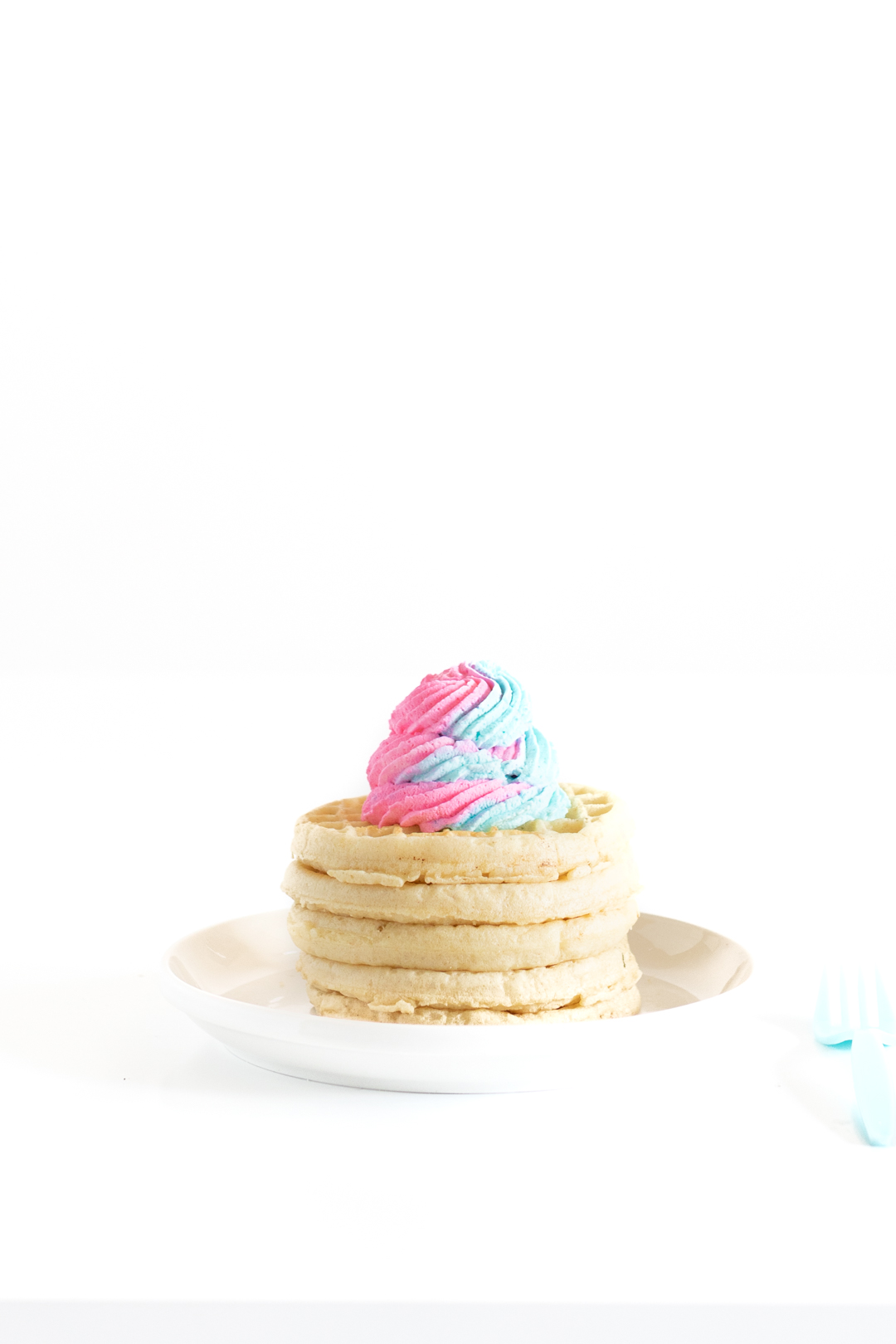 PINATA WAFFLES TOOLS
CIRCLE COOKIE CUTTER - We will use a small circle cookie cutter to hollow out the center of the three middle pancakes. You can use one as small or large as you like as long as it's not larger than the waffle of course. I used one that was under 1.5".
FRENCH TIP & ICING BAG - If you would like your waffle stack to be extra gorgeous, these are the tools I used to add the colorful whipped cream to the top of the waffle stack. If adding fancy toppings is not your style, you can always simply scoop your whipped topping on as you desire. Another shortcut that I have used for many years is the Wilton Dessert Decorator here. It doesn't have a french tip with it, but as a backup you can use the star tip to make a fancy decoration with whipped cream, whipped topping or frosting very easily.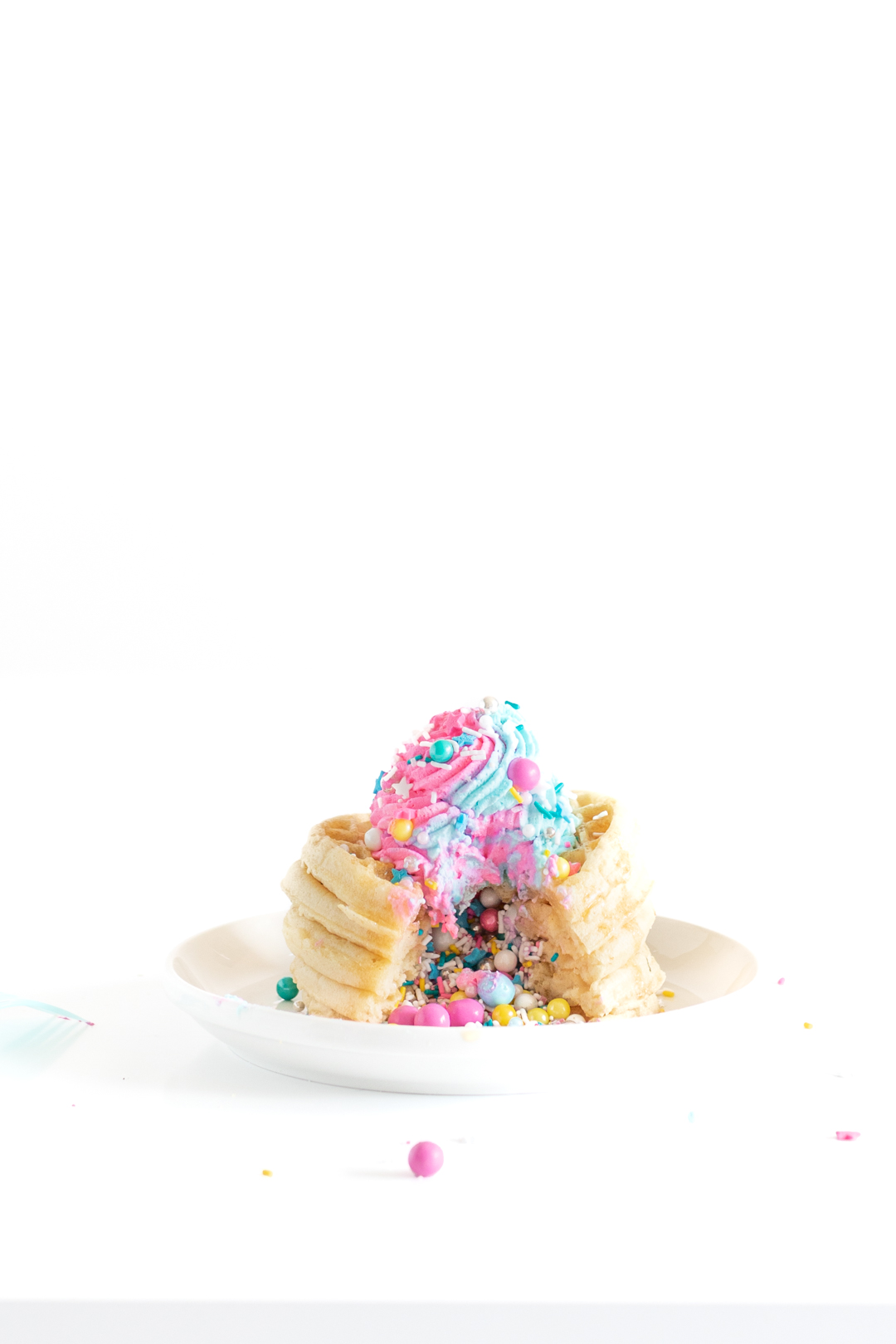 HOW TO MAKE PINATA WAFFLES
Take your toasted frozen waffles and use a cookie cutter to cut out the center of the middle three waffles.
Place one waffle onto your serving plate. Place the three middle waffles with the centers cut out on top.
Then, fill the hole with sprinkles all the way to the top.
Place your last waffle on top.
Voila, you now have piñata waffles!
To take your waffles to the next level, add a swirl of tinted whipped cream on top using a french tip.
Finally, add sprinkles and any additional toppings you like on top! Enjoy every single bite.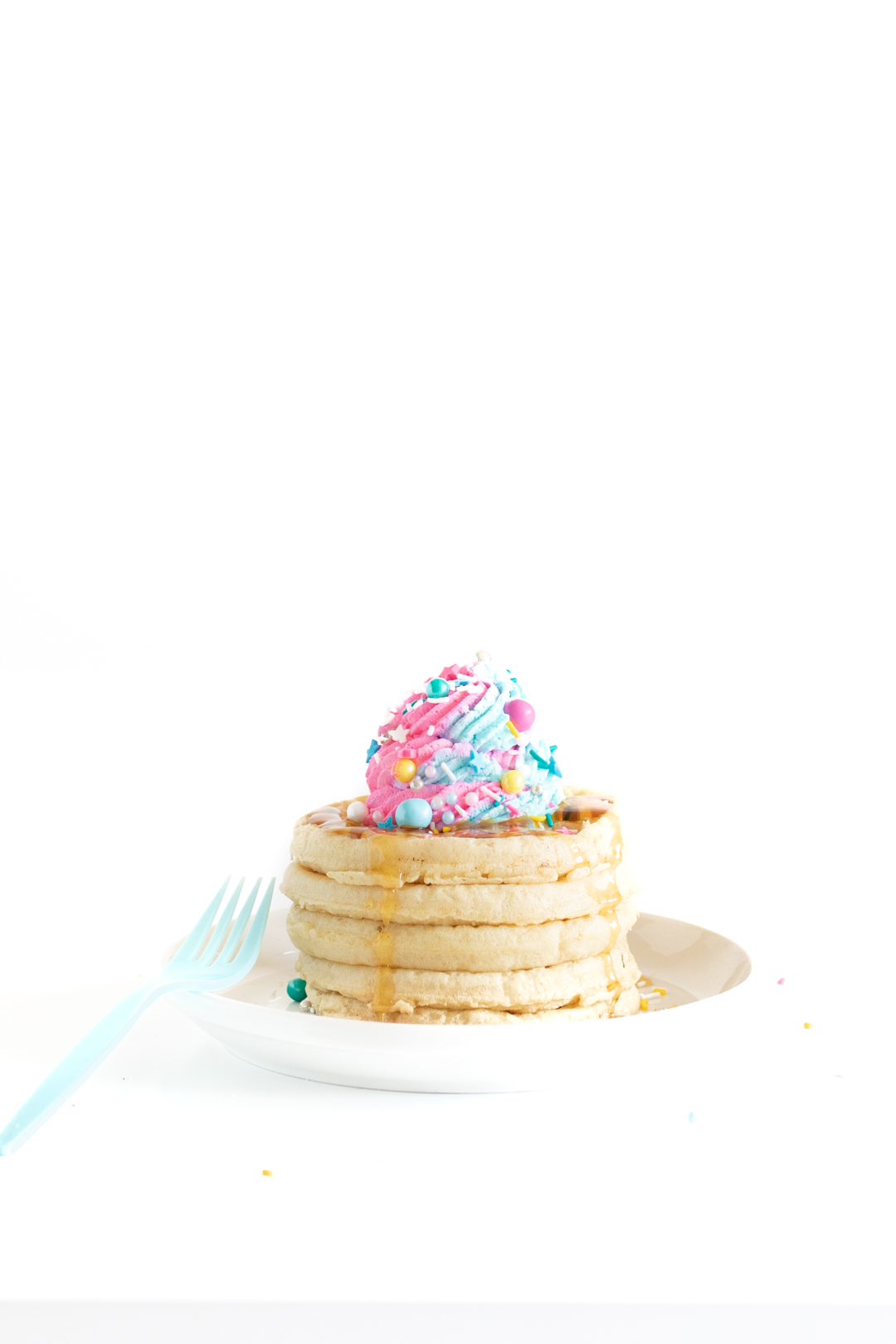 WAFFLE HOLIDAYS
You might be looking for special occasions to enjoy even more waffles. Here are all of the waffle related holidays you can celebrate.
National Waffle Day is on August 24
Galentine's Day on February 13
Oatmeal Nut Waffle Day is on March 11

International Waffle Day is on March 25
IDEAS WITH FROZEN WAFFLES
Make it a Frozen Movie morning with this themed waffle board for kids.
Busy mornings? See how to set up a toaster breakfast bar that your family will love.
How do waffles and football go together? These tasty waffle ideas will show you.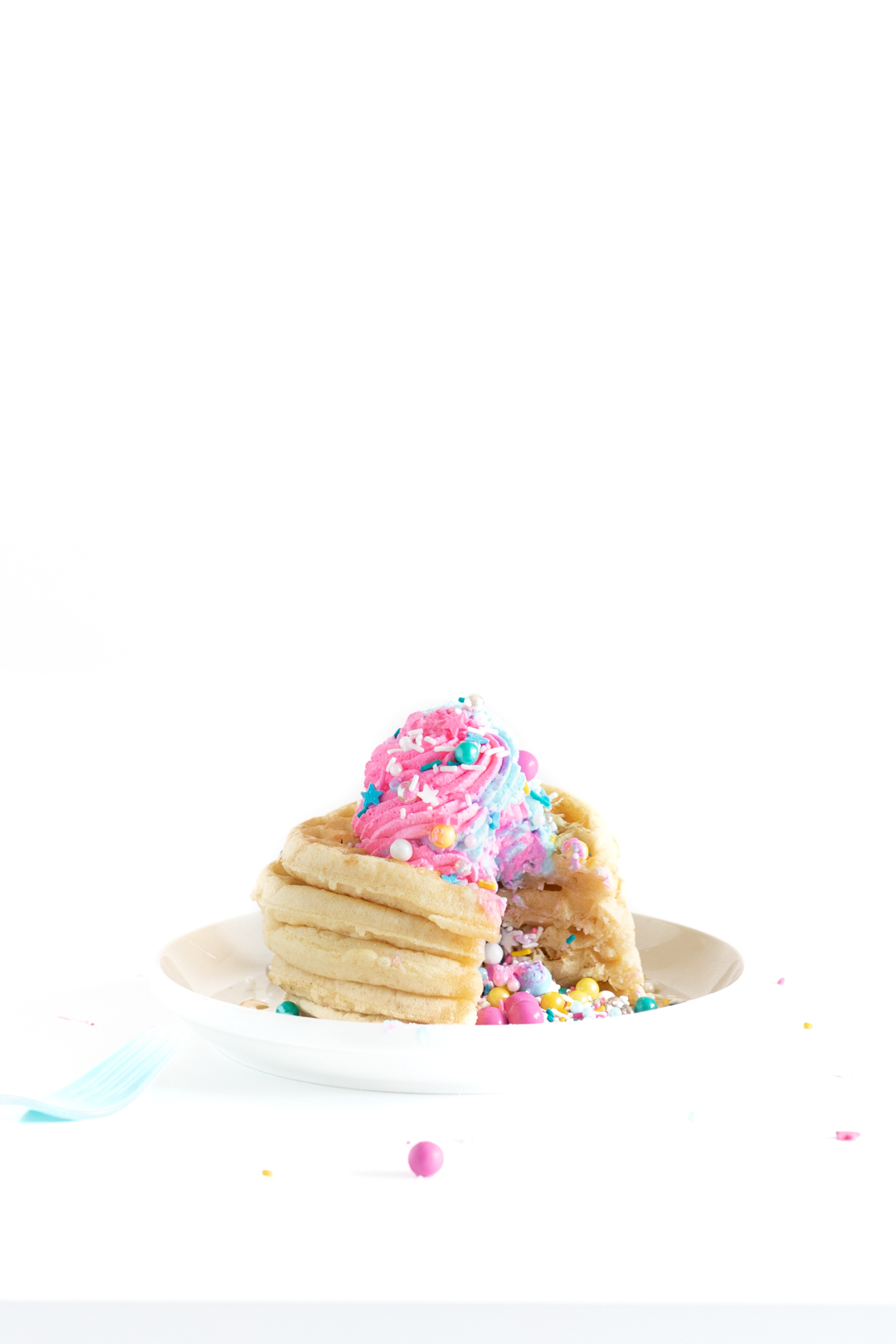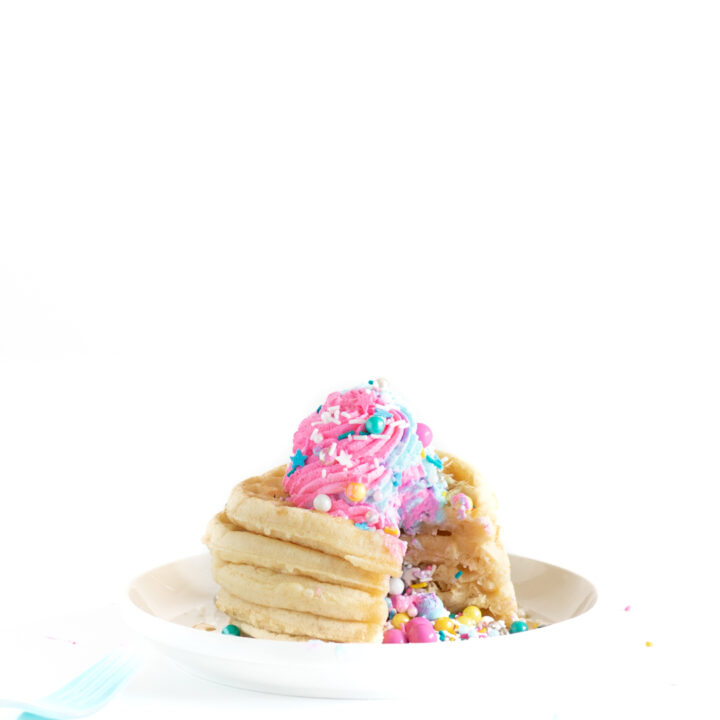 Piñata Waffles
Yield: 1

Prep Time: 10 minutes

Total Time: 10 minutes

Piñata style waffles using frozen waffles, sprinkles and a cookie cutter. Top with pastel swirled whipped cream for extra fun.
Ingredients
5 Frozen Waffles, Toasted
¾ Cup Whipped Cream or Whipped Topping
⅓ Cup Sprinkles of Choice
Pink Gel Food Color
Blue Gel Food Color
Tools: Small Circle Cookie Cutter, French Tip, Frosting Bag
Additional Topping Ideas: Maple Syrup, Butter, Powdered Sugar
Instructions
Divide Whipped Cream and place into small bowls. Add small amount of each food coloring and mix until completely blended. Add more gel color until you reach your desired tone.
Add both colors carefully into a piping bag starting with one color on the bottom and the other color on the top, trying to not touch the two.
Once they are both added, press the whipped cream carefully to the bottom of the frosting bag. Dispense the whipped cream until both colors are coming out evenly. Place the frosting bag aside.
Use a cookie cutter to make a whole in the center of 3 of your waffles.
On a serving plate, add one waffle. Then, stack the three waffles with the hole in the middle, making sure they are all stacked evenly.
Pour your sprinkles into the center of the waffle stack, filling it right to the top of the hole, but not overfilling.
Place the fifth and final pancake on top of the stack.
Pipe the whipped cream onto the center of the waffle stack. I like to swirl counter-clockwise while tapering up slightly. Do about three swirls, then stop pressing the piping bag and carefully pull away.
Add additional sprinkles if desired and other toppings you would like before serving.
If you enjoyed this idea, please share with a friend or two. I really appreciate your support. 🙂