This post is sponsored by the "Family Fiesta" promotion at Publix. The opinions and text are all mine.
Are you looking to make dinner more exciting? This fun Quesadilla Salad has all the fixings your family will love with none of the fuss. Using delicious shortcuts like El Monterey Quesadillas and inspired dressings from Primal Kitchen you'll have the makings of an amazing meal. Right now is the time to score extra savings available now in the Family Fiesta promotion at Publix!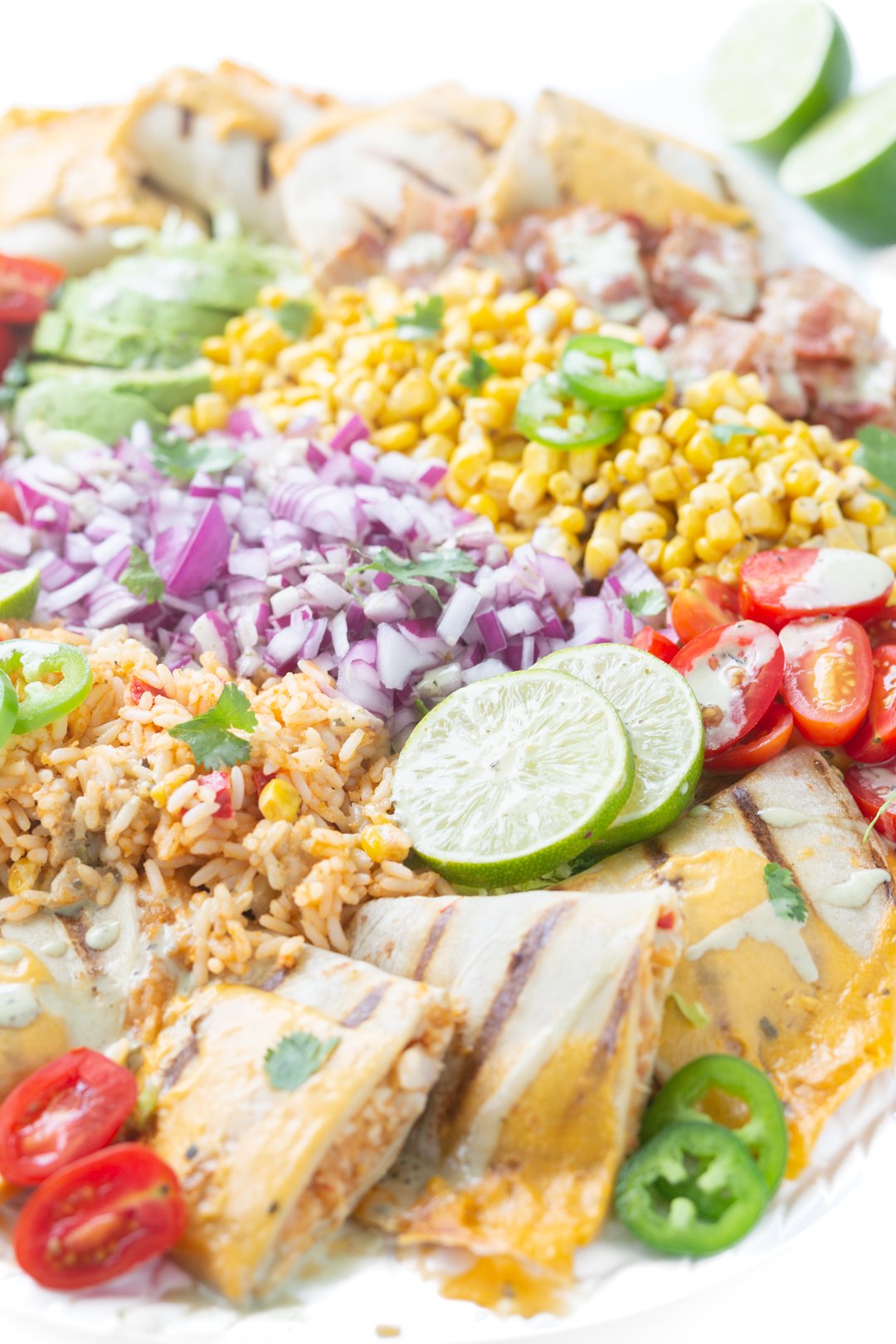 If you're like me, you love serving up amazing meals but just don't have the time to mastermind in the kitchen every night. That's where easy solutions like this come into play. Stock up on basic ingredients so that you'll be able to easily whip up a fun meal like this any night of the week. The best part is that this salad is very customizable, so you can use things you already have on hand to make it your own. As an added bonus, it's perfect for serving up your family because everyone can pick and choose the toppings they would like on their salad. Score.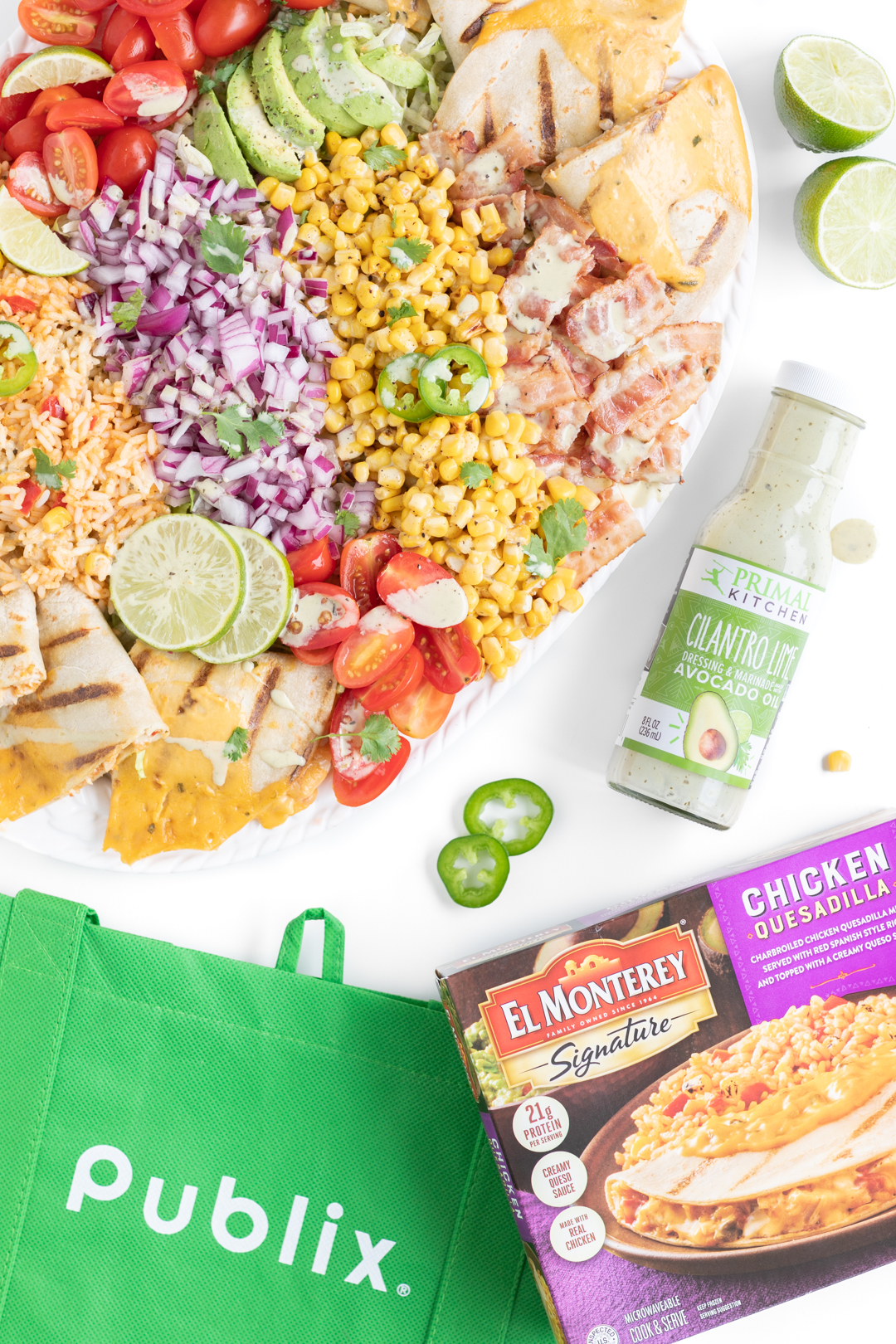 QUESADILLA SALAD RECIPE
You just need a handful of ingredients that are so easy to put together. You can easily swap out salad ingredients to make it your own and work with what you have on hand.
Before we chat about how to put this yummy salad together, let me tell you about the savings you can take advantage of right now. Visit Publix.com or grab the in-store 8/14 Extra Savings flyer in-store to see the complete list of product savings that are included in the Family Fiesta promotion. If you don't see it upon entering the store, just ask for one at customer service. While shopping, look for special signage that highlight offers in this promotion.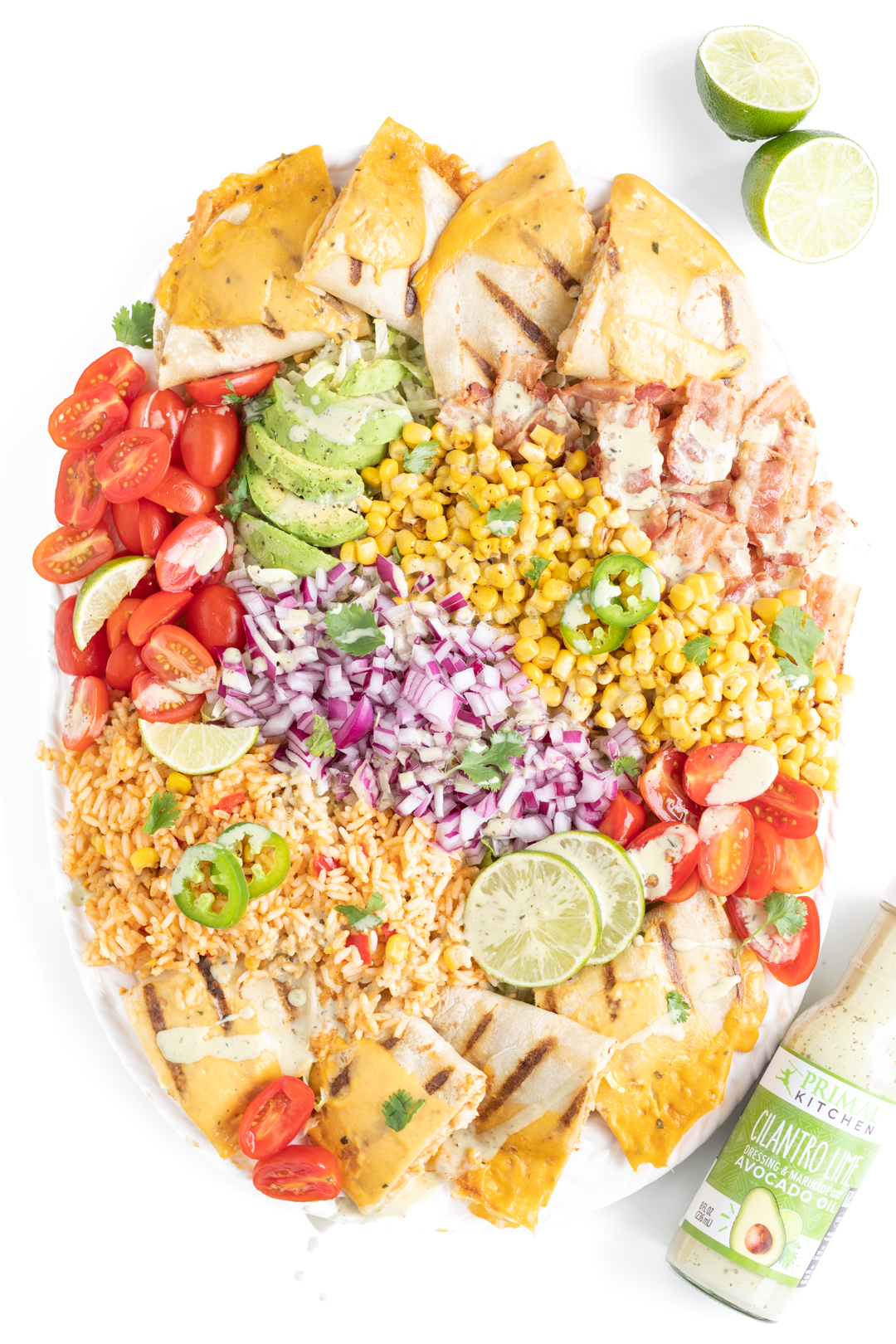 Shop now through 8/27 to stock up on these festive ingredients to turn a boring dinner into an easy celebration.
QUESADILLA SALAD INGREDIENTS
Quesadillas - the main star player in our quesadilla salad is El Monterey Chicken Quesadilla With Queso Sauce. Use one of these meals to make this salad per person you are serving.
Lettuce - I loved using shredded lettuce for this salad, but you can use any kind you like. Mix and match for fun.
Tomatoes - you can use any variety you like, but I love grape tomatoes for this. Slice them in half for a pretty addition to your salad.
Onions - my husband LOVES onions on almost anything. Adding sliced red onions to this was a must for us. You can use any variety of onions you prefer.
Avocado - sliced fresh avocado makes for a deliciously creamy addition. You could also opt for yours in guacamole form, too.
Corn - I love grilled, roasted or charred corn in a salad like this. To simplify things, I simply drain a can of corn and either broil it in the oven or char it in a frying pan.
Cheese - A sprinkle of cheese will take this quesadilla salad right over the top. Add one or a variety from shredded cheese like sharp cheddar or Mexican blend to crumbles of fresh creamy style cheese such as Queso fresco.
Bacon - makes for the perfect pop of flavor in this salad. To make preparation extra simple, purchase fully cooked bacon.
Rice - adding some well-seasoned rice will make this salad feel more hearty. Use the rice the from El Monterey Chicken Quesadilla With Queso Sauce meals for an easy salad ingredient.
Salad Dressing - I love to leave a family salad undressed. Then, I set out a variety of dressing options so that everyone can pick their favorites. Primal Kitchen Dressing & Marinade is the perfect option to add a unique pop of flavor. I love Cilantro and Lime, Green Goddess and Ranch to top a salad like this one.
Garnishes - are always optional, but they add a lot of fun and depth to a meal. For this recipe, I added on slices of lime, jalapeño slices and fresh cilantro as well.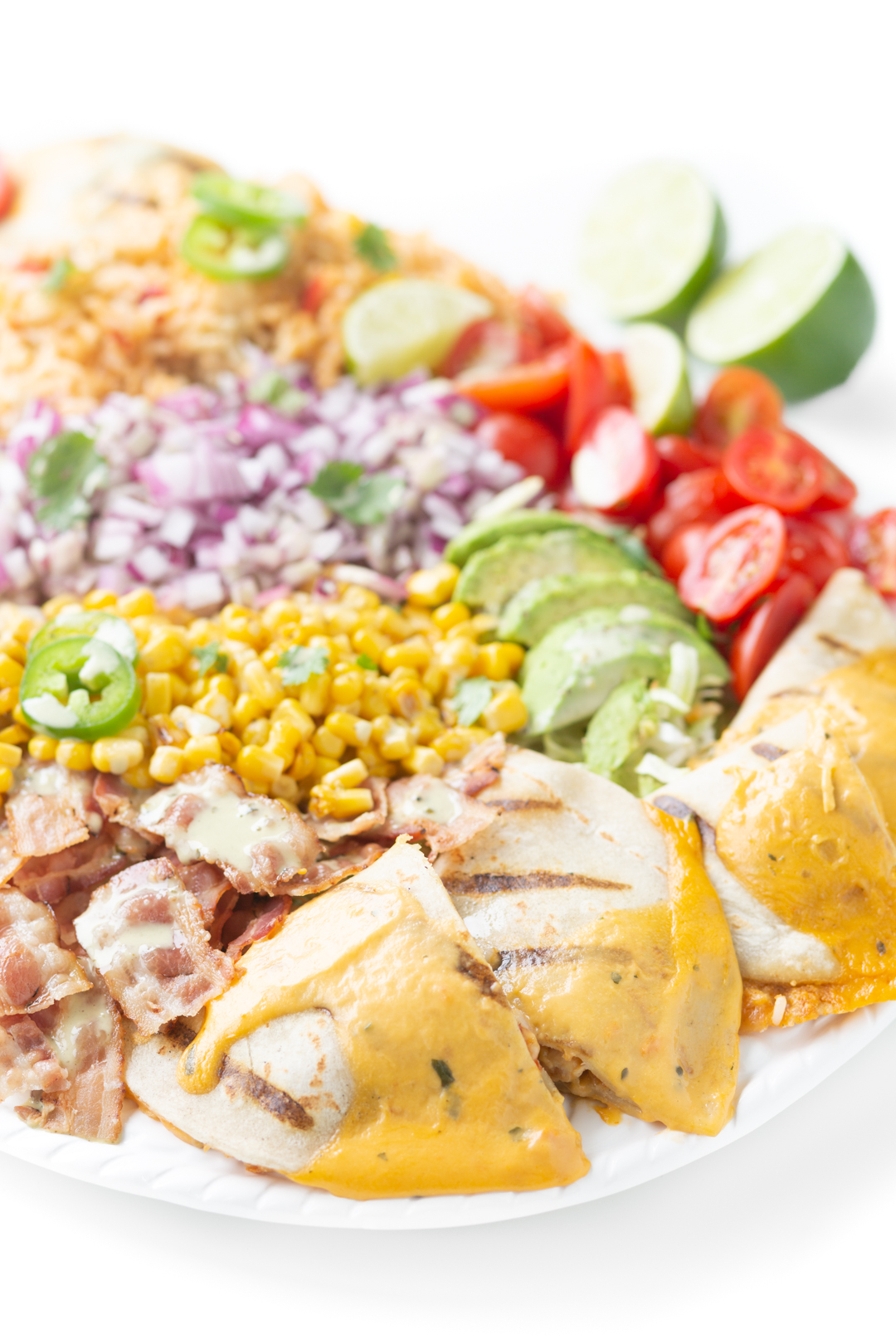 Once you have all of your ingredients, it's time to prepare this fun family salad.
HOW TO MAKE QUESADILLA SALAD
Grab a large serving tray or small baking sheet and get ready to layer on the very best ingredients. I'm getting hungry just thinking about it.
Before getting started, prepare all of the vegetables, cheeses and garnishes ahead of time. Getting the chopping and crumbling done beforehand will allow you to easily assemble this salad later.
Prepare your El Monterey Chicken Quesadilla With Queso Sauce according to package directions. Remove the quesadillas and cut them in half. Place them on the top and bottom of your salad or on the corners. Set rice aside.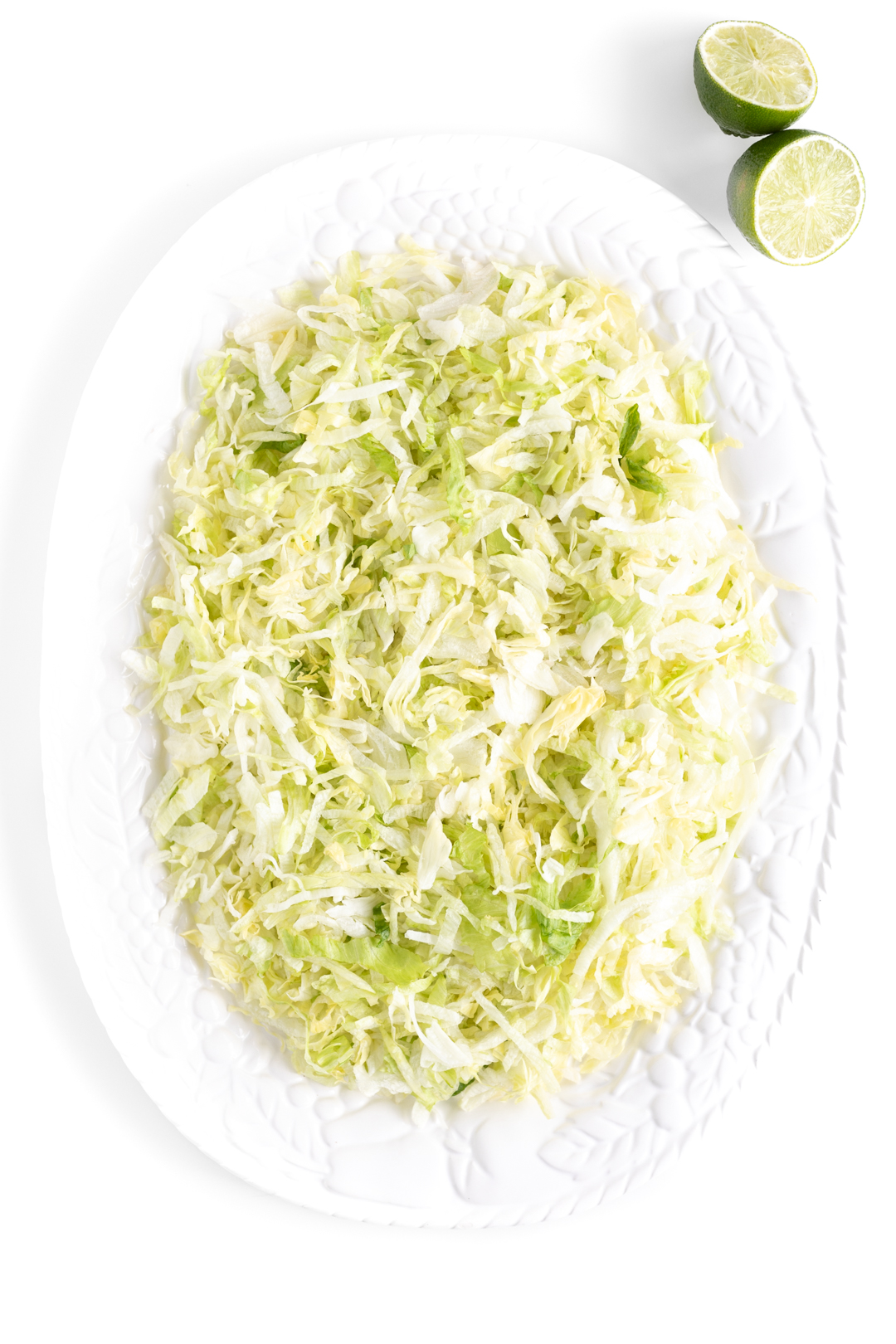 As those are warming, spread the shredded lettuce down on your serving tray.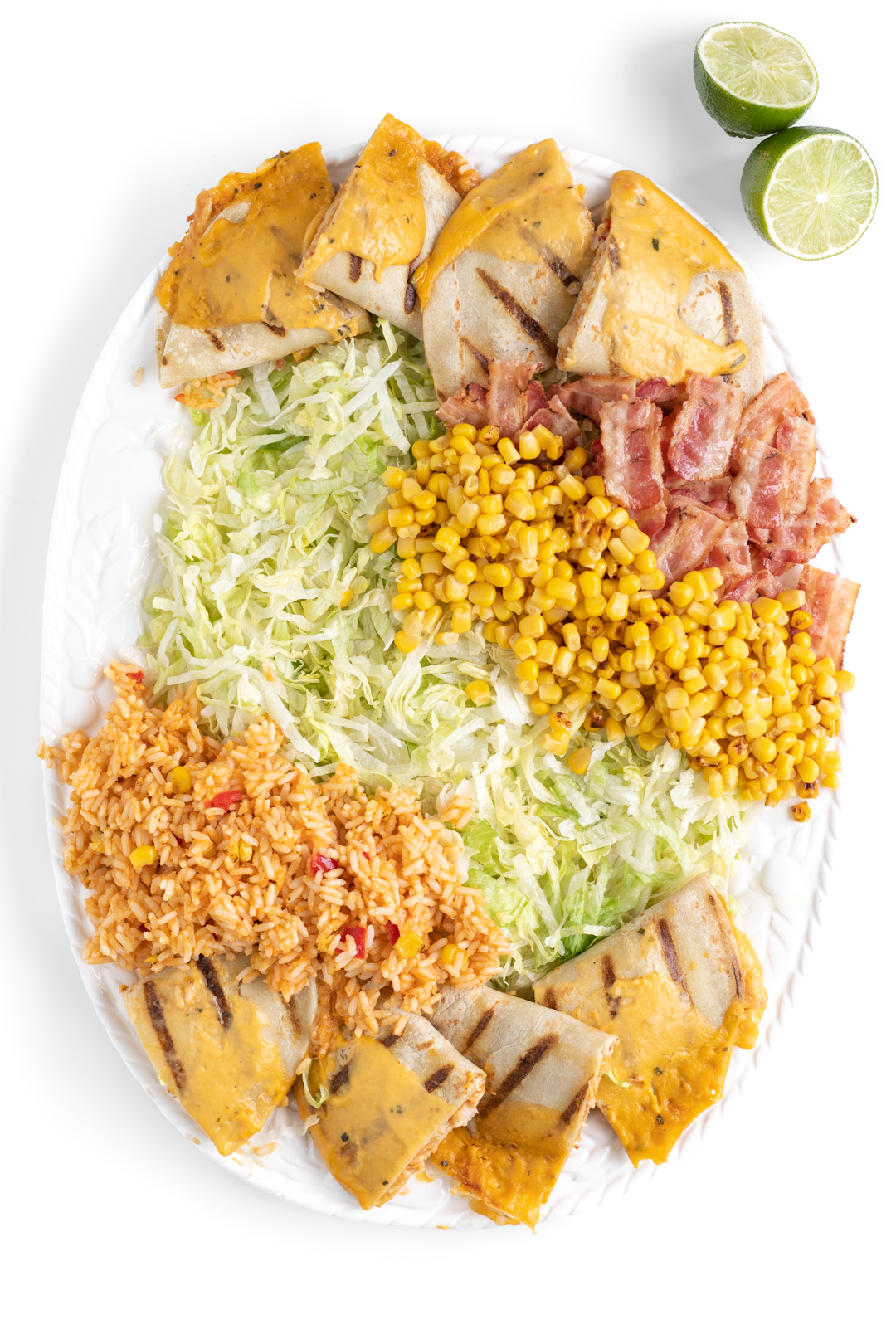 Then, decide if you want to go a little fancier with it like I did or just do more of a tossed salad. You can strategically set down each individual ingredient for an extra pretty presentation or just opt to toss them in a bowl before laying on top of the lettuce.
Place down all of your salad ingredients starting with the rice until they are all set loaded on. You can always wrap the salad and put it in the refrigerator for later before adding the warm elements. When you are ready to serve, it's time for the final touches.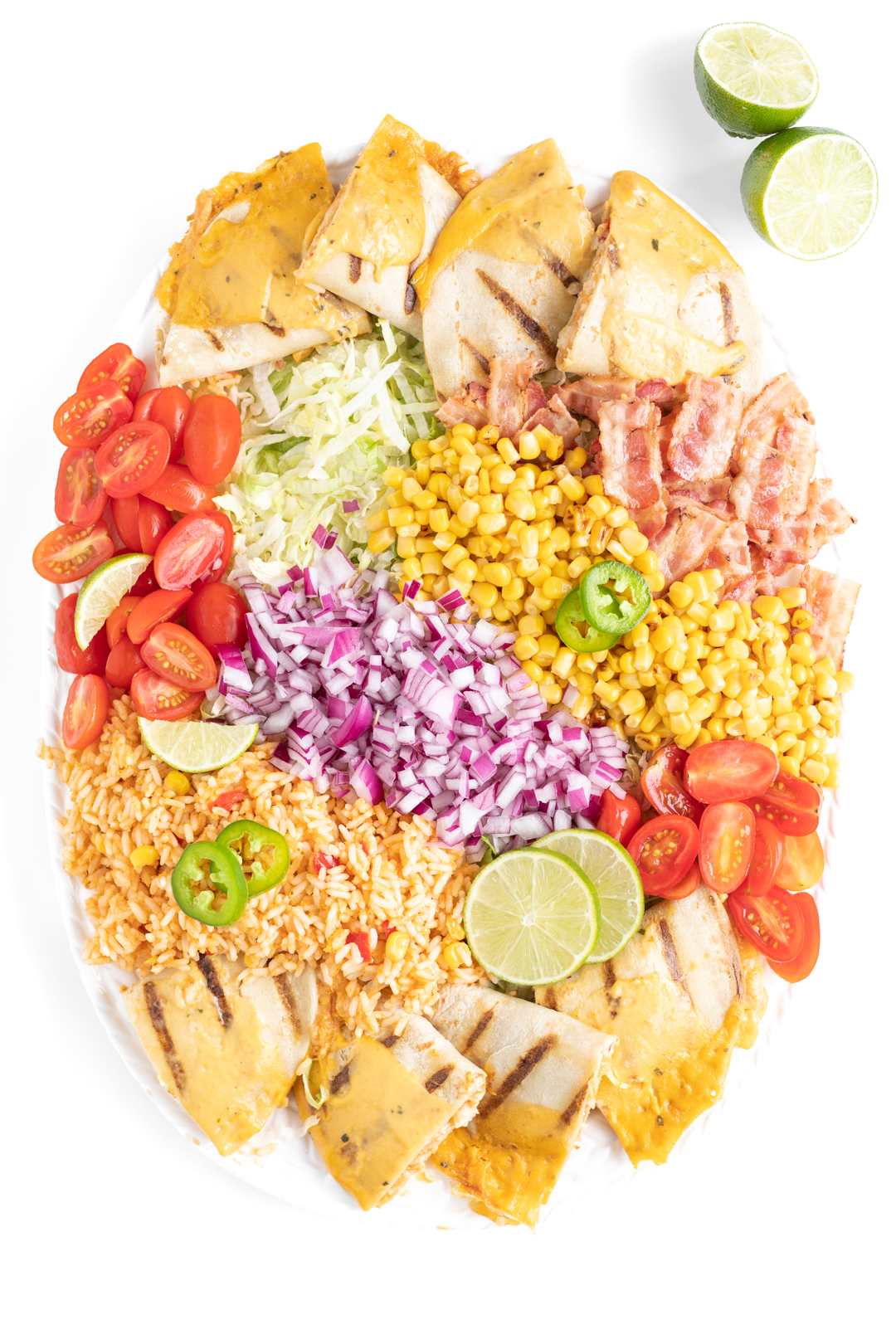 Once that is set, it's time to set out your choice of Primal Kitchen Dressing & Marinades and serve!
Place in the center of the table and let everyone pick and choose their own yummy salad creation!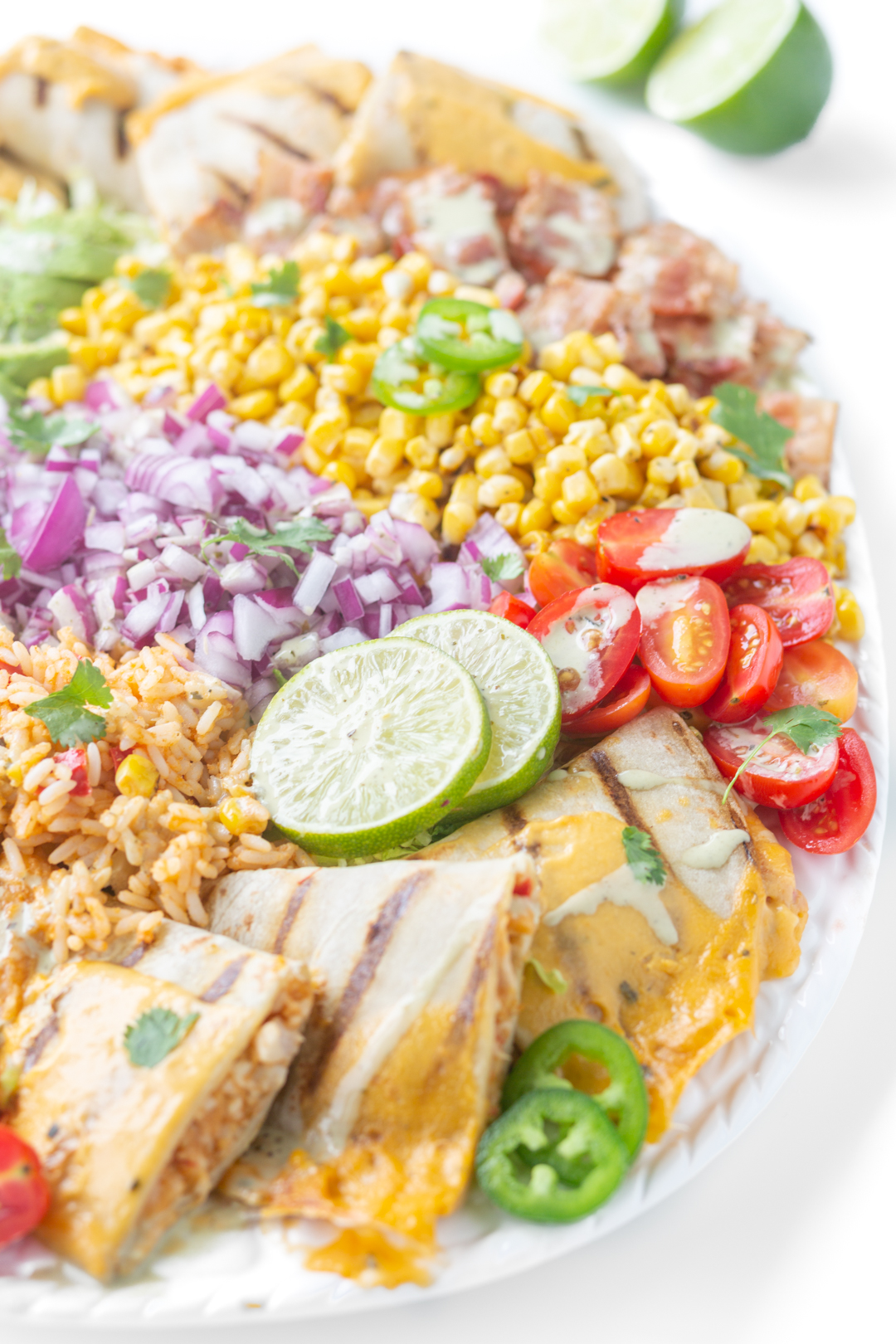 There is nothing quite as satisfying as a family meal that everyone loves that was made with little effort. Total win!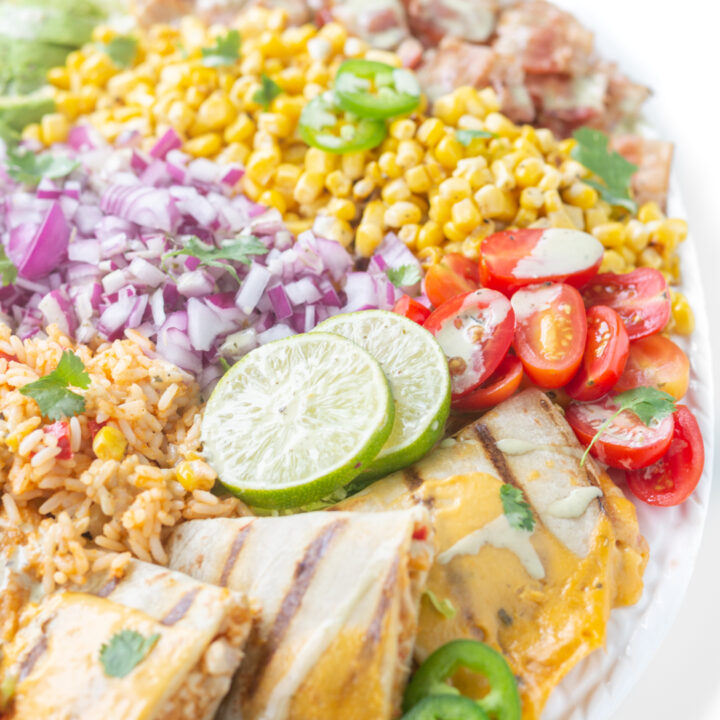 Quesadilla Salad Recipe
Ingredients
4 El Monterey Chicken Quesadilla With Queso Sauce meals (prepared according to directions. Separate quesadillas from rice. Cut quesadillas in half.)
2 (8 ounces) Packages of Shredded Lettuce
1 (package) Grape Tomatoes, halved
2 Avocados, sliced
½ Cup Red Onions, diced
7 Slices Prepared Bacon, chopped
1 Cup Canned Corn, prepared
1 Cup Shredded Cheddar Cheese
½ Cup Queso Fresco, crumbled
Salt and Pepper to taste
Optional garnishes: lime wedges, fresh cilantro
Choice of dressings (Primal Kitchen Dressing & Marinade)
Instructions
Spread lettuce out on a serving tray or small baking sheet.
Arrange prepared El Monterey quesadillas halves around the tray.
Scoop prepared rice from El Monterey meals onto salad.
Place the remaining salad ingredients down on top of the lettuce.
Season salad with salt and pepper as desired.
Add garnishes if you like.
Serve with selection of salad dressings.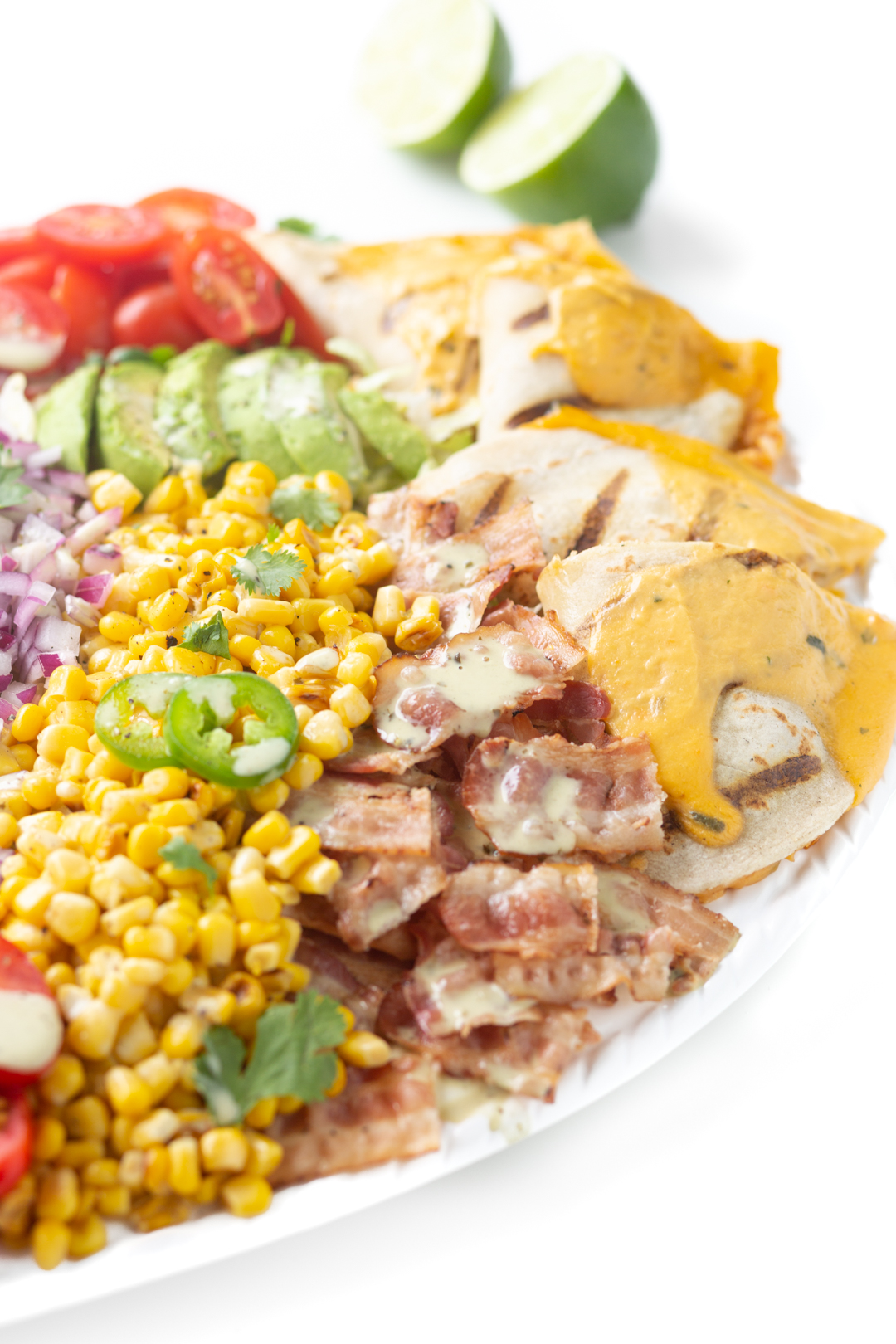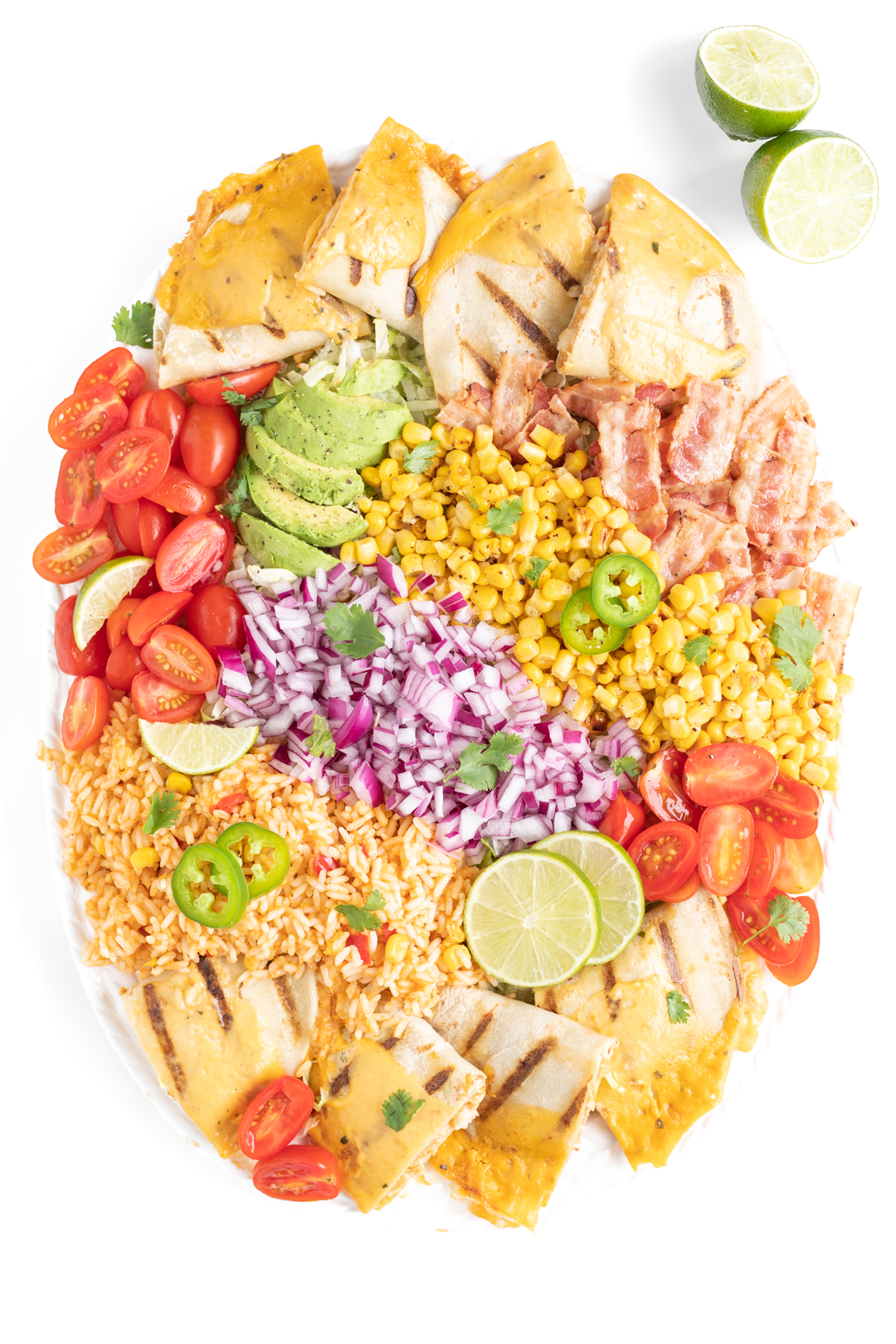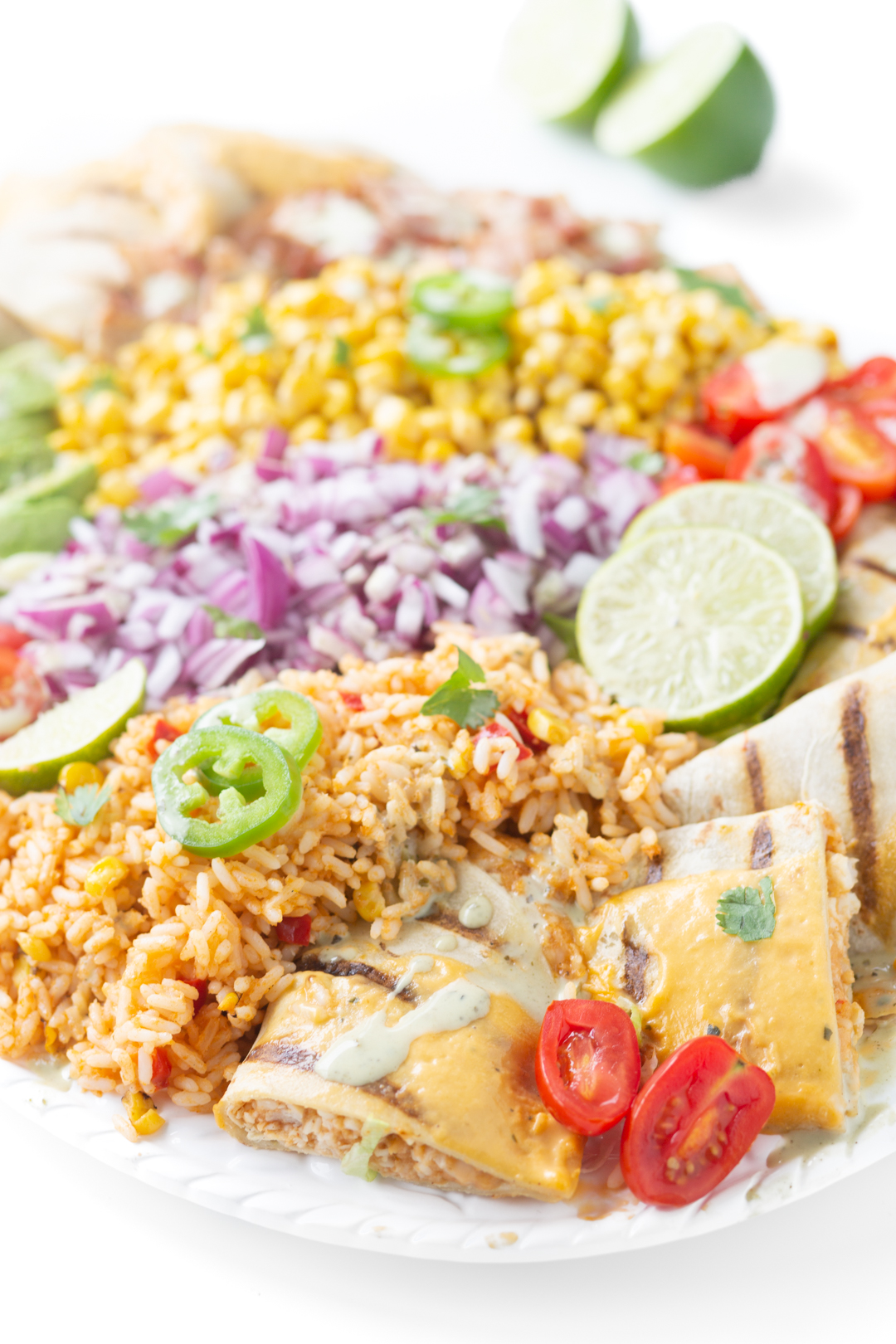 Want to turn your dinner into a celebration, too?
Make dinner more exciting now by visiting Publix.com or grab the in-store 8/14 Extra Savings flyer in-store to find the savings included in the Family Fiesta promotion through 8/27!