Did you know there were different types of paprika? My mom blew my mind when she told me about it a couple of weeks ago. You probably did and I might just be the only one that didn't realize it existed until recently. It's one of those things where now that I've heard of it, I keep seeing it everywhere. Like it always existed, but I just never noticed it. Kind of like hatch chilies. I had no clue what the heck they were for the longest time. Well, in case you haven't heard of smoked paprika, this actually has a nice light smokey flavor almost barbecue-ish. Then, there is also sweet paprika, which I haven't tried yet, but I totally need to. The only paprika I knew of was the standard "sprinkle" over deviled eggs variety.
Last week I shared the butternut squash fries that I made, oh those are just so good! The kind of surprising good that makes you wonder why the heck you never tried them before. When I was chatting about them on Twitter, the subject of sweet potato fries came up a few times. I had the smoked paprika just sitting on my counter begging to be tried and it dawned on me that these might be two lovely flavors together. Sweet and smokey sounded pretty darn good! Now, the smoked paprika really doesn't have an overwhelming taste, but it does add a bit of a smoked flavor to these that's really tasty!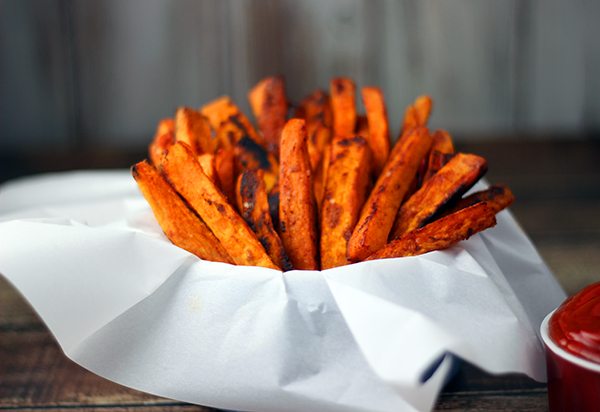 Have you ever made fries with anything besides potatoes? What did you make?
Did you know smoked paprika existed, or am I the only one that hadn't heard of it?