Guess what time it is? It's Pinterest Remake time! I hope you've been enjoying this monthly feature, it's been so much fun so far. Today, I'm sharing a no churn Minion Ice Cream Recipe (banana & oreo). In case this is your first time hearing about this monthly fun, it's where I find a pin that I really love (which is SO easy to do) and add my own personal twist to it. Pinterest is one of the place that I love hanging out, usually pinning way more than I'll ever make. I know I'm not the only one who does this! 😉

Today's no-churn Minion ice cream is inspired by simply the coolest & cutest recipe idea that I've stumbled on. Perhaps you've seen it on Pinterest yourself? It's this Cookie Monster No-Churn Ice Cream. Isn't it flippin' awesome?? I just knew that it was totally necessary to give this recipe a try in general. I've made no-churn ice cream in the past and really loved it. But, I hadn't made any with heavy cream. Oh boy peeps, it's SO worth it.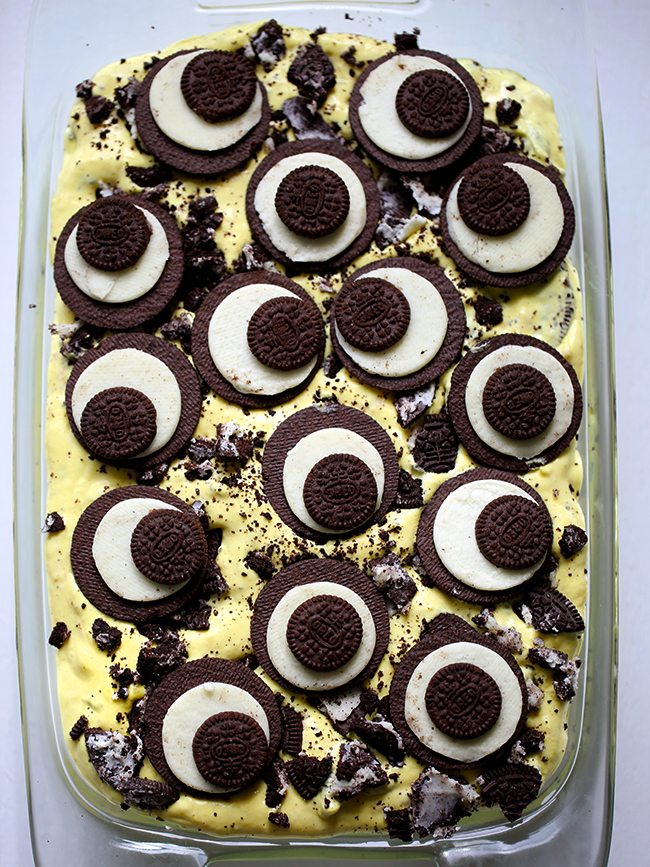 If you're a Despicable Me movie fan, I am sure you are excited about the new movie coming out in July, "Minions". I thought it would be totally fitting to turn the Cookie Monster ice cream into "Minion" Ice Cream. Adding banana was a total no-brainer. To make Minion "eyes", I wanted to use regular sized Oreos and Oreo Minis. That's where this scrummy Banana Oreo combination came to life.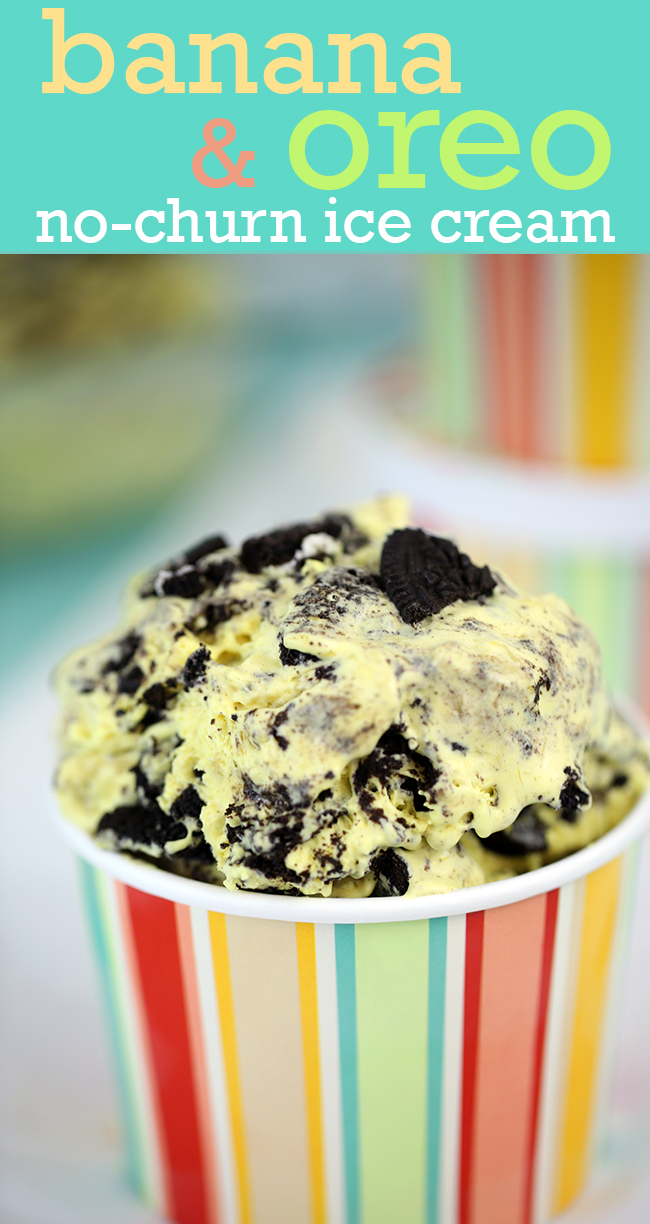 To make the Minion eyes to top the ice cream off with, I used 15 regular Oreo cookies and 15 Oreo mini cookies. I separated each cookie placing them in seperate piles. One pile with the cream side and one with just the cookie side.
For each "eye", I used the cream filled side of the regular sized oreo and the plain cookie side of the Oreo mini cookies for the pupil. The remaining cookies halves will go into the ice cream batter. Nom.
As an extra note, make sure to use perfectly ripened bananas for this. Under or overripe could potentially ruin the flavor! We wouldn't want that! I hope you enjoy this scrumptious and playful no churn ice cream treat!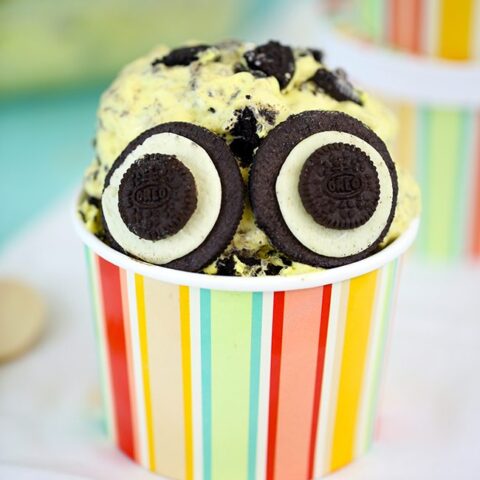 No Churn Minion Ice Cream Recipe (Banana & Oreo)!
Ingredients
2 Cups of Heavy Cream
14 oz Can of Sweetened Condensed Milk
4 Large Perfectly Ripened Bananas (Mashed)
1 Tbsp of Vanilla Extract
½ Tsp+ Yellow Food Coloring
20 Chocolate Sandwich Cookies (Like Oreo)
15 Mini Chocolate Sandwich Cookies (Like Mini Oreo)
Instructions
Take 15 of regular sized Oreos and 15 Oreo Mini cookies and seperate into halves. For each "eye", used the cream filled side of the regular sized Oreo and the plain cookie side of the Oreo mini cookie for the pupil. Take the remaining cookies halves and crush them. Set aside.
In a high powered mixer, blend the heavy cream and vanilla extract until it forms stiff peaks. Fold in the sweetened condensed milk and add yellow food coloring until fully blended and perfect desired yellow color is desired. Stir in crushed cookie halves and mashed bananas. Pour into a freezer friendly container. Crush the remaining 5 full sized Oreos and sprinkle evenly over the top of the batter.
Lastly, place the "Minion eyes" evenly on top and press in gently. Cover and freeze for at least 5 hours or overnight. Enjoy!
Want more fun Pinterest Remakes? Make sure to visit a few of my favorite blogs to see what they came up with this month: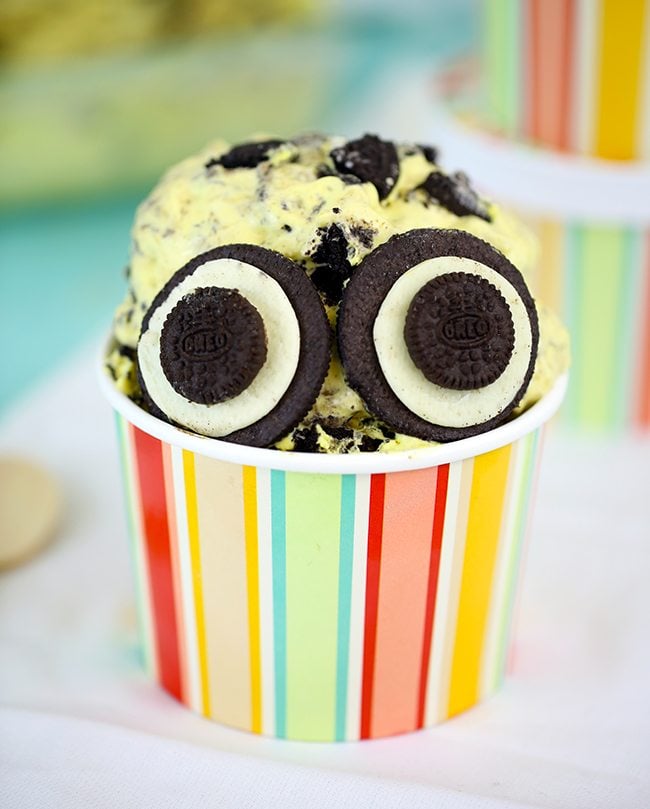 Oh and if you're not following me on Pinterest, you totally need to change that. NOW! 😉