They weren't kidding when they said Florida was hot. I'm not quite used to 90+ degree weather in May, but I'm working with it. Feels like we get a big head start on summer and cool and refreshing beverages are a necessity. That's where these Banana Cream Pie Freezer Pops come in handy. I usually prefer to make my freezer pops in those cute little bathroom sized cups, but I was up for something a little different today. The beauty in this is that you can use whichever pop method you like best, even if it's your typical freezer pop mold. I promise this recipe will taste great any which way you freeze and serve it up.
To make this recipe "slab" style, I poured my mixture into wax paper lined 9" x 9" pan. This mixture is thick enough to stand the wooden popsicle sticks in and they will stay in place. Immediately toss in the freezer for a couple hours. Then, it's easy to pull out the pops with the paper and slice into "slabs". I made 9 this time, but I think 12 would be better for smaller and easier to eat pops. Update - I decided to remake this in the bathroom sized cups for photos, they looked horrid in slab form.

This Banana Cream Pie Freezer Pops recipe tastes just like a decadent dessert, but frozen on a convenient stick fit to keep you cool during this hot time of the year. Ready to dig in? The real banana, banana cream pudding, whipped topping flow together nicely and bites of cookie take it right over the top. Nom.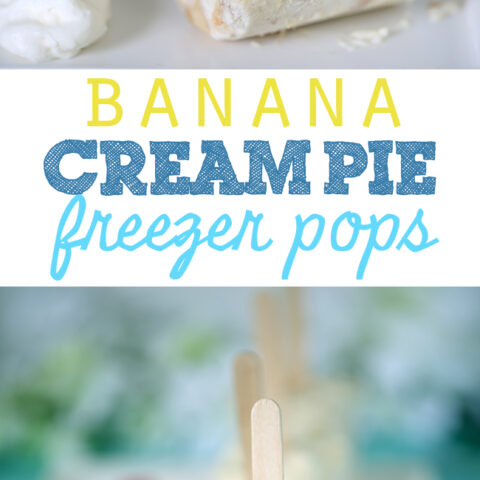 Banana Cream Pie Freezer Pops
Ingredients
2 Cups of Loosely Crushed Golden Wafer Cookies (such as Nilla brand)
2 Cups Prepared Banana Cream Pudding (from 3.4 oz size)
1 8 oz Container of Whipped Topping (such as Cool Whip)
2 Ripened Bananas mashed
Instructions
Combine all of the ingredients together completely. Pour into your popsicle molds of choice. Freeze for approximately 2 hours to set. Makes approximately 10 small bathroom cup sized pops or 9-12 slab pops.
Nutrition Information
Serving Size

1
Amount Per Serving
Calories

1274
Total Fat

41g
Saturated Fat

28g
Sodium

779mg
Carbohydrates

218g
Sugar

124g
Protein

11g
Do you like to make your own freezer pops? What are some of your favorites to make?