Anyone else have a Halloween candy hangover? I woke up the day after and decided I really needed to get back on track before the holidays. Making a gigantic batch of filling veggie soup seemed like a brilliant idea to start getting my act together. So, over the weekend I jam packed anything I could think of that would be healthy, filling, affordable and tasty into my trusty slow cooker. This is a sponsored post.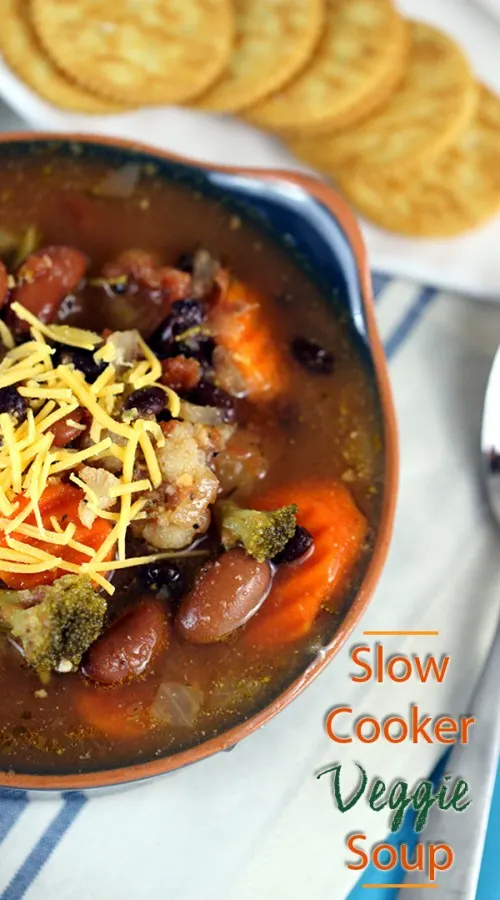 Of course, a girl can only eat so much soup. I figured it would be really great to refrigerate some to nosh on now and then freeze the rest so that I can just grab it out of my freezer whenever I need something filling to curb my holiday cravings. I have a feeling I'll be reaching in there VERY frequently. That's why I was really excited to finally get to try the FoodSaver® Vacuum Sealing System. I've really been intrigued by "freezer cooking" lately and this seemed like just the right tool to make sure my food is safely preserved until we decide to eat it up.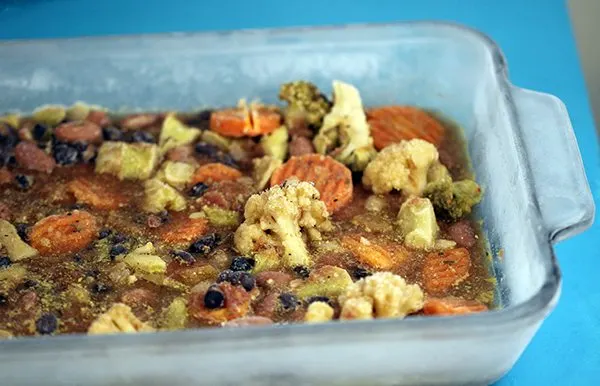 How to Freeze Soup with Food Saver
So, let me walk you though the part where Food Saver can help preserve something such as a huge delicious batch of soup. First off, I am using this model: FoodSaver® FM200 Vacuum Sealer to seal up my soup and Quart Sized FoodSaver® Bags. Directions to do all of this are included with the sealer.
Step One: Pre-Freeze. In order to seal liquids and soups, you will need to pre-freeze them first. It seems daunting, but it's surprisingly easy. You can do this by adding your soup to a casserole dish, loaf pan or an ice cube tray. I used a large casserole dish that has a cover to keep it protected. Once it was frozen, I let it thaw for about 5-10 minutes so that it was just softened slightly so that I could cut through it easily. You don't want any liquid though, so you'll need to time this just right.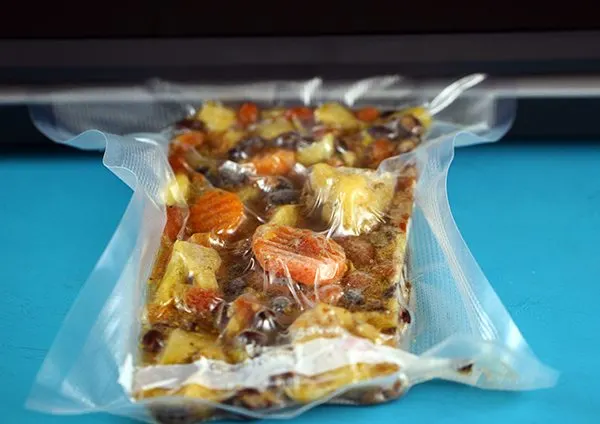 Step Two: Cut into Bricks. Cut your frozen soup into "bricks". You will need to leave 3" of space between the soup and the top of the bag in order to seal properly, so make sure to cut your frozen soup accordingly. I was able to make three bricks from my large casserole dish of frozen soup.
Step Three: Seal your soup. Load the open end of the bag into the Vacuum Channel on the FoodSaver®, close and latch it. Turn the lever onto the "Operate" position, the power light will turn on. Then, press the "Vac/Seal" button. The sealer will do all the work and in just seconds, your pouches will be air tight and sealed. Wait 20 seconds between processing each bag to allow for cooling. Repeat until all of your soup has been sealed.
These soup "bricks" layer very nicely to stack in your freezer which is a another wonderful perk. Space saving, yay!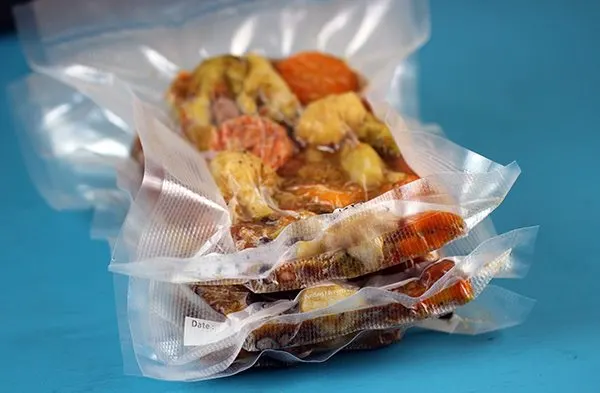 According to the FoodSaver® Storage Guide, prepared soups that are sealed with this vacuum sealer will last 1-2 years. Typically it would only last from 3-6 months. This is a huge difference.
Step Four: Heat and eat. So, you're ready to dig into your freezer stash of soup! Simple cut a corner of a bag and place in a dish in the microwave or drop into water at a low simmer (below 170° F). That's it!
Now, just in case you want to make that veggie soup, here is the recipe! Feel free to swap out any ingredient or herb, just note that the ingredients listed will fill your 5 quart slow cooker right up to the top. This is no frills, I opted for frozen vegetables to keep my cost down and to keep it quick and easy. No chopping involved, if you appreciate shortcuts, I think you'll appreciate this recipe!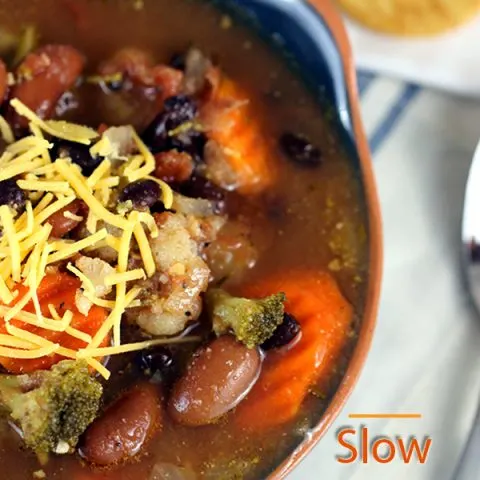 Slow Cooker Vegetable Soup
Ingredients
16 oz Frozen Broccoli Cuts
16 oz Frozen Cauliflower
16 oz Frozen Carrots
12 oz Frozen Onions
(2) Cans or (1) large can diced seasoned tomatoes (I used Rosemary and Oregano)
8 Cups of Vegetable Broth (I used 2 boxes)
1 Can Kidney Beans
1 Can Black Beans
6 Tbsp. Olive Oil
2.5 Tbsp. dried rosemary
2 Tbsp. garlic powder
½ teaspoon ground pepper
1.5 teaspoons salt
A 5 Quart or Larger Slow Cooker is Needed.
Instructions
This is easy, just add all of the ingredients to your slow cooker. Cook on high for 6 hours. Cool and serve.
There are many reasons why being able to seal foods could be beneficial such as just prolonging the freshness of veggies or bulk food for example. Reducing waste is also key to not throwing hard earned dollars along with it out to the trash. That's why I'm really excited to be able to give one of these awesome sealers away to a lucky reader!
WIN IT!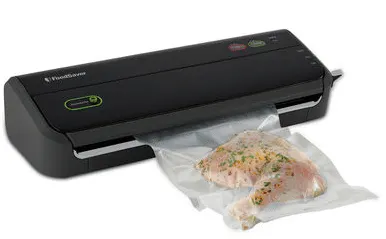 Leave a comment to share why you would like to try a FoodSaver® Vacuum Sealing System!