Air fried pumpkin spice donut holes with canned buttermilk biscuits, cream cheese, cinnamon and spices. This post may contain affiliate links.
Ready to fall for fall? Time flew and it's just around the corner. I'm all about pumpkin everything right now so I'm kicking off the season on Cutefetti right now with these Pumpkin Donut Holes made in an air fryer. I can practically smell them right now. Yum.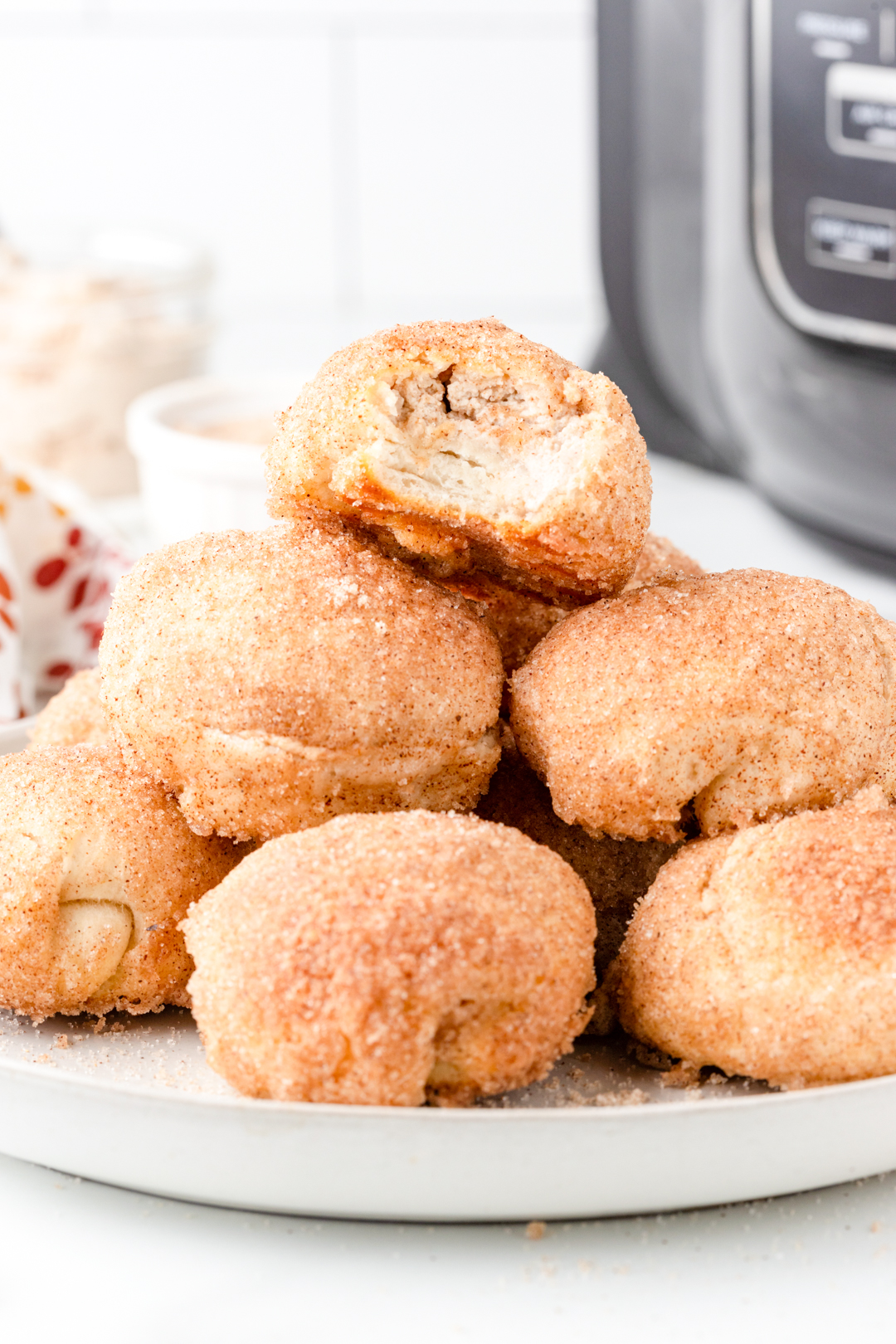 Just imagine your home filled with this delicious fall recipe!
They are perfect to serve with breakfast, a snack or dessert.
I absolutely love them with a hot cup of coffee in the morning.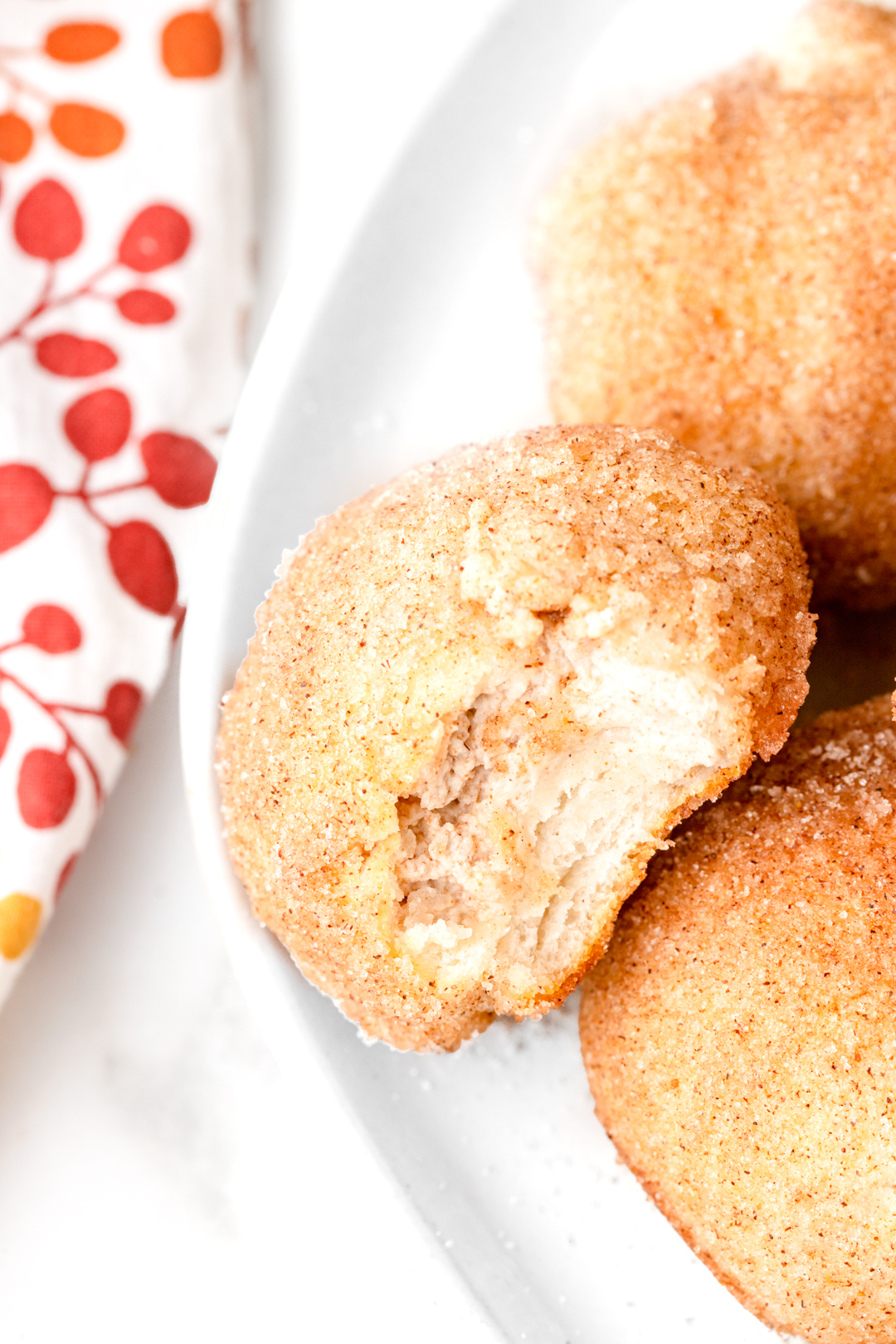 PUMPKIN SPICE DONUT HOLES RECIPE
Pumpkin Spice Cream Cheese Donut Holes Made with Air Fryer. This recipe has all the flavors of fall you love in a bite-sized form. These donuts are made with simple ingredients for that extra perfect center. Next, let me show you how easy these are to make in your air fryer.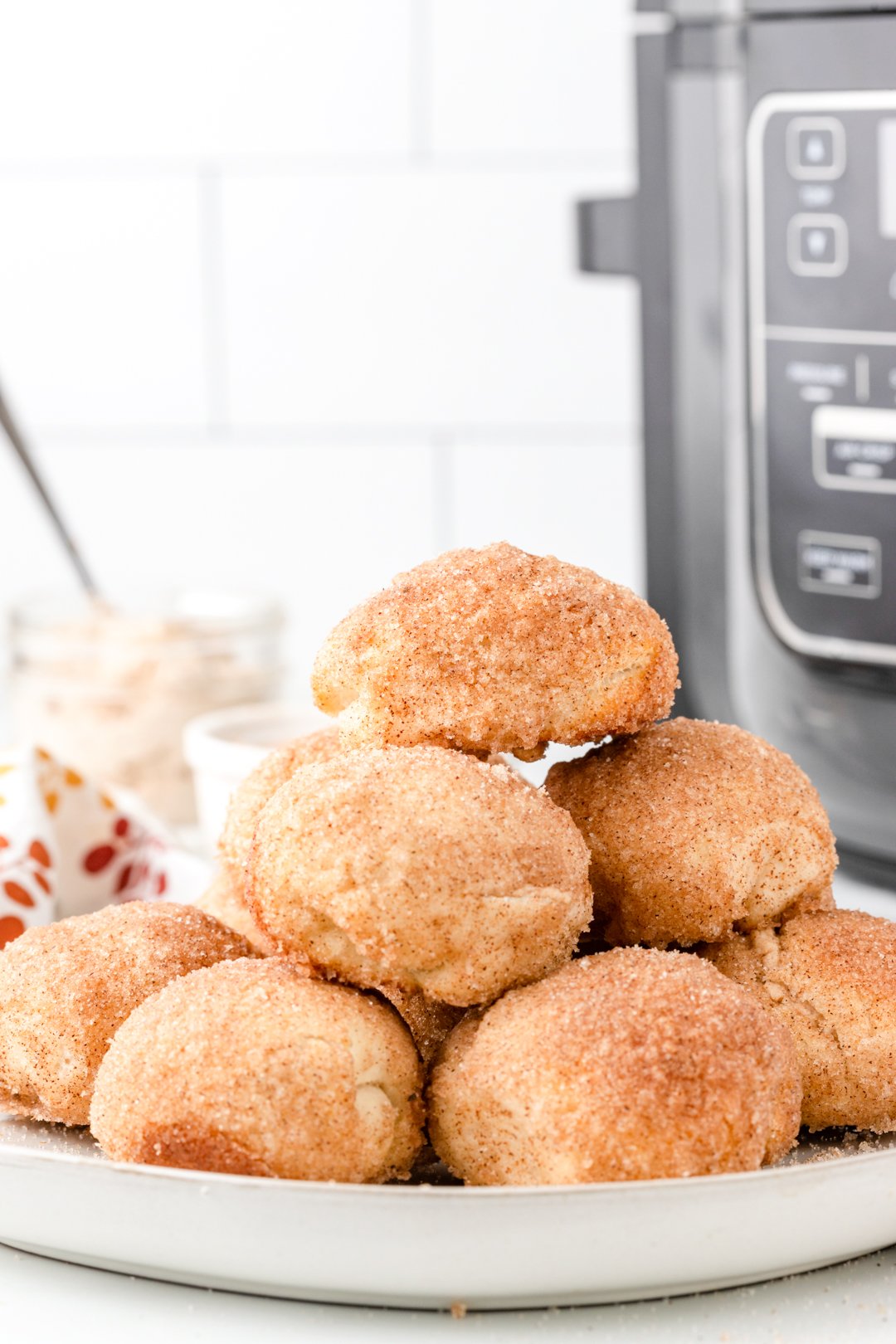 PUMPKIN SPICE DONUT HOLES INGREDIENTS
Here, I'll share all of the ingredients we'll be using in this recipe. When you are ready to make these, scroll to the printable recipe for exact measurements.
CANNED BUTTERMILK BISCUIT - There are so many fun creations you can make with store-bought biscuits. Just pop the can open to get started and skip the hassle of making dough from scratch.
CREAM CHEESE - Makes for the perfect creamy center for these pumpkin spice donut holes. The best part is that you can sweeten it up however you like. Fall spices are a great place to start.
CINNAMON - Would it be a fall dessert recipe without this classic spice? You won't want to skip this warm spice. Bring magical goodness into everything from your apple pies to gingerbread men.
SUGAR - Make these pumpkin bites sweet with good old classic ingredient. This is the perfect addition to any delicious baked good.
PUMPKIN SPICE - A dash of this tastes just like fall if you ask me. Love that you can really get creative with this spice mix. Think lattes and baked goods galore.
BUTTER - Round out the flavor of these yummy donut holes with butter. Creating a moist, flaky baked good is easier with this yummy add-in. A little butter and some sugar is all you need to transform your fall recipes into something special.
Now let me show you how to make these. In about a handful of simple steps, you can have these ready shortly.
HOW TO MAKE PUMPKIN SPICE DONUT HOLES
Once you have your ingredients together, it's time to make these yummy treats. With just a few simple steps, you will have delicious fall inspired donut holes. Let's get right to it, without delay!
Here is how to make them:
Flatten the dough with your hands or a rolling pin until it's about an inch thick.
Next, fill the center of your biscuits with a delicious cinnamon cream cheese.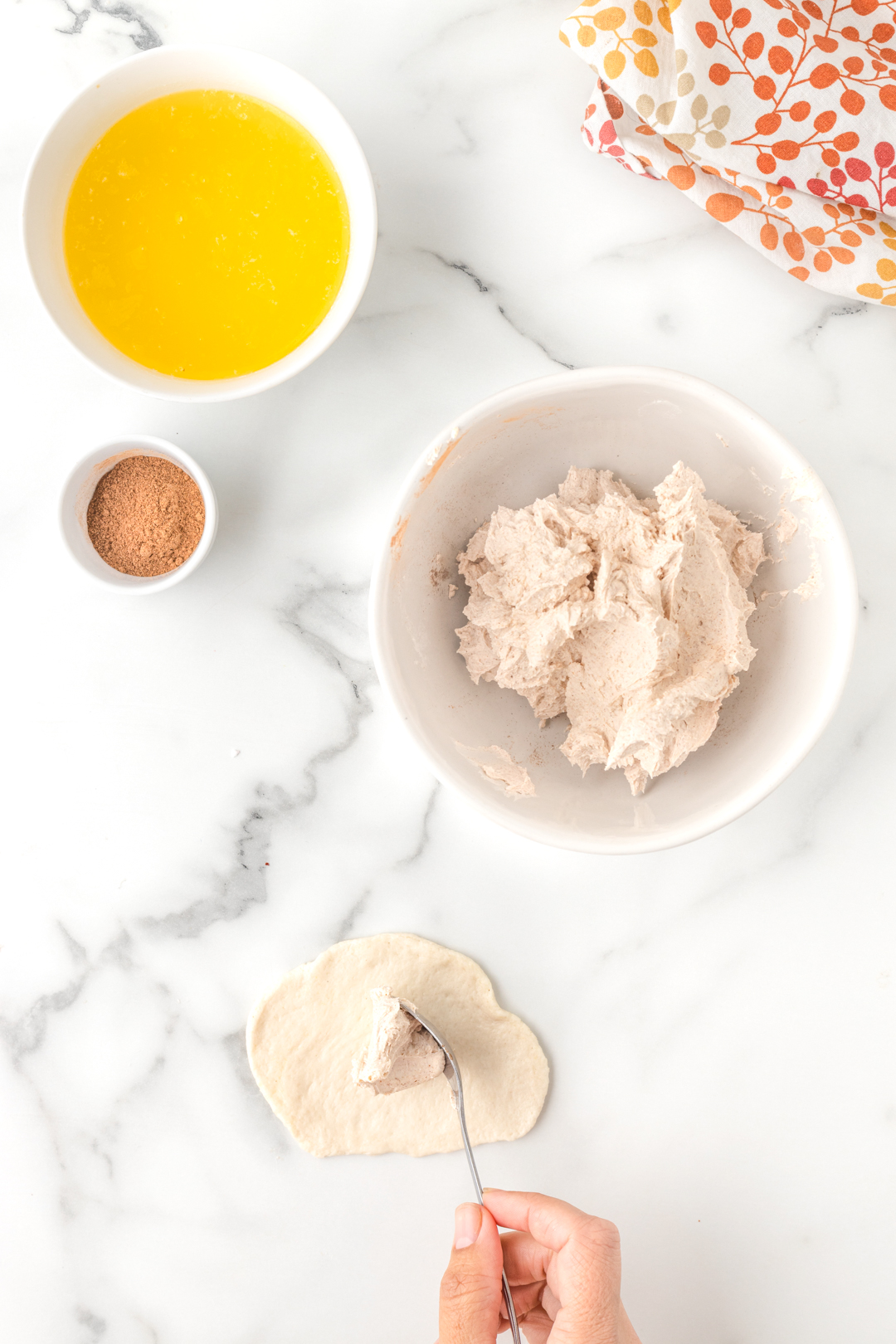 Wrap the dough around the cream cheese to form a ball. Seal up the edges perfectly, so none of the mixture spills out.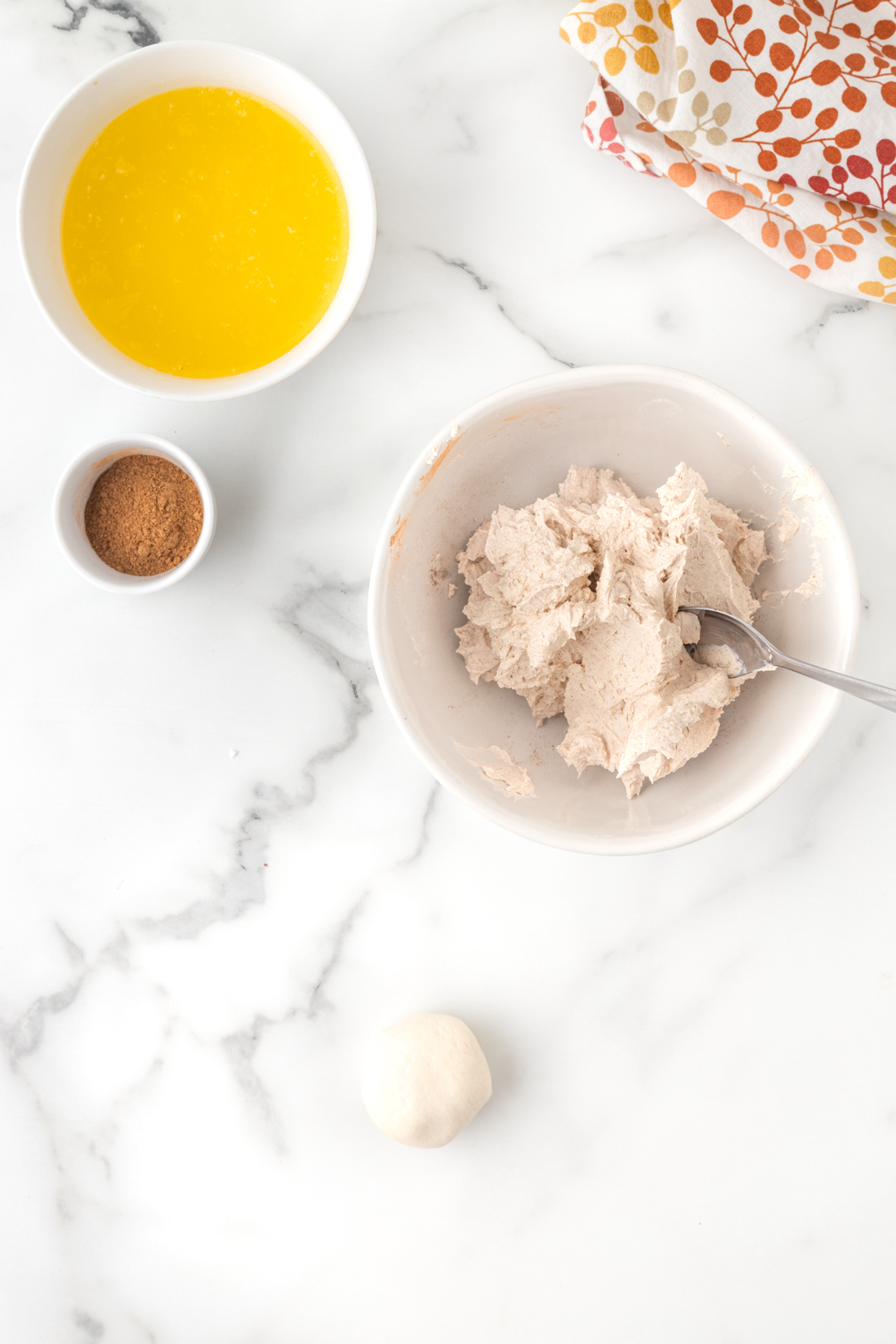 Whisk the sugar and pumpkin spice together. Once it's combined, dip the dough balls into the butter.
Then immediately roll into the pumpkin spice mixture.
Make sure each ball is completely covered.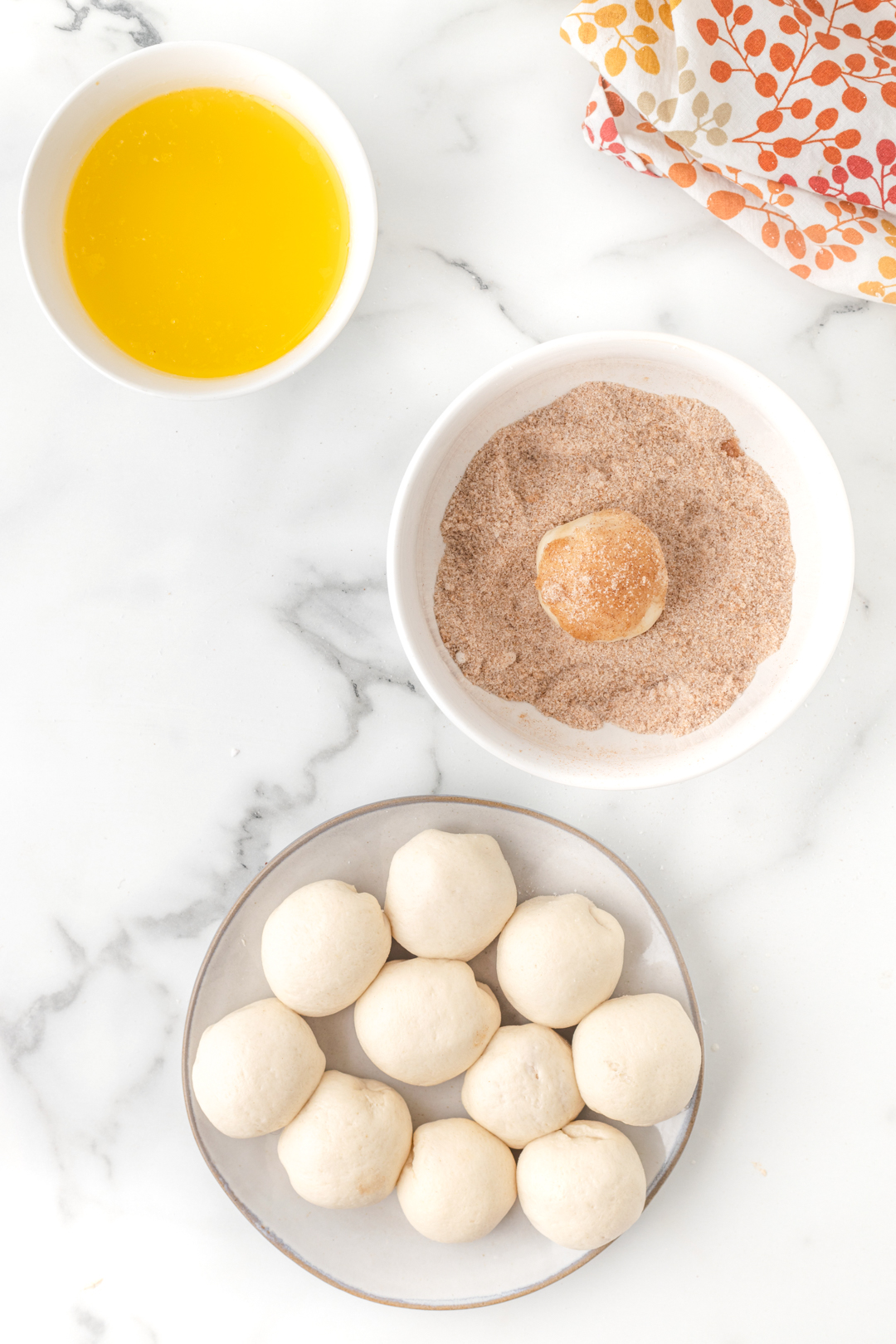 Making sure they don't touch, place the balls into the basket of your air fryer.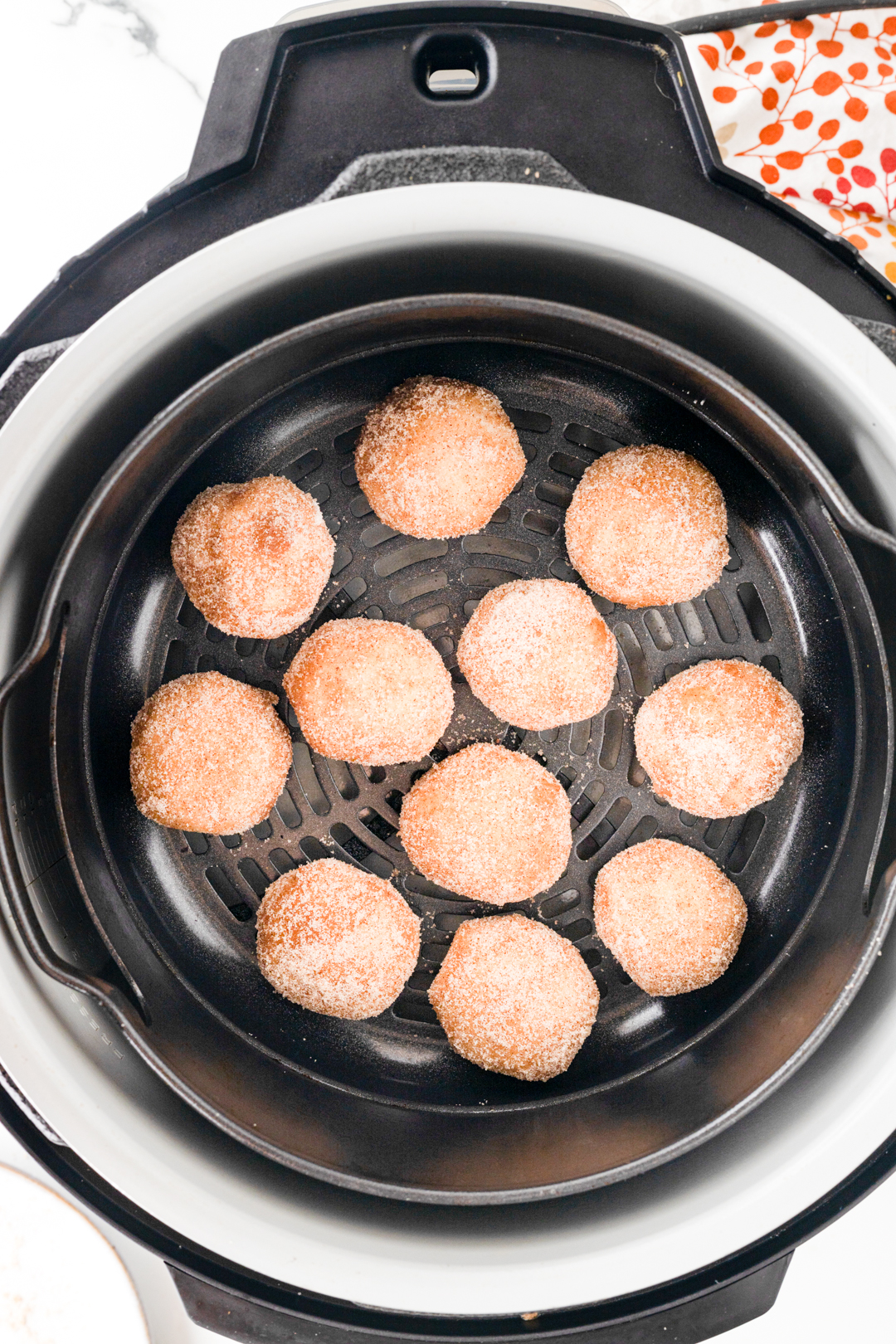 Finally, turn your air fryer to 375°F and cook for 8 minutes.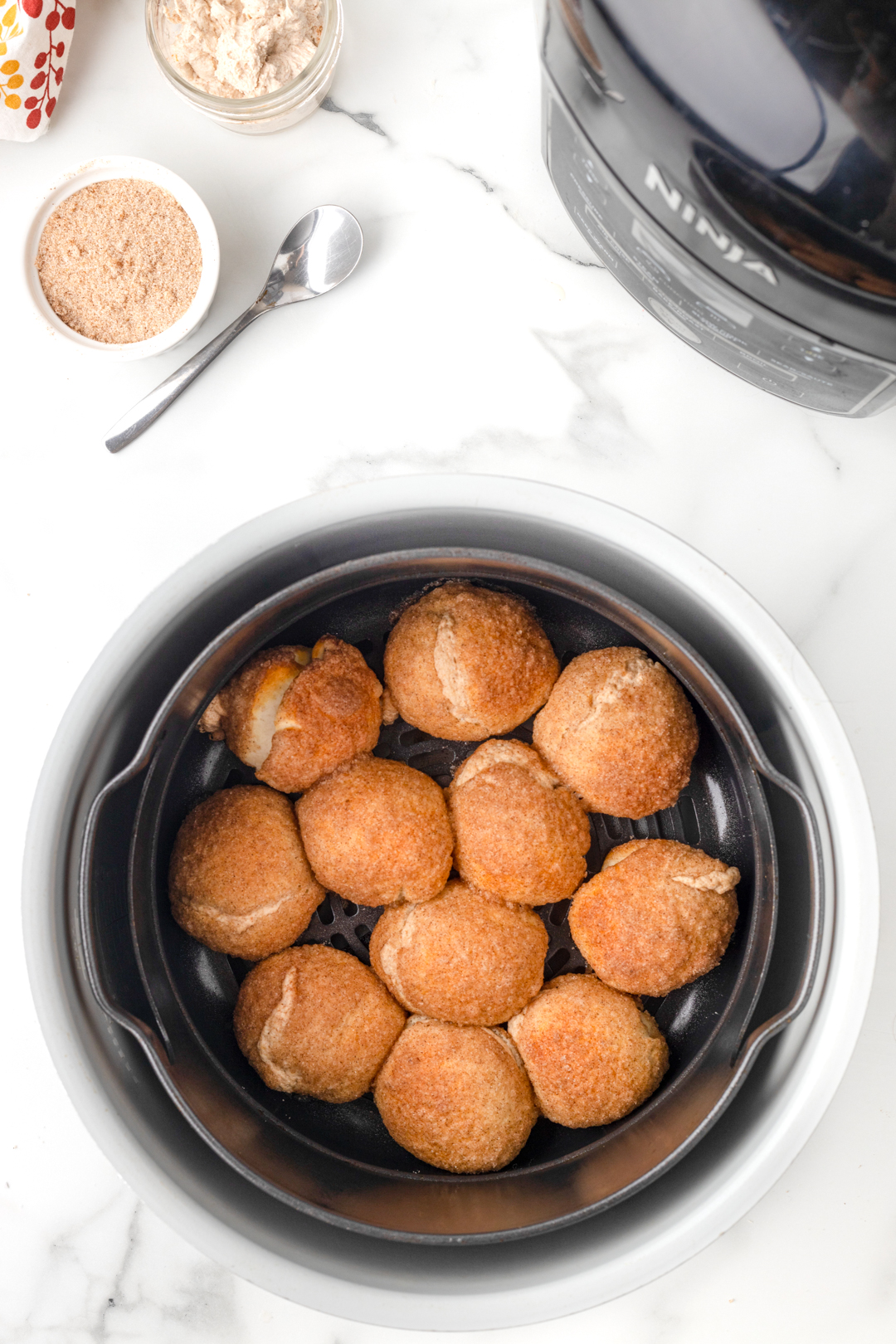 I love eating them as soon as they are ready, they taste amazing fresh from the air fryer.
By the time these are ready, I'm already practically drooling. I'm so excited when I can finally enjoy these.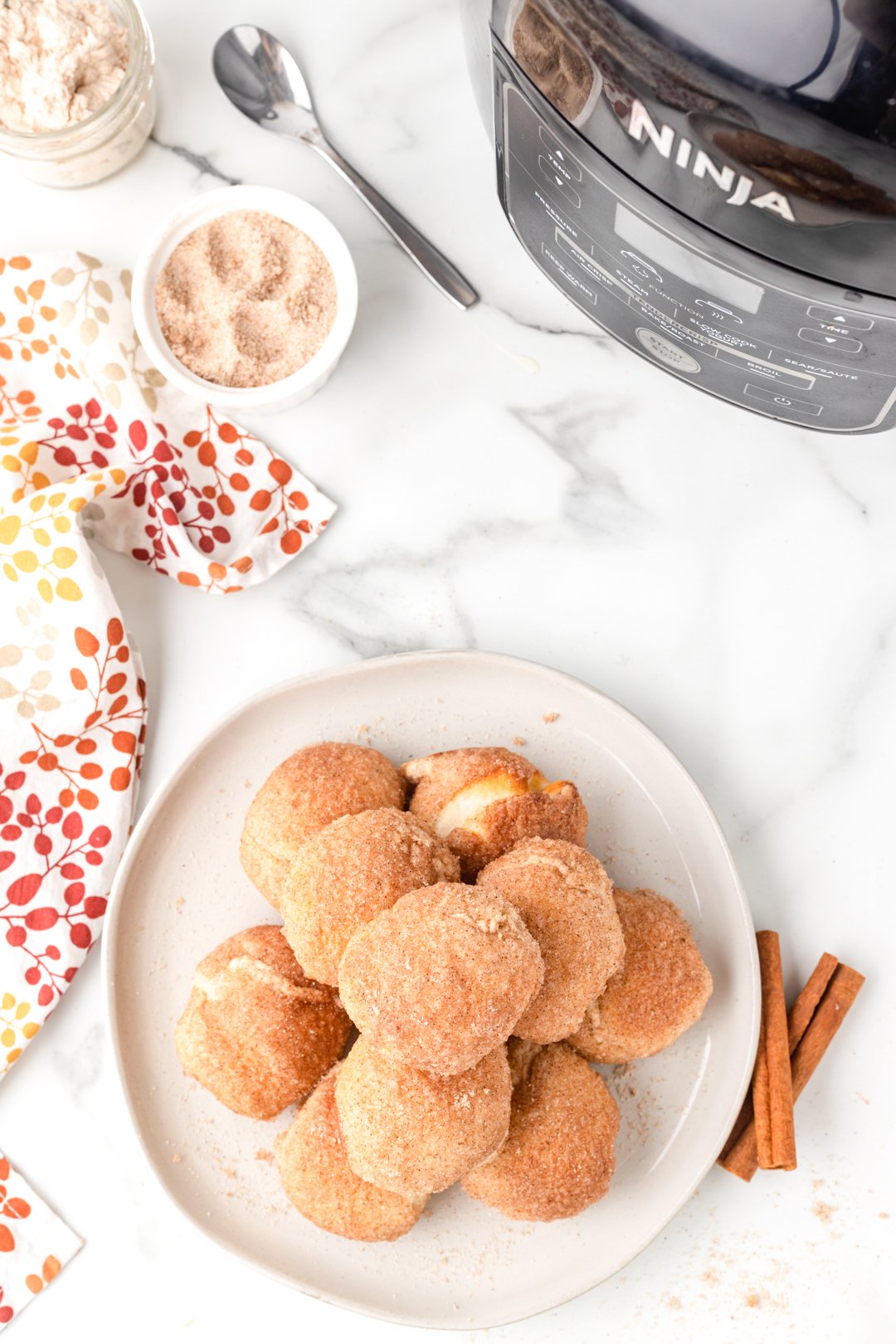 Next, let's answer some questions you might have.
WHAT AIR FRYER DO YOU USE?
The Ninja Foodi was used to make this recipe.
CAN I USE STORE-BOUGHT CINNAMON CREAM CHEESE?
You might be wondering if instead of making my own cinnamon cream cheese, can I just use the premade cinnamon cream cheese in the grocery store?
Yes, you definitely can. You can even change it up and use pecan-flavored, a walnut honey variation or any of your store-bought cream cheese favorites. This recipe can be switched up occasionally to make it more fun.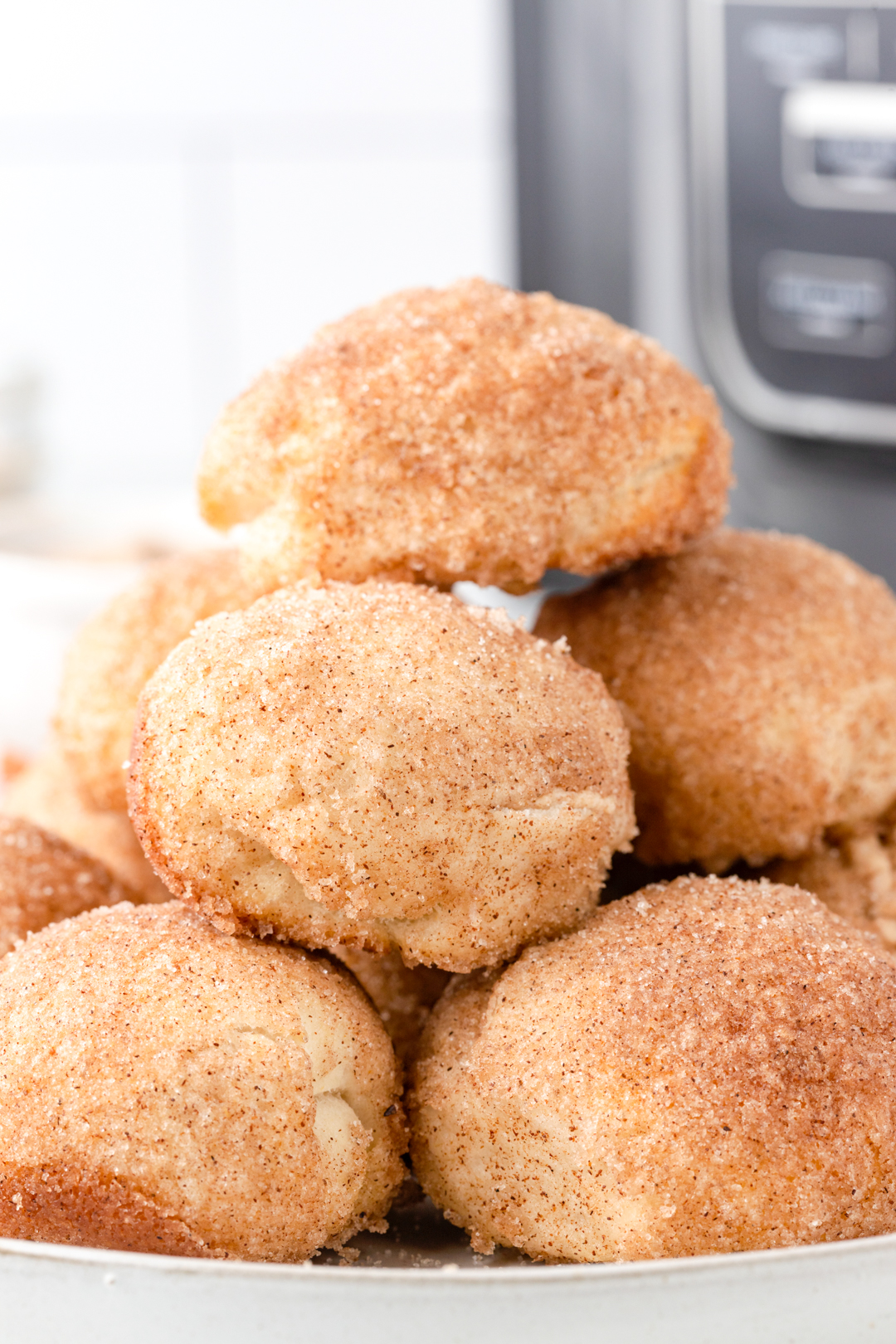 CAN I MAKE THESE IN THE OVEN IF I DON'T HAVE AN AIR FRYER?
Yes, you can. That's actually how I was initially shown how to make these. At 350°F for 11 to 13 minutes until they're golden brown. They won't cook as quickly, but they are still quite delicious.
HOW CAN I USE THE LEFTOVER PUMPKIN SPICE MIXTURE?
I like to sprinkle this on some buttered toast for a quick, easy breakfast treat. You can also sprinkle it on top of whipped cream to upgrade a latte or hot cocoa instantly.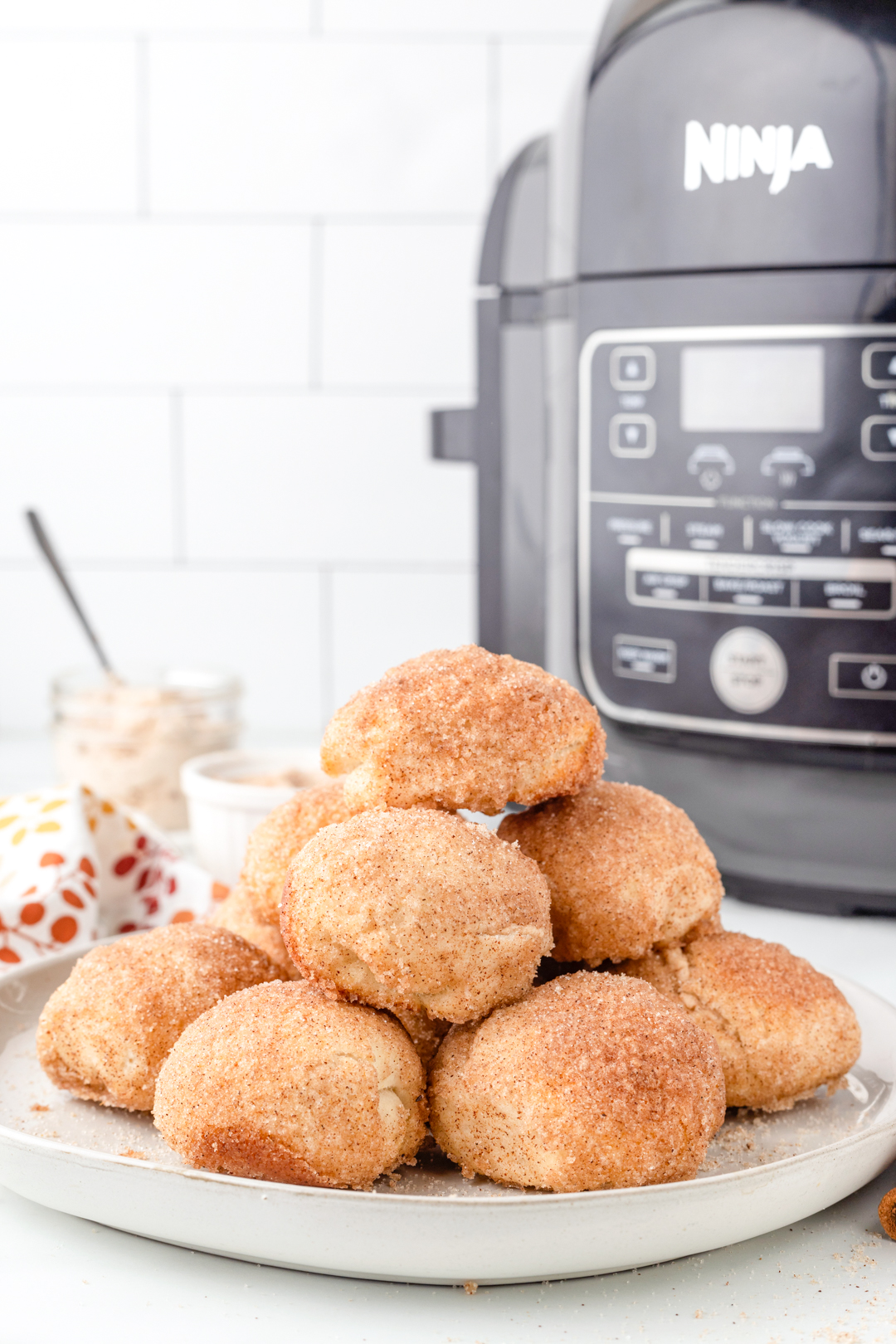 HOW DO I STORE AIR FRIED DONUT HOLES?
You can store them in an airtight container in the fridge for 2 to 3 days. They are best eaten freshly air fried though.
EASY FALL DESSERTS
Craving more fall treats? Let me share some of my favorites now. Save them now so that you can enjoy them later.
Prefer slow cooker recipes? You will love this pumpkin dump cake dessert.
Another fall pastry idea? These Caramel Pumpkin Mini Pies are so yummy.
Only 3 ingredients? This Apple Dump Cake could not get easier to prepare.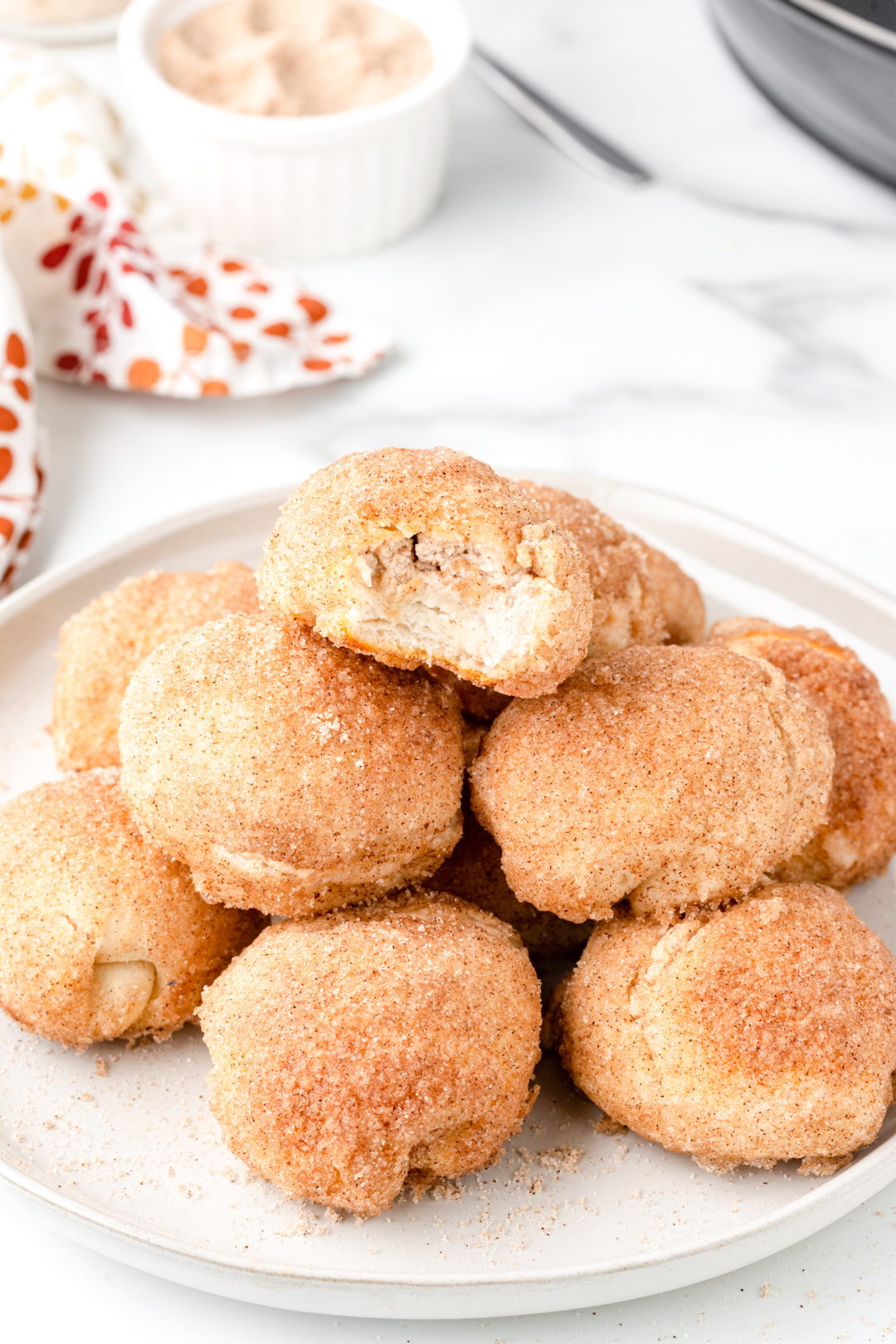 Get ready NOW for the season ahead with these pumpkin spice cream cheese donut holes!
They are easy, delicious and perfect for your breakfast or snack anytime. Heck I like to enjoy them after breakfast as a dessert.
Don't wait until later, make this recipe right now.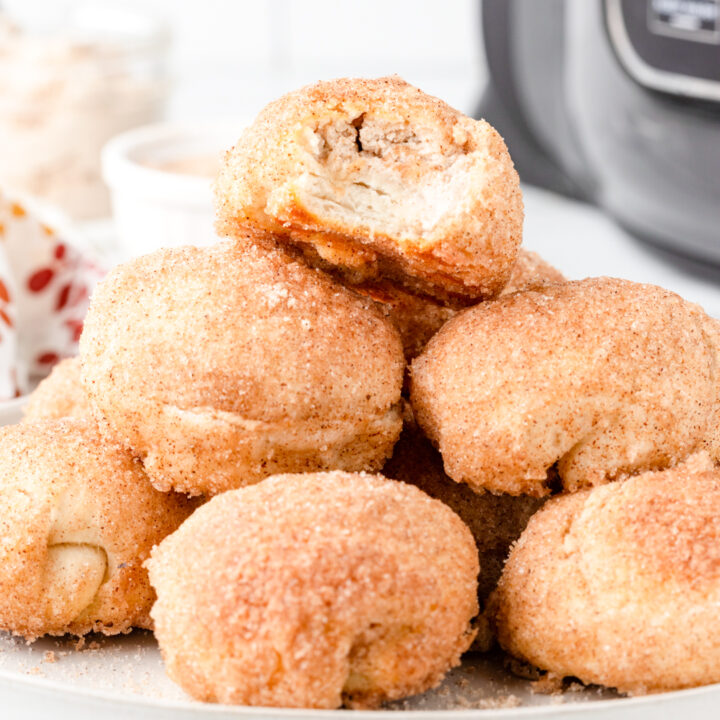 Air Fried Pumpkin Spice Cream Cheese Donut Holes
Air fried pumpkin spice donut holes with canned buttermilk biscuits, cream cheese, cinnamon and spices.
Ingredients
1 can buttermilk biscuits, 10 count can
8 oz cream cheese, room temperature
1 teaspoon cinnamon
⅓ cup sugar
1 teaspoon pumpkin spice
5 tablespoons butter, melted
Instructions
Using your hands or a rolling pin, flatten out the biscuits until they're about a quarter-inch thick.
Place a heaping teaspoon of cinnamon cream cheese into the center of each biscuit.
Wrap the dough around the cream cheese, making sure to seal up the edges, so nothing spills out.
In a small mixing bowl, whisk together the sugar and pumpkin spice until well combined.
Dip the dough balls into the butter and then into the pumpkin spice mixture, making sure they are completely coated.
Place the balls into the basket of your air fryer, making sure they don't touch. Turn your air fryer to 375°F for 8 minutes.
Nutrition Information
Yield

4
Serving Size

1
Amount Per Serving
Calories

445
Total Fat

36g
Saturated Fat

21g
Trans Fat

1g
Unsaturated Fat

12g
Cholesterol

96mg
Sodium

380mg
Carbohydrates

27g
Fiber

1g
Sugar

19g
Protein

5g
This nutritional information is for reference only. We are not responsible for these calculations.
These bite sized donuts can be made whenever you have cravings. They are good to the last bite.
Get in on this Fall favorite right now, before it's too late! You don't want to be the last one to try these.
Next up, I would love if you would share this post right now if you enjoyed the recipe.
Finally, it's time to enjoy a Happy Pumpkin Spice Season!