Planning a Halloween Party or Hocus Pocus Movie Night-in? I have your back. This trendy twist on sheet pan cookies is going to be an instant win. Using store-bought cookie dough and loads of colorful frosting, everyone will be talking about this epic Halloween treat. This post may contain affiliate links.
This Halloween treat is a go-to because the colors are super customizable to match any Halloween celebration or party theme you have planned.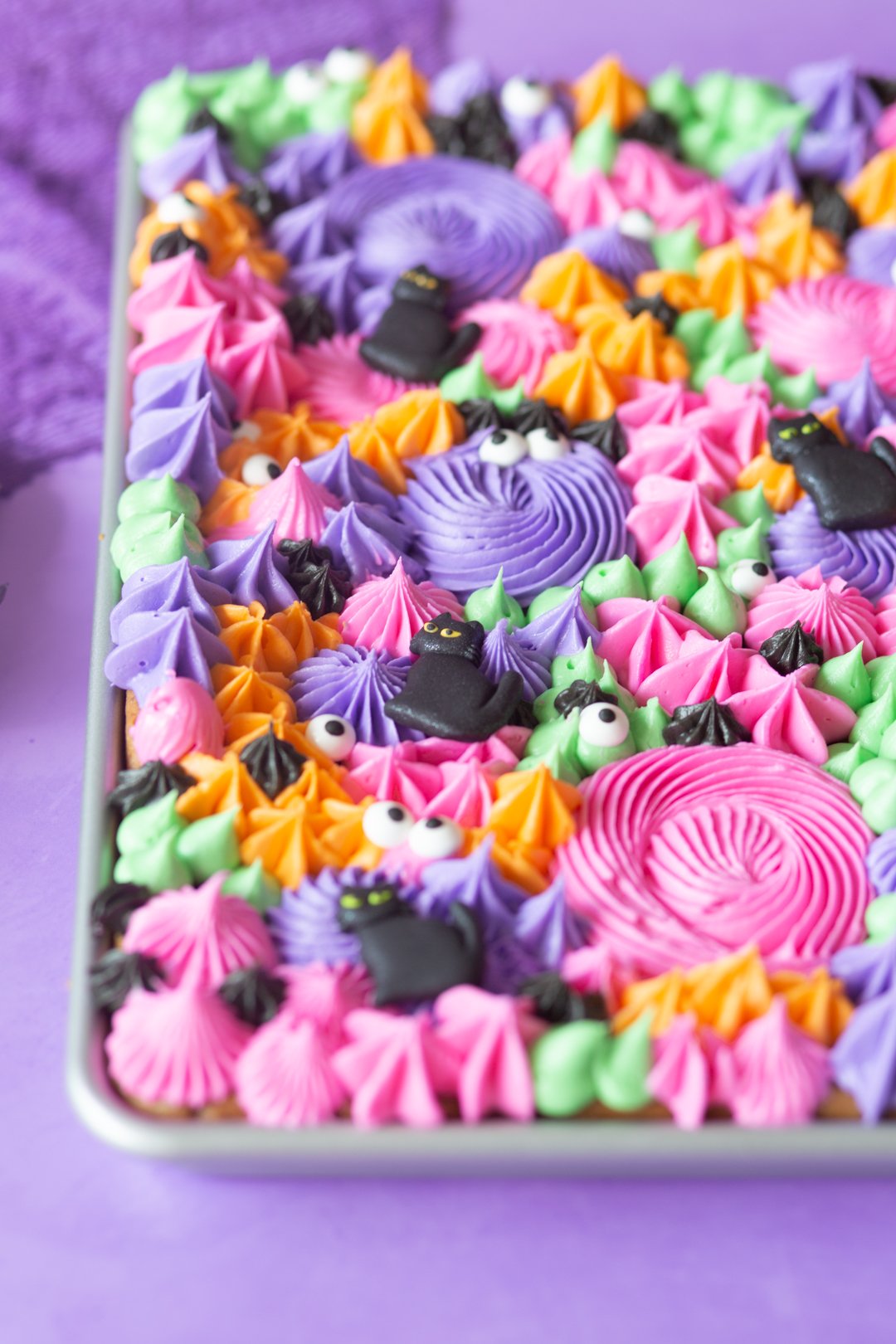 See how to make Hocus Pocus inspired Halloween sheet pan cookies with buttercream frosting.
Don't feel overwhelmed if you are new to making fancier looking frosting decorations or baking from scratch.
This fun idea relies on only store-bought items that anyone can make. No making and baking from scratch here.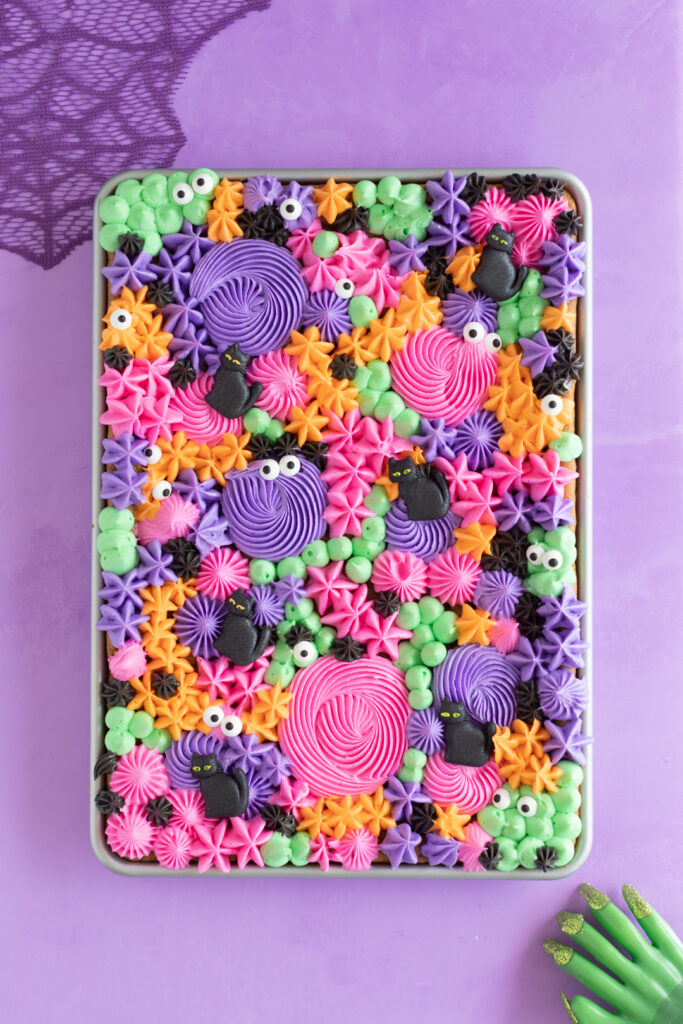 HALLOWEEN SHEET PAN COOKIES RECIPE
These colorful sheet pan cookies are the perfect Halloween treat. They will be the center of attention when enjoying at home or when serving a festive treat to a crowd.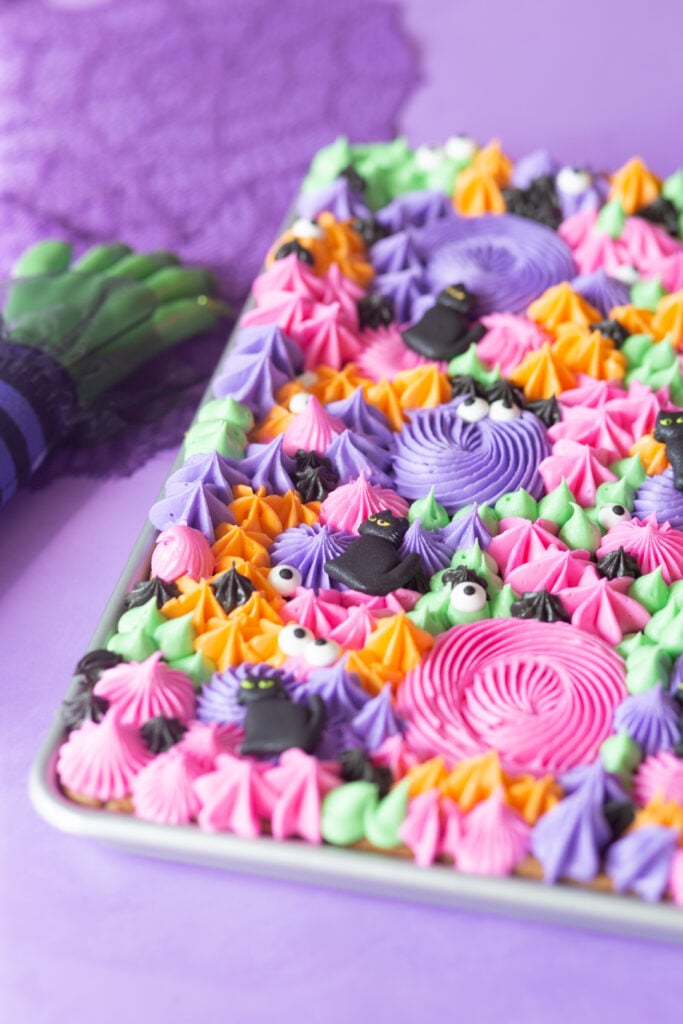 Loaded with gorgeous frosting decorations and fun Halloween inspired candies.
HALLOWEEN SHEET PAN COOKIES INGREDIENTS
Want to make awesome trendy treats? Let's get started. First you will need to source a few ingredients to make these.
STORE-BOUGHT CHOCOLATE CHIP COOKIE DOUGH - You will need two standard sized rolls to make this easy chocolate chip cookie bar in a half sheet pan. Be sure to pay attention to the size of the roll. I tried this once with a value size and it ended up bubbling over into my oven. Get exact recommended product size below.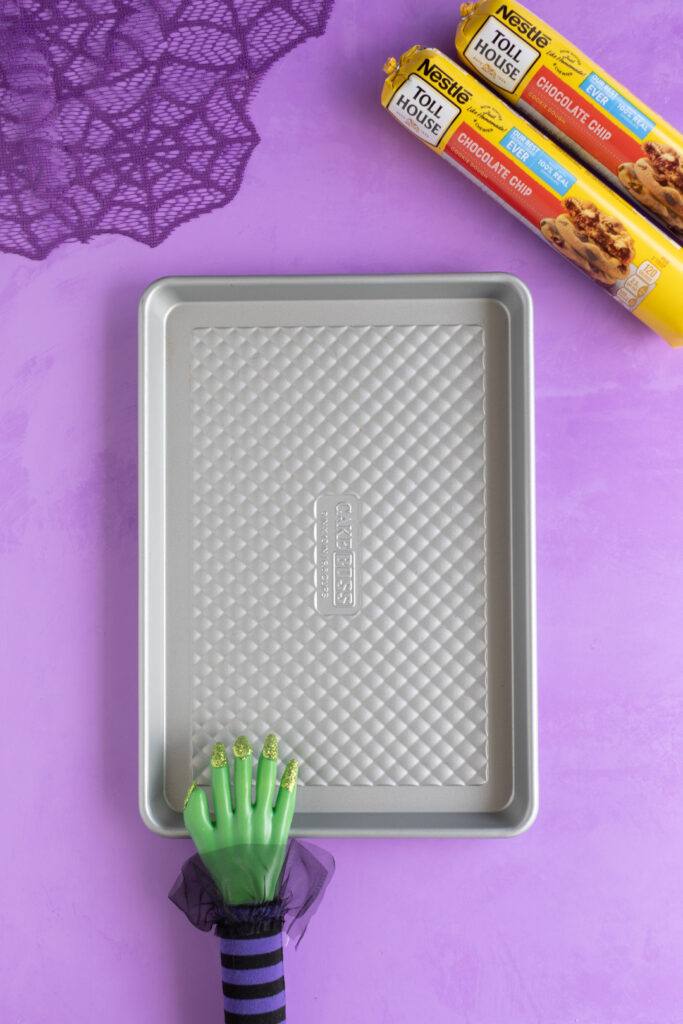 THICK FROSTING - you will want to choose a thicker frosting or buttercream for this because we need the frosting to be very defined to make each individual frosting decoration stand out.
For this easy Halloween dessert, I used my favorite store-bought option that REALLY sets perfectly with no effort, Wilton White Creamy Decorator Icing with Medium Consistency.
Note that regular supermarket canned frosting won't perform very well for something like this and I don't recommend it.
BLACK CAT ICING DECORATIONS - to give this dessert a fun Hocus Pocus vibe, I wanted to add a little Thackery Binx into the mix. These cute and spooky icing decorations do the trick. Black Cat Royal Icing Decor.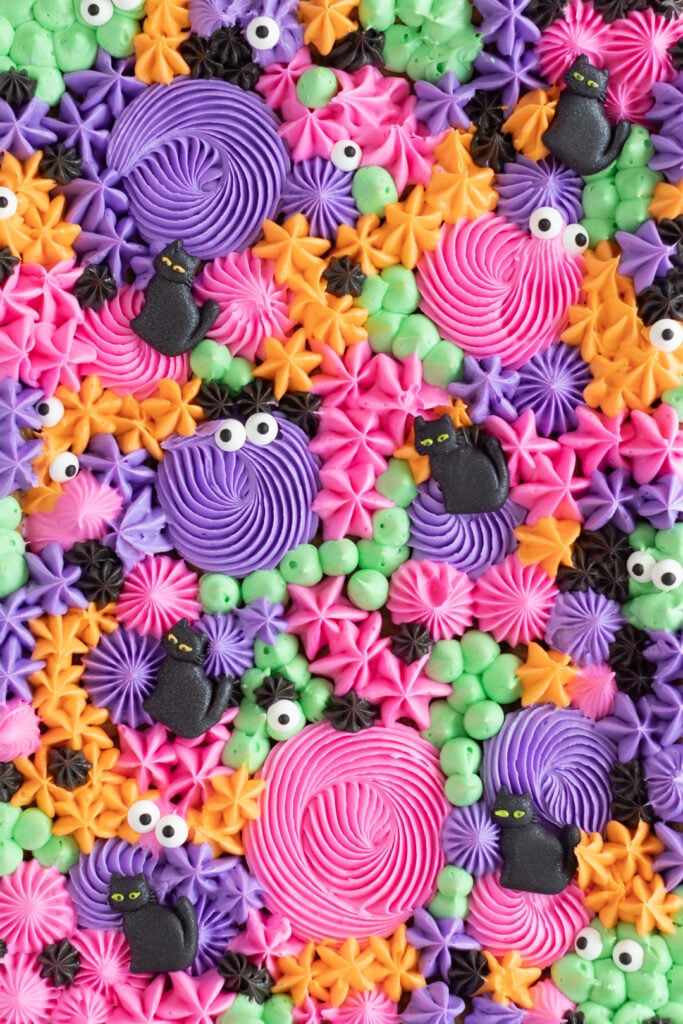 SMALL CANDY EYES - To add a creepy monstrous pop to your treat, adding candy eyes is such an easy way to do that. Adding candy eyes to almost any food can give it life in all the best ways. I always keep stocked up on Edible Candy Eyeballs for my treats.
GEL FOOD COLORING - to make these fun and bright colors you will need to use a variety of gel food coloring as well as regular black food coloring if you can't find it in gel form. Since we use so little black in this recipe, it works. Gel coloring is generally superior because it doesn't add much liquid to your frostings and icings and water them down.
SHEET PAN COOKIES TOOLS AND SUPPLIES
You will need a few simple items to make your sheet pan cookie bars.
NON-STICK HALF BAKING PAN - To make this Halloween treat, you will need a non-stick 9" x 13" half baking sheet or pan WITH high walls, a high sided sheet cake pan or a brownie pan. The cookie dough will rise in the heat and you will need to make sure your baking sheet can handle it. As an added precaution, I recommend placing your half baking sheet on a larger tray when cooking in case it does bubble over. Here is a High Sided Sheet Cake Pan by Nordic or Calphalon Nonstick Brownie Pan.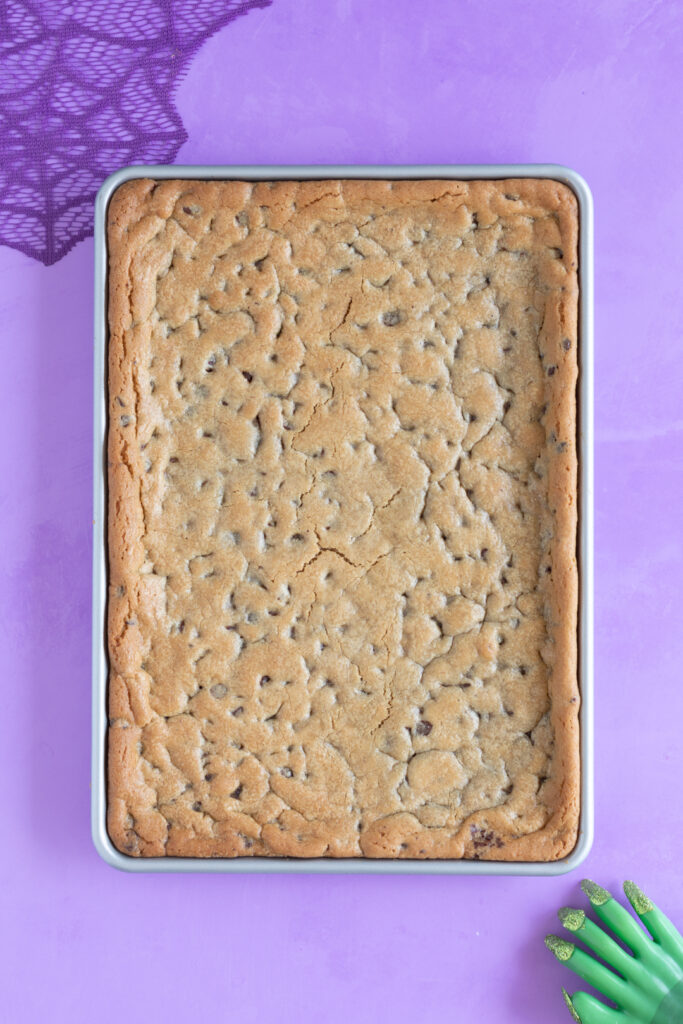 ICING BAGS - will help us to pipe the colorful frosting onto our chocolate chip cookie bars. I currently use Wilton 12" Disposable Pasty Bags.
VARIETY OF PIPING TIPS - There are so many ways you can make these trendy cookie bars your own. Here are the ways that I used these icing tips below.
Feel free to use what you have on hand and get creative with which designs you add on to yours. Have a blast with the many creative possibilities.
If you are completely new to using any kind of pastry bags and frosting tips, I would suggest using a Dessert Decorator tool such as this Dessert Decorating Syringe Kit. I used mine for many years and it helped me seamlessly start to understand how it all works. It's like using training wheels on a bike.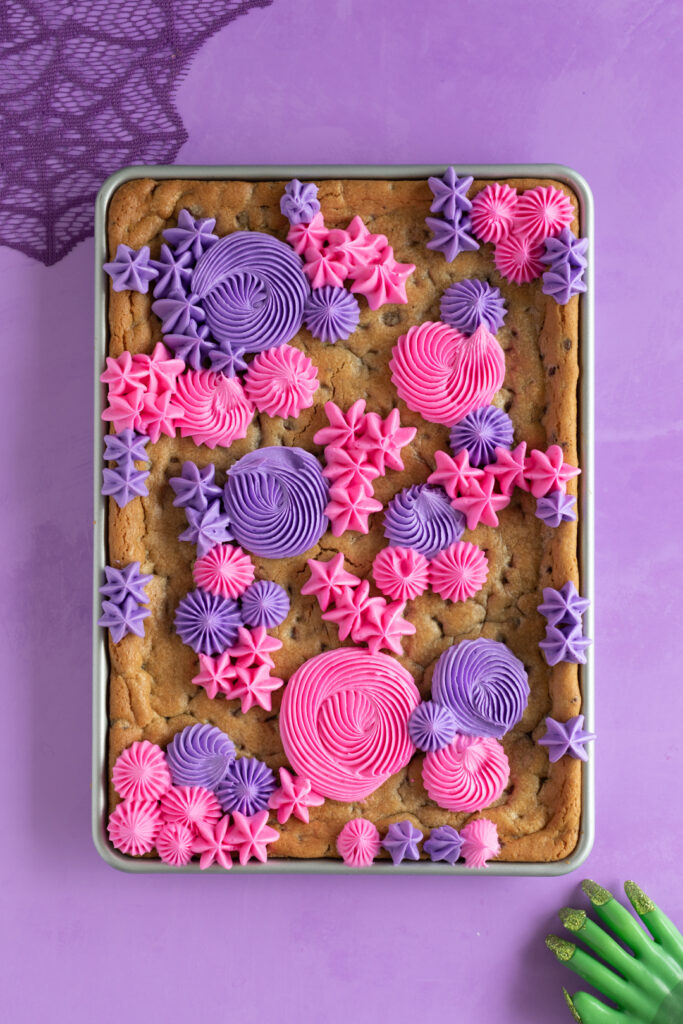 Small Star Tip for the very small black icing decorations.
Round Tip for all of the cauldron "bubbles" you see in this cookie design.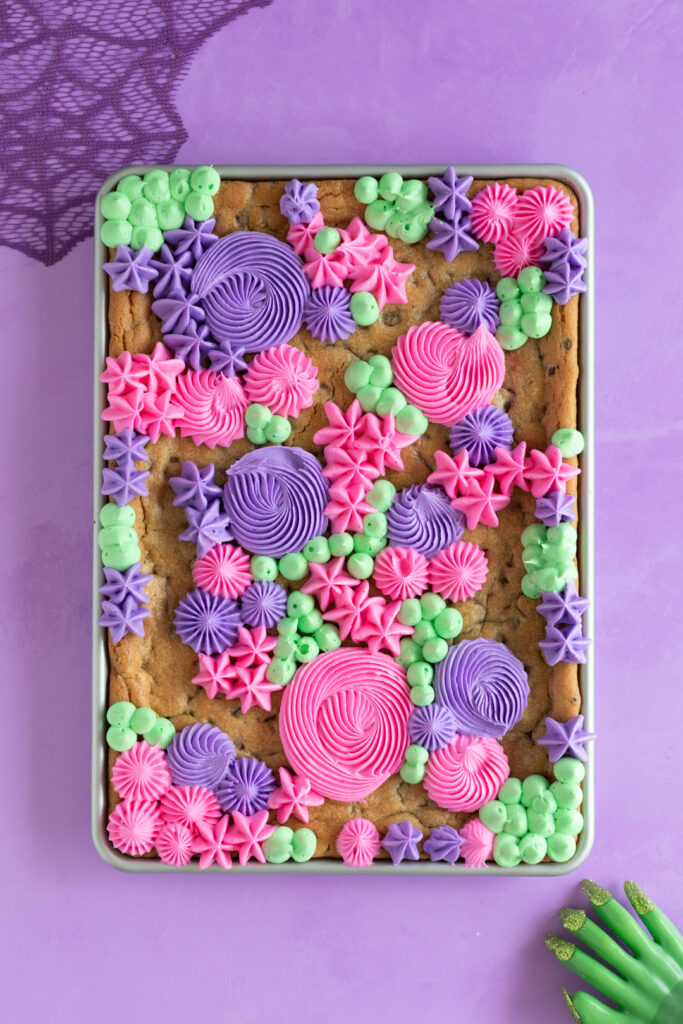 HOW TO MAKE SHEET PAN COOKIES
Making the sheet pan cookies for this recipe idea is the easiest part. The use of store-bought cookie dough is everything. As long as you are using a non-stick pan you are good to go.
Start by heating your oven.
Then, press each roll of cookie dough into each half of the baking sheet. Press them down until the entirety of the dough is flat and even.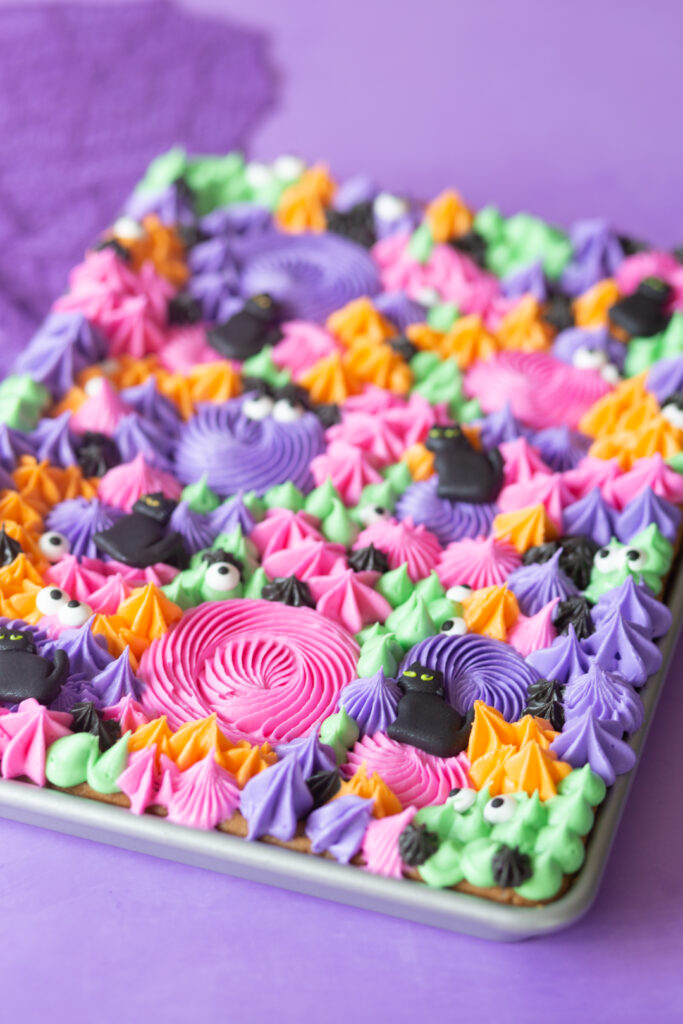 We bake this until cooked through and then cool completely before decorating.
Meanwhile, as your cookie bars are cooling, prepare the frostings.
DECORATE TRENDY SHEET PAN COOKIES
Are you wondering how to decorate trendy sheet pan cookies or sheet pan cakes? You have come to the right place. This super easy but extra fancy method is everything.
I recommend practicing on wax paper or parchment paper before getting started.
Nail down your general icing decoration ideas before frosting onto your cookie.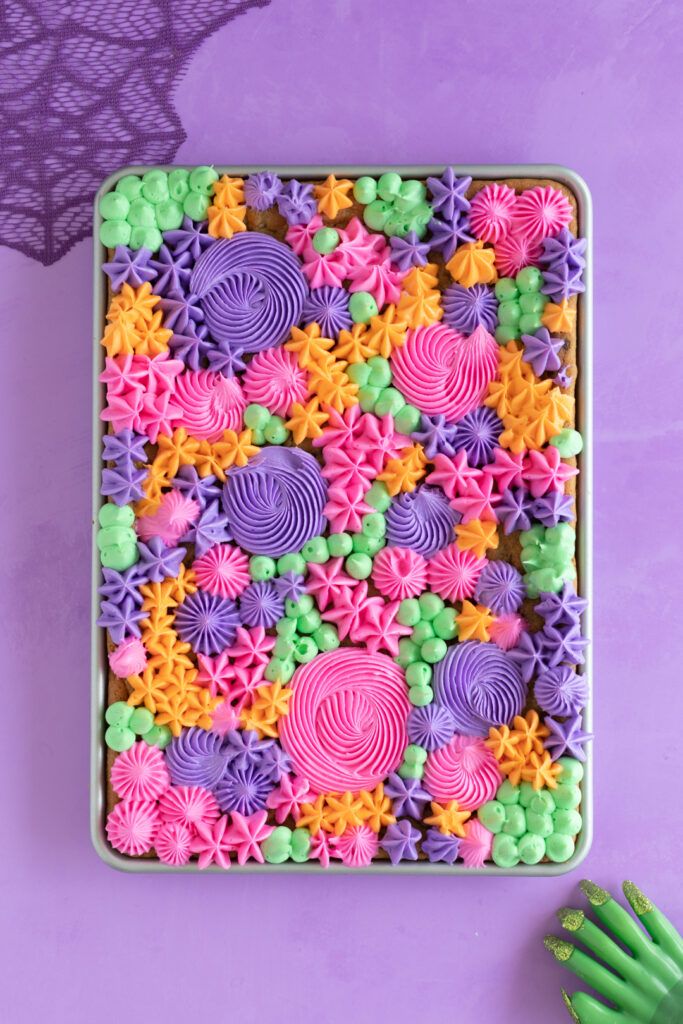 You can do this at almost any level by tapping into the frosting designs that you know how to do or are easy for you to learn.
Don't be afraid to have fun with it.
Here is what I did:
Get started by making the larger swirls and decorations first.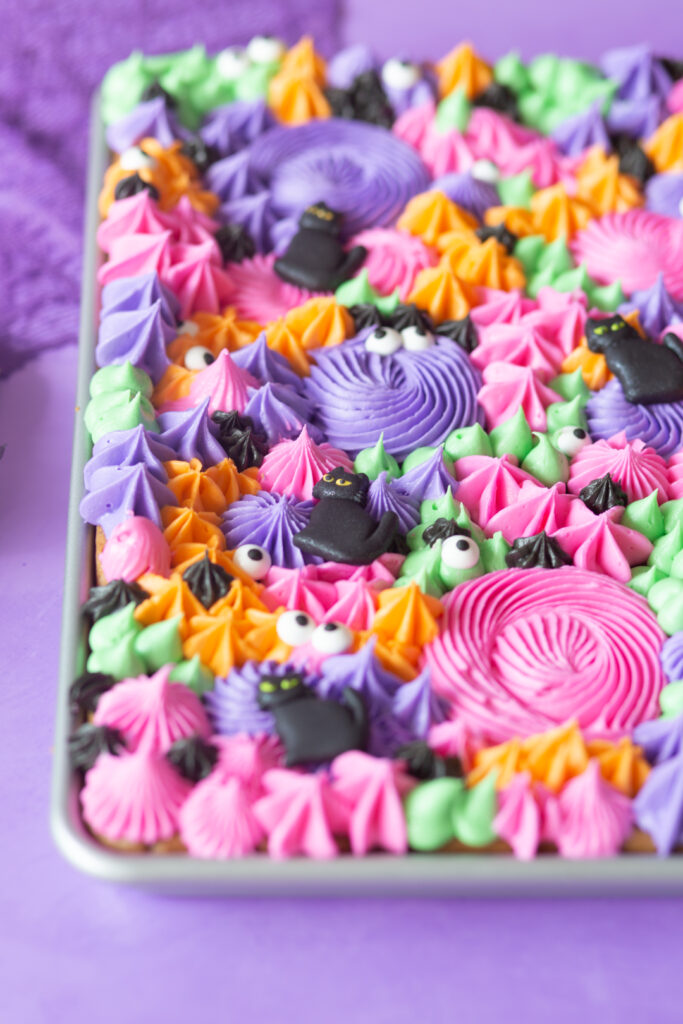 Pipe on your medium sized decorations next.
Use the smaller decorations such as round cauldron bubbles and small star decorations last to fill in the remaining empty spaces.
For the final special touch, add additional decorations such as candy yes and black cat icing decor.
HOCUS POCUS RECIPES AND IDEAS
Looking for even more fun witch inspired recipes with a dash of Hocus Pocus? These fun Halloween ideas will be perfect for your upcoming movie themed celebrations of any kind.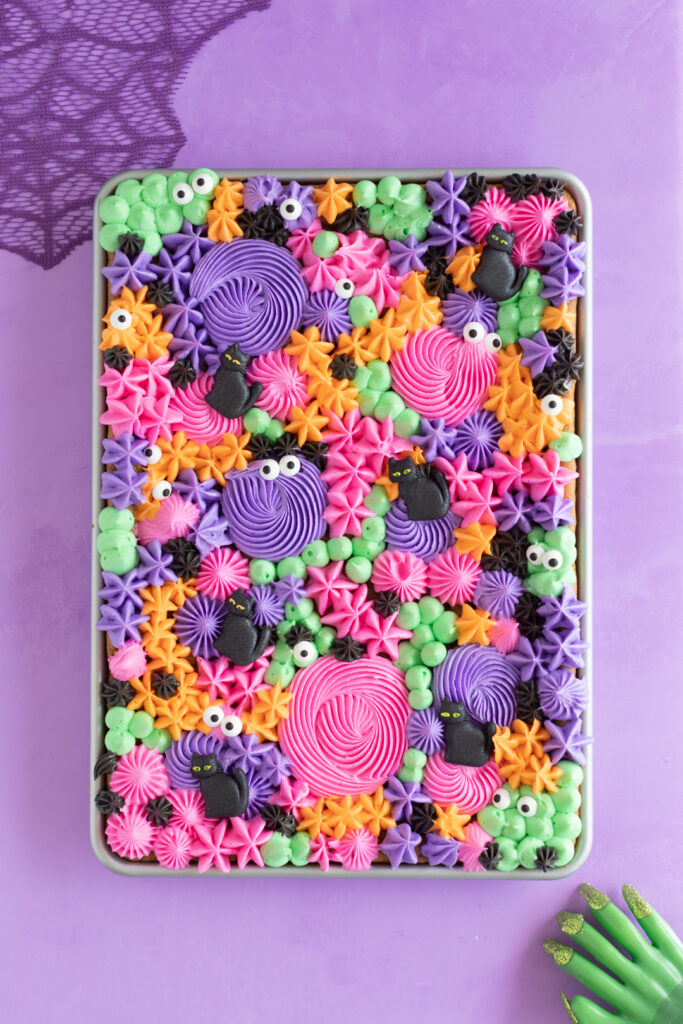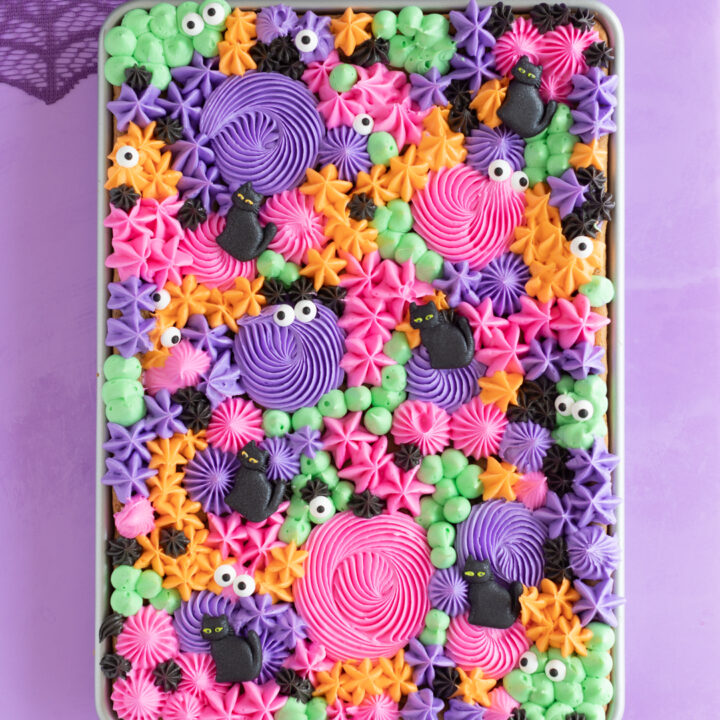 Halloween Sheet Pan Cookies
Additional Time:
20 minutes
Halloween Sheet Pan Cookies made with store-bought cookie dough rolls and decorated with trendy and colorful icing swirls and dollops. Topped with candy eyes and black cat icing decorations.
Ingredients
2 Rolls of Store-Bought Cookie Dough, 16.5 oz
5 Cups of Icing or Buttercream with Medium Consistency
Gel Food Coloring of Choice
Candy Eyes
Black Cat Icing Decorations
Instructions
Preheat oven to 350° F.
Press each roll of cookie dough generally into half of the baking pan with high walls. Using your hands, press the cookie dough down until it fills and covers the entire pan evenly.
Bake for 16-19 minutes or until the mixture no longer looks wet. Cool completely before icing.
Meanwhile, separate frosting into small bowls and prepare with desired colors. Read notes below to see exactly how I divided mine up. Use the desired amount of pastry bags and icing tips for each color. Fill the bags with your desired color frosting.
Use the filled bags with desired tips to add a variety of designs and swirls out of frosting onto the sheet cookies. Start with your larger designs and work your way down to the smaller designs last to fill in remaining empty spaces.
Add candy eyes and black cat icing decorations.
Cut into 15 bars and serve. Store leftovers to a sealed container so the frosting doesn't harden.
Notes
Here is the breakdown for color distribution of my icing:
½ Cup Black
½ Cup Green
1 and ⅓ Cups Pink
1 and ⅓ Cups Orange
1 and ⅓ Cups Purple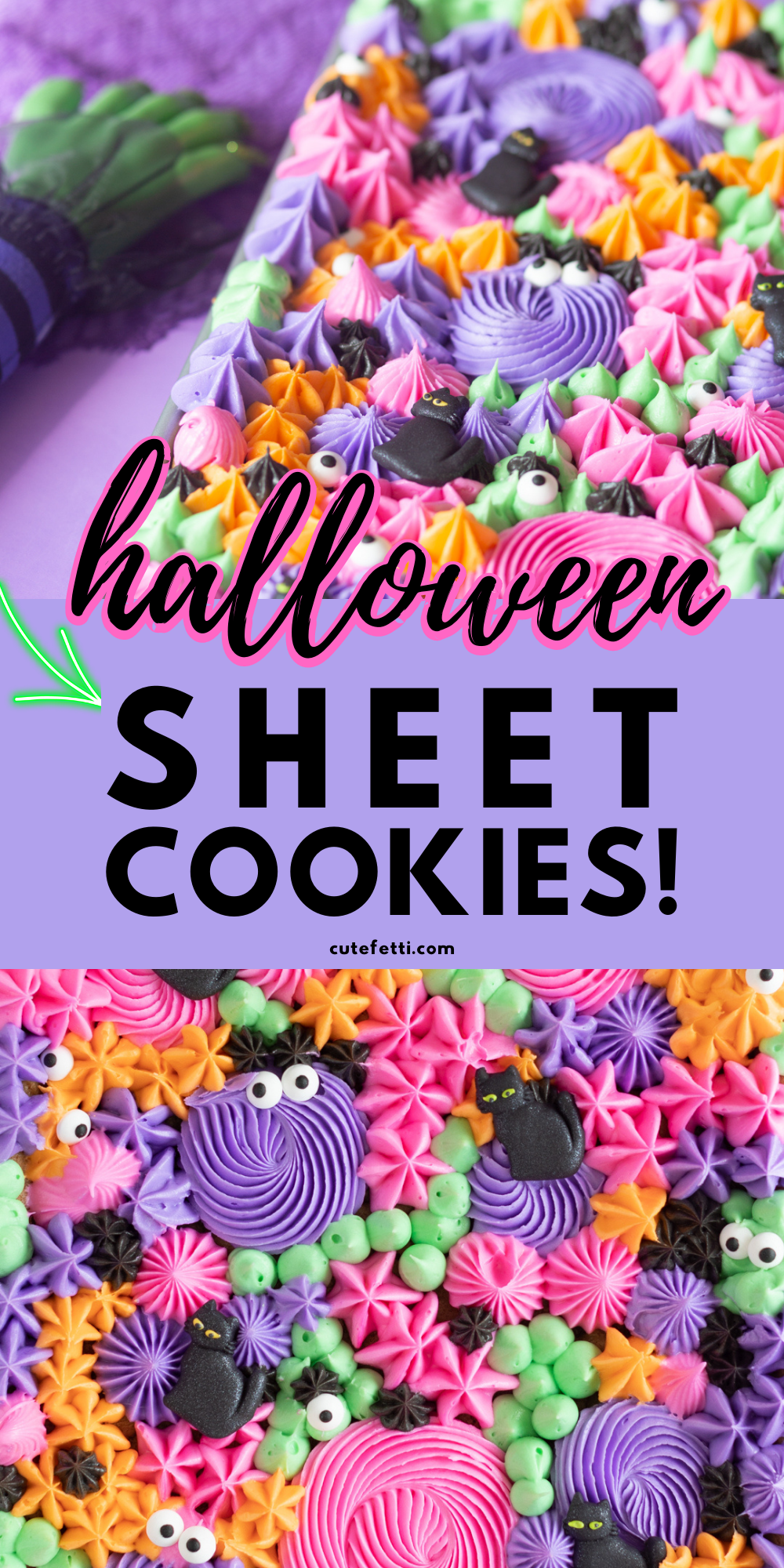 If you enjoyed this easy recipe, please share with a friend or two! =)