My love for the idea of summer grows every year. Sure, it's ridiculously hot and humid in Florida, but the carefree vibe is just everything. On my quest to make this year more memorable, I wanted to make a Sandwich Tackle Box. You know... a heartier version of the very trendy snackle box aka a tackle box filled with snacks. Loving the way it turned out and hoping you do, too. This post may contain affiliate links.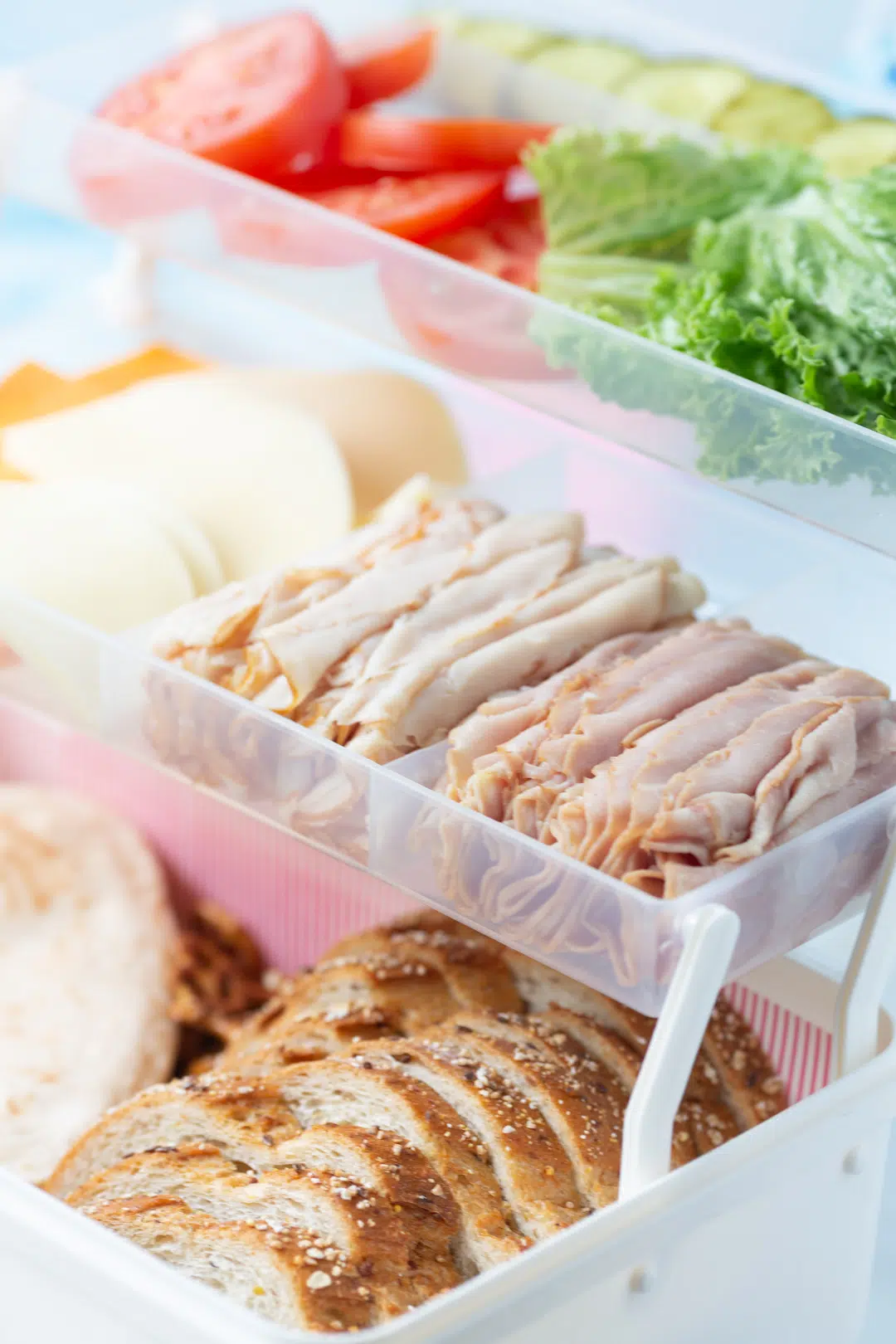 Whether you're planning a picnic, day of fishing or a pool or beach day, this is a fun solution that the family will enjoy. It's no doubt best for simply eating outdoors right after making it, but you can also store right in a cooler, too.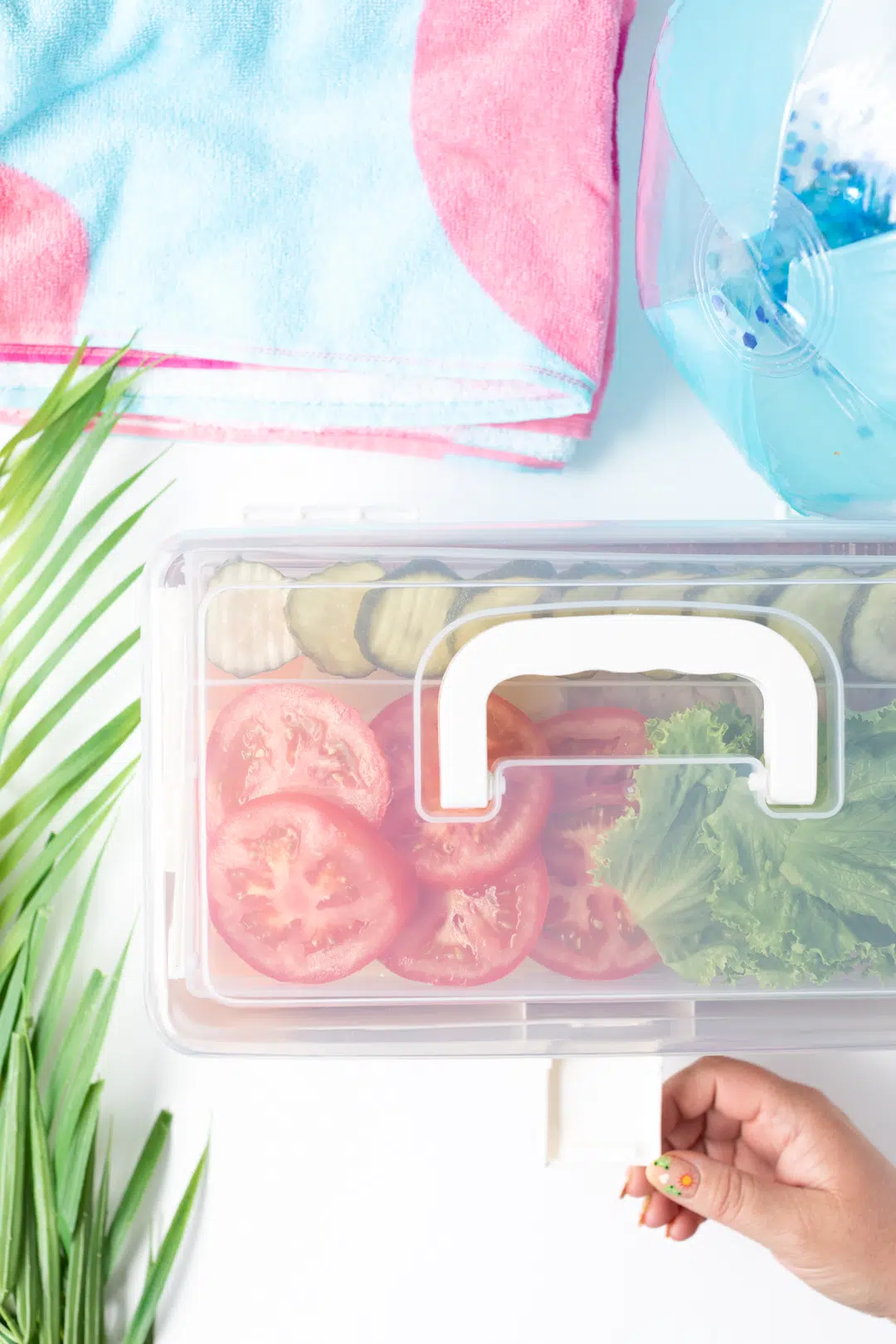 HOW TO SET UP A SANDWICH TACKLE BOX
To decide what I wanted to put into my sandwich tackle box, I revisited my sandwich bar post that I did a few years ago. Realizing simple was absolutely the way to go, it guided me to come up with these tried and true sandwich toppings to include.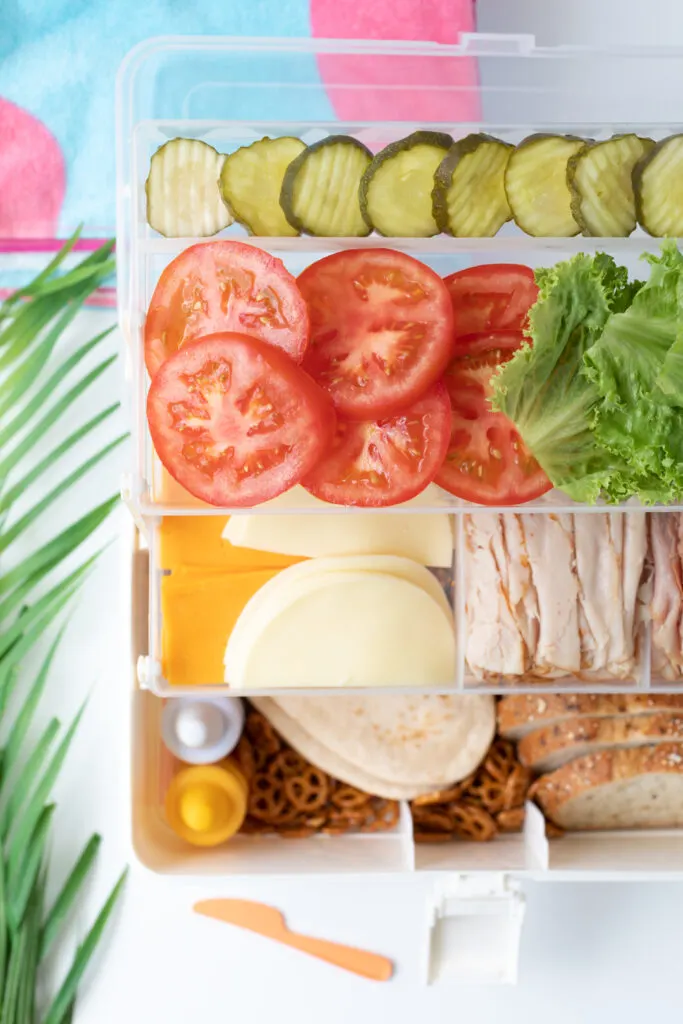 I'm going to keep this post super simple since, let's be honest... once you see my photos, it's easy to see exactly what ingredients I included and how I did it all. You can keep yours simple and carefree like I did or get fancy.
SUPPLIES NEEDED FOR SANDWICH TACKLE BOX
You just need a couple of supplies in order to set up a yummy tackle box filled with sandwich ingredients.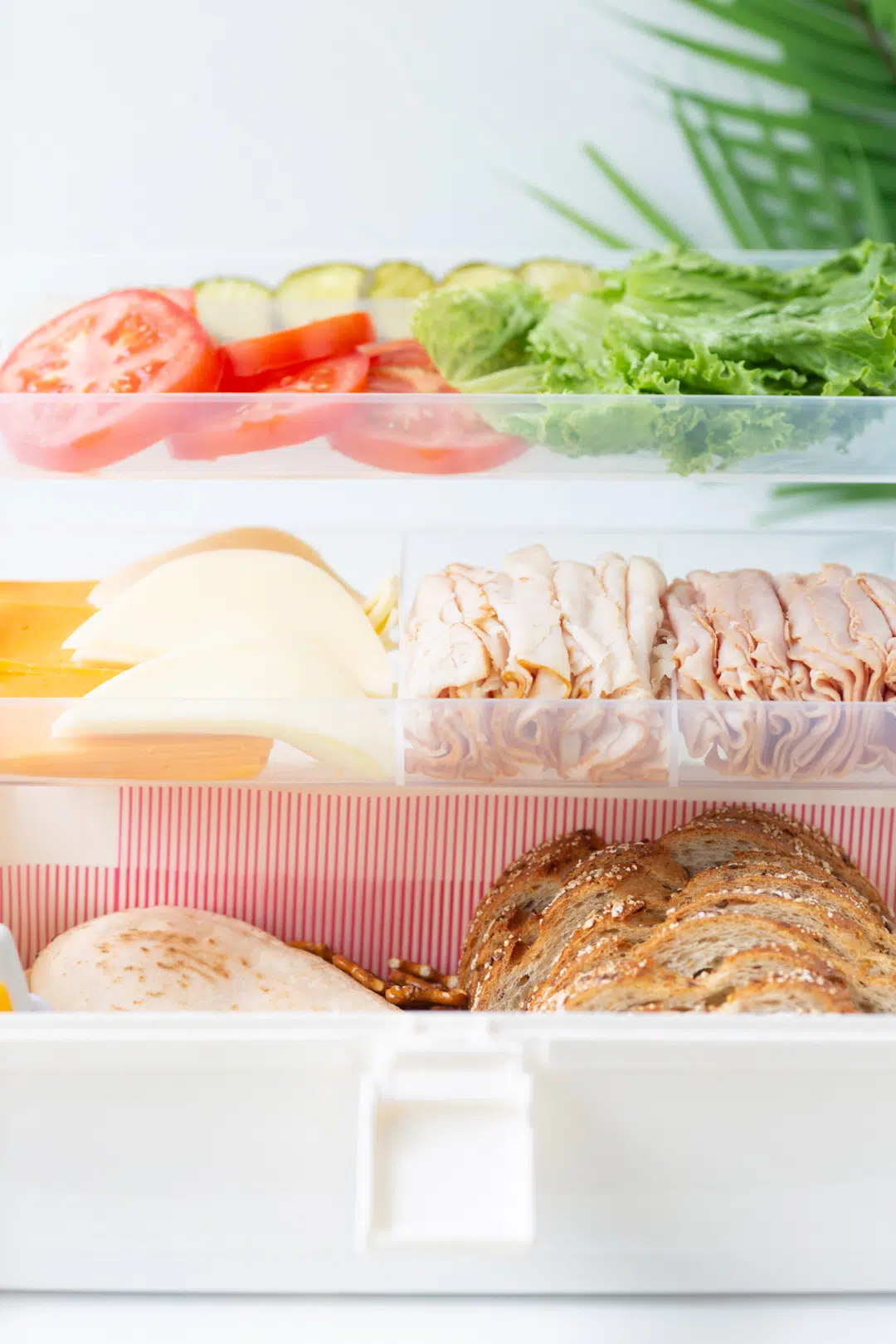 TACKLE BOX - first up, you are going to need a very clean (I'd recommend brand new) multi-tiered tackle box or a craft box. I'm only wishing I'd saved my Caboodle for ideas like this. Finding a tackle box without a big logo was kind of a challenge, but that's how I ended up deciding on this simple supply tackle box which I found affordable and adequate.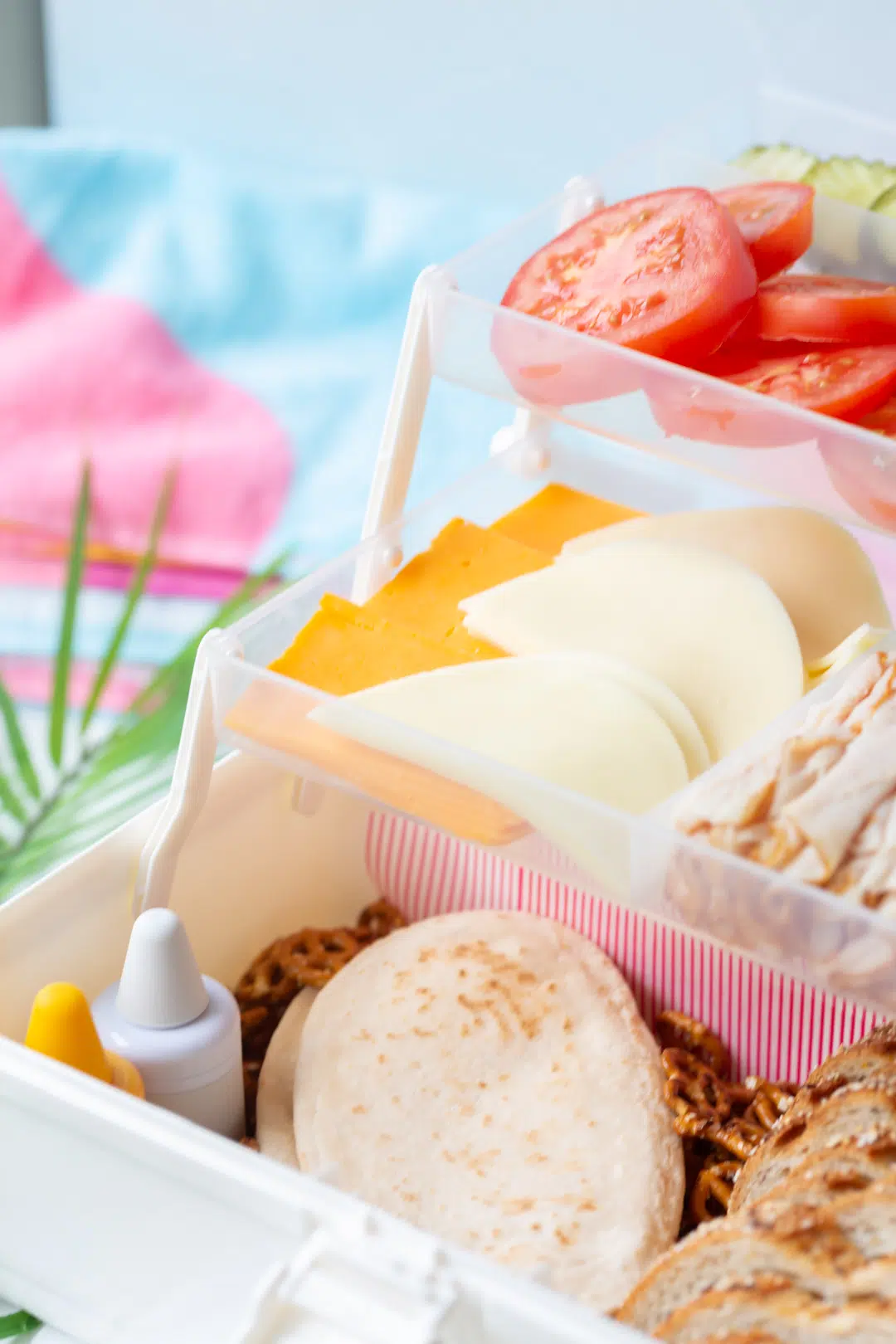 PARCHMENT PAPER - not mandatory, but it's great to have parchment or wax sheets to lay down before adding your sandwich ingredients. This is the pretty red-striped wax sandwich sheets that I used.
PLASTIC WRAP - also not mandatory, but really great for individually wrapping bread or anything that would get stale very quickly.
SMALL ICE PACKS - another optional idea. If you don't need to stuff your tackle box, you could technically fit some small ice packs in there if you like.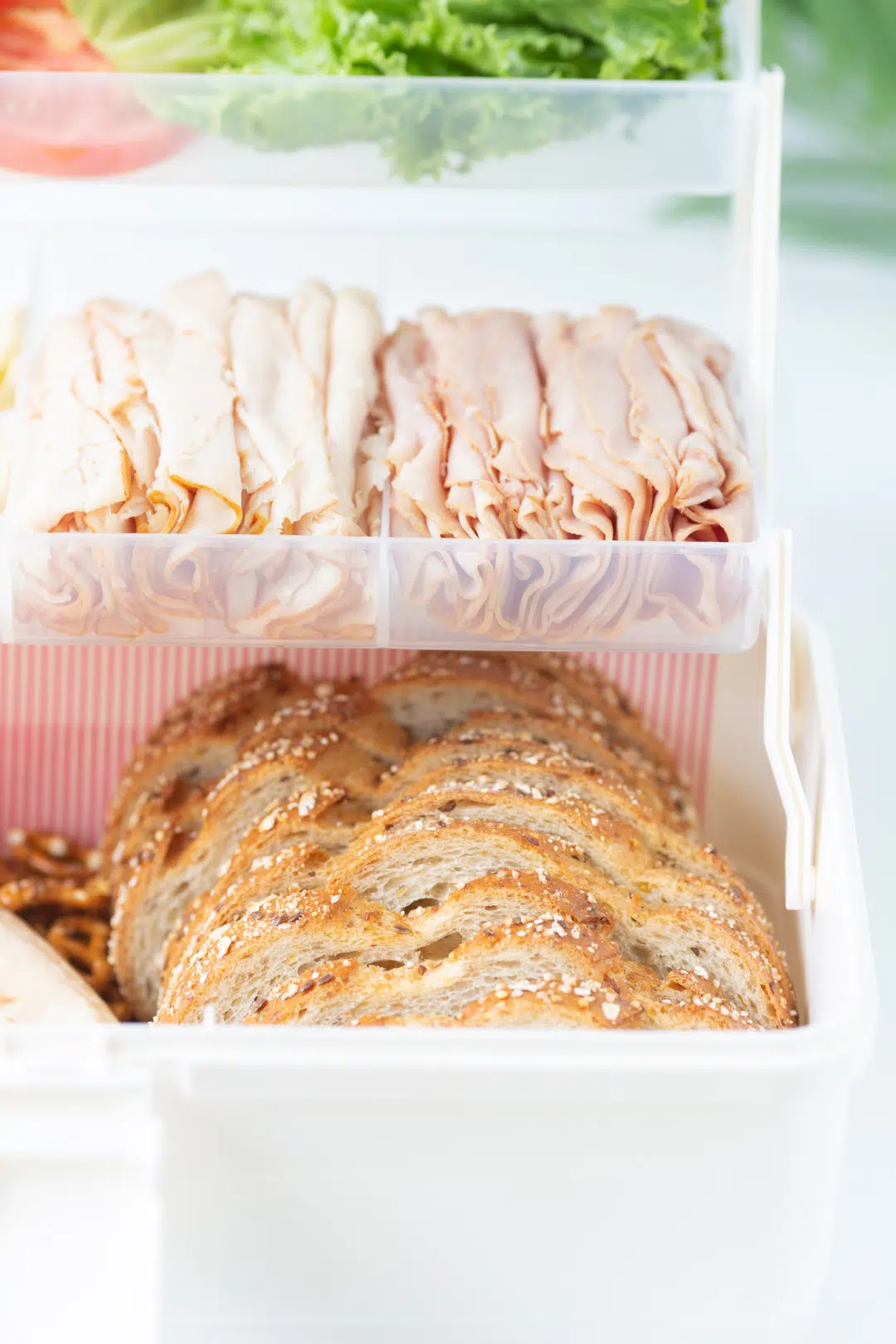 MINI CONDIMENTS - you can technically fit a small container of mustard and mayo into the bottom of the box without issue. However, to make maximum space, I used mini condiment bottles. And honestly, how cute are they?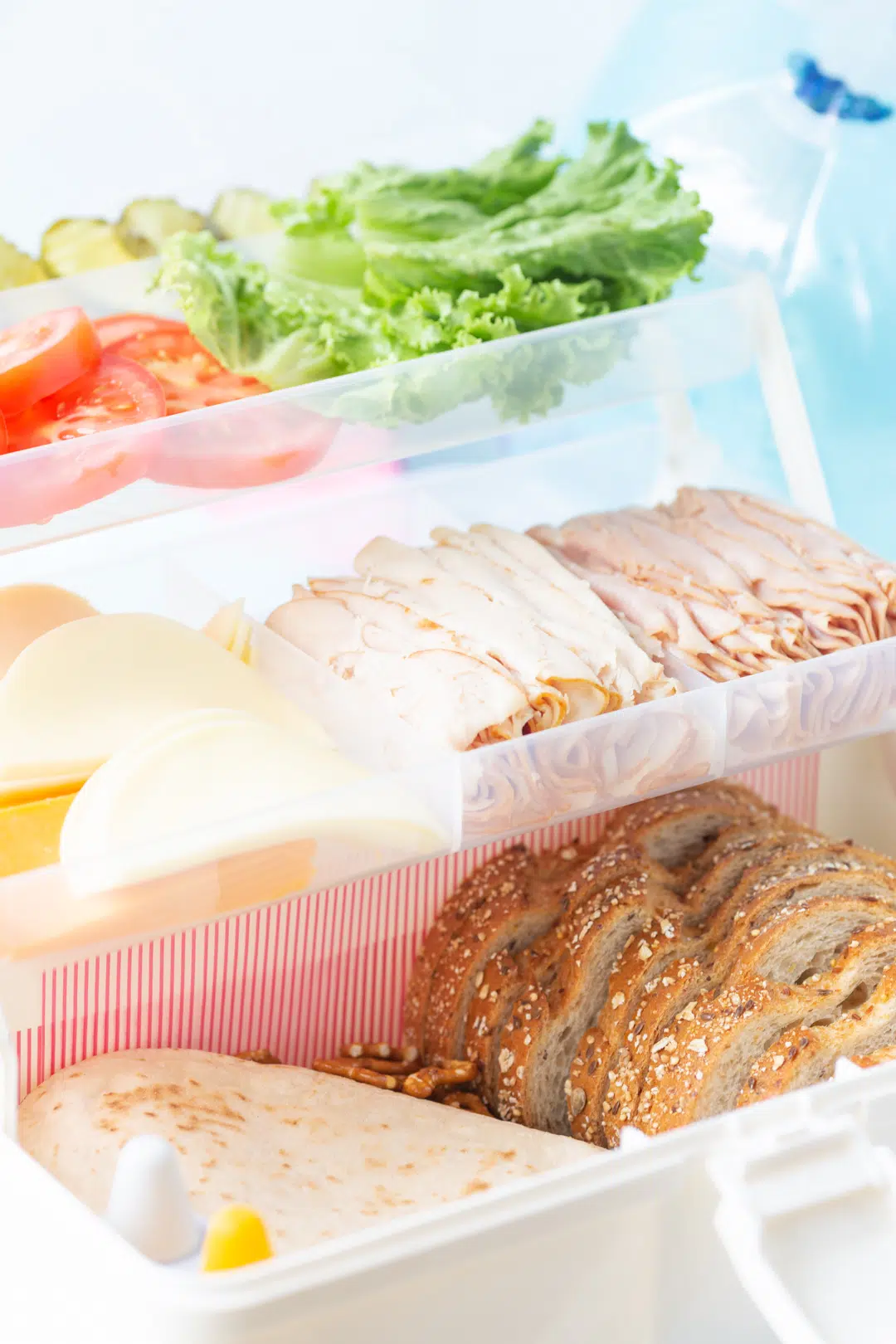 PLATES AND UTENSILS - you will definitely want to also pack up plates, utensils and napkins for serving and enjoying. You can add plastic knives inside of your portable sandwich kit, but you will probably want to plan to bring plates and napkins separately.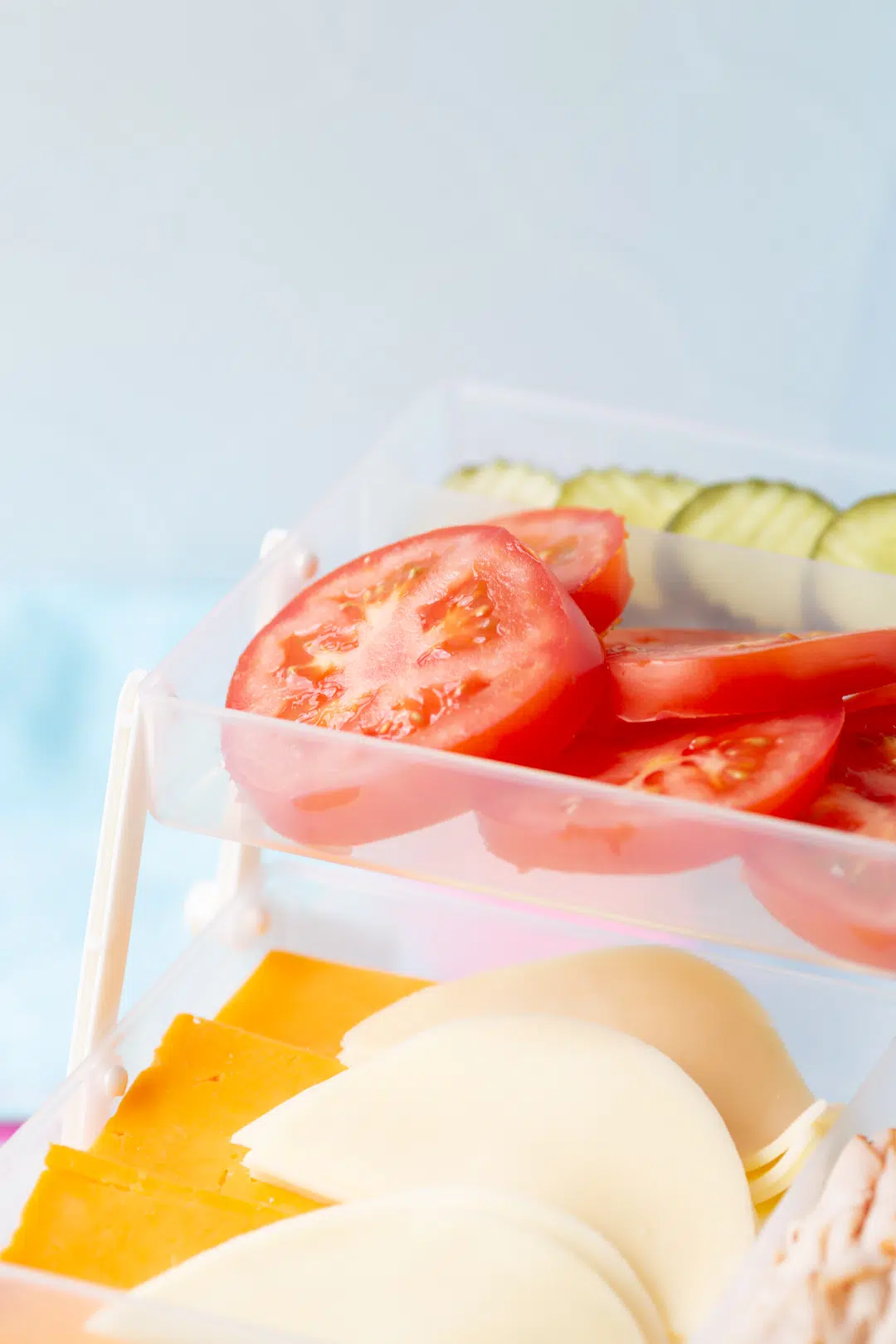 TACKLE BOX SANDWICH BAR INGREDIENTS
Now that you've gathered all of the basics, it's time to plan what ingredients you will add to your sub box.
There are SO many ways you could go with this.
For example, you could focus on one particular kind of sandwich such as a muffuletta and plan to only bring toppings that you would need to make that, etc.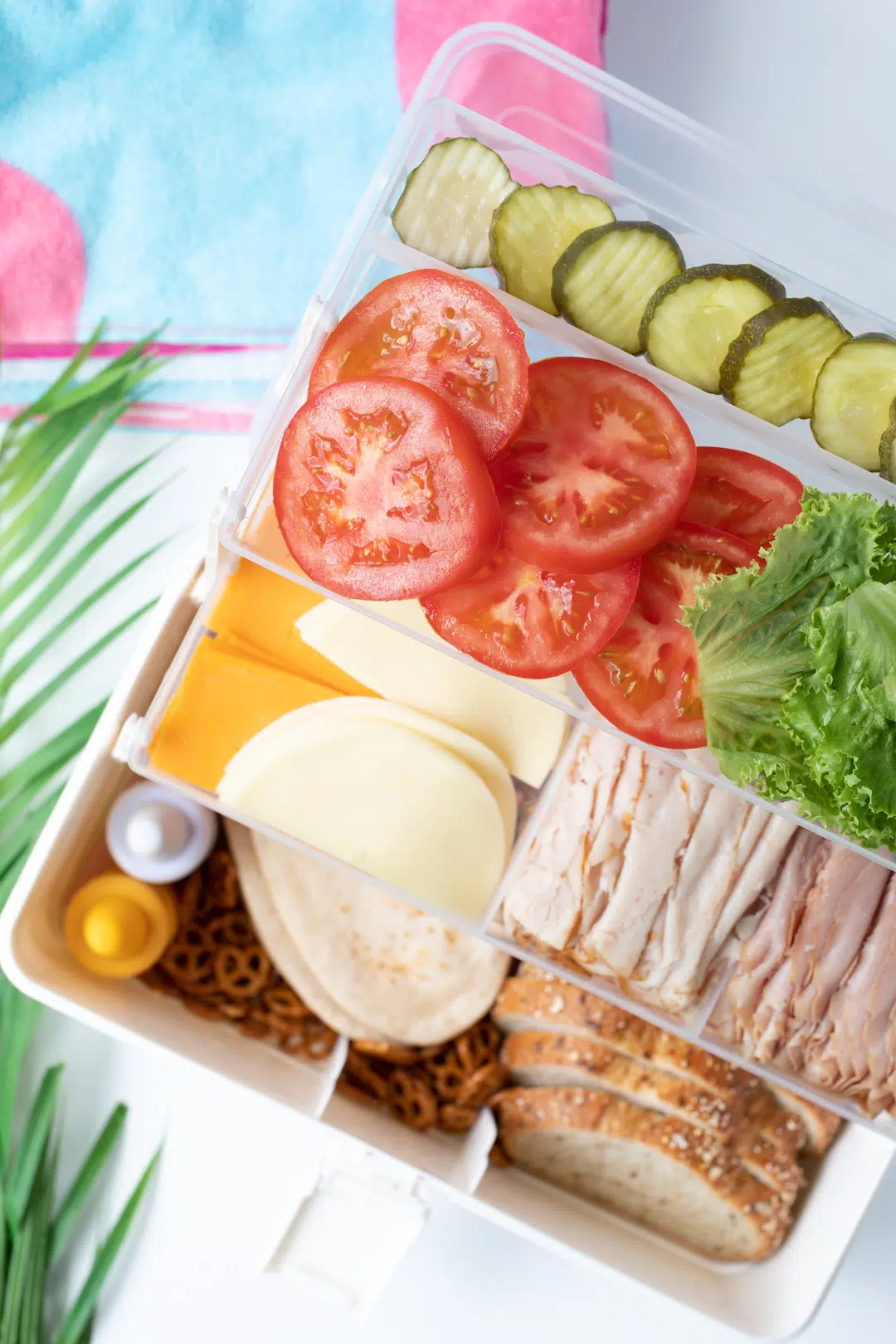 For a general popular and well-liked sandwiches, I kept it very basic and it worked out so well.
Here is what I packed up in mine.
Variety Sliced Bread and Pitas
Packaged Deli Lunchmeat (Ham and Turkey) - prefer packaged because slices are perfectly sized for this.
Packaged Deli Cheese Slices (Cheddar and Provolone) - prefer because the slices are perfectly uniform.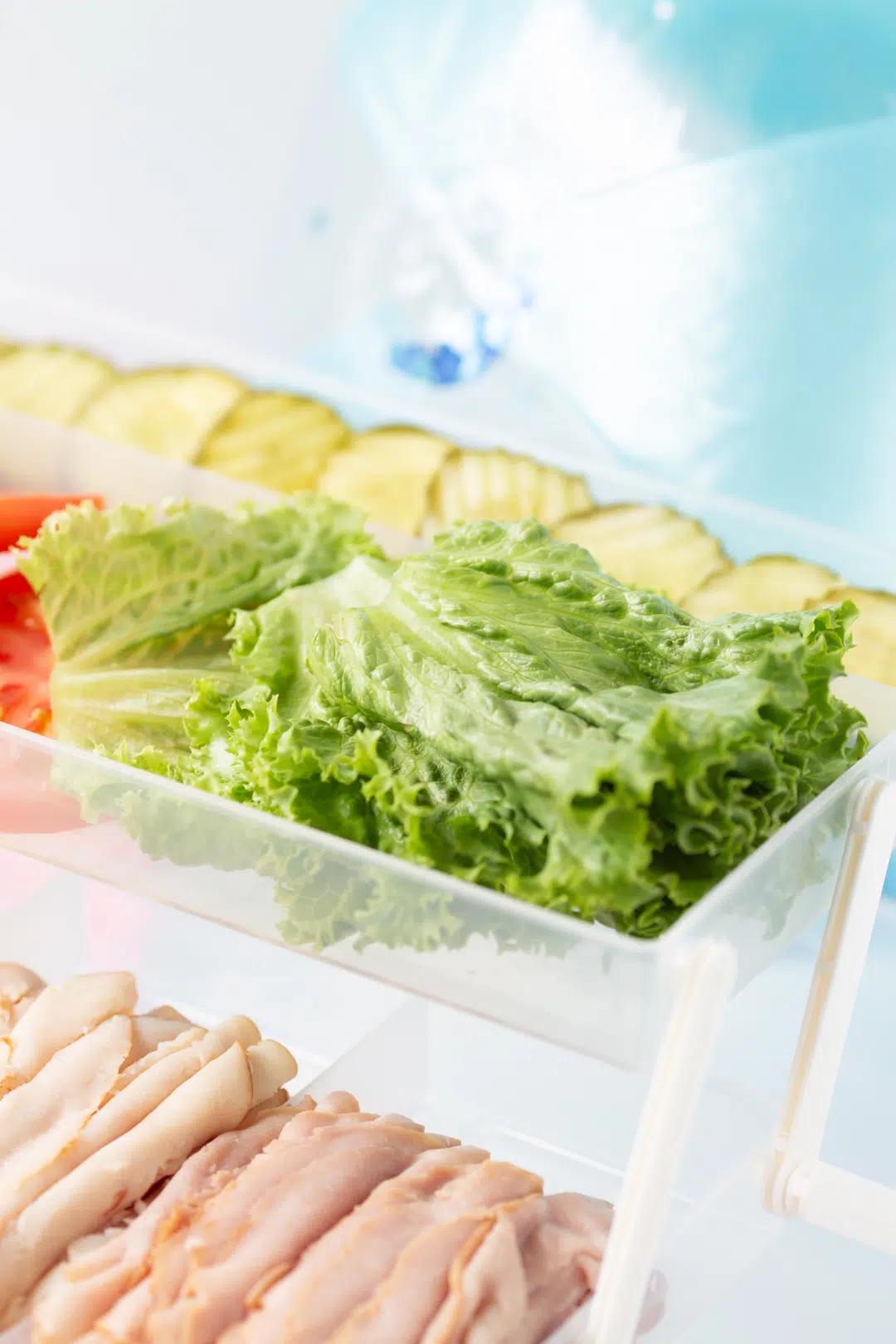 Sliced Tomatoes
Fresh Green Leaf Lettuce Leaves
Pickles Rounds - they fit so perfectly on that top row.
Condiments (Mayo and Dijon Mustard)
Mini Pretzels
Serving Utensils
These are my best though-starters, but be sure to have fun and make this your own.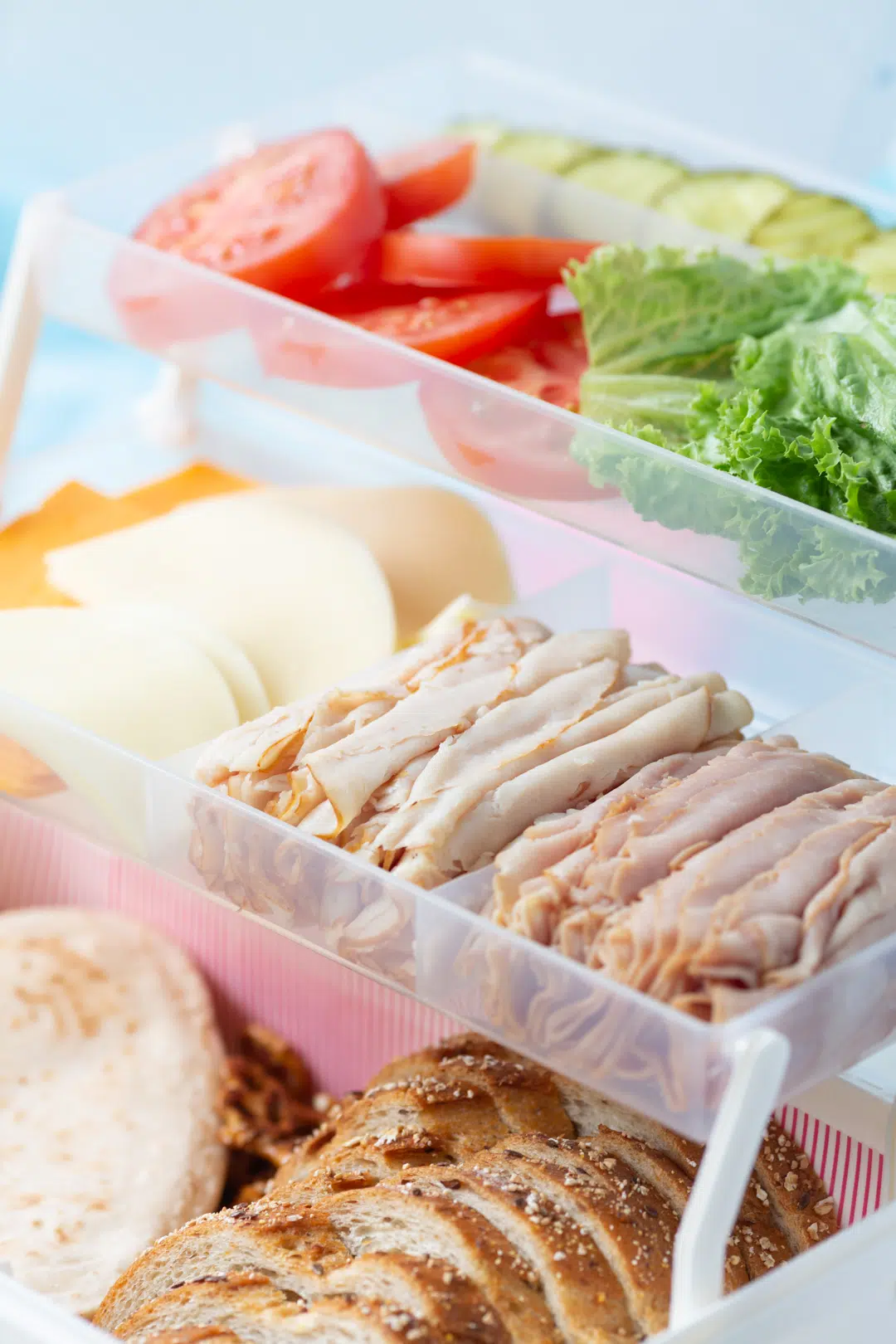 WHERE TO BRING A SANDWICH TACKLE BOX?
There are so many places you can bring one of these cool sandwich loaded boxes, here are just a few starters.
Your backyard
To the Park
Beach Day
Poolside
Family Outing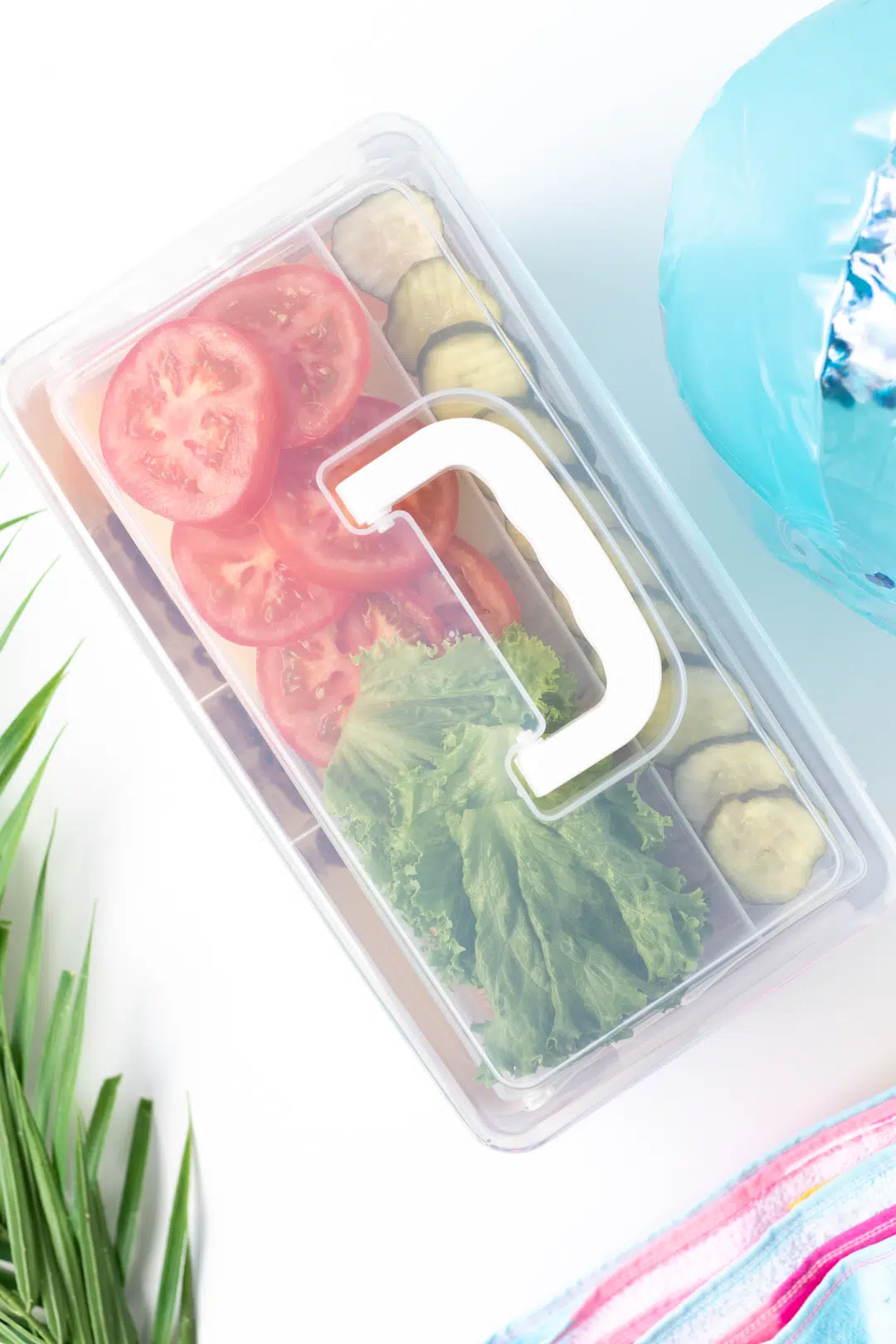 Field Trip
Road Trip
Camping
Fishing
So many possibilities for this sandwich tackle box, the sky is the limit.
I hope that you enjoy this fun idea! If you do... it would mean a lot to me if you let me know. Leave a comment below or tag me using @cutefetti on social media.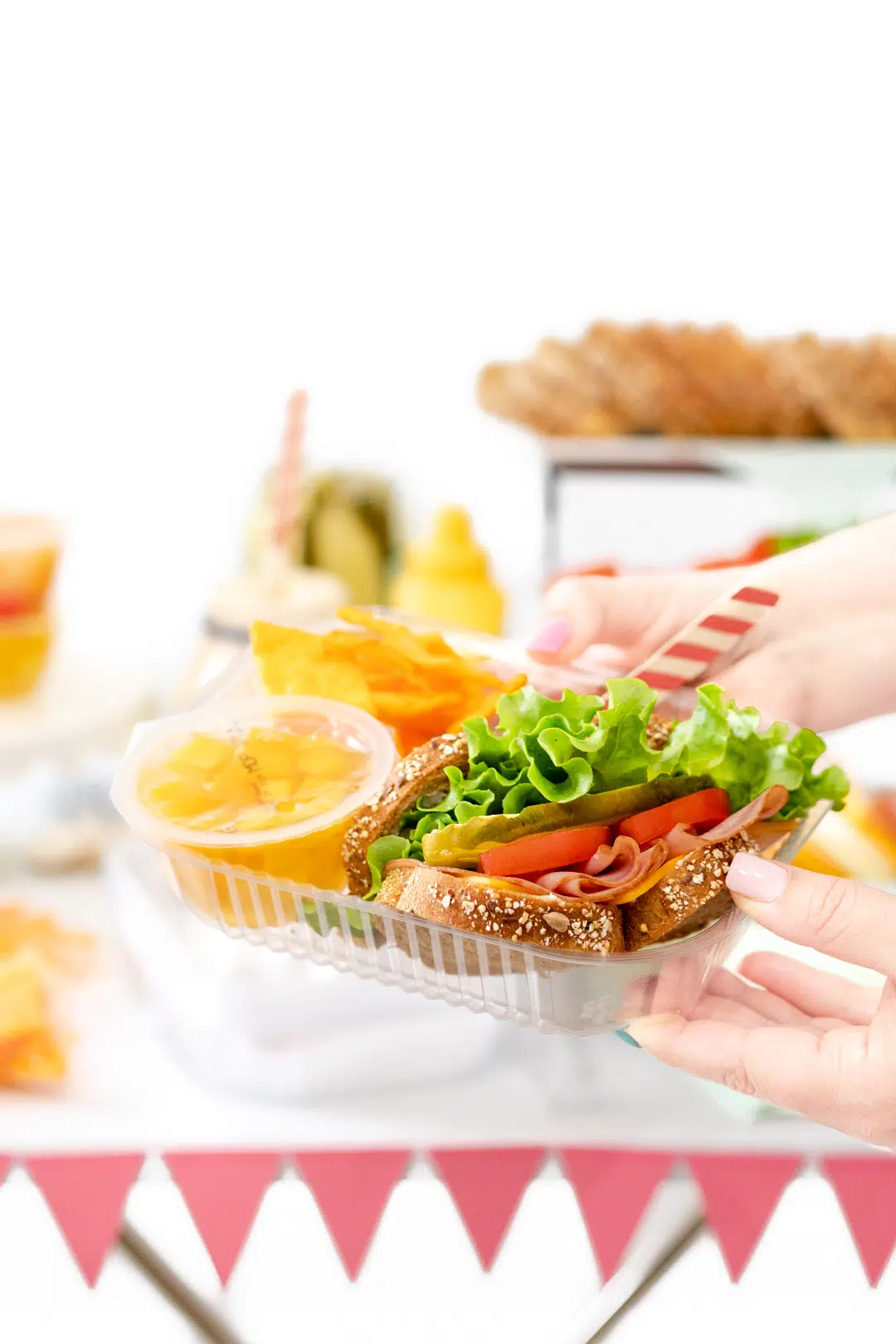 I'm still bummed that I couldn't come up with a catchy name. Like sub-le box, sammy-le box have zero vibe. Sarnie box could work if you called sandwiches sarnies, which I don't.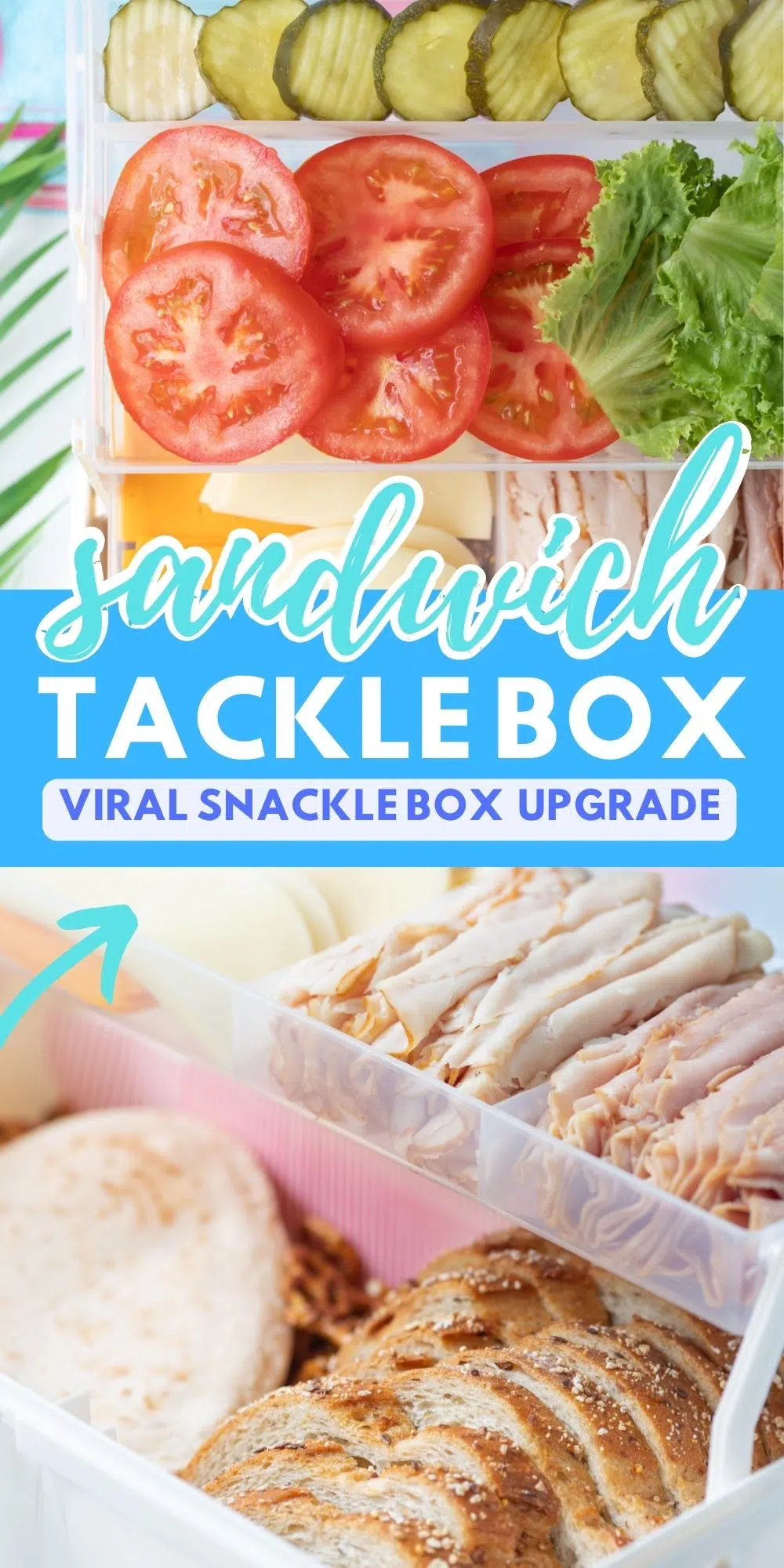 The best I could do is maybe an adult lunchbox?
If you have a fun name to call this, let me know in the comments.