Are you planning on celebrating mom this Mother's Day? These sweet last minute party ideas are perfect for making mom feel special! Or if you need a treat for you, tell the family to get to work. 😉 Setting up a mini sweets party is simple and I made this one extra special by ordering a pretty Pink Rosette Cake online to pick up as the centerpiece! This is a sponsored about Baskin-Robbins' ice cream cakes post all opinions are mine.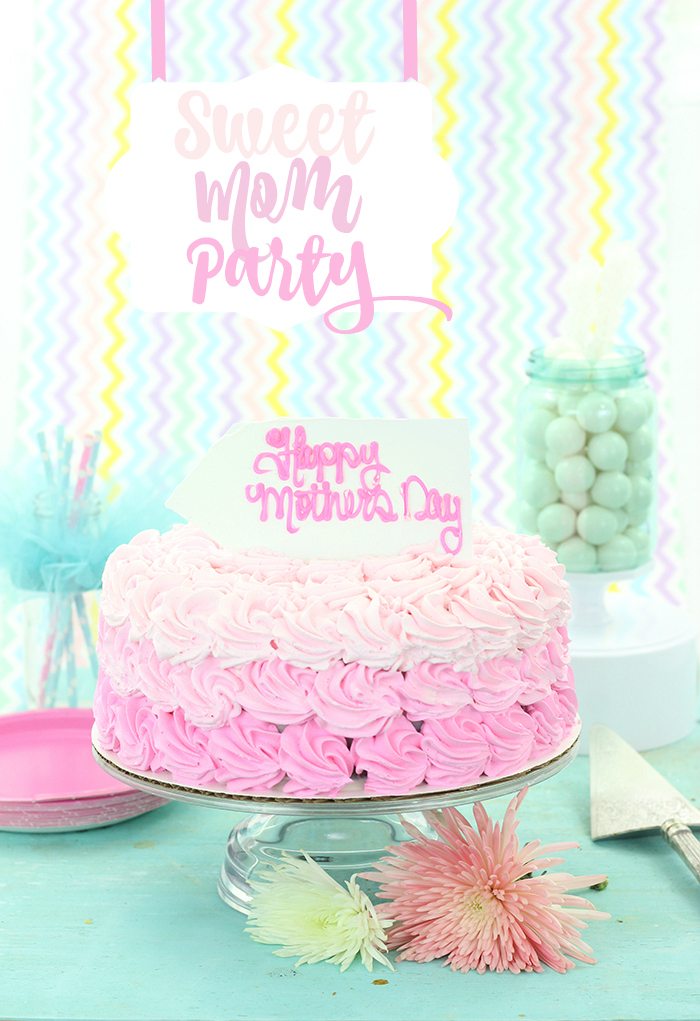 Putting party tables can be so much fun. I put this together using mostly things that I already had on hand. I've found that setting up a party can break your bank if you don't have a plan. Today, I'm sharing simple ideas on how to keep it budget friendly without sacrificing awesomeness! After all, this is a party for mom we're talking about!
Sweet Celebration Ideas for Mom
Choose a backdrop. Every great party table has the perfect backdrop. My new favorite way to create an inexpensive back ground for a party is to use a poster board and wrap it with tissue paper that matches your party theme.
Balance your display. To make an attractive party table, you'll need to get some height. From tall cake displays to various mason jars that you have on hand are perfect for making this happen. I used a pretty colored water bottle to hold gumballs and a clear glass milk bottle to hold straws. You don't need to buy new things to do this, which makes it perfectly budget friendly.
Choose Your Sweets. To make your celebration sweet, create displays of candy, matching gumballs, mini cupcakes and of course the perfect cake. Head to the dollar store or bulk store to keep cost low.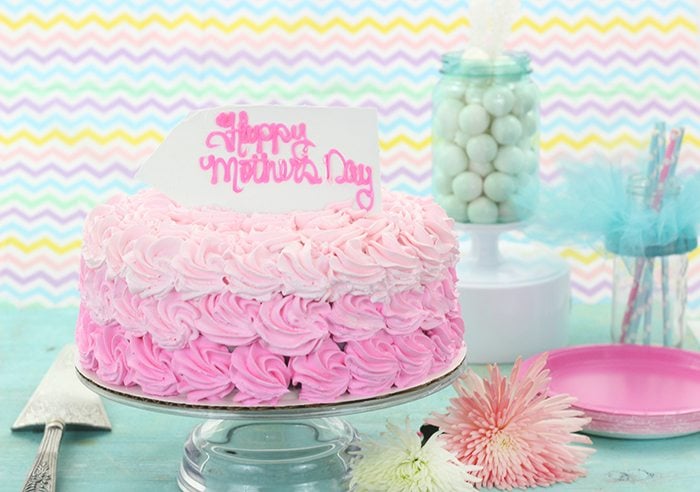 Perfect Cake Centerpiece. For a deliciously sweet party, make sure to find the perfect cake. To celebrate mom, I can't think of a more perfect cake than this Pink Rosette Cake from Baskin-Robbins. Isn't it gorgeous? It will no doubt steal the show. You can custom order it with mom's favorite flavors, too!
Serve it Up Pretty. Use what you have on hand, if you have a nice matching set of small plates and utensils use those. You can also find inexpensive colored plates and utensils at the dollar store if you want to go that route.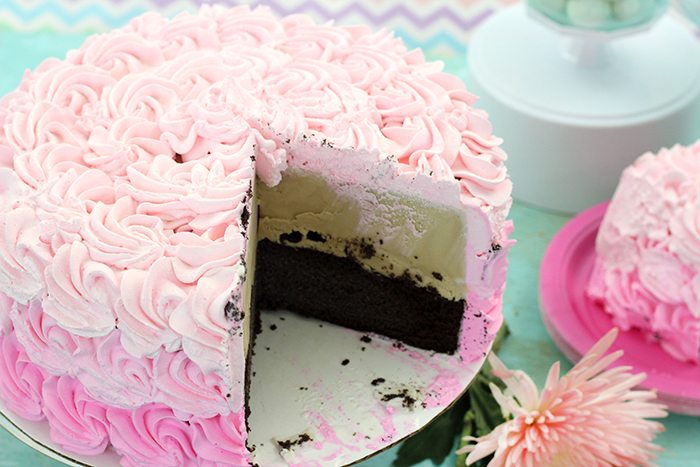 That's it! Keep it simple, make sure to pick a fabulous cake to steal the show and sit back and enjoy the party!
Order your own Pink Rosette Cake with Baskin-Robbins's online ordering and it will be ready for pick-up in 24 hours!  Choose from 16 Baskin-Robbins ice cream flavors like Mint Chocolate Chip, Jamoca® Almond Fudge or OREO® Cookies 'n Cream, and one of two cake varieties, Chocolate or Vanilla. Can anyone say YUM!?
What about this? Try the May Flavor of the Month: Mom's Makin' Cookies features brown sugar flavored ice cream with chocolate chip cookie pieces, chocolate flavored chips, and a cookie dough batter flavored ribbon. Oh. My. I need to try this next! *drool*.
Happy Mother's Day friends! Wishing you the sweetest holiday ever!
How do you celebrate mom? Which Baskin-Robbins ice cream flavor will you choose for your cake?