There's nothing quite like that feeling I get when my family is enjoying food around the table. Let me tell you, that's an accomplishment in itself! When I'm able to serve up food with fresh ingredients AND they end up loving it, that's a huge bonus for me. This is exactly what happened this week when I came up with the idea to make Open Faced Quesadillas loaded with fresh veggies. With the help of Mission Organics® Tortillas and a platter of delicious toppings to choose from, this family style meal is an instant favorite. This is a sponsored post written by me on behalf of Mission®. All opinions are entirely my own.

There are no limits to how many dinners and meals you can create with a simple delicious tortilla. For next-level family dinners, there is something new in the market to try: Mission Organics Tortillas. Find them right in the tortilla section at your local grocery store. We just tried these and they're as delicious as they sound. The new organic tortilla line from Mission are USDA organic certified and non-GMO project verified and they're available in flour, white corn and whole wheat varieties. Feeling hungry yet?
Open Faced Quesadillas Loaded with Veggies
I'm going to share how I easily put together a family style meal with Mission Organics Tortillas that's not only simple, but everyone gets to add their own favorite fresh toppings for a bit of an interactive meal.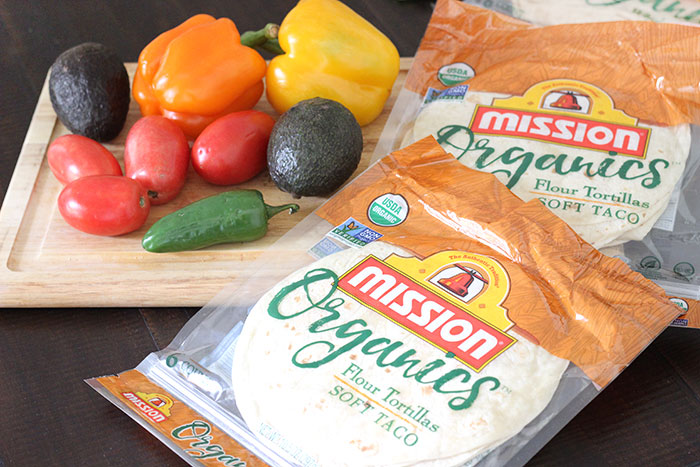 Open Faced Quesadilla Ingredients:
Mission Organics Tortillas in your choice of flour, white corn or whole-wheat
Refried Beans
Shredded Cheese
Butter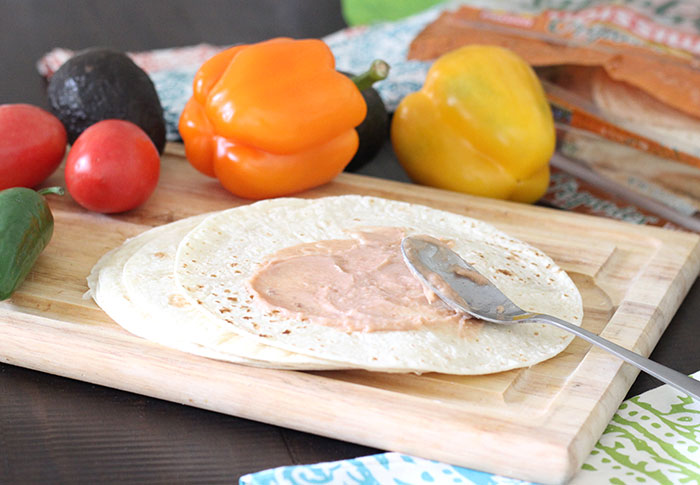 To make the base of these delicious quesadillas, use two tortillas each. I spread refried beans on one side of one tortilla and then the placed another one on top. Adding a little butter to a skillet, I cooked each side for about 2 minutes on medium heat. You want them lightly golden and crisped. Once you flip over for the first time, sprinkle your cheese on top and cover until melted. The tortilla is best served warmed and with cheese! After the cheese is melted, your quesadilla base is ready to serve. Continue by making as many as you need. We did one per person.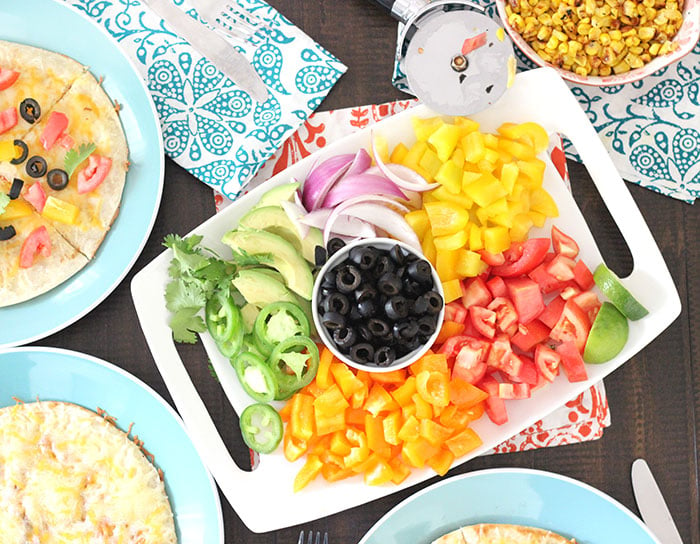 Quesadilla Topping Ideas:
Your choice of fresh toppings including, but not limited to:
Peppers (red, green, orange, yellow)
Avocados
Tomatoes
Onions
Corn
Jalapeno Peppers
Lime Slices
Cilantro
Salsa / Hot Sauce
Guacamole
Sour Cream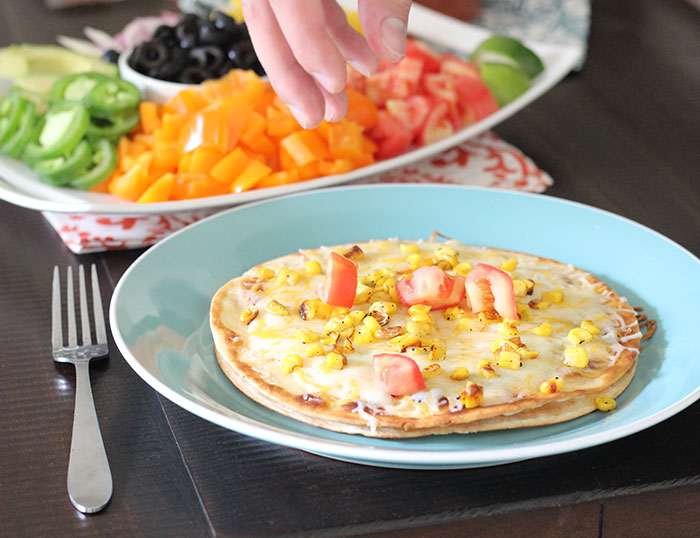 Chop and slice all of your toppings and add to a platter so that your family can pick and choose their own toppings. This was so much fun and a great way to get in a lot of fresh veggies.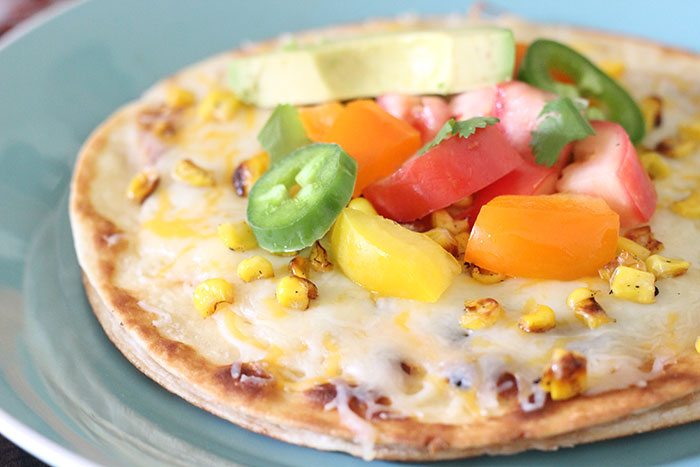 The grilled corn I whipped together paired perfectly with the fresh tomatoes, avocado slices and peppers.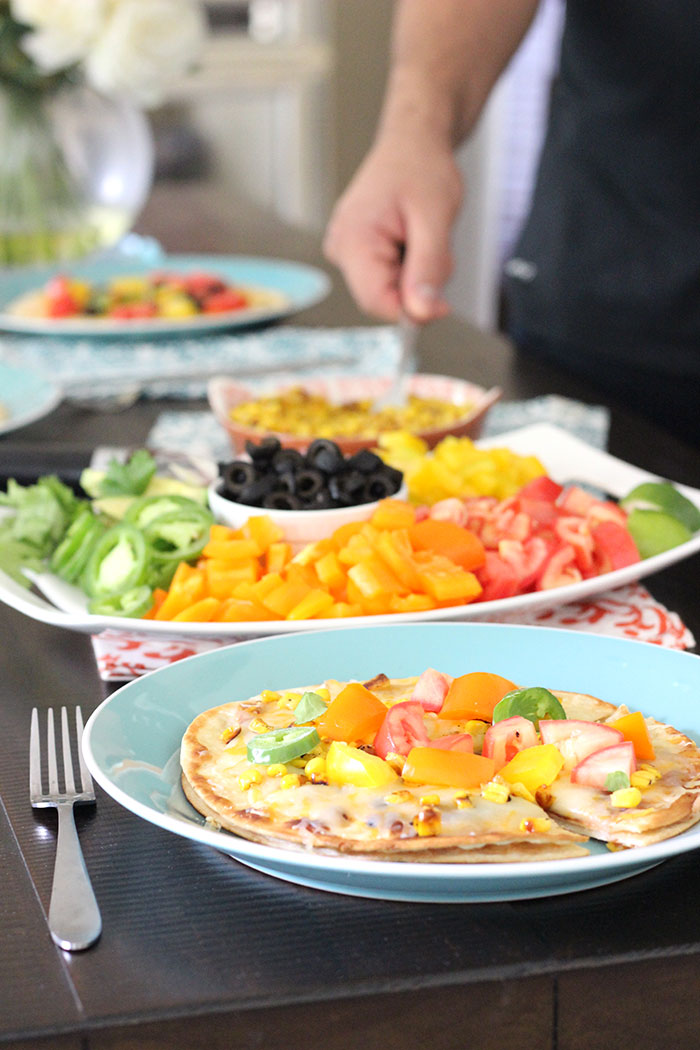 Another perk with this meal is that your family can make something new with toppings each time you serve it. Like it spicy? Add plenty of jalapeño slices and hot sauce.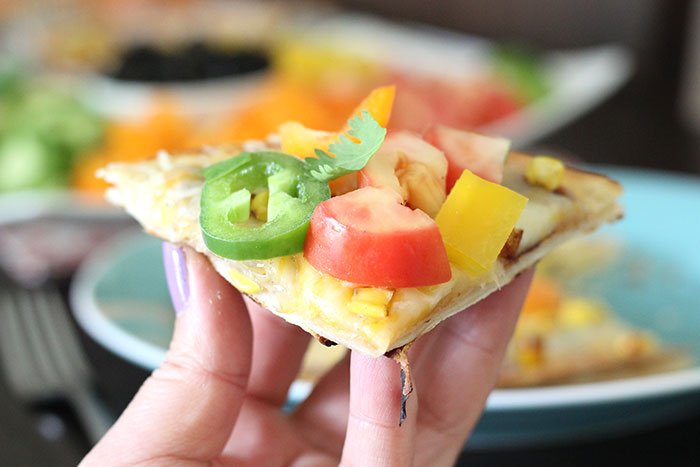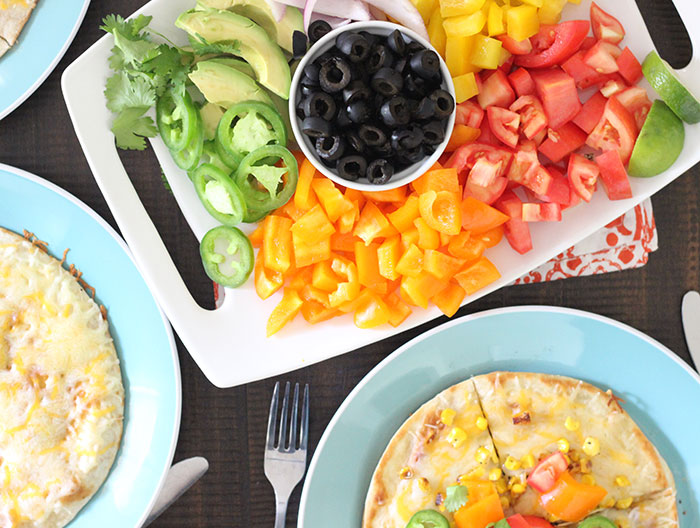 Check for these new products in the tortilla section at your local grocer:
Mission Organics

 Tortilla: Flour 

Mission Organics

 Tortilla: White Corn 

Mission Organics

 Tortilla: Whole Wheat 
There is no limit to the tasty family meals that can be made with warmed Mission Organics Tortillas. Head over to the Mission Organics site and use the store locator to find where you can purchase them and see what other recipes you can use with the tortillas! What will you create first?
Which fresh toppings would your family love on their quesadillas made with Mission Organics Tortillas?