When it's hot outside and the kiddos are home, it's always good to have fun treats to cool off with. There's nothing like a good old fashioned milkshake to summon family fun. When you are stocked up on the basic milkshake ingredients, it's easy to add your own flair. Keep it extra fun by trying new things such as this chocolate covered donut milkshake. It's guaranteed to bring big summery smiles. This post is sponsored.

Connecting to teenagers can be a challenge, but I find that trying over a quick treat makes it WAY easier. It's funny, when I first asked my son if he wanted a donut milkshake, he was unsure. Classic shoulder shrug action. He had no idea what that really entailed, but once he saw this tasty creation it was an enthusiastic yes. You can get your milkshake on too, let kids add their own flavors or serve them up for a fun game night at home!
Get ready to shake it up this summer with Promised Land Milk and Breyers Ice Cream, available at your local Kroger. Summer essentials are just a shopping list ahead.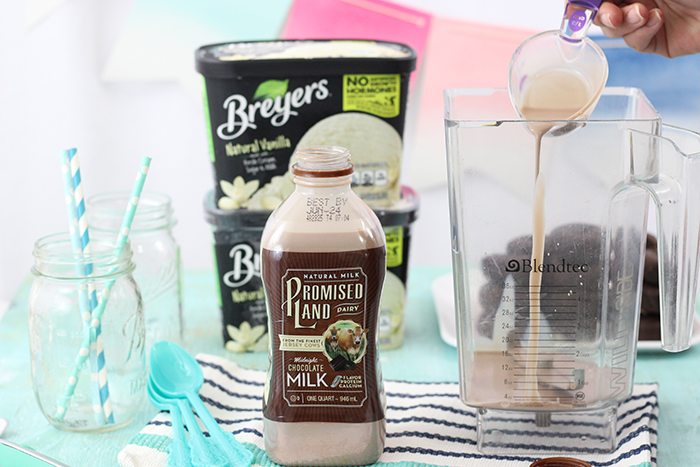 I spotted Promised Land Milk before, but this was the first time trying it. To make for a "chocolate covered" flavor, I used their Chocolate Milk along with Breyers Natural Vanilla ice cream for an epic combo. Their milk is really thick and creamy which is just perfect for shake making. I learned that their milk comes from Jersey Cows which is naturally higher in protein & calcium. With no added artificial hormones or antibiotics, too!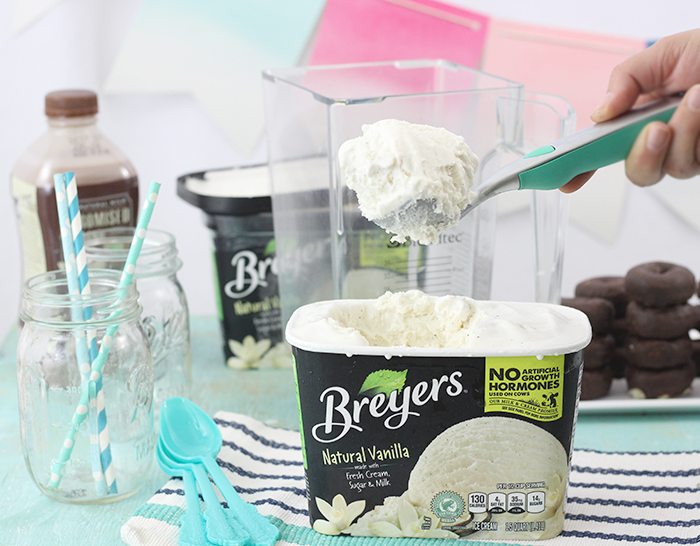 Mixing it up with Breyers Natural Vanilla is going always to be quite the treat. Their ice cream recipe is made from simple ingredients you can recognize like fresh cream, sugar, milk and Rainforest Alliance Certified vanilla beans. The milk they use is from cows that are not treated with artificial growth hormones. After getting the basics down, making it your own is the easy part! I simply added chocolate covered mini donuts to the mix... then had a ball topping them with more yummy goodness. Prepare to drool!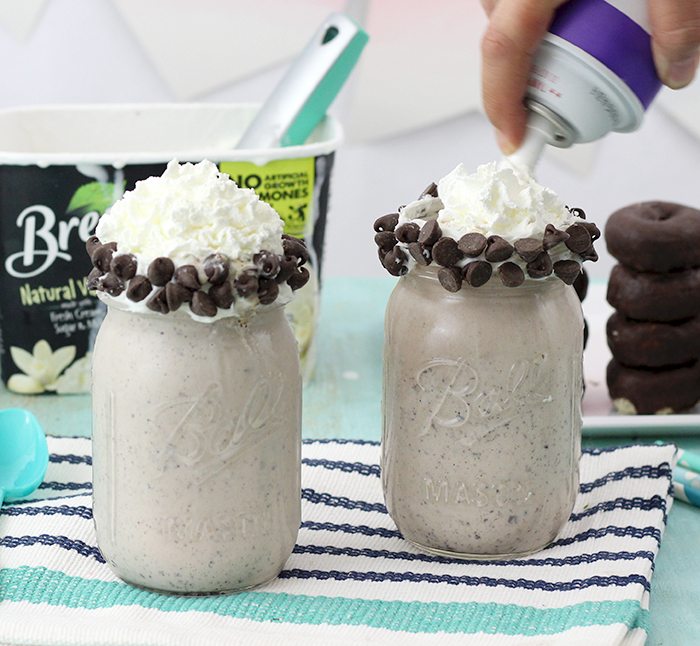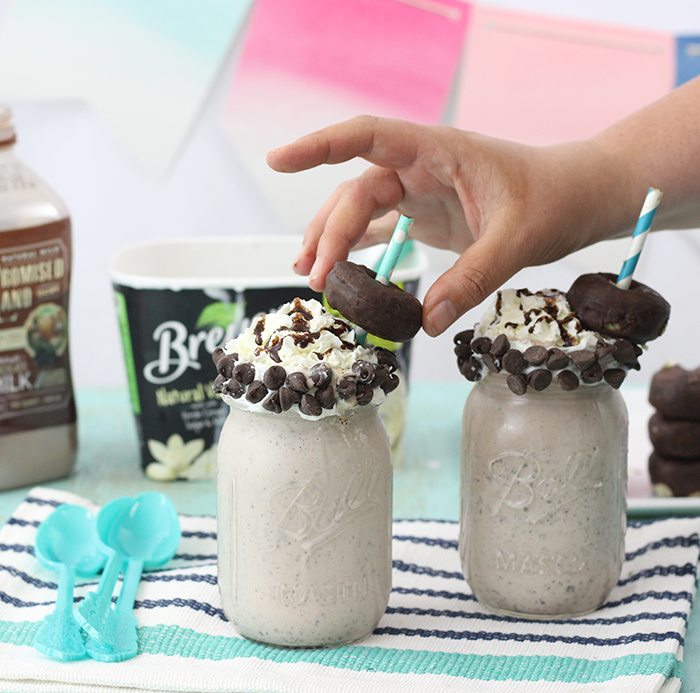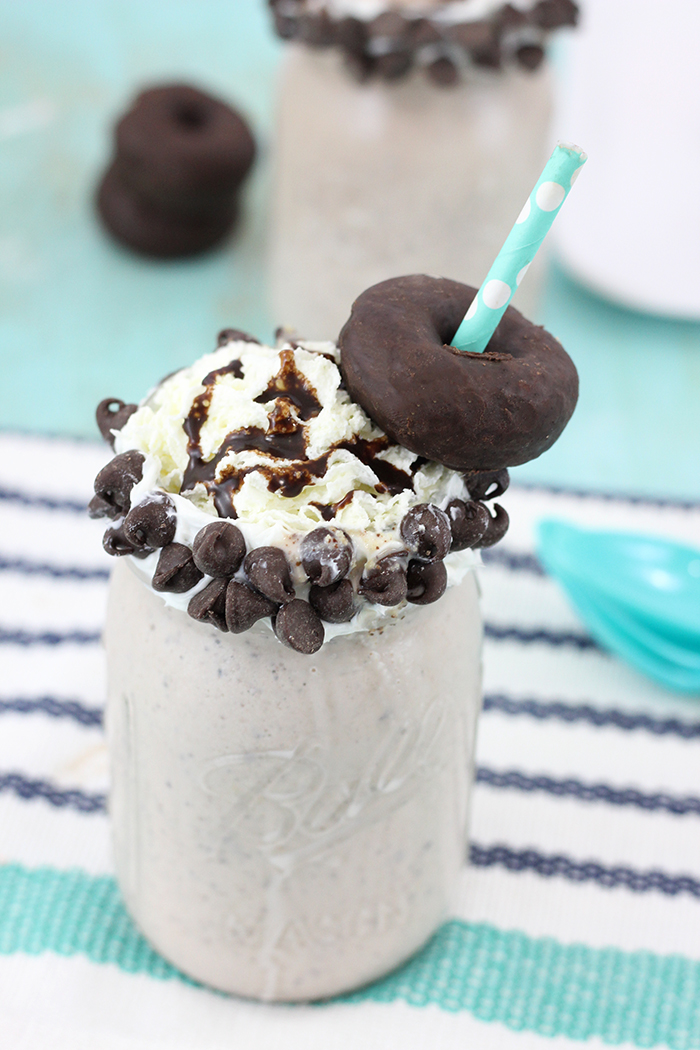 Chocolate Covered Donut Milkshake Recipe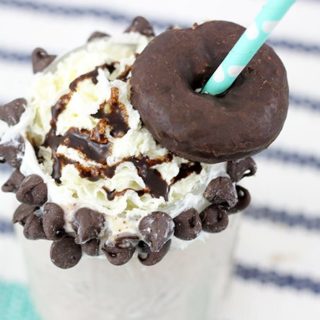 Chocolate Covered Donut Milkshake
Ingredients
⅓ Cup Milk
3 Scoops Vanilla Ice Cream
3 Mini Chocolate Frosted Donuts
*Optional, Mini Donuts, Whipped Cream, Chocolate Sauce, Chocolate Chips for Topping.
Instructions
BLEND ingredients by hand or briefly in a blender until smooth. SERVE immediately. Makes one milkshake. To take this milkshake over the top, add another Mini Donut, Whipped Cream, Chocolate Sauce, Chocolate Chips for toppings.
Nutrition Information
Amount Per Serving
Calories

12
Total Fat

1g
Carbohydrates

1g
Protein

1g
Now, it's your turn to milkshake it up!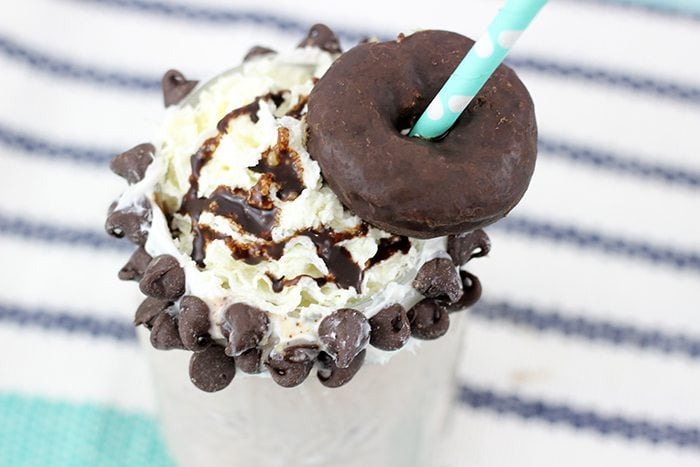 How will you milkshake your summer?
Tell me a milkshake flavor you want to try OR when you would serve a milkshake that would be fun!