We've been trying to eat more veggies around here, as I mentioned last week. Since my slow cooker is the go-to dinner maker around here, I've been trying to come up with some fresh ideas. Fajita Slow Cooker Chicken seemed like a winner as it's packed with loads of peppers and onions.

To give it a fun fresh look for the season, I used three different colored peppers. The beauty is that you can use whichever peppers are convienint. I opted for green, red and orange. Came in a affordable multi-pack at my grocery store. Adding freshly cut vegetables to a slow cooker dish ads a lot of juice that's perfect for making a well rounded meal. Last week, I had fun making fresh mango salsa chicken for the slow cooker too. If you're looking to pack a lot of punch with fresh produce, that recipe is a must try too.
Hope you enjoy this simple but tasty recipe!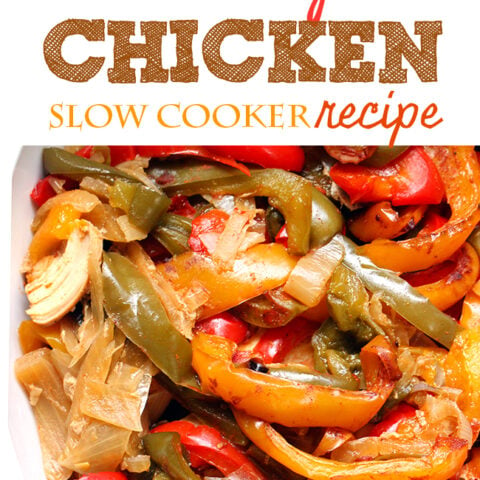 Fajita Slow Cooker Chicken
Ingredients
1.5 lbs of Boneless Chicken Tenderloins (or breasts sliced thinly)
½ Cup Red Onion (chopped or thinly sliced)
3 Peppers sliced into strips. (Choice of 1 each: Red, Orange, Yellow or Green)
1.5 Tablespoons of Taco Seasoning (divided)
Instructions
Place onions on bottom of your slow cooker, layer chicken evenly on top. Sprinkle one tablespoon of taco seasoning over the top evenly. Add sliced peppers and sprinkle with remaining taco seasoning. Cook on high for 4 hours or low for 6.5 hours until chicken is cooked thoroughly. Enjoy!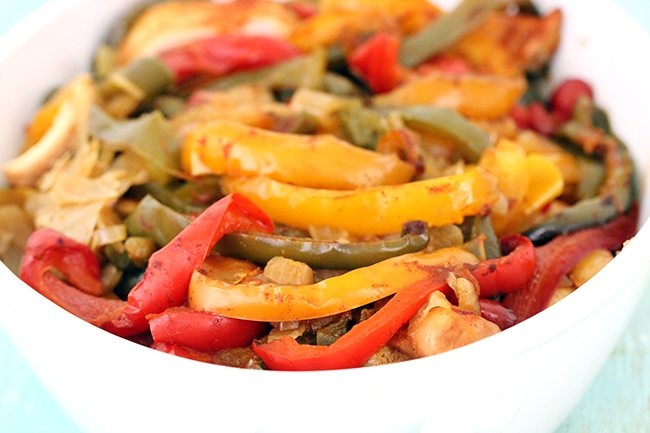 What are some of your favorite ways to make a veggie packed dish in the slow cooker? Share some of your favorites!