Are you ready for some summer fun? From the kids being home for the summer and parties being planned, it's great to have fun recipes on hand. These super cute flip flop sandwiches are perfect for a lunch surprise at home or for a beach themed party, too. This is a sponsored post as a part of my Cool Food Panel participation with the National Frozen and Refrigerated Foods Association (NFRA), all opinions are my own.

June is Dairy Month, so I want to invite you to try something new. Have you spotted Sargento Snack Bites yet? They're a tasty and an innovative way to enjoy cheese. I'm usually adding cheese to things like sandwiches or crackers or melting it into dips or dinner. These fresh new snacks are great because it takes a well-loved cheese and makes them the star of the show. You can literally enjoy them as is for a snack.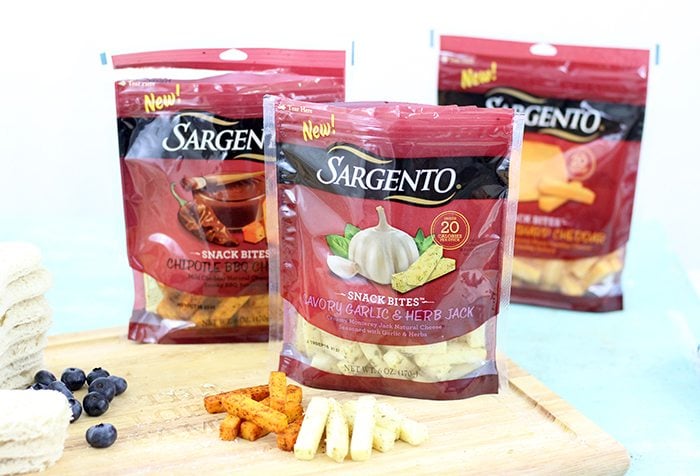 The flavors are mouthwatering, too. There's Savory Garlic & Herb Jack, Colby-Pepper Jack, Wisconsin Sharp Cheddar and Chipotle BBQ Cheddar. I'm a big cheese lover and these are right up my ally. When thinking of creative summer serving ideas for these cheese snacks, I thought they would be absolutely perfect as the handles in flip flop sandwiches. They add great flavor and the perfect cute look I was going for!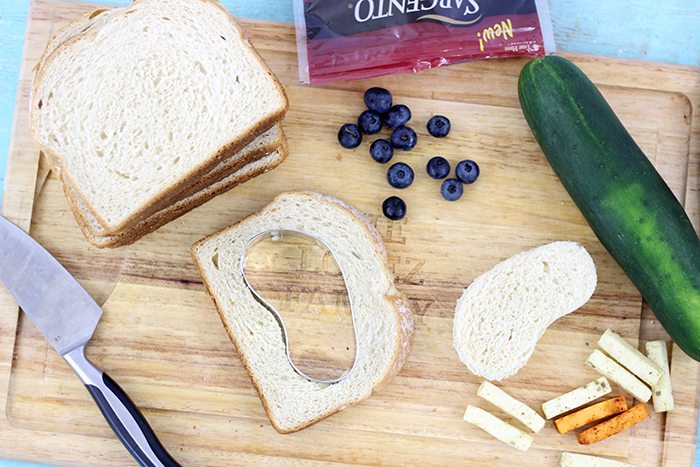 To make these flip flop sandwiches, you'll need a flip flop cookie cutter which you can purchase at a variety of craft and department stores. I used a hearty light colored bread. to make these. You'll need to measure the slices out to see how many slices of bread you'll need for your sandwiches. You can use your leftover bread for other recipes like croutons, bread crumbs, bread puddings or a tasty strata.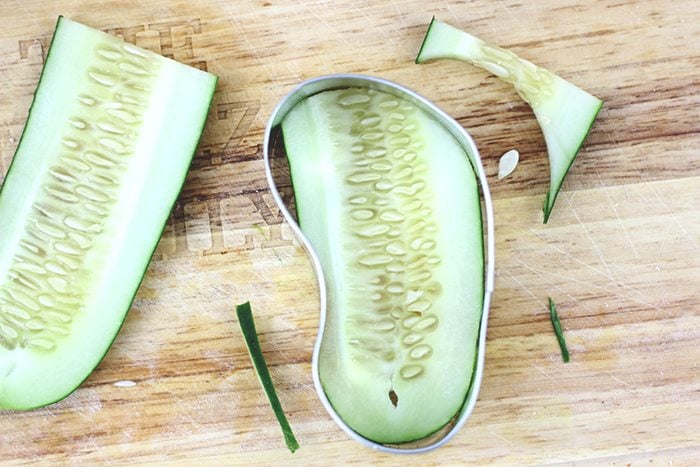 For the sandwich filler, I wanted to play on the traditional cream cheese and cucumber sandwich ingredients. I added some flair by using strawberry cream cheese on both the top and bottom of the sandwich. To ensure the cucumber would fit into the sandwiches nicely, I cut a large cucumber in half and sliced it thin lengthwise. Then, I used the flip flop cutter to trim off any excess that wouldn't fit into the bread perfectly.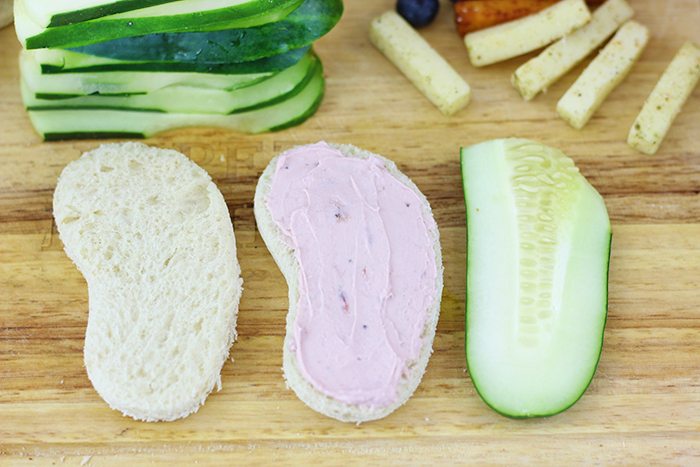 To complete the look of these cute sandwiches, just pick a mix of Sargento Snack Bites flavors. I liked using a variety because they provide tasty options and they also look more fun that way. Small berries like blueberries are the perfect addition to the "flip flop". Just use a little of the cream cheese to adhere the cheese and blueberries to the top of the sandwiches.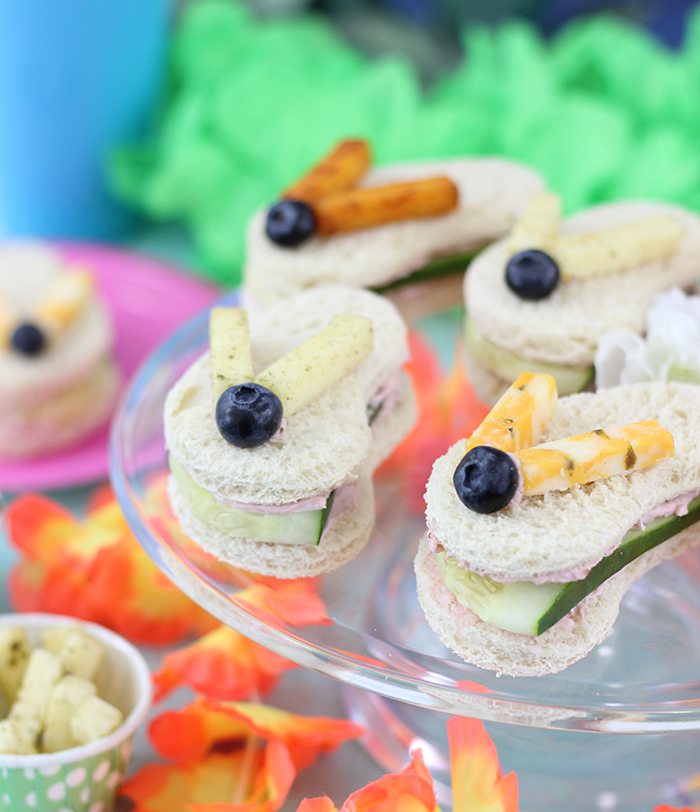 Aren't they just as cute as can be? I also served little cups of a variety of the cheese snacks on the side.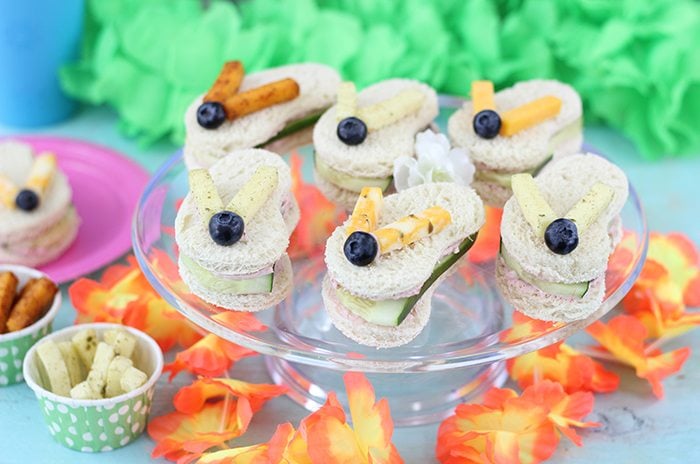 Have a little fun this Dairy Month and try something new!
Try Sargento Cheese Snacks in these delicious flavors:
Savory Garlic & Herb Jack
Colby-Pepper Jack
Wisconsin Sharp Cheddar
Chipotle BBQ Cheddar
Find more Dairy Month ideas and savings on the Easy Home Meals website.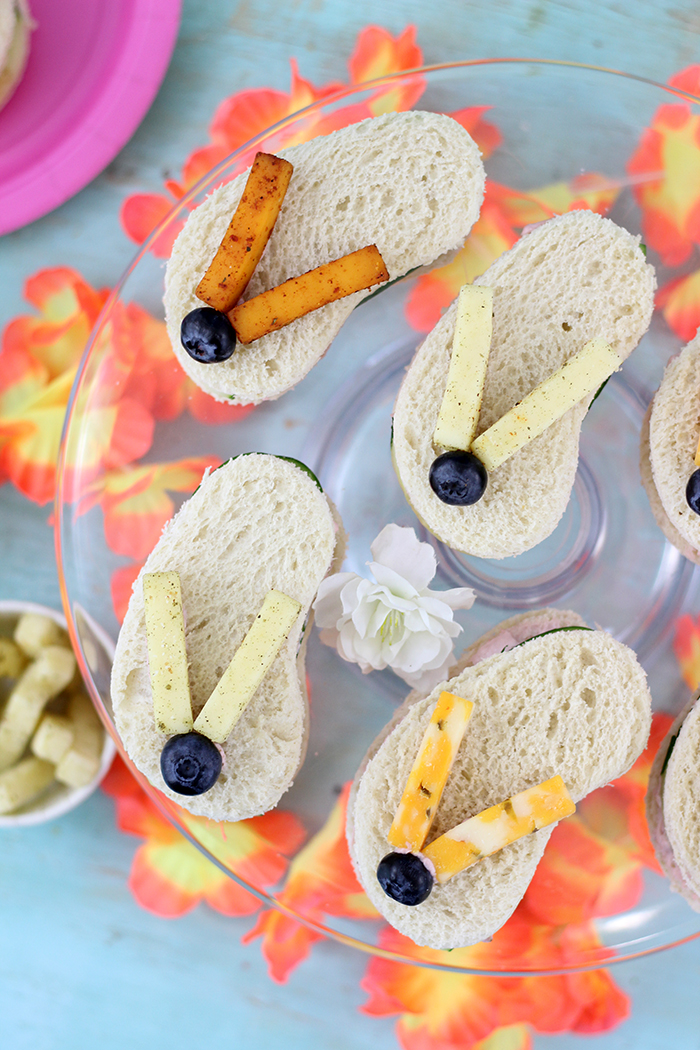 What summer parties would these cute sandwiches be perfect for?
Have you tried Sargento Cheese Snacks yet? Which flavors sound good to you?
Click here for Flip Flop Garland.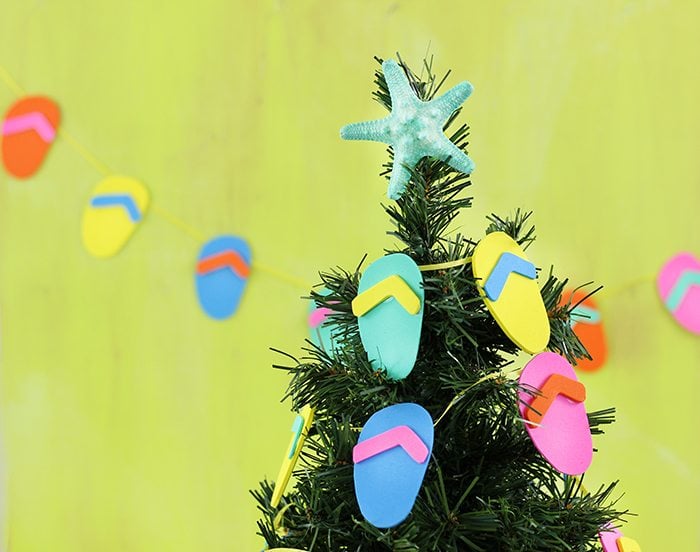 Click here for Rainbow Popsicles.