Pizza, yum! It's always been one of my favorite foods, I thought it would be fun to create a pizza that can be enjoyed any time of day. A delicious sauce lends amazing flavor to this delicious egg crust pizza which is low carb. This recipe combo makes for a tasty and hearty meal with very little effort. This pizza idea is a little unconventional, but once you try this low carb pizza option, you will be hooked. Post sponsored about Ragu Homestyle at Kroger by Mirum Shopper. Opinions are 100% my own.

When it comes to creating the perfect pizza combo, it's all dependent on two major things in my humble pizza-loving opinion. The sauce and the crust.
Low Carb Pizza Recipe
You can have the most amazing looking pizza but without the perfect saucy flavor and crust, it's a bust. You won't have to worry about that with this simple recipe idea.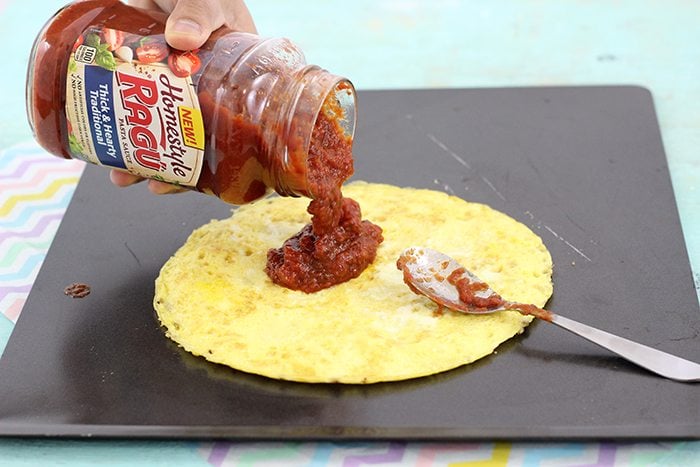 Ragu's new Homestyle Pasta Sauce totally fits the bill. The flavor truly tastes like the sauce my mom would make when I was a kid. It's a tangy, well developed flavor that only comes with slow cooking and love.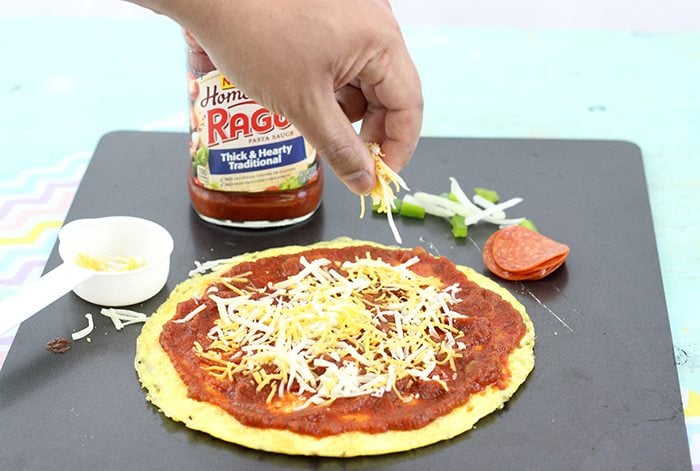 The sauce works perfectly for this egg crust pizza because it doesn't have the traditional edges to hold in a thin and liquidy sauce. Homestyle's thickness is perfect and stays right on the crust.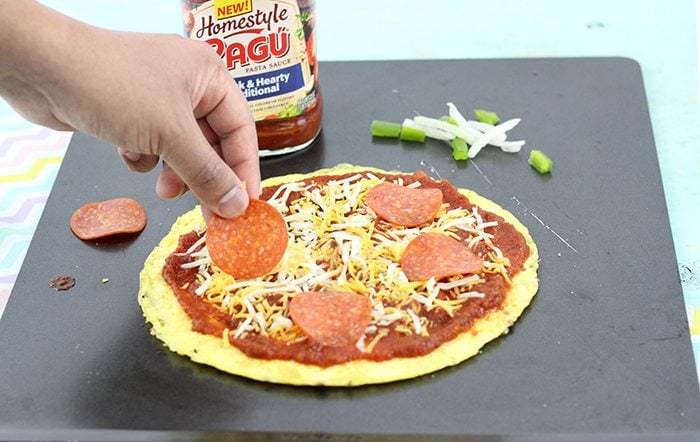 After you spread some yummy sauce on, it's time for all the fixings! Think of all of your traditional favorites! We love pepperoni, cheese and lots and lots of veggies for a well rounded bite.


You can make this egg crusted pizza two ways. You can make it all right on your stove top with a non-stick pan or you can cook the crust on the stove and finish by broiling which is my favorite low carb egg crust pizza baking method so far. Having the cheese browned and melted definitely goes a long way to kill my pizza cravings.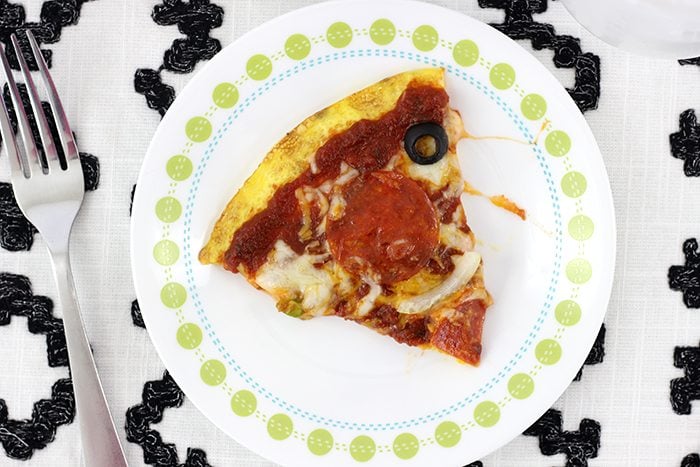 Get ready for deliciousness!
See more Keto pizza crust ideas in this video I found for you:


Ingredients
3 Large Eggs
1 TBSP Water
1 TBSP Butter
⅓ Cup Shredded Cheese of Choice
½ Cup Hearty Pasta Sauce such as RAGU Homestyle
Assorted Vegetables: Peppers, Onions, Olives, Cherry Tomatoes, etc.
Assorted Spices: Salt & Pepper, Oregano, Garlic Salt or Powder, etc.
Instructions
Beat eggs with 1 TBSP of water. Melt the butter in a non-stick pan then add egg mixture. Cook on Medium-Low and add choice of seasonings and spices. Flip very carefully once the top has cooked through with no remaining liquid. Cook for an addition minute or two. If you want to cook the entire pizza on stove top, turn to lowest setting and then spread the sauce on the egg then add cheese and other pizza ingredients. For finishing in the oven, remove the egg "crust" and place on a non-stick baking pan or sheet. Spread sauce and add cheese and toppings. Set in the oven on the Low Broil setting until cheese is melted and slightly browned. Anywhere from 5-7 minutes. Cool and enjoy!
Nutrition Information
Serving Size 1
Amount Per Serving Calories 255Total Fat 24gSaturated Fat 15gCholesterol 69mgSodium 334mgCarbohydrates 1gProtein 9g
Which new sauce will you be trying first?
RAGÚ

Homestyle Traditional

RAGÚ

Homestyle Meat

RAGÚ

Homestyle 4 Cheese

RAGÚ

Homestyle Roasted Garlic
Let me know below 😉