Are you looking to make Halloween more colorful this year? How about some fun purple ghost sugar cookies? These pretty little cuties are the perfect combination of sweet goodness. With a roll of store-bought sugar cookie dough and a little imagination, these will be the tastiest way to enjoy a little cute and spooky magic this year. Let's make this the best Halloween celebration! This post may contain affiliate links.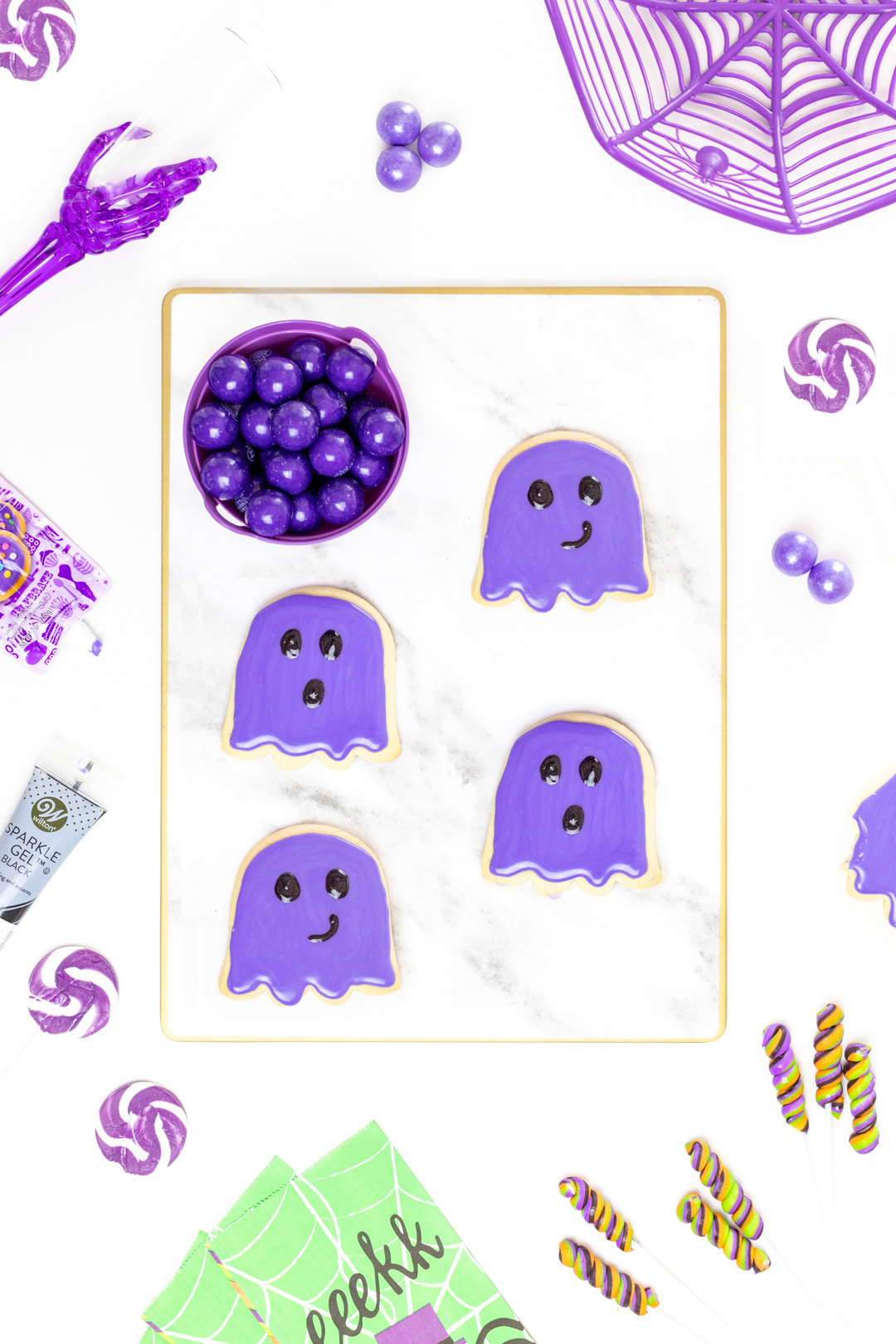 How can you not smile when you see smiling ghost cookies? I knew this easy idea would be a winner! They are too cute and too easy to make to not… make them!
I realized that I'm very obsessed with all things purple this Halloween season. Are you with me?
Looking to plan a Halloween with all treats and no tricks? These adorable sugar cookies are just the thing.

HALLOWEEN GHOST SUGAR COOKIES
Make the season a little more BOO-tiful with this simple idea.
Here is all that you need to make these your own.
Cute Ghost Cookie Cutter, my favorite.
Store-Bought Sugar Cookie Dough
All-Purpose Flour
Purple Cookie Icing, only available here.
Black Icing Writer, this is my favorite.

To be able to turn a roll of store-bought cookie dough into your own cookie creations, there are a few things to do. Don't skip them otherwise your cookies will blow out and lose shape.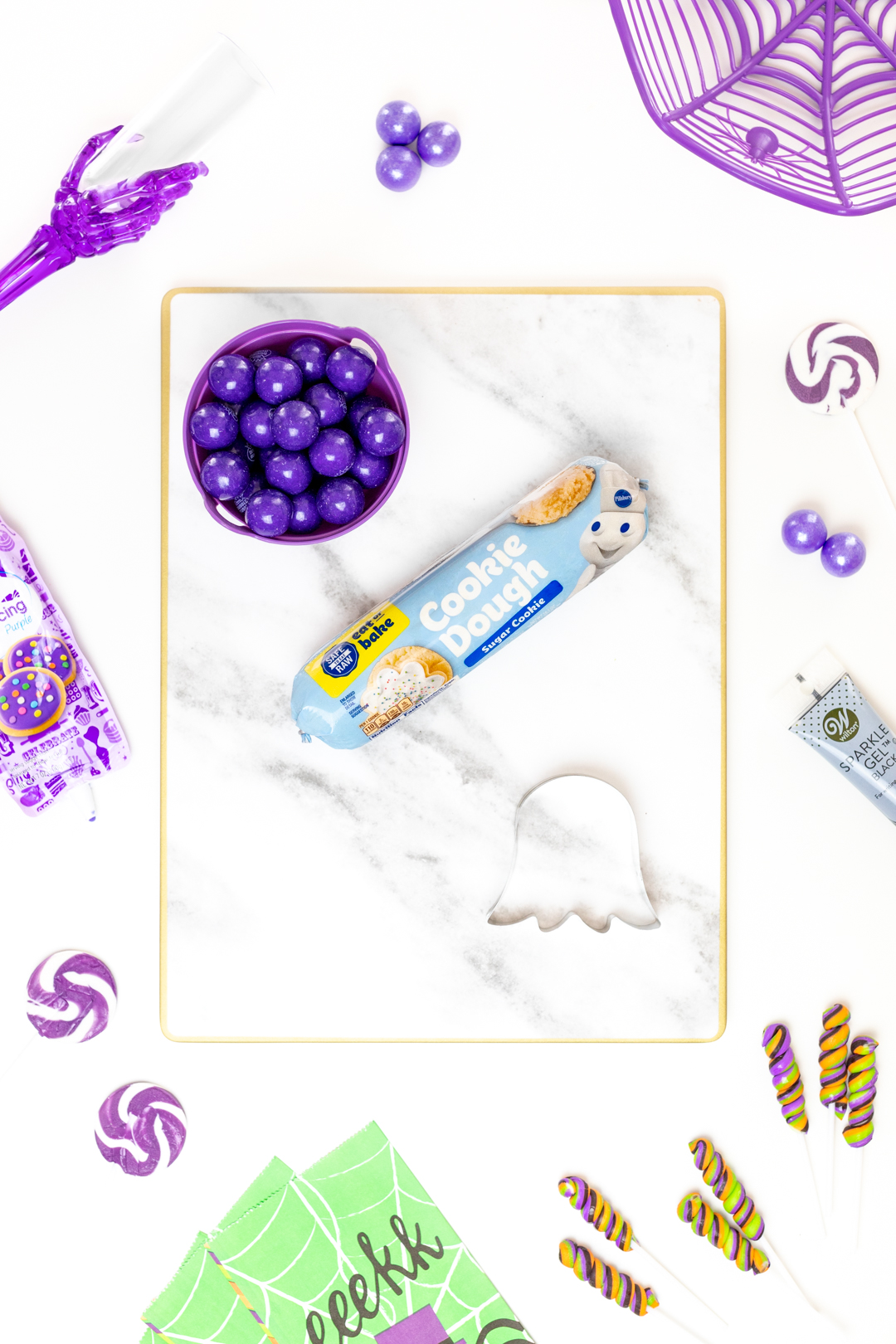 STORE-BOUGHT SUGAR COOKIE DOUGH TIPS
There are a couple tricks that help refrigerated store-bought sugar cookie dough when you want to make cookie-cutter shapes.
The first thing is that you will need to add all purpose flour to the dough f you plan on rolling out and reshaping it.
You want to use a well-floured surface as well as more for the roller.
Once you've kneaded the flour into the dough evenly, it's time to roll it out and use your cookie cutters.
Transfer the cookies to a non-stick baking sheet or one that is lined with parchment paper.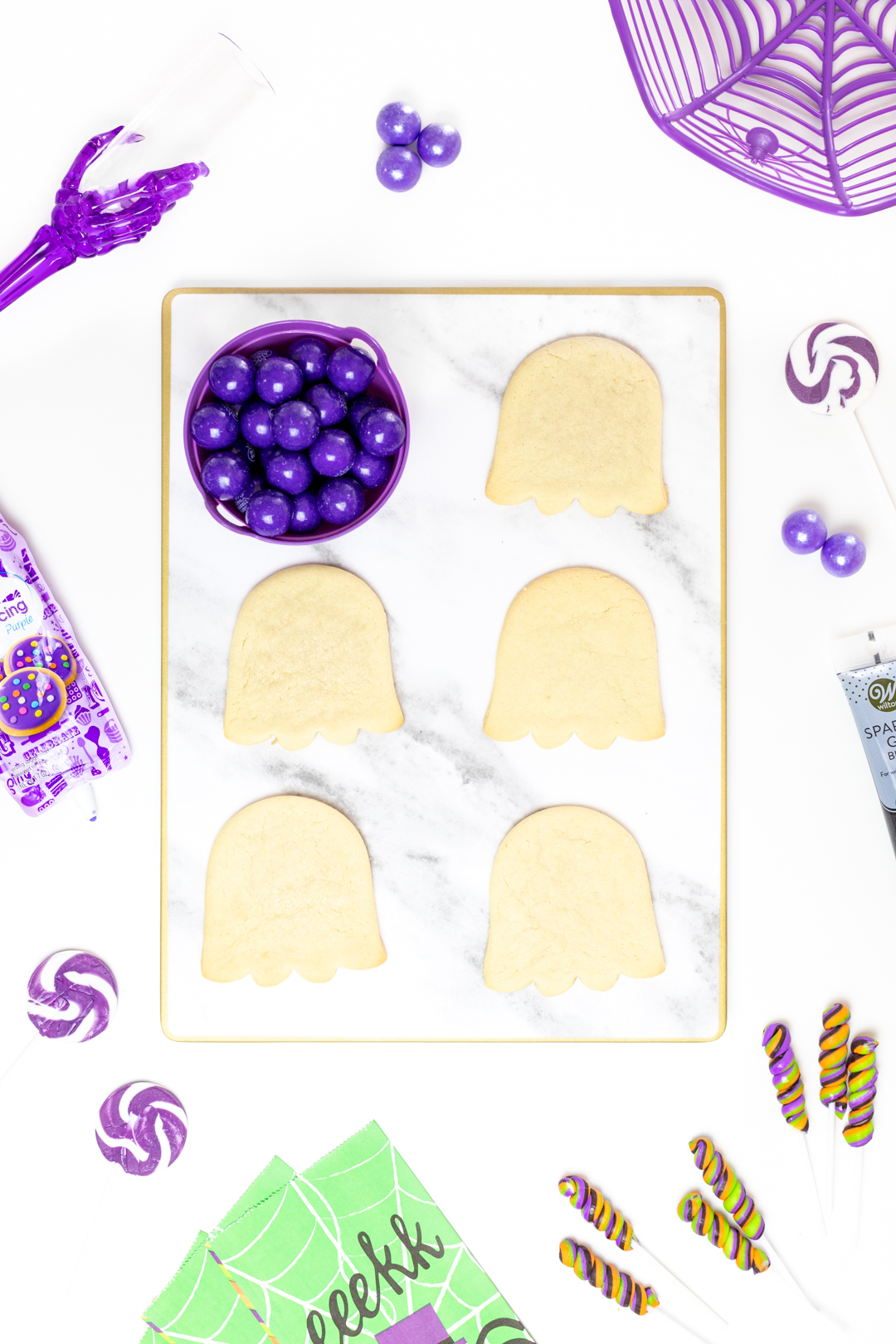 Then, it's really important to add the sheet to the freezer for 10 minutes. If you have no room, put them in the refrigerator for at least 15 minutes.
The cookies need to be chilled to avoid the cookies from blowing out and losing their shape.
This will absolutely help to reduce spreading and preserve the shape as much as possible. They will expand a little so don't freak out when they first come out of the oven. They will reduce a little as they cool. We can definitely take steps to keep it minimal. It makes ALL the difference.
Finally, I opt to bake at the lower 325°F temperature.
Once your cookies are baked to perfection and cooled, it's time to have some fun with the icing and cute not-so-spooky little faces.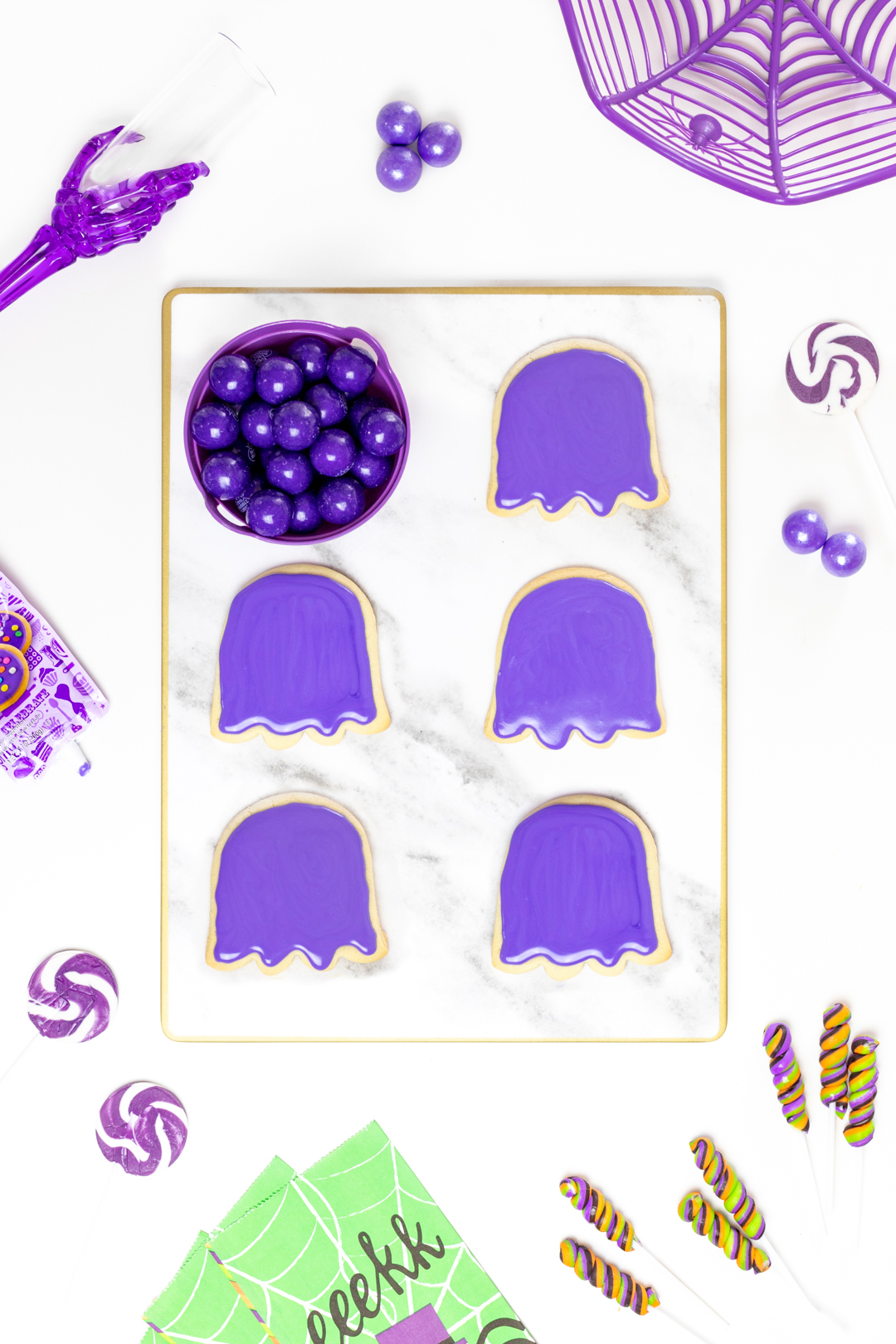 I love using Wilton's Sparkle Gel for writing that does not need to be too defined. It's so easy to use and pretty forgiving.
To make these cookies extra fun, I alternated between making a little smile and making a traditional ghost mouth. I just adore how cute they came out and SO simple.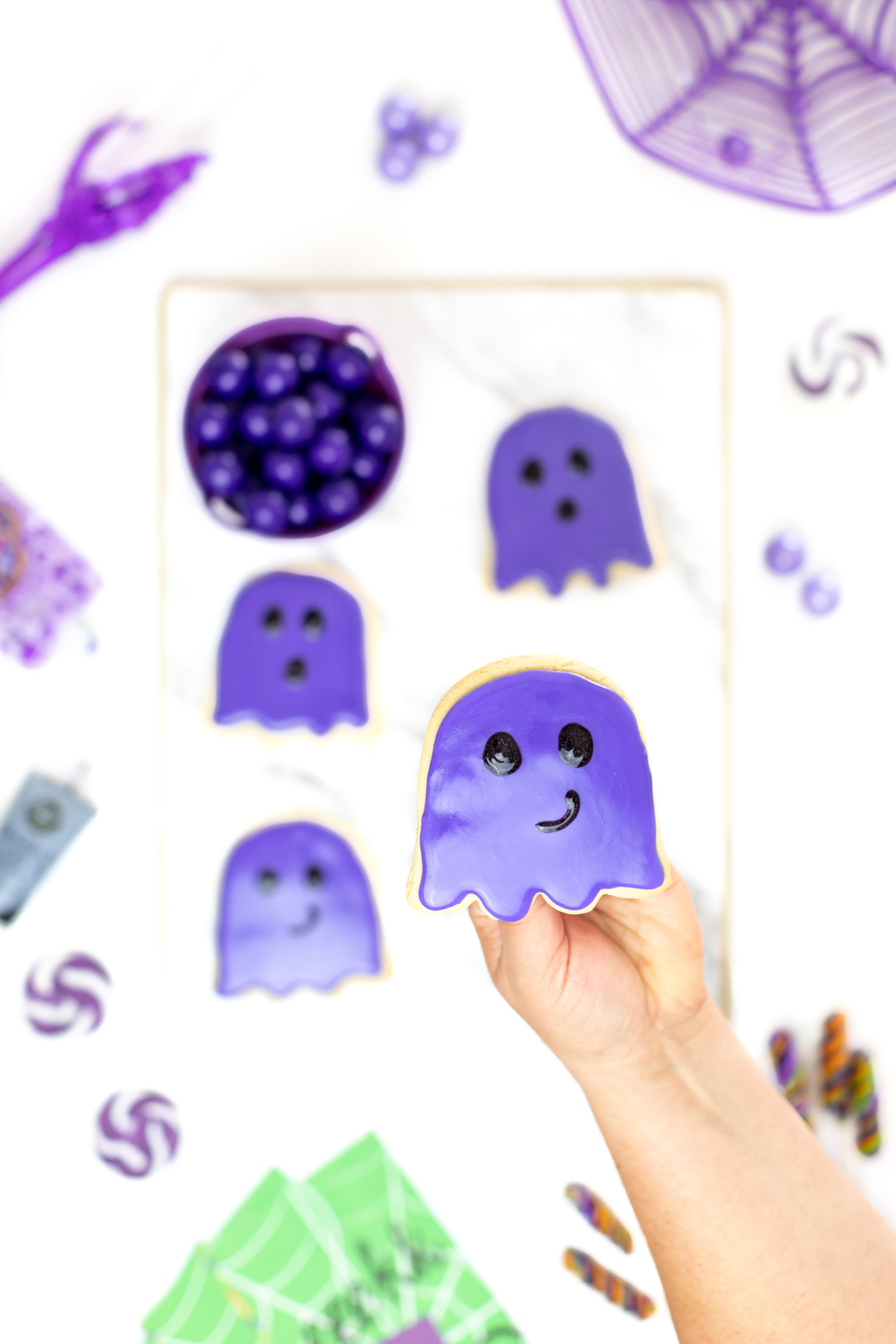 EASY HALLOWEEN TREATS
Transform a store-bought ice cream cake into a pretty Halloween spider cake.
These easy spider cookies are my favorite pick and they are the easiest Halloween cookies to put together ever.
Like something a little more spooky? These blood-spattered OREO cookies will be an instant hit.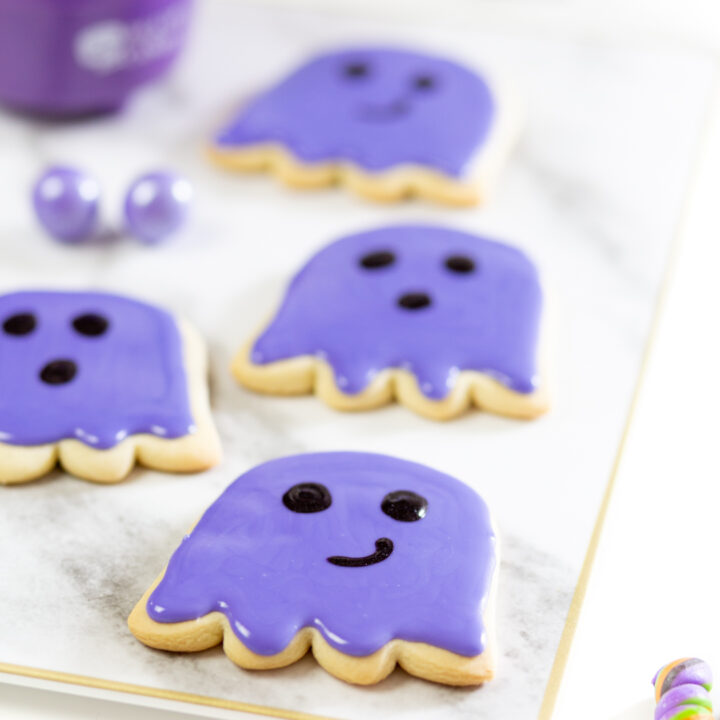 Easy Ghost Cookie Recipe
Yield: 8-10

Prep Time: 20 minutes

Cook Time: 12 minutes

Total Time: 32 minutes

Easy Halloween Ghost Cookies with Sweet Smiles. Trendy Purple Halloween Treat.
Ingredients
Pillsbury Refrigerated Sugar Cookie Dough (16.5 oz)
1/2 Cup All Purpose Flour
Purple Cookie Icing
Black Icing Writer
Tools: Ghost Cookie Cutter
Instructions
Knead and blend the cookie dough with all the purpose flour on a floured surface.
Roll the dough out until the dough is about 1/4" thick
Use a Ghost Cookie Cutter to make about 8-10 cookies
Place the cookies on a non-stick or parchment lined baking sheet
Add baking sheet to the freezer for 10 minutes or refrigerator for 15 minutes to help preserve shape and reduce spreading.
Heat oven to 325°F
Bake for about 12 minutes.
Cool completely before decorating.
Once the cookies are cooled, carefully ice the cookies with purple cookie icing. Let set for about 5 minutes.
With black icing writer, make two oval shapes to represent the eyes.
Make tiny mouth using black writing icing. Either a crooked smile or an oval similar to the eyes for a "wow" expression.
Let the icing fully set before serving or packaging.
Recommended Products
As an Amazon Associate and member of other affiliate programs, I earn from qualifying purchases.
Nutrition Information:
Yield: 10 Serving Size: 1
Amount Per Serving:Calories: 96Total Fat: 3gSaturated Fat: 1gTrans Fat: 0gUnsaturated Fat: 2gCholesterol: 0mgSodium: 42mgCarbohydrates: 15gFiber: 0gSugar: 8gProtein: 1g