I've been trying to brainstorm ideas on what to get my son this year. This is officially the most challenging year to shop for him, I must admit. He has a computer, smartphone and even a game system. That really minimizes the typical things that I've kept my eye on. Hopefully this list of inexpensive gifts that I put together will help you too. If it's this much of a challenge just figuring out what to get my own kid, it's even more difficult to try to figure out what to get other teen boys on your shopping list. Let's do this! This is a sponsored post by Lunchbox about AXE Gold Temptation, all opinions are 100% my own.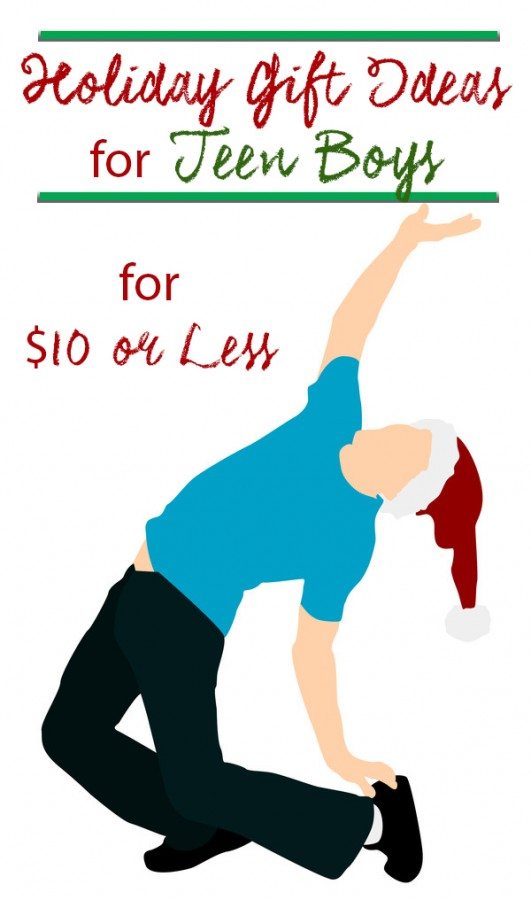 Holiday Gift Ideas for Teen Boys $10 or Less
Snacks - I haven't met a teen that didn't have a big appetite. I'm thinking snacks like beef jerky, multipacks and big tubs of cheesy puffs or popcorn.
Gift Cards - Haven't met anyone that didn't like a good gift card. I am leaning towards iTunes, Game Store, local convenience store and department stores.
Game Points - If you happen to know the teen's favorite game system, buying them "points" could be an awesome gift idea. My son is always running out.
Movie Tickets - or should I say "ticket". Ha! A movie ticket or movie theater gift card is a fun idea.
Magazines - Hobby magazines are a fun treat. From gaming to other specialty magazines, this could make a nice treat.
Phone or Tablet case - Teens are constantly dropping their tech, it's almost a fact. Plus being able to swap out cool cases, is always "a thing".
Earphones - Headphones, ear plugs, whatever you want to call them. My son pretty much loses his every month, I've learned to stock up when I find good deals.
Electronics Chargers - Same as with earphones, I don't think teens can have enough back up chargers.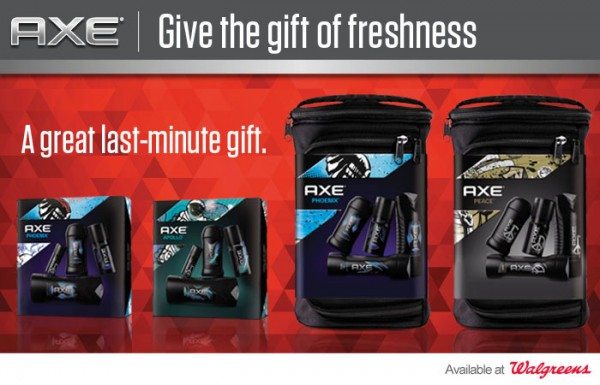 Grooming Products - If there is one thing I know, teens are definitely into their "look" or finding the next one. There's also an exciting new AXE Gold Temptation fragrance available at Walgreens. Keeps teens and men smelling great all-day with new AXE Gold Temptation Antiperspirant that provides 24-hour protection against sweat.
You can pick up your AXE Holiday Gift Pack for only $10 (usually an $18 value) or $15 (usually $23 value) with your Balance Rewards card at Walgreens.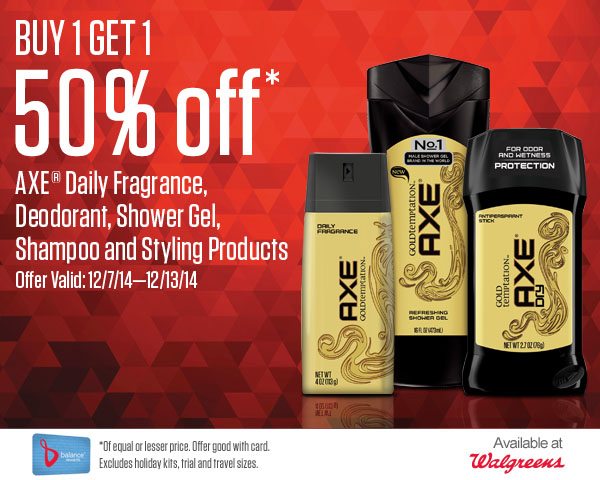 SNAG EVEN MORE SAVINGS:
Buy 1, Get 1 50% off* participating AXE Daily Fragrance, Deodorant, Shower Gel, Shampoo, or Styling product with card at your local Walgreens 12/7/14-12/13/14.
Stop by your local Walgreens on 12/13/14 between 10am -5pm during Saturdate and receive a $1 off coupon for AXE products from a Walgreens' Beauty Advisor.
Ho ho ho, happy shopping! Hope you have some fun gift ideas for the teens in your life too.
What are you getting the teens on your shopping list? Who in your life would want to try the new AXE Gold Temptation fragrance at Walgreens?