Make your holiday celebration extra festive with a Grinch Fruit Tray! Learn how to create this whimsical and healthy Christmas treat. Perfect for parties and family gatherings.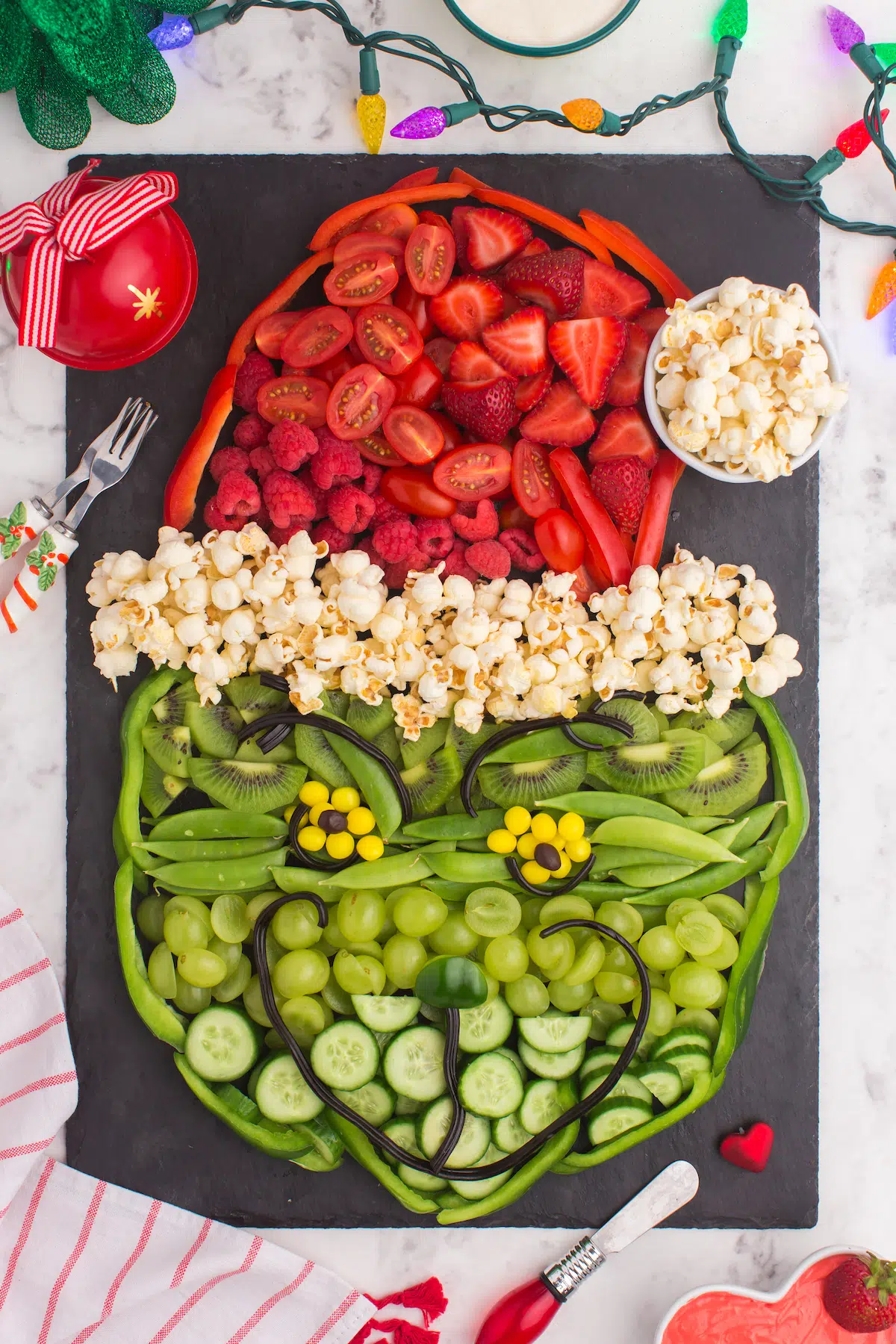 The holiday season is such a wonderful time filled with spreading joy and cheer to all, and guess what? You can add an extra dash of festive cheer to your celebrations with a healthy and delightful Grinch Christmas Fruit Tray. Whether you're playing host at a holiday party, joining a potluck gathering, or simply craving a fun and nutritious snack to share with your family, this Grinch-inspired fruit platter is an absolutely fantastic idea that's sure to bring smiles to both the young and young at heart.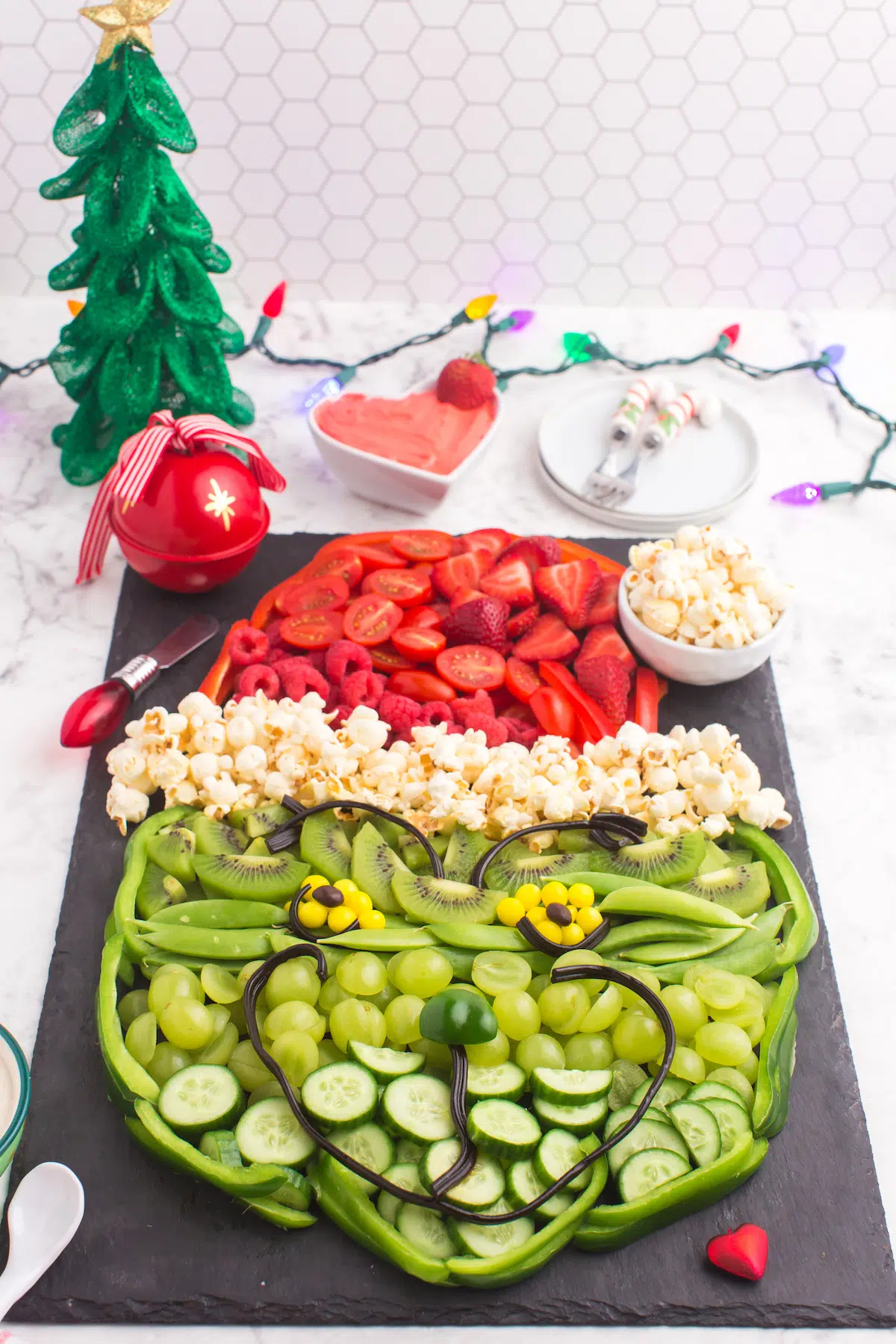 Why You'll Love It
I have made a lot of fruit cheese and cracker snack boards and some really pretty lunch snack trays and last year for Christmas I made Candy Cane Christmas Charcuterie Board and a Tree-mendous Christmas Tree Charcuterie Board, this year I wanted to make something different. What better than a Grinch snack board that gets everyone to eat a little healthier and makes them smile. Why should you make it, besides the fact it is so cute, and pretty easy too:
Festive Delight: It brings the holiday spirit to life with a Grinch-themed fruit tray that's both visually appealing and fun.
Healthy Indulgence: It offers a guilt-free way to enjoy delicious, fresh fruits during the holiday season.
Versatile Creation: Whether you're hosting a party or making a snack for your family, it's versatile and suitable for various occasions.
Kid-Friendly Fun: Kids will adore helping make and devour this playful and nutritious treat. It is also a fun way to get kids in the kitchen.
Creative Expression: You can get creative with the arrangement, making it a delightful and artistic project.
Shareable Joy: It's a wonderful conversation starter and a fantastic dish to share with loved ones.
Memorable Moments: The Grinch Fruit Tray is sure to create lasting memories and become a cherished holiday tradition.
Twist on Grinch Kabobs: It puts a unique spin on Grinch kabobs, offering a refreshing take on a classic holiday treat.
Grinch Christmas Fruit Tray Ingredients
Don't forget to check the recipe card at the end of the post for quantities.
While I keep calling this a fruit platter technically this is a fruit and vegetable tray. You can make easy swaps if you prefer to make it all fruit but I think it makes a nice twist to have it as a Christmas vegetable tray as well.
Cream cheese
Powdered sugar
Whipped cream
Red food coloring
Red Bell Pepper
Strawberries
Cherry tomatoes
Raspberries
White cheddar popcorn
Green Bell Pepper
Kiwis
Sugar snap peas
Green grapes
Mini cucumbers
Lemon heads
Chocolate covered raisins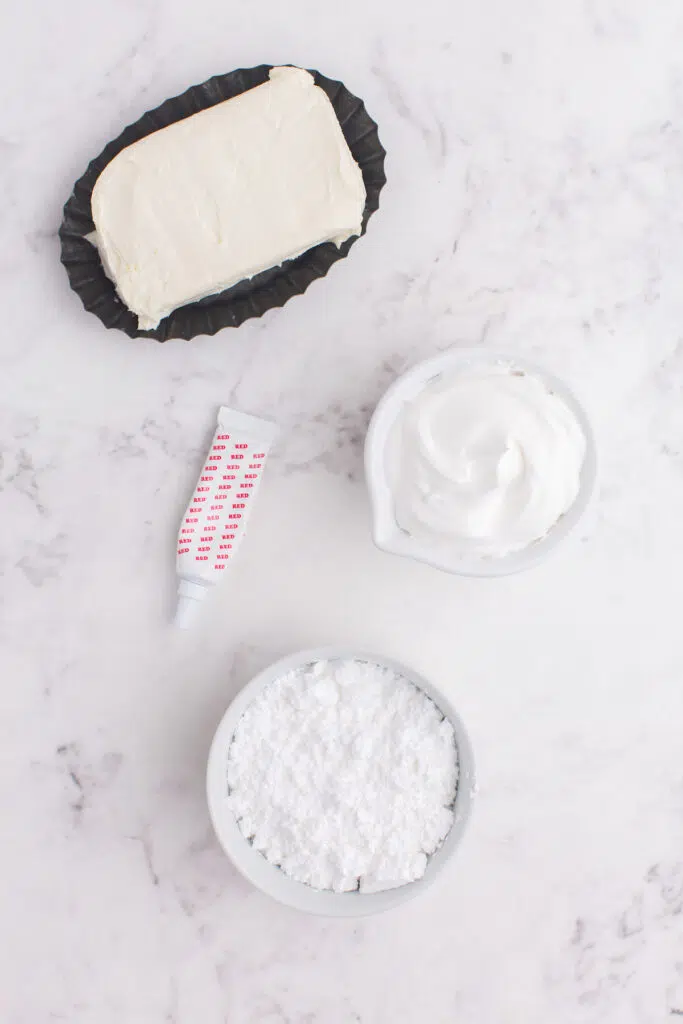 How to Make a Grinch Fruit Platter
Make the Fluffy Fruit Dip: Using a stand mixer or electric mixer, combine the fruit dip ingredients together until smooth. Add a few drops of red food coloring and stir. Check the color and add more food coloring if you want a deeper red. Place in a heart-shaped bowl.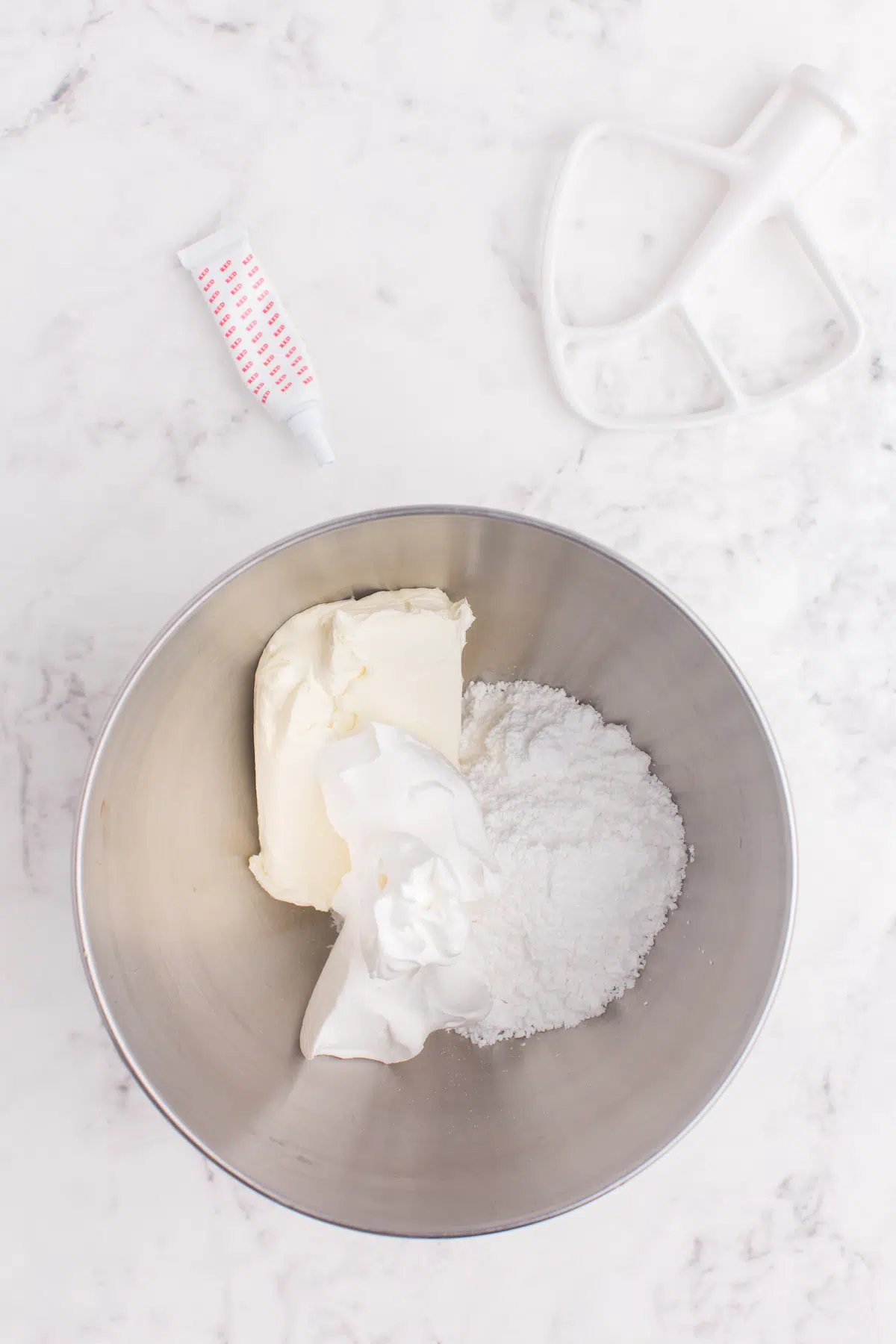 Prep the fruits and veggies: Since you will be using the fruits and veggies a certain way, you need to get them ready. It is simple to do but there are a few steps.
Make the Grinch Outline: If you have a slate board, which I recommend, you can use chalk and outline the Grinch or you can just do as I did and create it in sections with the help of visual aids like pictures. I use this How to Draw the Grinch Easily guide.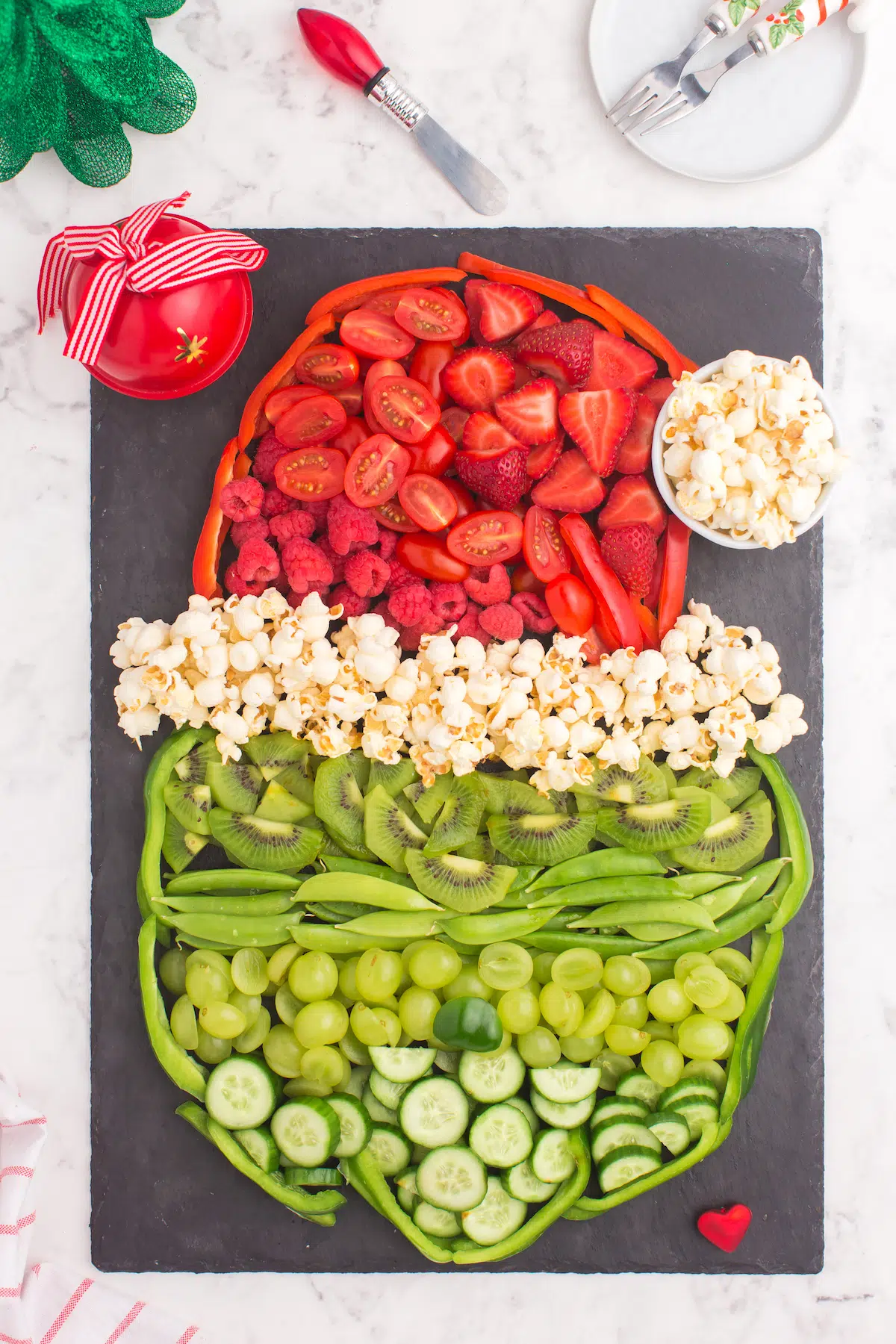 Create the Grinch: Use the popcorn where the rim of the har will be. Use a little bowl to place popcorn where the pompom ball of the hat will be.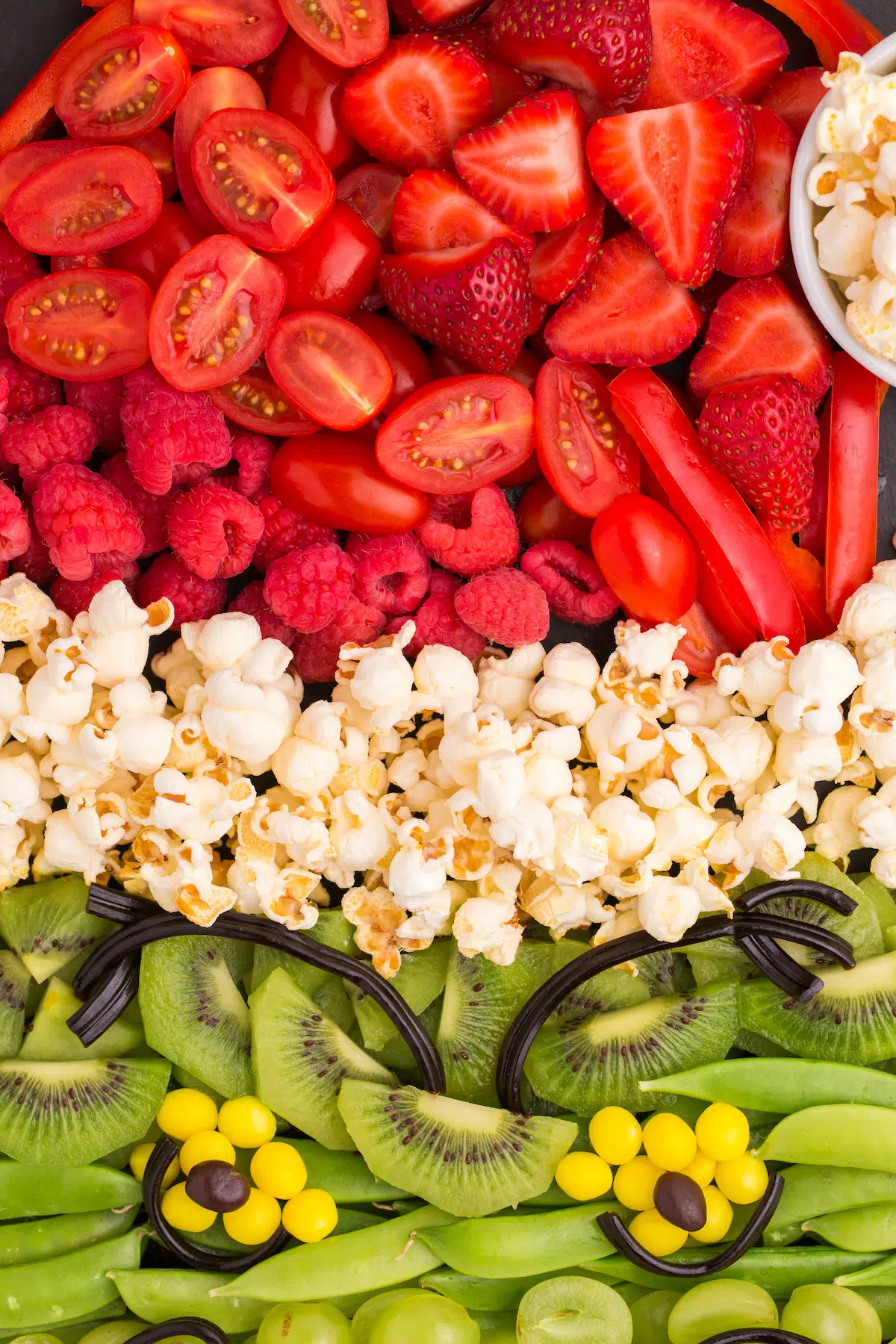 Use a red pepper strip to outline the hat. Start with one line of peppers and then lay another line on top to make a barrier. Then, start to create the outline of the face with green peppers the same way.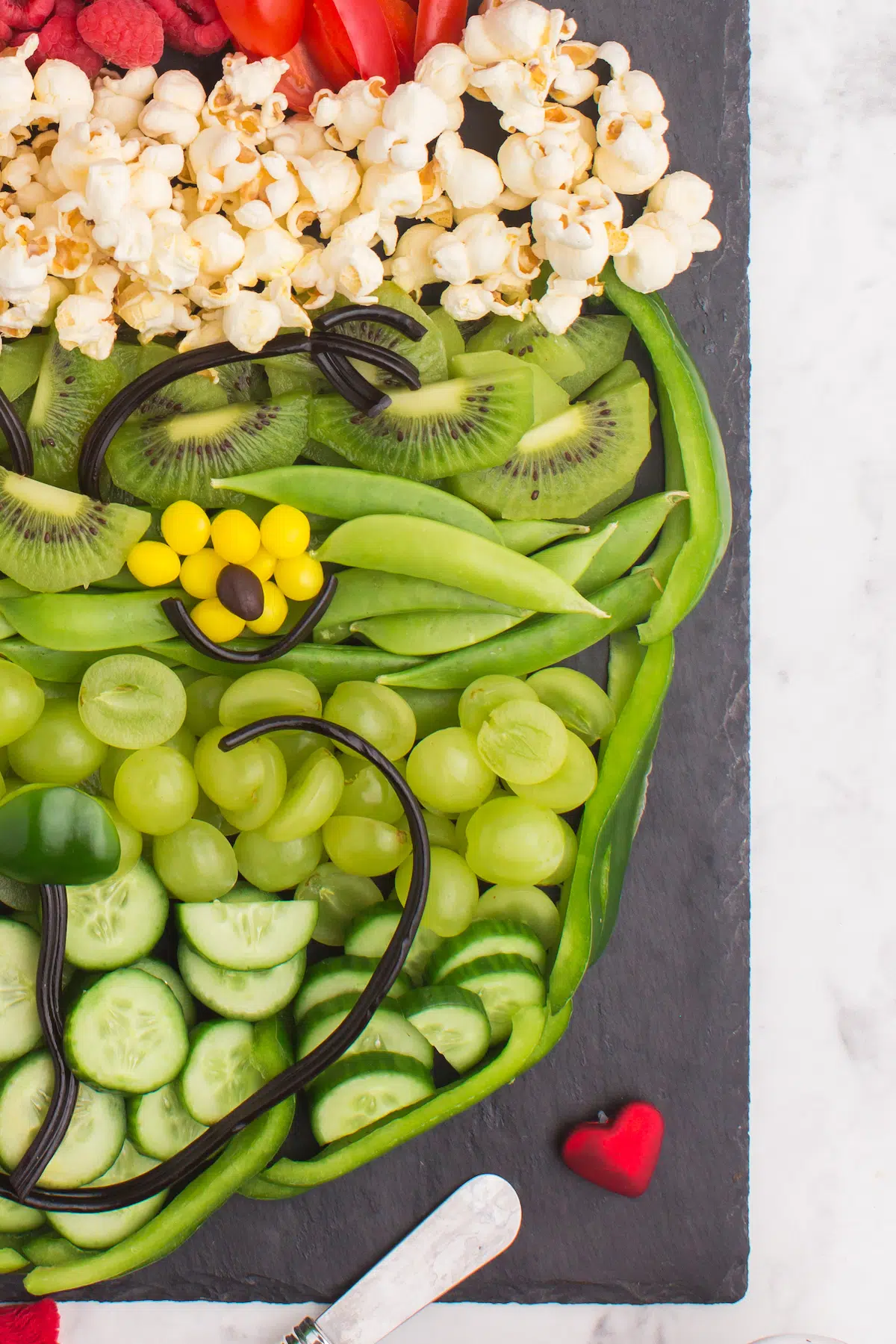 Fill in the hat with strawberries, cherry tomatoes, and raspberries. Next, fill in the face with kiwis, snap peas, green grapes, and cucumbers. Use the licorice and make the mouth. Add the bottom of the green pepper as the nose.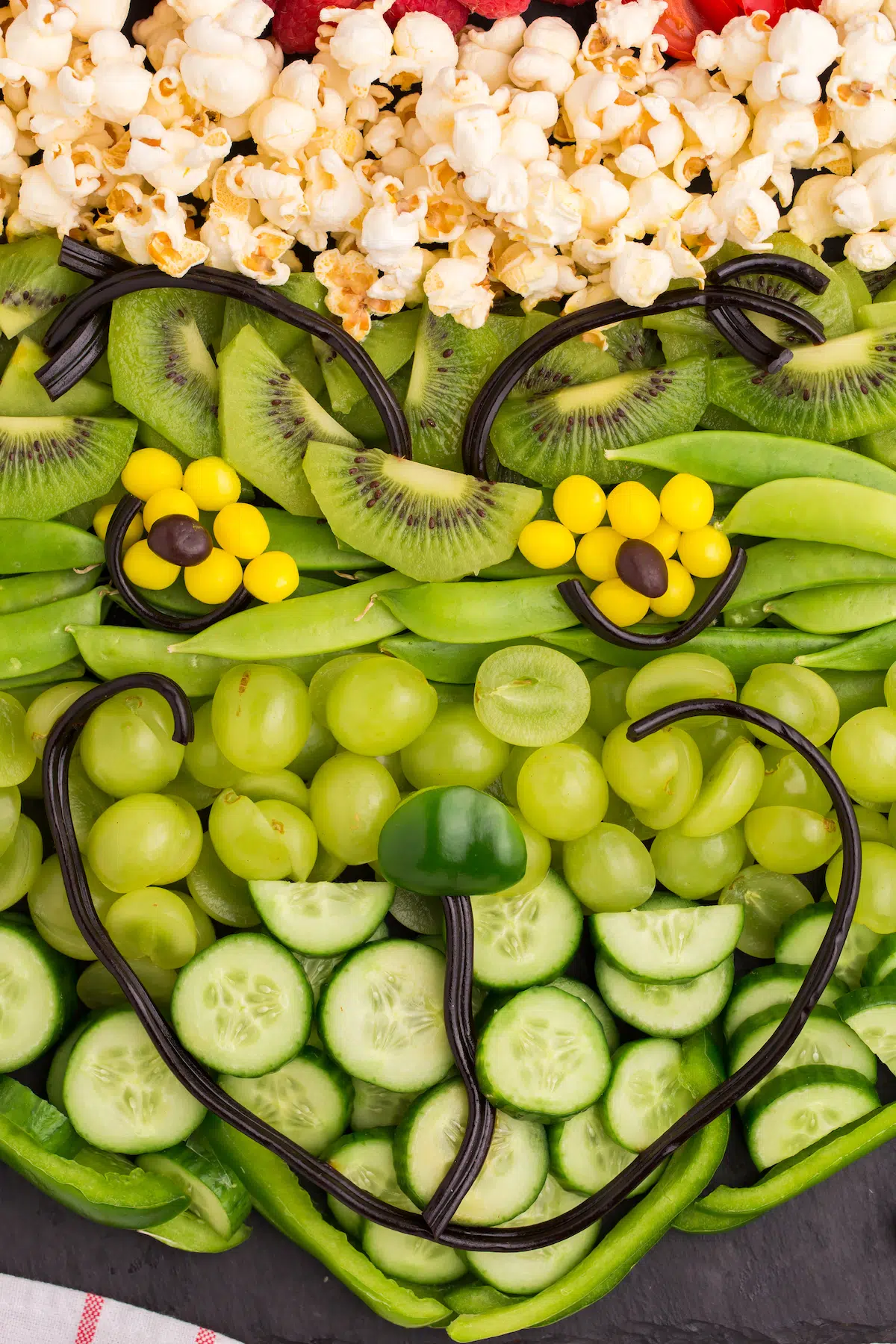 Use the lemon heads on the snap peas to create eyes. It is a bit tricky so you will need to play with them. It works best on the peas because the liquid in the kiwis makes the color run. Place the chocolate in the middle of the yellow eyes. Add licorice to make the eyebrows.
Tips and Tricks for Making Grinch Fruit Tray For Christmas
Choose Ripe and Fresh Fruits and Veggies: Select fruits and vegetables that are ripe and fresh for the best taste and appearance. Vibrant colors will make your Grinch stand out.
Prep in Advance: Making this tray typically takes about an hour. If you're pressed for time, consider preparing the fruits and vegetables in advance. You can slice them a day ahead, but it's advisable not to cut them more than 24 hours beforehand for the best freshness.
Involve the Kids: Making a Grinch Fruit Tray is a great activity for kids. They can help wash, peel, and cut fruits (with adult supervision) and have a blast assembling the Grinch's face.
Can I use any fruits for the Grinch Christmas Fruit Platter, or are there specific fruits I should use?
I am using certain fruits and vegetables, but you can get creative. If there is something on the Christmas platter that you prefer not to use, you can eliminate it and come up with an alternative.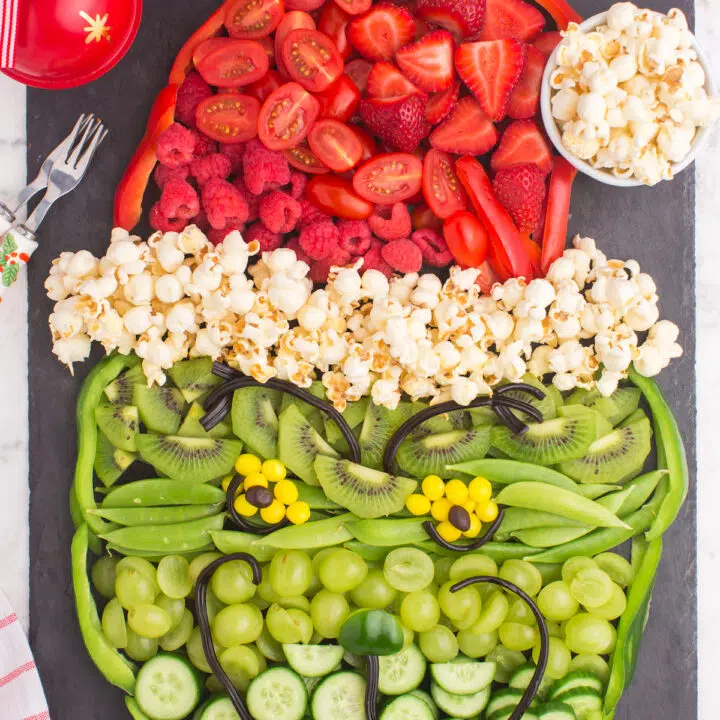 Grinch Fruit Tray Idea
Ingredients
FLUFFY FRUIT DIP INGREDIENTS:
1 block of cream cheese (softened)
¾ cup of powdered sugar
½ cup of whipped cream
Red food coloring
THE GRINCH TRAY INGREDIENTS
SANTA HAT:
1 Red Bell Pepper
Quart of strawberries
Pint of cherry tomatoes
Pint of raspberries
White cheddar popcorn
GRINCH FACE:
1 Green Bell Pepper
3 kiwis
8-ounce bag of sugar snap peas
Green grapes
2 mini cucumbers
Black licorice wheels
Lemon heads
2 Chocolate covered raisins for the pupils.
Instructions
FLUFFY FRUIT DIP INSTRUCTIONS:
Place your cream cheese, powdered sugar, and whipped cream in a large bowl. Using a hand mixer or stand mixer, beat on medium-high speed until it is smooth and all combined.
Add 5-7 drops of food coloring to your dip and stir until it is all combined. Look at your color and add more food coloring if you need it to be redder.
Place it in a heart bowl if you have it.
GRINCH BOARD ASSEMBLY:
You need to prepare your fruit and vegetables. Slice your bell peppers into slices and then cut off the extremely curved ends. Slightly curved is fine. Reserve the bottom of your green bell pepper for the nose.
Cut the tops off your strawberries and then slice them in half.
Slice your cherry tomatoes in half.
Peel and slice your kiwi. Cut some kiwi in half, and some in quarters to fill in the tops of the grinch head.
Slice your green grapes in half.
Cut your cucumbers into slices.
GRINCH BOARD ASSEMBLY:
Place your popcorn where the rim of the Santa hat will be and then use a little bowl to place popcorn where the ball of the hat will be.
Outline your hat with red bell pepper strips. Start with one line of them and then lay another line on top to create a little barrier.
Then create the outline of his face with the green bell pepper in the same way.
Fill your hat with the strawberries, cherry tomatoes, and raspberries.
Fill your face with the kiwi, snap peas, green grapes, and cucumbers.
Unroll your licorice and make the mouth.
Take the bottom of your green bell pepper and place it as the nose. Then take a line of licorice and connect the nose to the middle of his grin.
On the sugar snap peas, use the lemon heads, to create eyes. You will pile them up and play with them until you get them how you like it. It is best if they are on the snap peas, if they are on the kiwi, they will bleed their color. Place a chocolate raisin in the middle of the yellow eyes.
Create the eyebrows with more licorice.
Enjoy!
Nutrition Information
Yield

8
Serving Size

1
Amount Per Serving
Calories

184
Total Fat

4g
Saturated Fat

2g
Trans Fat

0g
Unsaturated Fat

2g
Cholesterol

8mg
Sodium

38mg
Carbohydrates

37g
Fiber

7g
Sugar

25g
Protein

4g
This nutritional information is for reference only. We are not responsible for these calculations.