Having company over for lunch? Charcuterie and snack boards have always been popular, but they really blew up in 2018 and I love it! Having a mountain of delicious food options to choose from and feast on could never be wrong. It's all too right! I thought it would be fun to put a little twist on this idea by offering up an alternate lunch idea for when you have company. Enter my snack tray ideas that are easy to put together, pretty for entertaining and include foods that are hearty enough to be called lunch. That's a lunch snack tray win! This is a sponsored post about Great Day Farms Peeled & Ready-to-Eat Hard Boiled Eggs available at Walmart.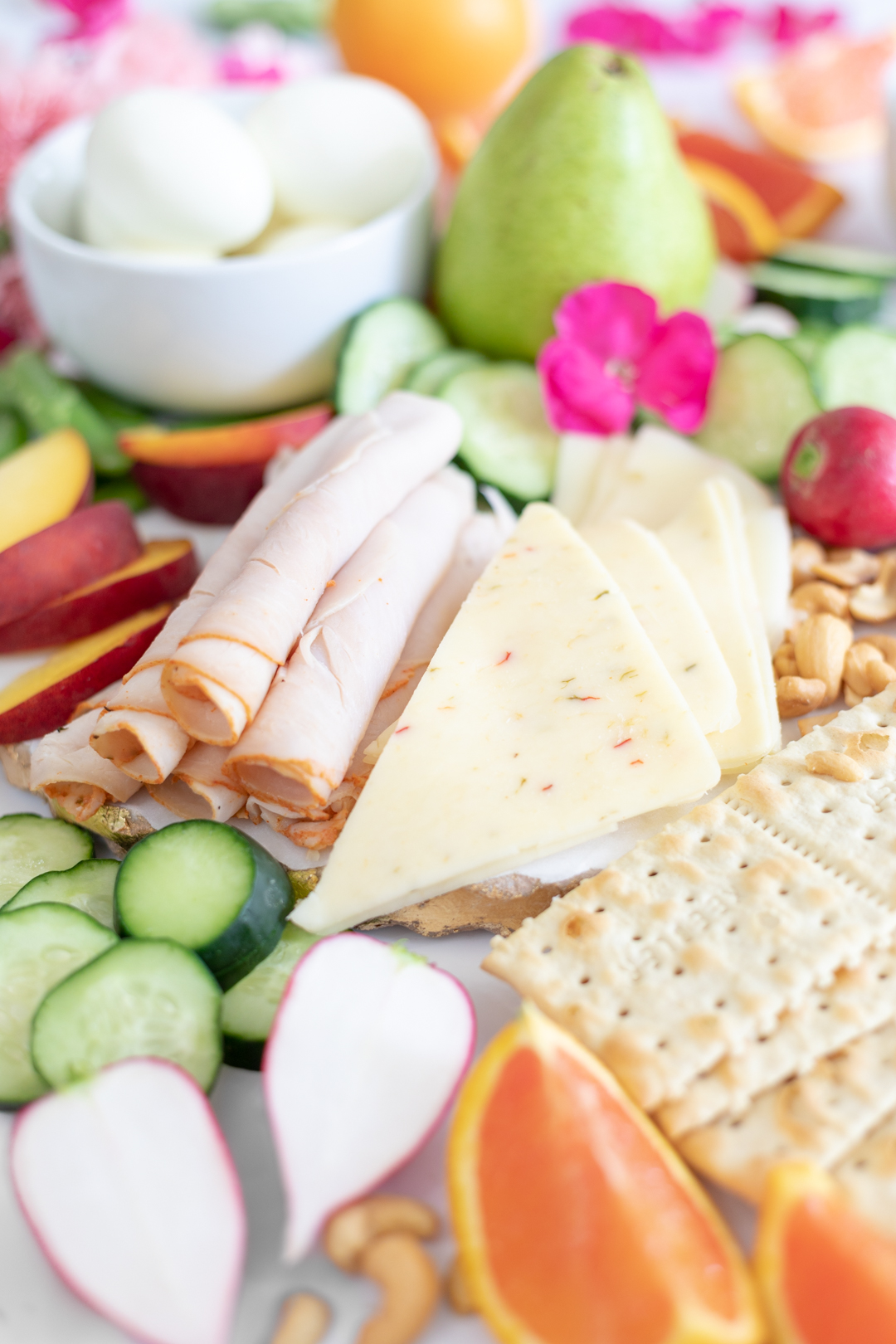 Aside from breakfast and deviled eggs, I had never thought to include boiled eggs for entertaining company. I'm so glad for the egg-spiration from Great Day Farms Peeled & Ready-to-Eat Hard Boiled Eggs because they really help to make this spread filling. They are delish and come ready-to-eat. Perfect no fuss addition to any snack or lunch! Pair them up with fresh vegetables, fruits, nuts and other scrumptious lunch-worthy foods for a gorgeous spread that guests will swoon over.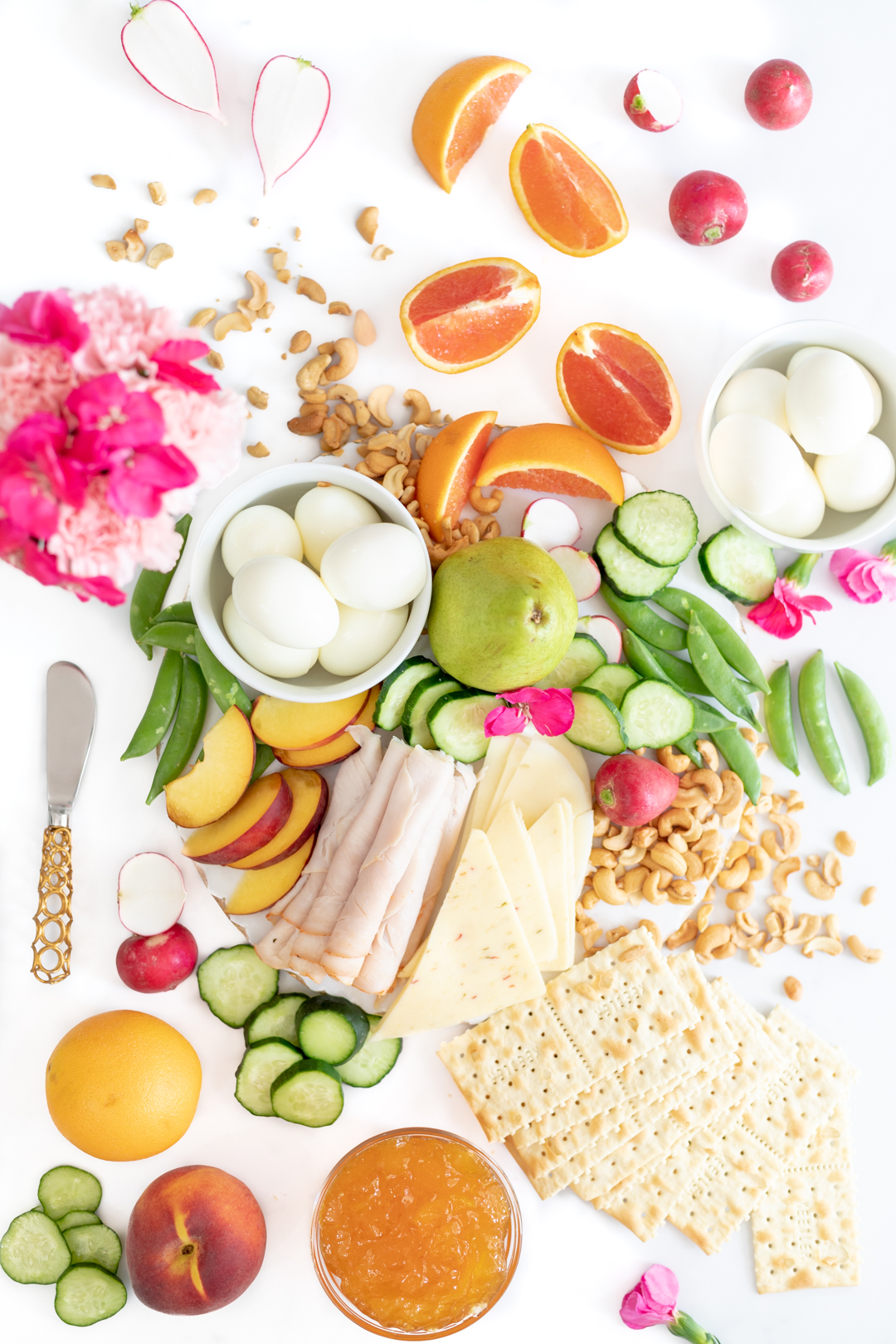 LUNCH SNACK TRAY TUTORIAL
These simple snack board ideas are perfect for lunch. All of these ingredients can easily be found at Walmart and won't break your entertaining budget. Total win. Let me walk you through all of the ingredients and the extra add ons and garnishes that make this extra pretty with no fuss.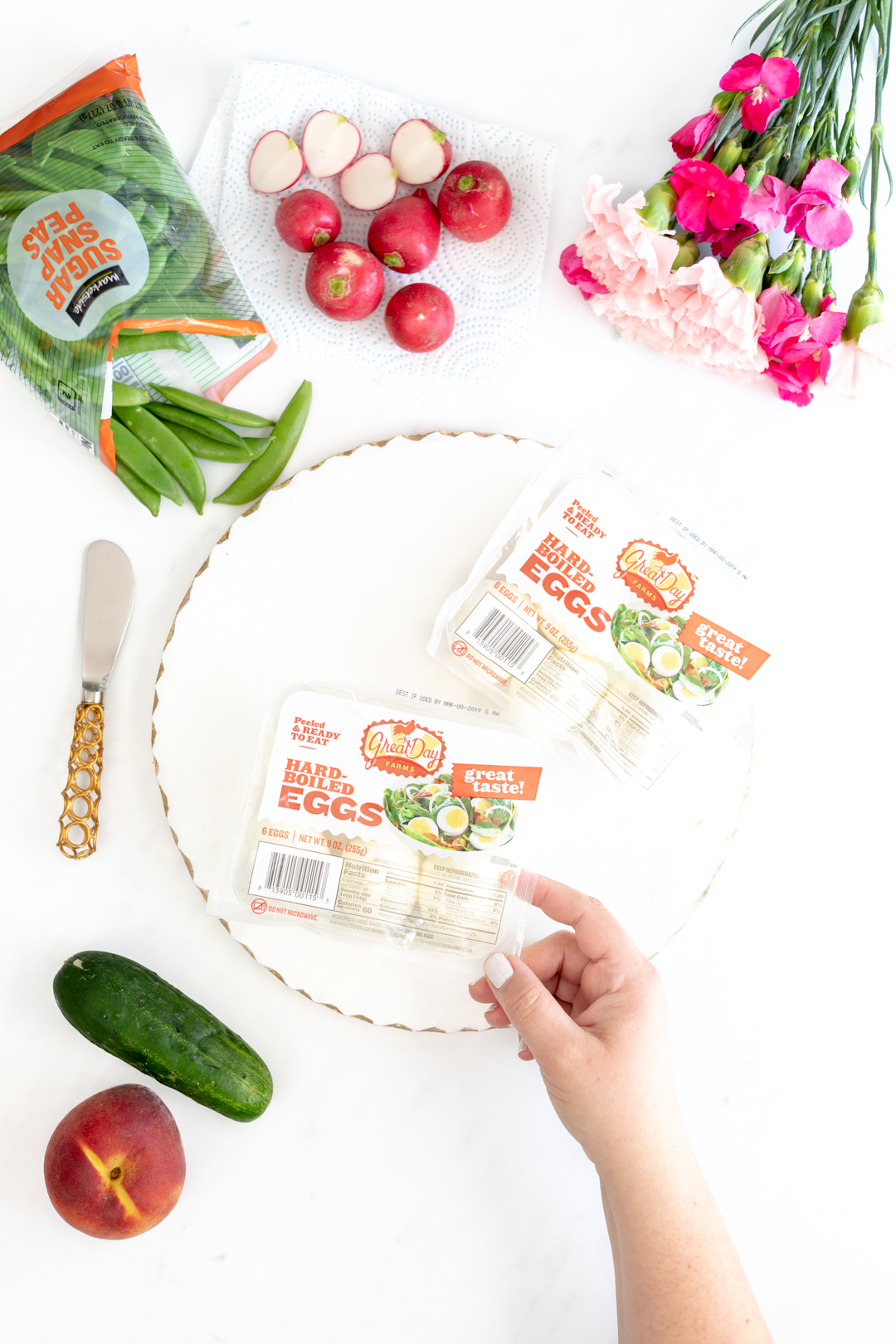 WHEN TO SERVE A LUNCH SNACK TRAY
A lunch snack tray is perfect for, but not limited to these occasions:
Everyday Gatherings
Girlfriend's Day In
DIY Spa Day at Home
PTA Meetings
Book Club Meetings
For Grownups at Your Kid's Parties
Galentine's Day Parties
Engagement Parties
Baby Showers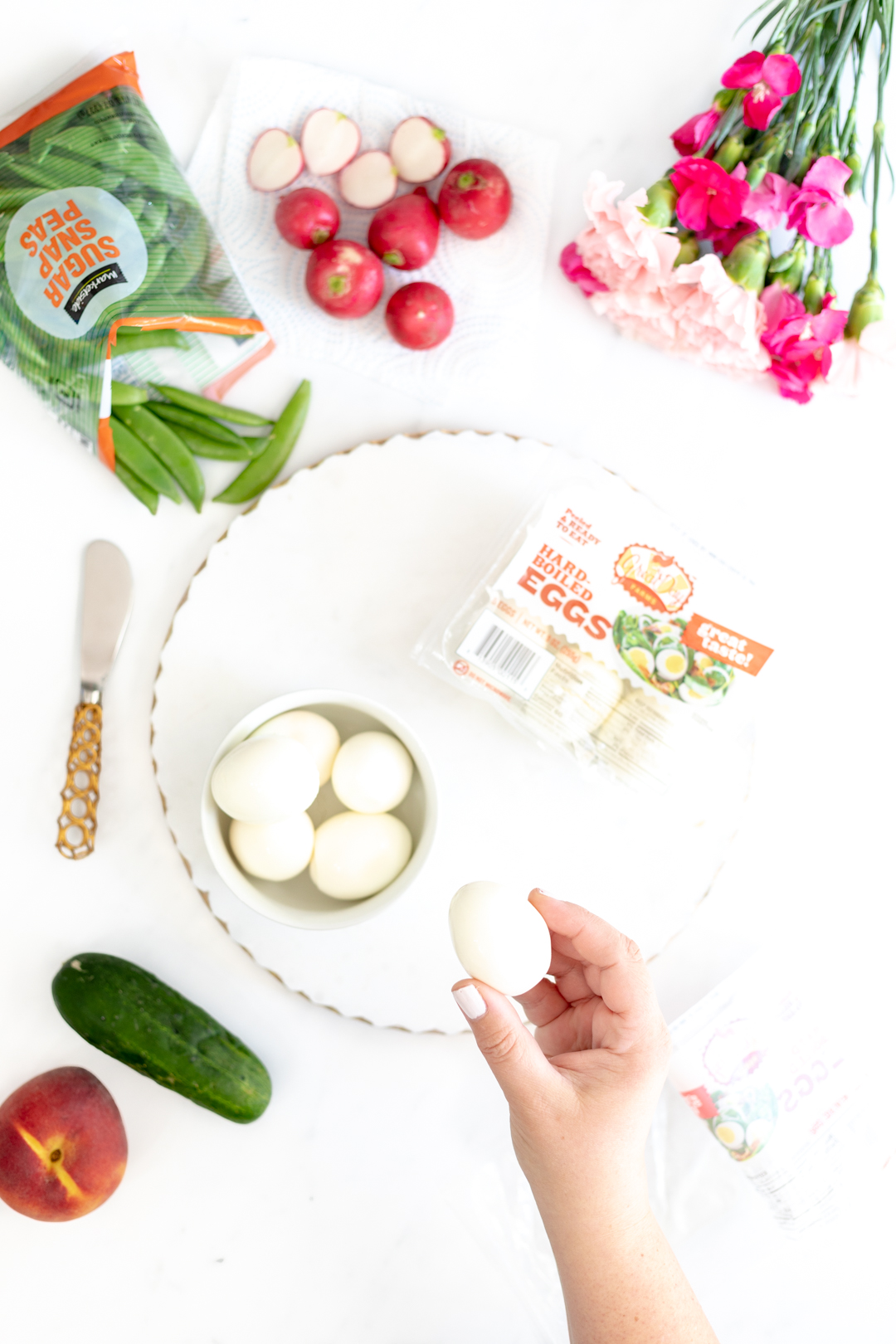 HEARTY LUNCH BOARD INGREDIENTS
Here is my list of heartier ingredients for an entertaining lunch snack tray.
Great Day Farms Peeled & Ready-to-Eat Hard Boiled Eggs (available at Walmart)
Rolled Lunch Meats
Variety of Cheeses
Variety of Nuts & or Seeds
Hearty Crackers and Toasts
Fresh Vegetables (Sliced mini cucumbers, celery, snap peas, baby carrots)
Fresh Fruits (Citrus, peaches, pears, apples)
Jams, Jellies and Dips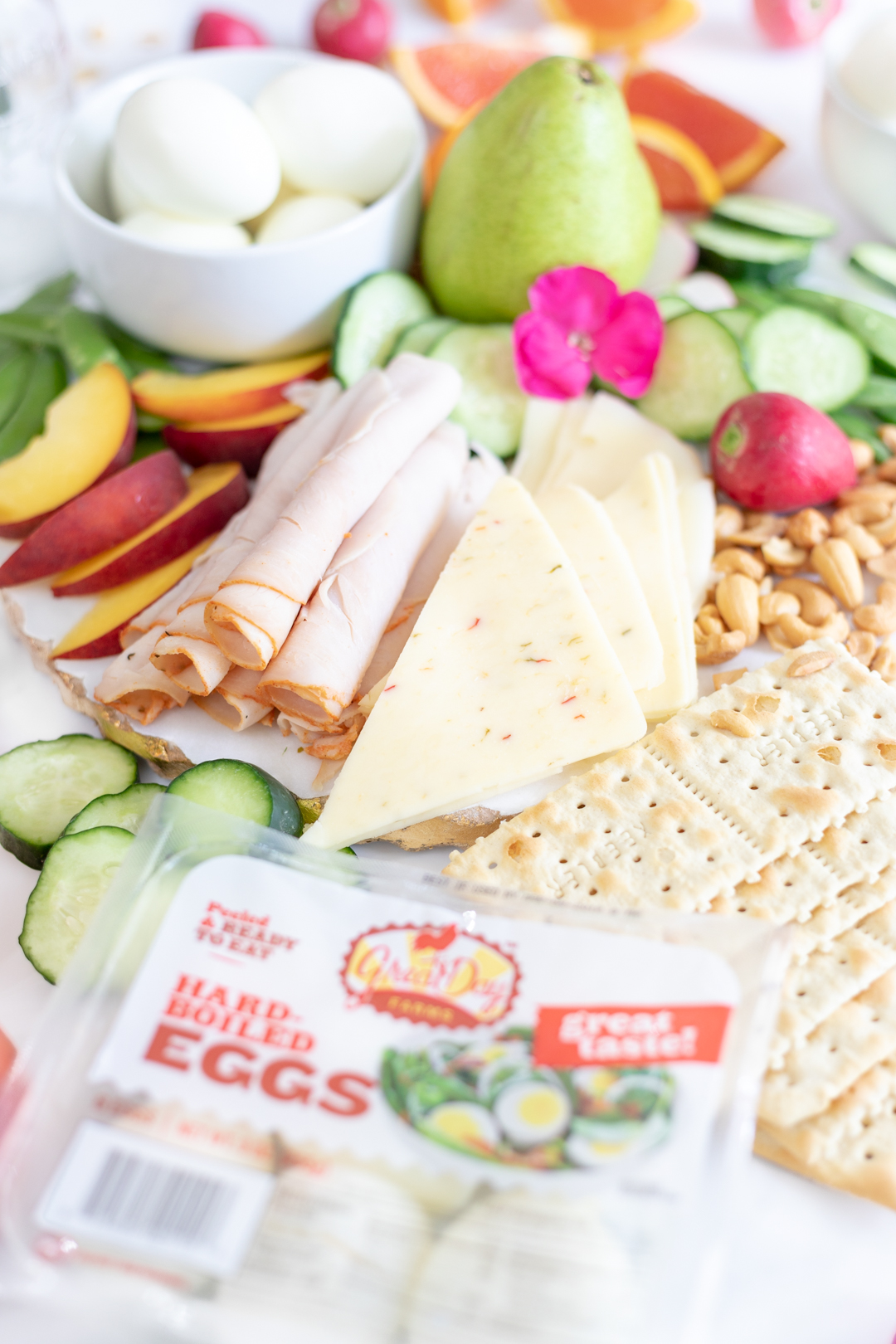 HOW TO DECORATE A SNACK TRAY
For this pretty snack tray, I wanted to add things with a pop of color. That means that I took a few moments to decide on a color theme. I wanted to add light reds, pinks, orange/tans and a nice fresh pop of green. I love how it all came together. Here are my suggestions:
Choose a color theme.
Find snack board ingredients in those colors.
Look for fresh flowers that match your theme.
Add whole fruits and vegetables in your colors to the board in addition to sliced and edible versions where possible.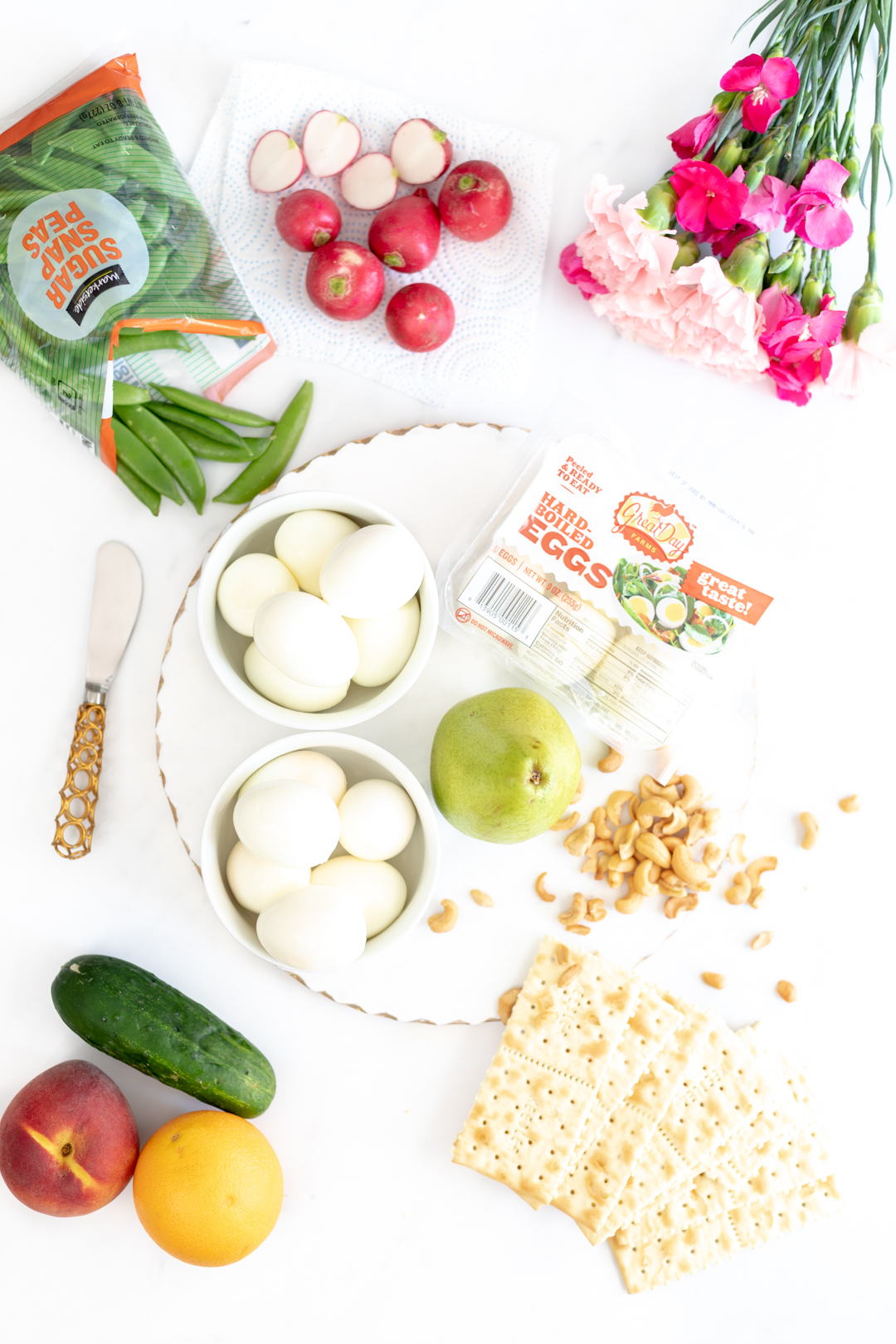 SNACK TRAY TIPS
Having seen snack boards and charcuterie ideas galore, the underlying theme is abundance. We want to create the appearance of endless options and a lot of food. You can do this by carefully selecting your ingredients and spreading them out as much as possible. Thinking of it as a centerpiece might be a handy tool to make this happen. Give it a little height with some flowers or standing/stacked food items.
Voila! I told you that was easy! It doesn't take much to put together a glorious snack tray that's hearty for lunch!

You can find Great Day Farms at Walmart! They are offered in 2-Pack and 6-Pack offerings.
There are some SWEET savings right now, too! Make sure to take advantage of them to get more bang for your buck!
Visit the Ibotta website to find cashback offers now!
You can current redeem ($0.25) wyb a 2-Pack & ($0.50) wyb a 6-Pack at Walmart.