This is a sponsored post written by me on behalf of Batteries Plus Bulbs. All opinions are 100% mine.
The only thing better than a movie night, is a holiday movie night with your very favorite people. I'm so excited to share my best ideas for a fun holiday movie night complete with a fun popcorn bar and the best ambiance thanks to Geeni products available online and in-store at Batteries Plus Bulbs. I'll show you how easy it is to transform your home into a Smart Home the easy way just in time for the holiday season.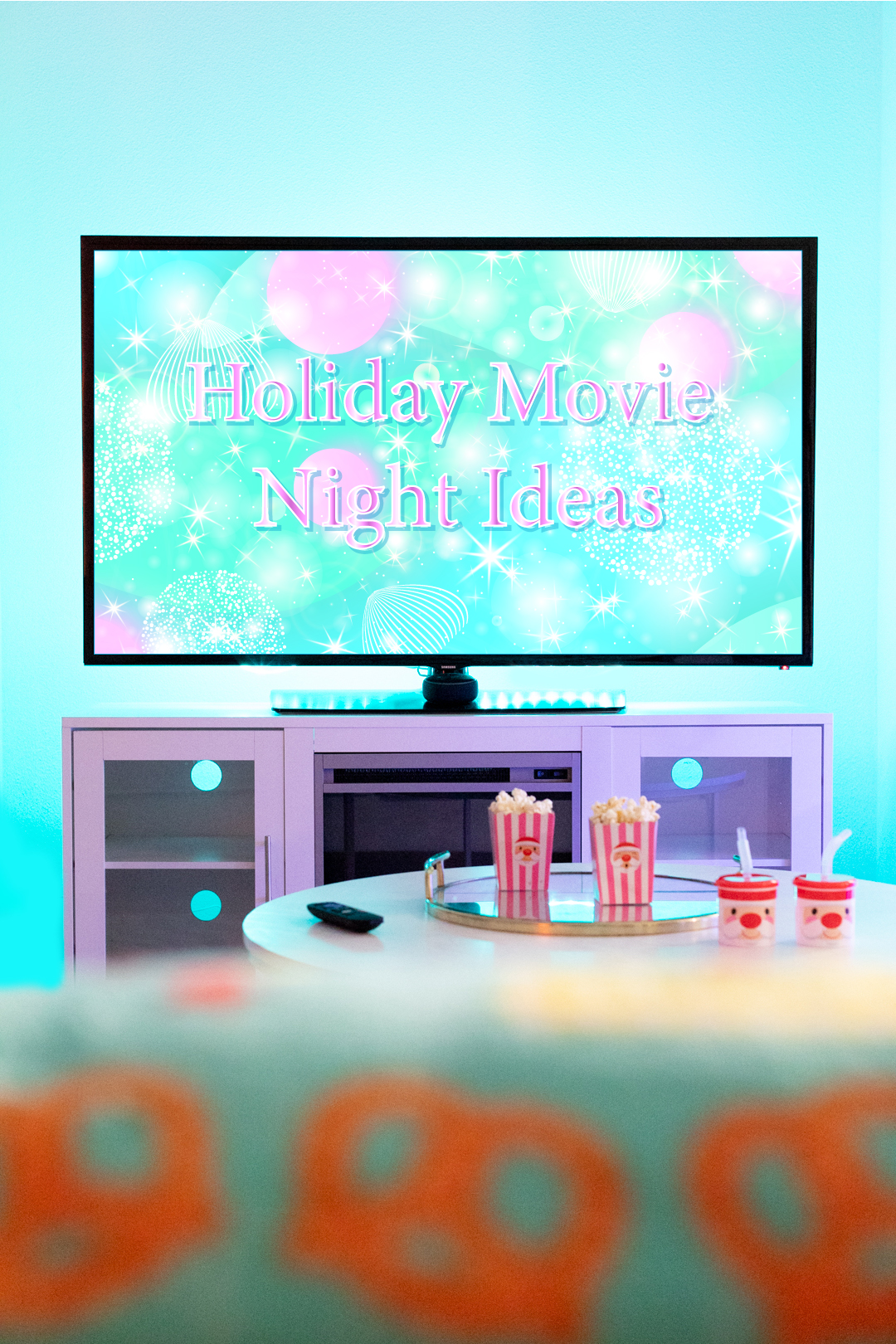 The possibilities for a night of glorious holiday fun is endless when you combine the perfect movie-night food, the perfect people with a whole holiday mood. I'm excited to share how it's easy to combine all of these "ingredients" for a cozy memorable night.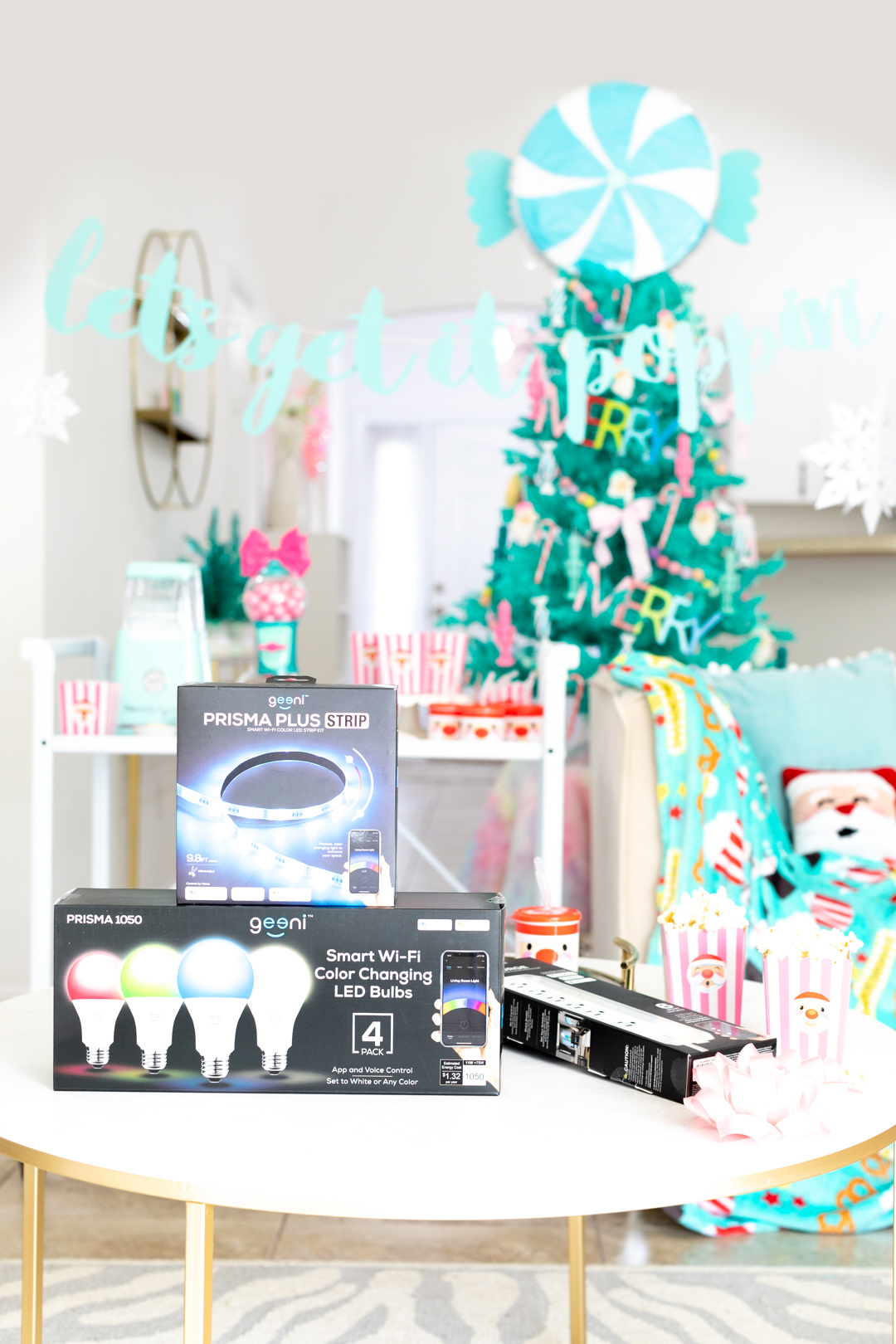 MAKE A HOLIDAY MOVIE NIGHT SPECIAL
Spending so much time at home this year has really gotten me to focus on making small moments more special. Movie nights are no longer just a thing to pass the time, now I pull out all the stops and make it a whole experience when I can.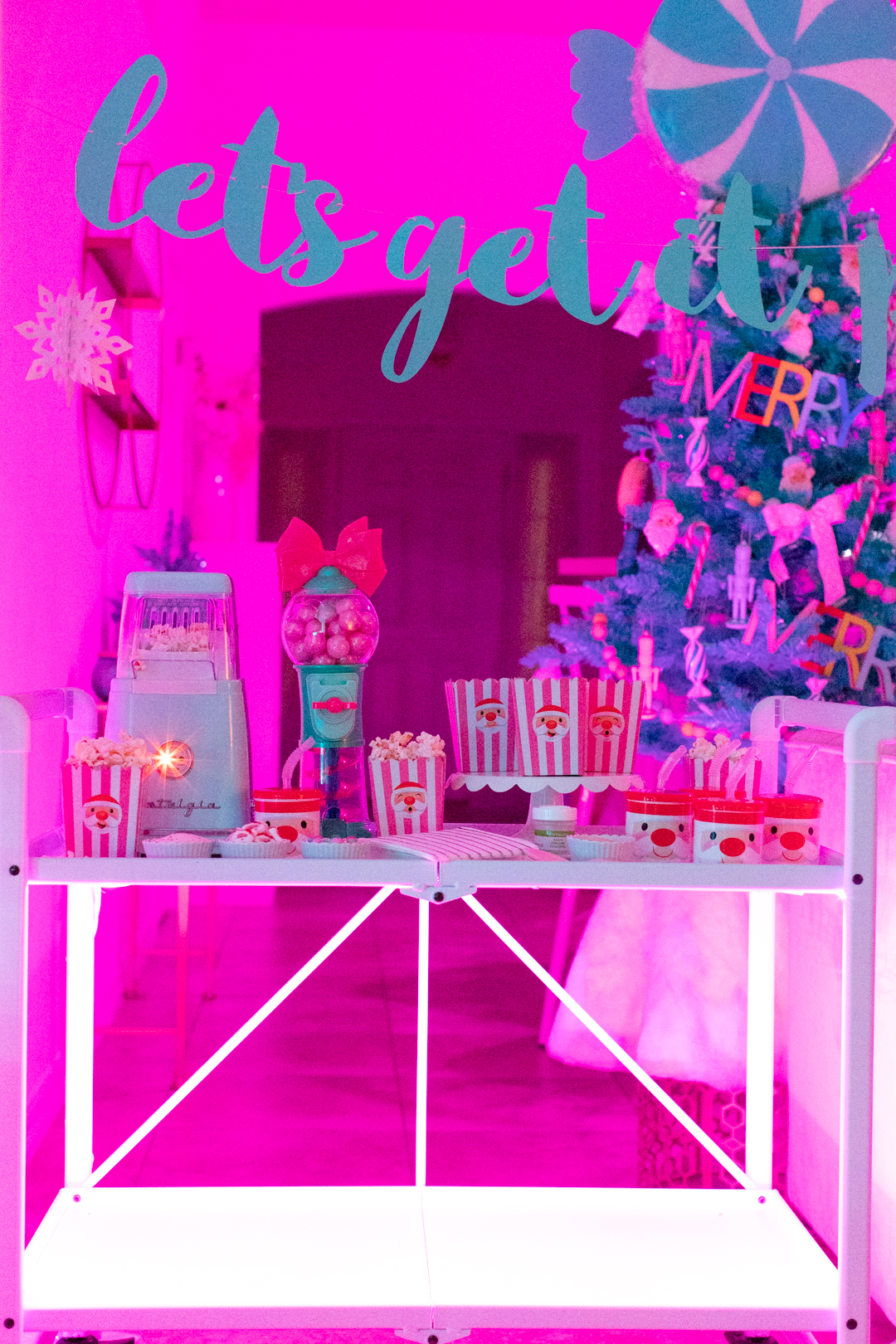 Simple things like the perfect snacks, a special throw to cozy up with or amping up the ambiance with colorful lights in our home makes everything better instantly.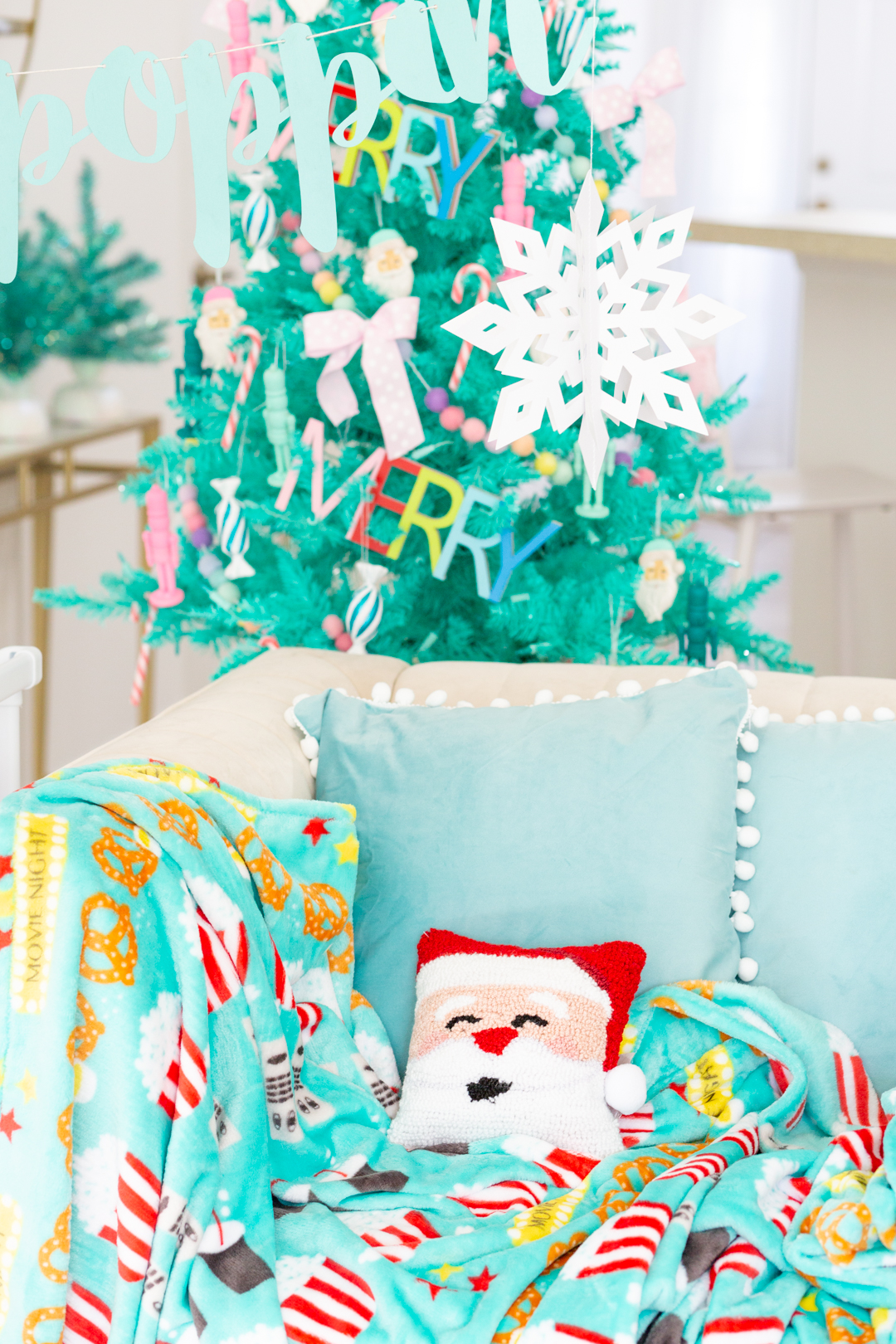 Add your favorite holiday movie and it's practically a wrap!
SMART HOME PARTY IDEAS
Want to get your home ready for the perfect holiday celebration? Here are a few super simple ways to amp up the fun with very little effort thanks to these Smart Home products.
After checking out the Geeni products from Batteries Plus Bulbs, I'm happy to spread the news about how EASY they are to set up. It all starts with the Geeni app and the rest is a breeze. There is no hub involved, so you can get these set up in record time. I was pleasantly surprised with the ability to literally have access to all the tools needed to set up and access your Smart Home right in the app.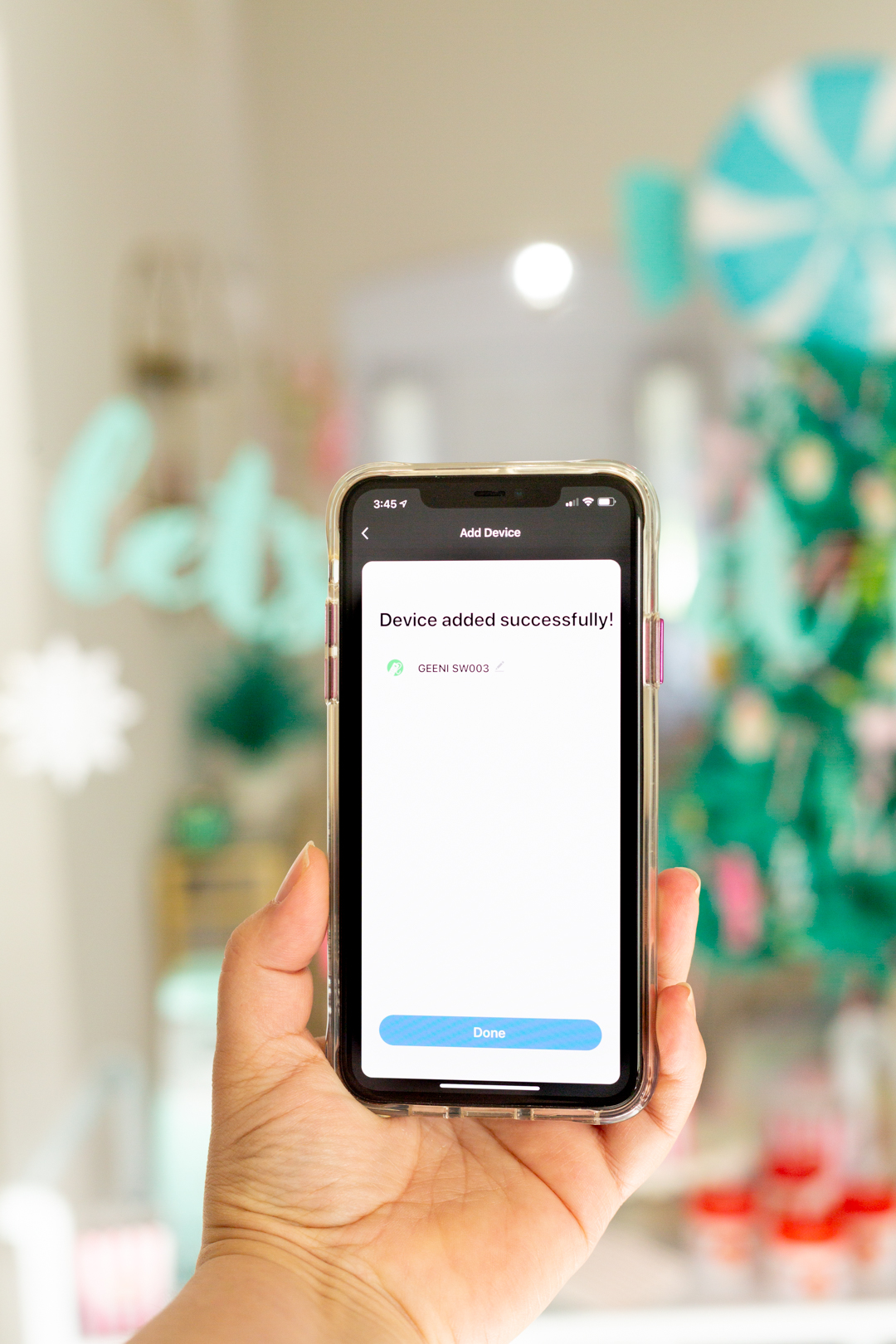 Easily turn things on and off and adjust colors, brightest and saturation with just a touch. Even better, after a quick set up, you can even access your Smart Products with Amazon Alexa, Google Assistant and Microsoft Cortana.
SMART WIFI COLOR CHANGING LED BULBS – I had a chance to check out the Geeni A21 4-pack smart wi-fi color changing led bulbs – Set the scene with the tap of a screen. These awesome color changing bulbs are the perfect way to set a unique mood for your movie night. You'll be singing "it's beginning to look a lot like Christmas" once you give these a try. It's as simple as replacing your normal bulbs, connecting through the app with Wi-Fi. You can then set them on a schedule, turn them on or off, switch colors, brightness and saturation.
COLOR CHANGING SMART WI-FI LIGHT STRIP – These are super fun! Such a simple way to add a pop of color anywhere you want it with this smart light strip. For my party, I used these behind my TV to help make movie night more awesome and around my bar cart for a pop of fun. They serve as the perfect simple touch that will easily make every say "ooh" and "ahh".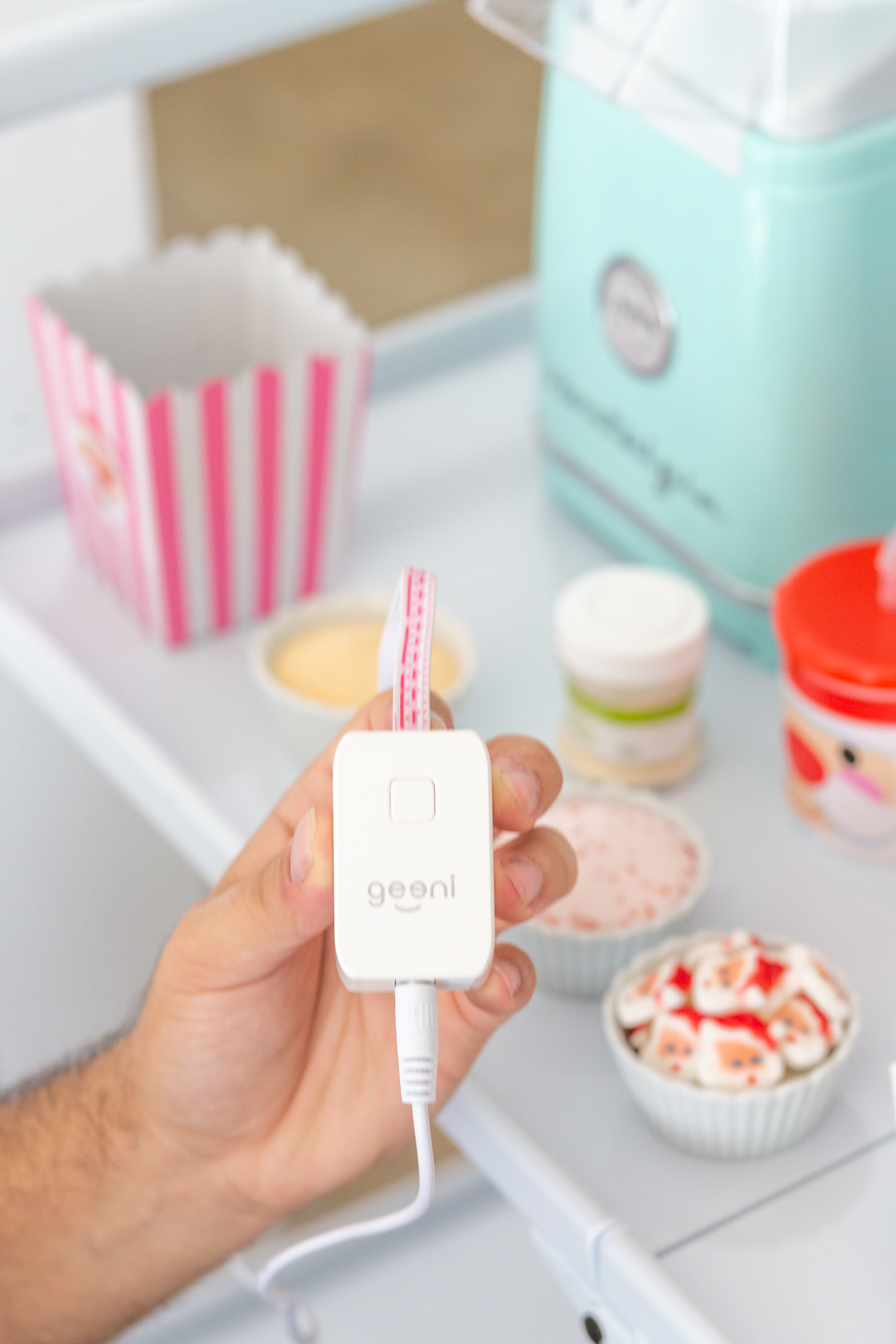 These strips are easy to adhere to many surfaces with it's 3M self-adhesive back. This comes in a extra-long 9.8 ft. light strip and can be trimmed down to the size you need.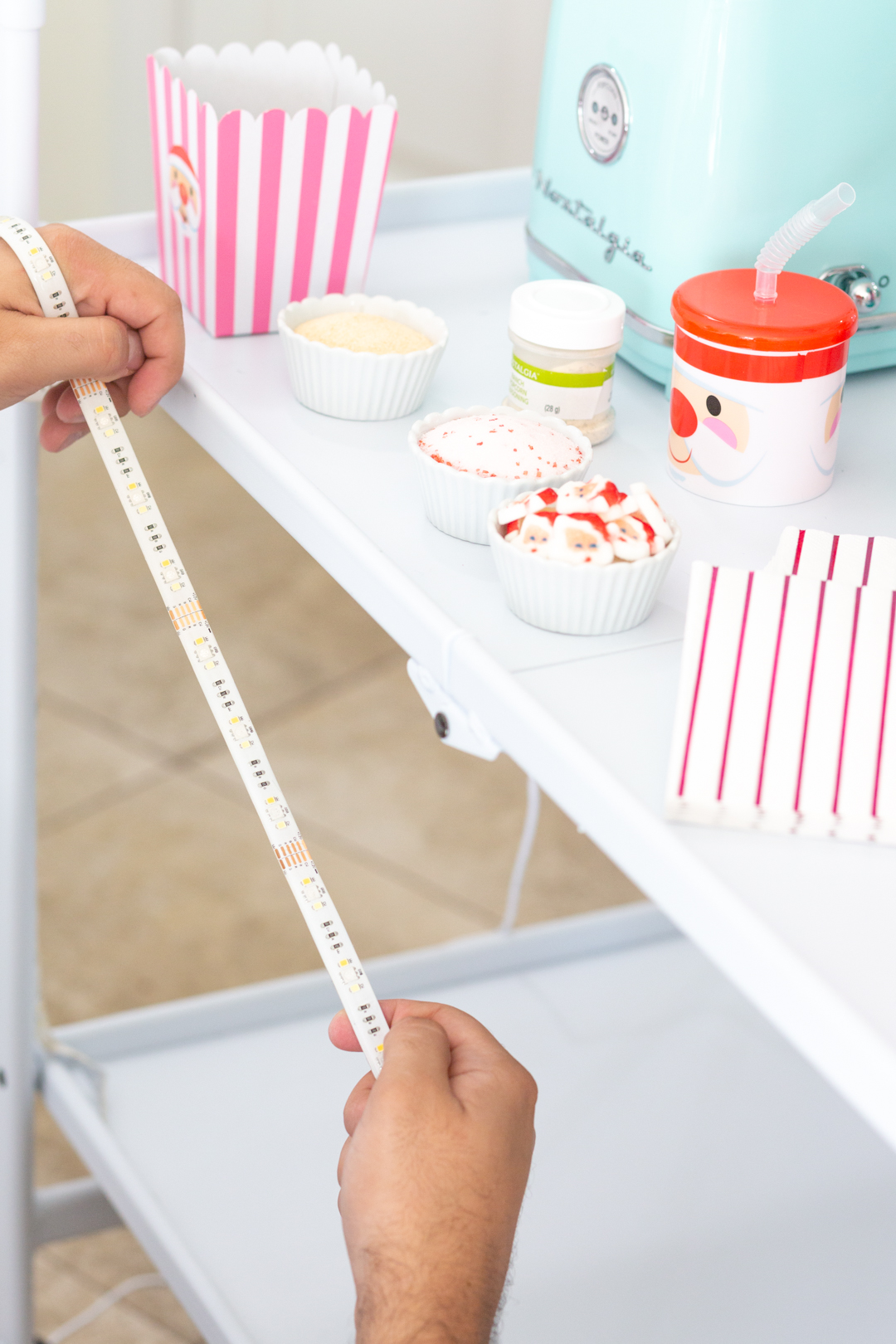 SMART WI-FI SURGE PROTECTOR STRIP – Make all the magic come together easily with a few Smart Home strips. Get the benefits of a normal surge protector with the added flexibility with wi-fi capabilities. Have maximum control of all the things when you tap into these strips as a resource. I was able to easily set up a popcorn machine and Smart Light Strips using one of these. Turn them on and off with the app. Easy peasy.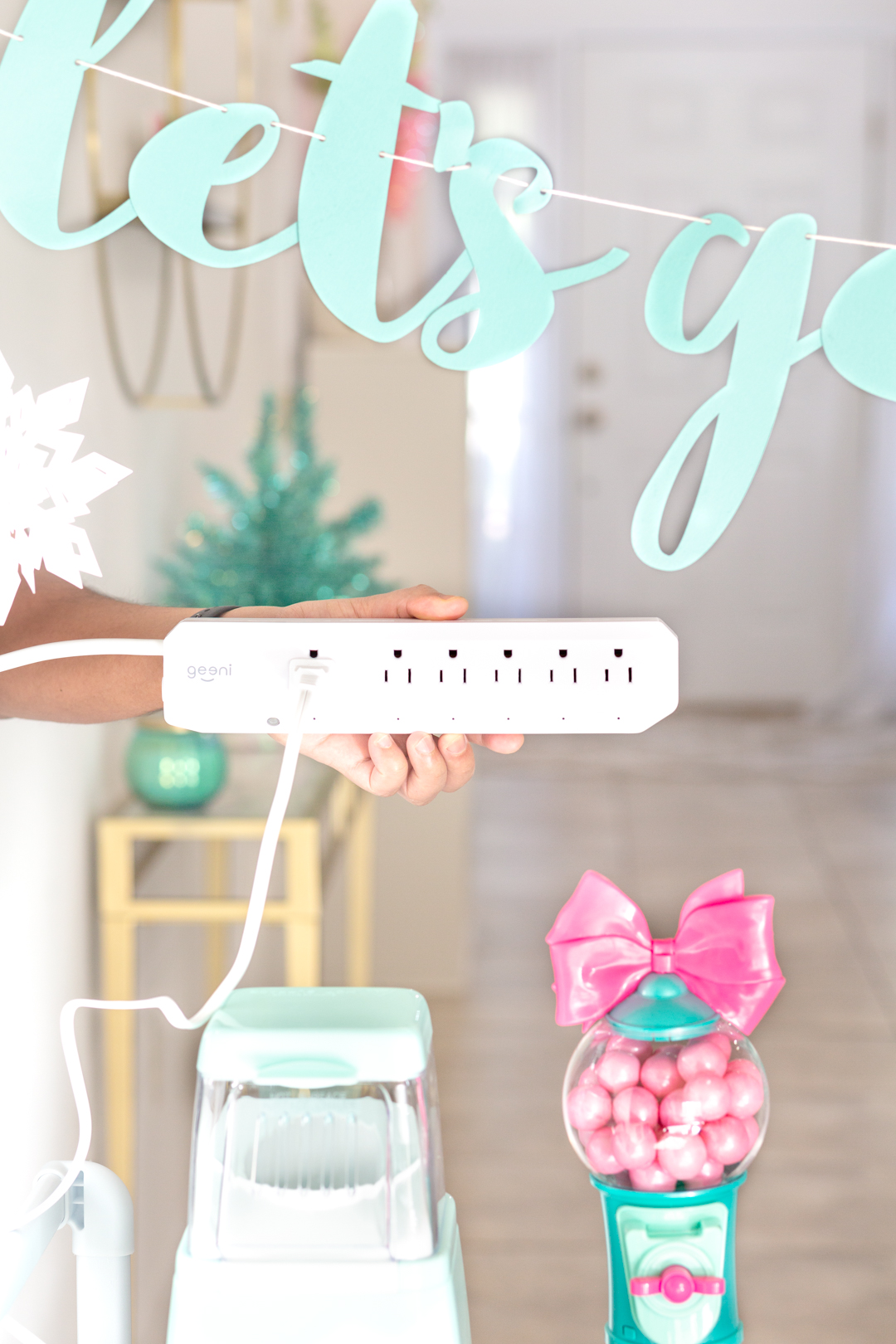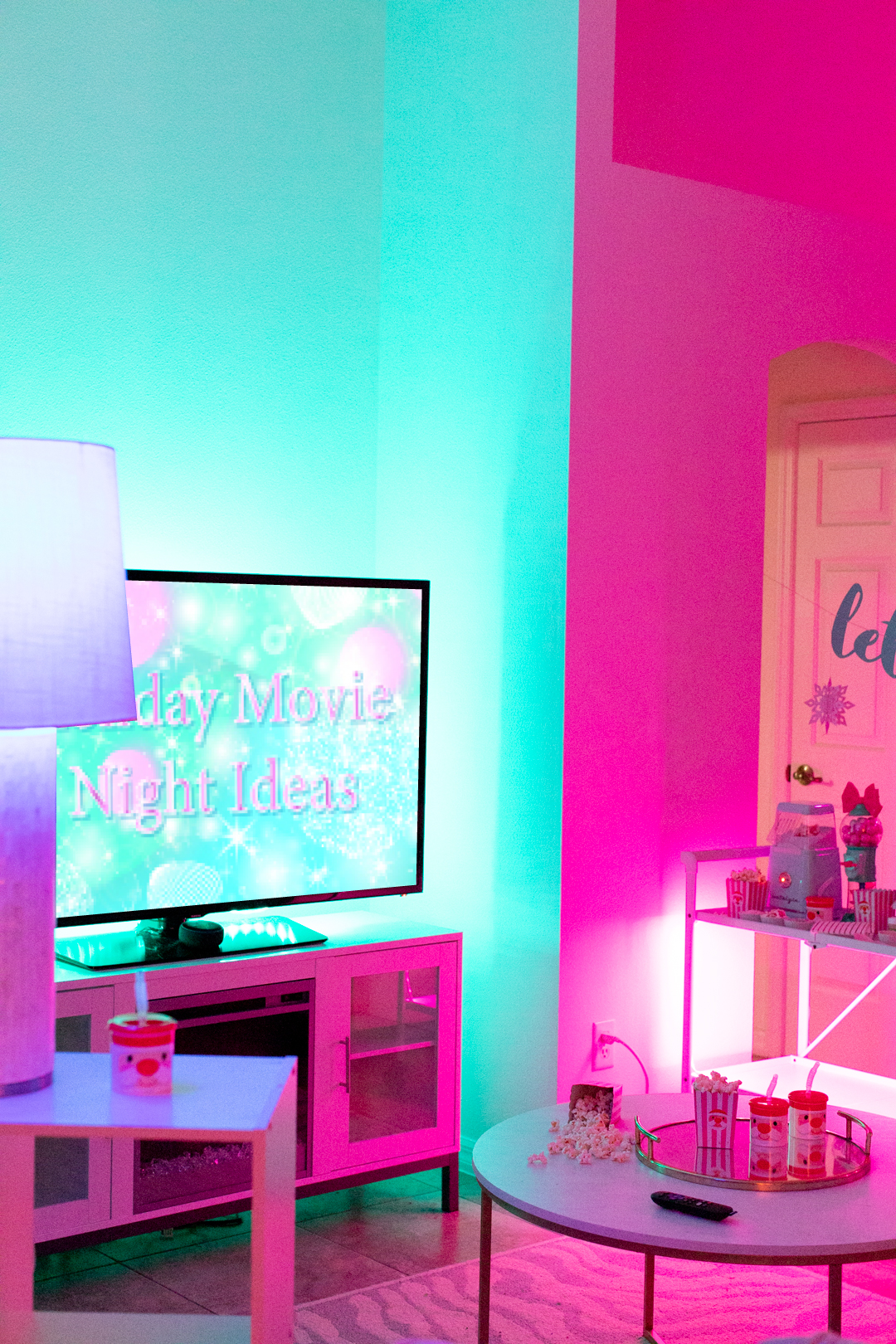 HOLIDAY POPCORN BAR
What's a movie night without popcorn? I couldn't think of a better way way to treat guests to something delicious. I set up a bar cart with a little popcorn making machine and all the fun fixings from sweet to savory. From peppermint sugar to dust on top to savory powders, there will be something for everyone.
All of your guests can make their own delish movie-night creation.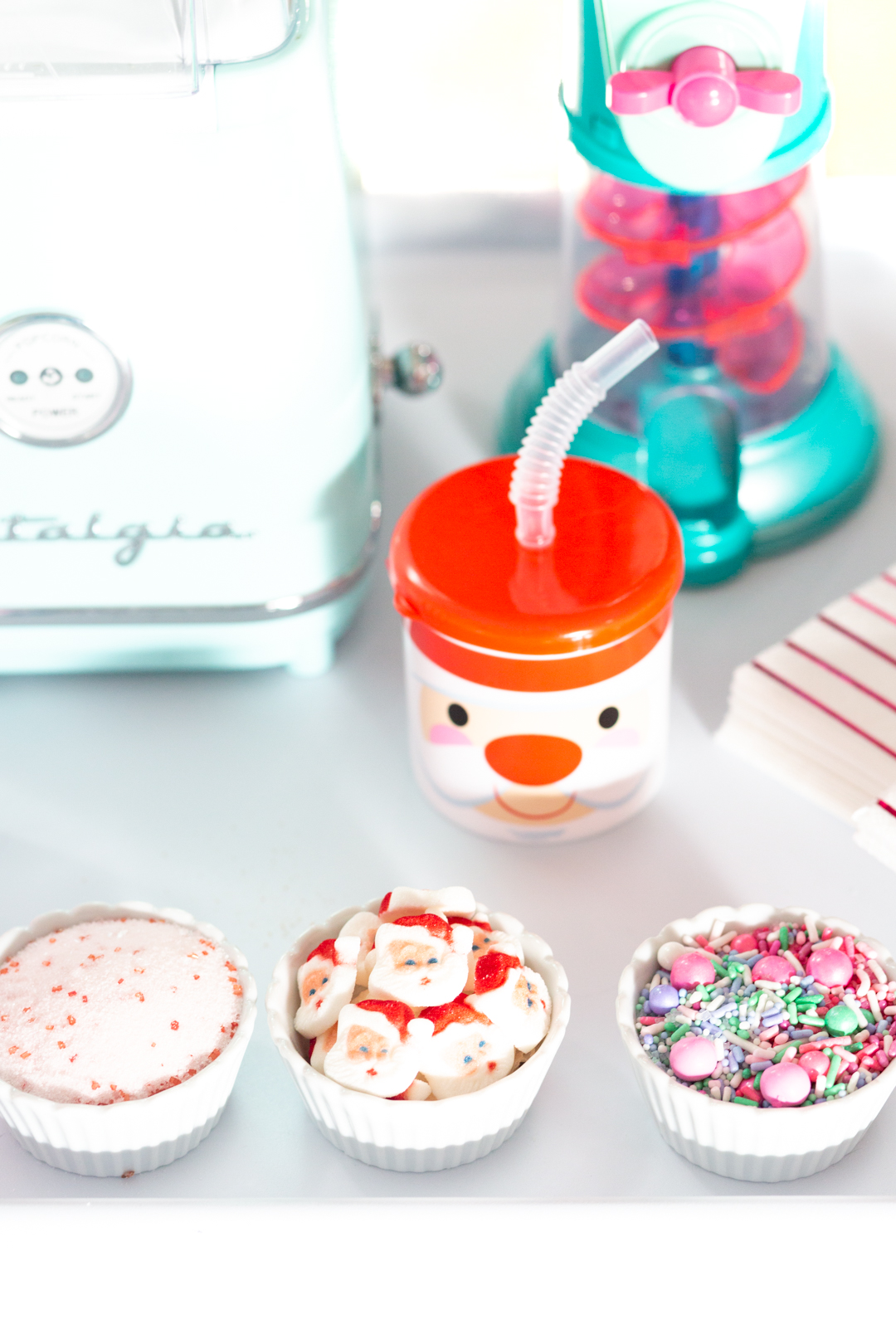 I found the perfect mini Santa cups for refreshments. I just cannot believe how cute they are.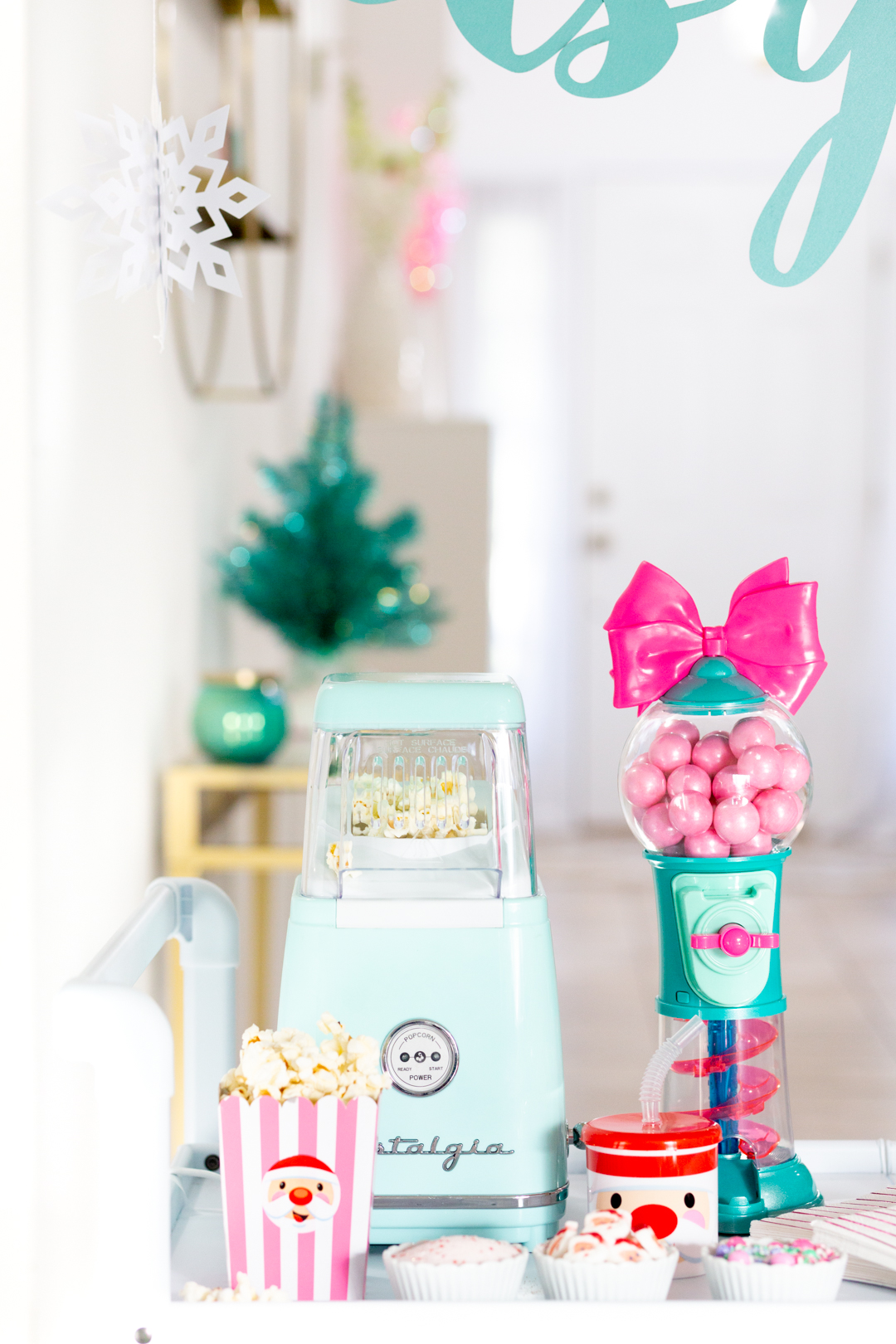 I also added mini popcorn boxes that I added Santa stickers too for a sweet special touch.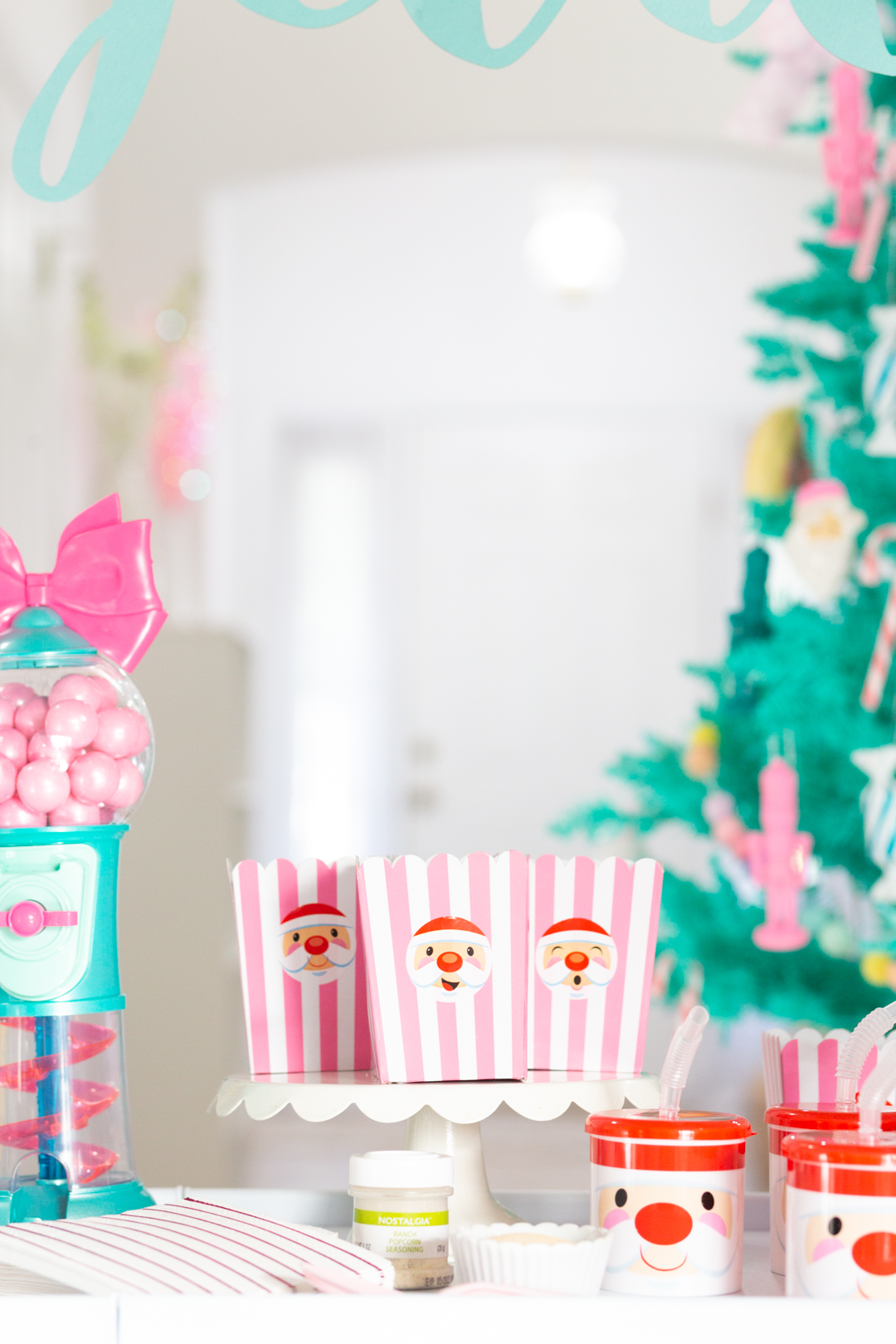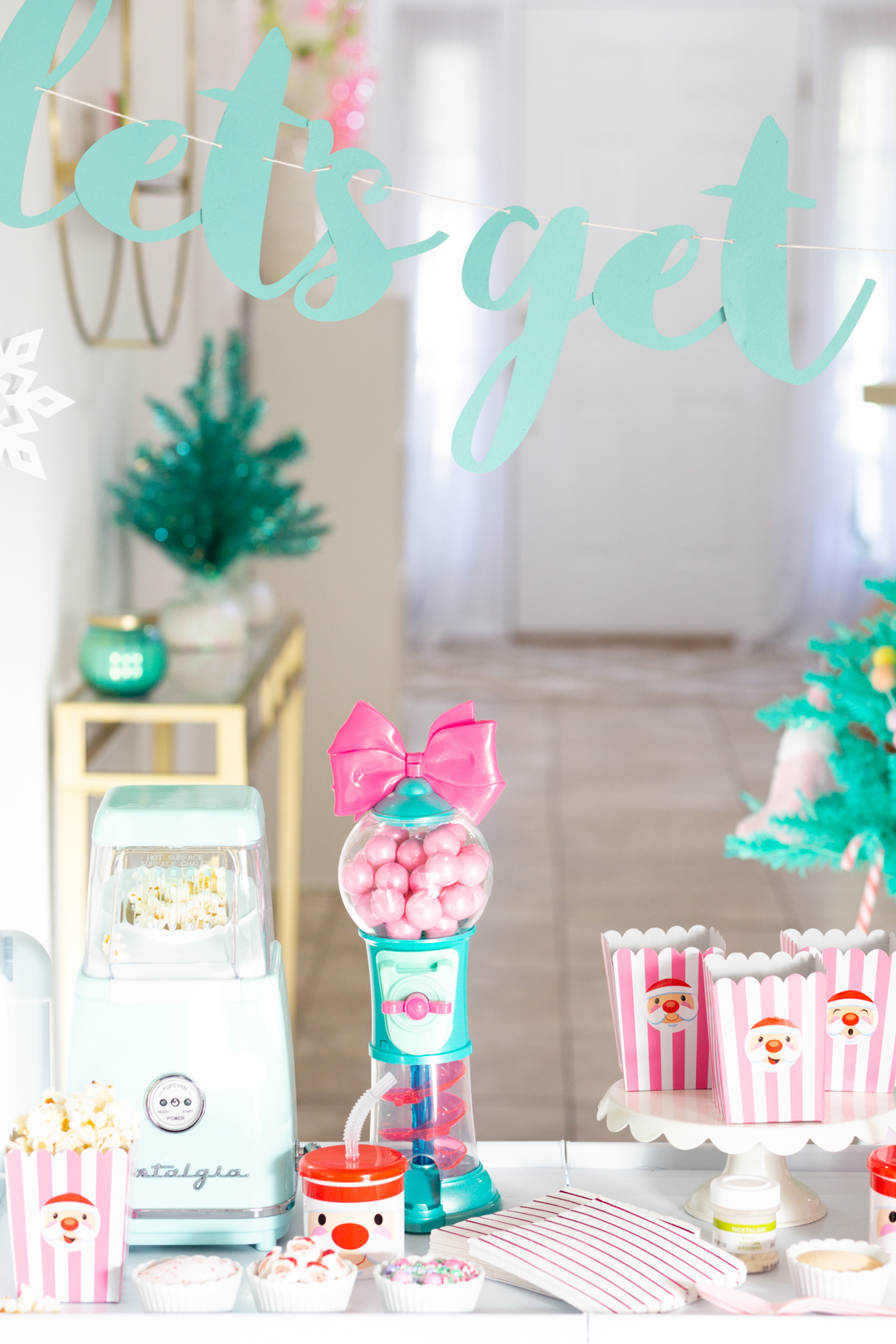 One of my favorite elements of the sweet celebration is the "Let's Get It Popping" banner.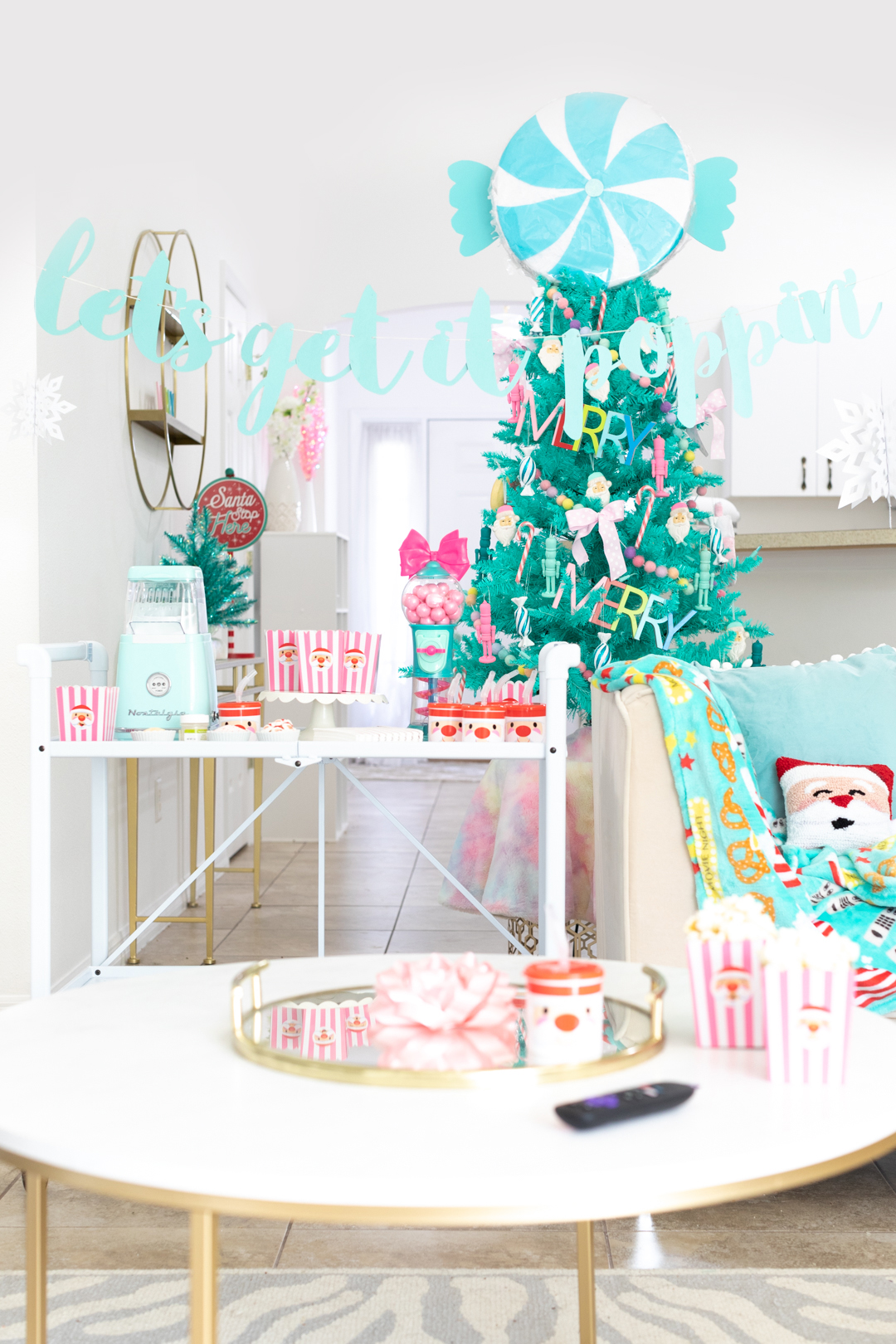 Hope that you love these movie night thought starters for the holidays as much as I do!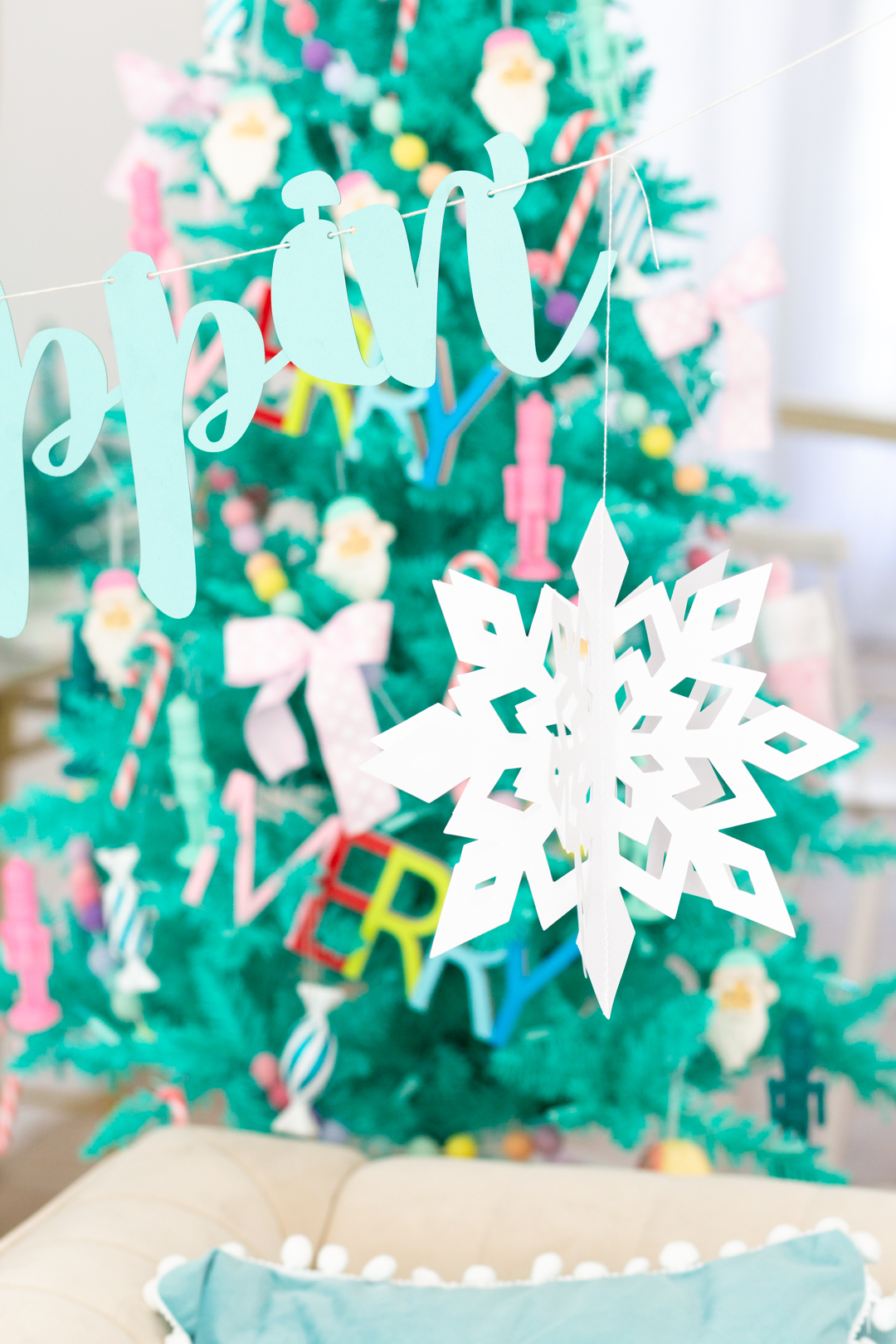 Make this holiday season one for the books when you include Geeni products from Batteries Plus Bulbs!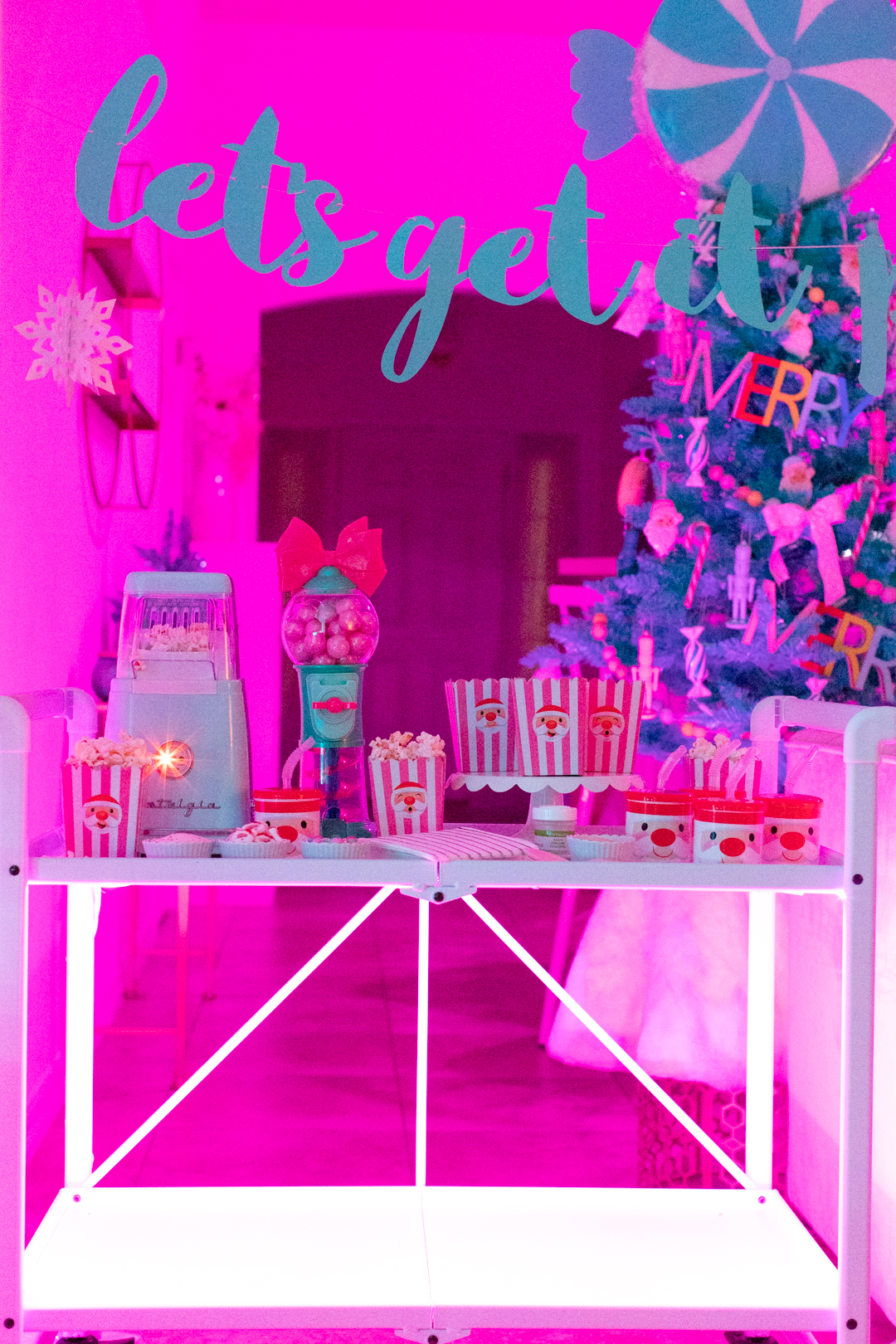 Find a Batteries Plus Bulbs store near you.