Did you know that March is Frozen Food Month? Earlier this month I shared some dinner ideas and today it's time for some dessert! I love using everyday ingredients in all new ways and these Pie Crust Nachos totally fit the bill. Using ingredients from the freezer like pie crust cut into tortilla shaped and topped with berry infused whipped topping and strawberry sauce, this is a true treat. This is a sponsored post as a part of my Cool Food Panel participation with the National Frozen and Refrigerated Foods Association (NFRA), all opinions are my own.
There are so many yummy desserts available in the freezer section at your local grocer. Some of my favorites are ice cream, popsicles, and pies! If you like to make your own desserts, let me introduce you to Best Yet brand found at your local independent grocer. They offer everything you need to make your own delicious pies and these dessert nachos, too. To make these, we're using the Best Yet Deep Dish Pie Crusts, Berry Medley frozen berries, Whipped Topping and Sliced Strawberries. Then, we'll be drizzling some chocolate over top for good measure.
Make Pie Crust Nachos
When it comes to thawing frozen foods, make sure to read package directions. Generally, thawing will take place in the refrigerator and not on your countertop for ultimate quality and freshness. Make sure to check each Best Yet product that you'll be using and make sure your timing is just right so that everything will come together perfectly. First, we'll make the tasty pie crust "chips" and once they're baked, it will be time to add the toppings. While the chips are baking, we're going to whip up a really quick berry dip, too.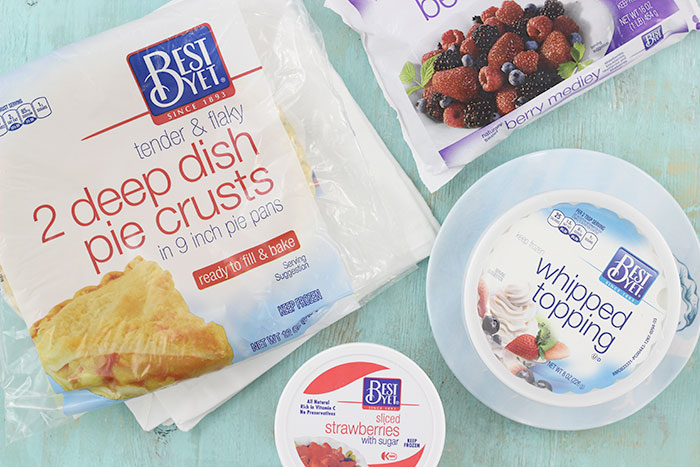 Take your Best Yet Deep Dish Pie Crusts out of the freezer and let them defrost for 10-20 minutes. If they sit out any longer than that, you'll need to put them back in the freezer for a few minutes. Preheat your oven to 400° Use a dab of water on your finger to seal up any separation in the crust. Then, we need to remove the crust from the foil pans. Carefully use a butter knife to separate the circle portion from the rest of the crust. Use the butter knife to gently coax the entire crust out and onto a cutting board. Start by cutting triangular "nacho chip" shapes out of the crusted strip. Then, trim the rounded portion of the crust into equal sized strips. Then, trim triangular shapes from each strip. Repeat this process for both pie crusts. Now, we have our chips are we're ready to bake them. For an extra pop of flavor, sprinkle a little cinnamon and sugar on top of the pie chips. Place them on a non-stick baking sheet and put them into the oven for a total of 9-10 minutes, flipping them over after 5 minutes.

While the chips are baking, let's whip up a quick dip. In a small bowl, add 3/4 cup of thawed Best Yet Berry Medley and mash lightly and then add 1 cup of thawed Best Yet Whipped Topping. Fold the mixture until it's combined. That's all, now it's ready to serve. Keep cool until you're ready to enjoy.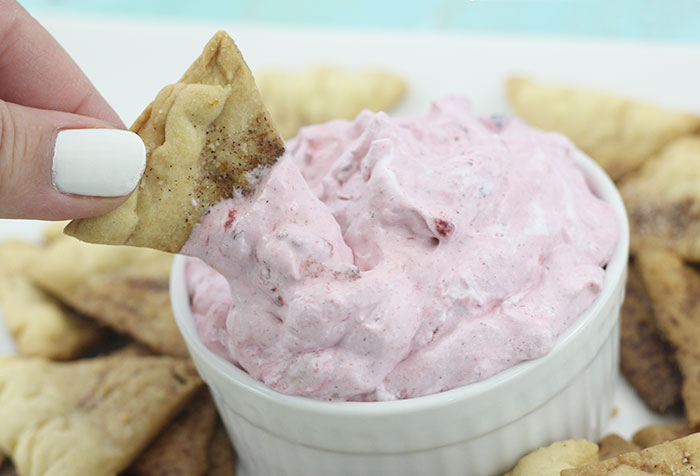 Once your pie crust nachos are cooled, it's time to add our delicious toppings.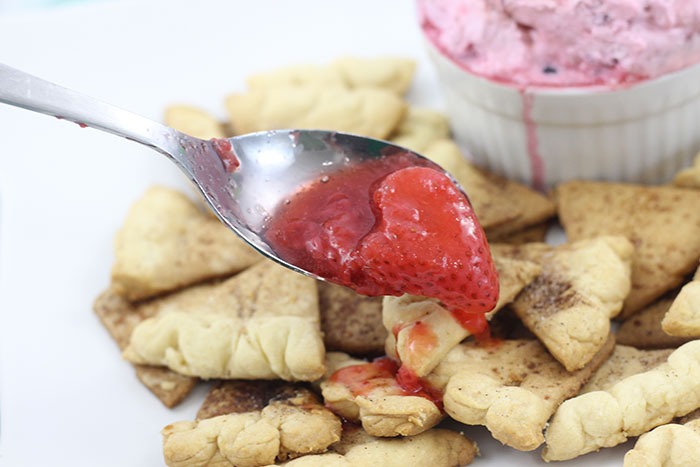 Drizzle some Best Yet Strawberry Sauce, chocolate syrup and a little more Best Yet Whipped Topping over top. Mmm.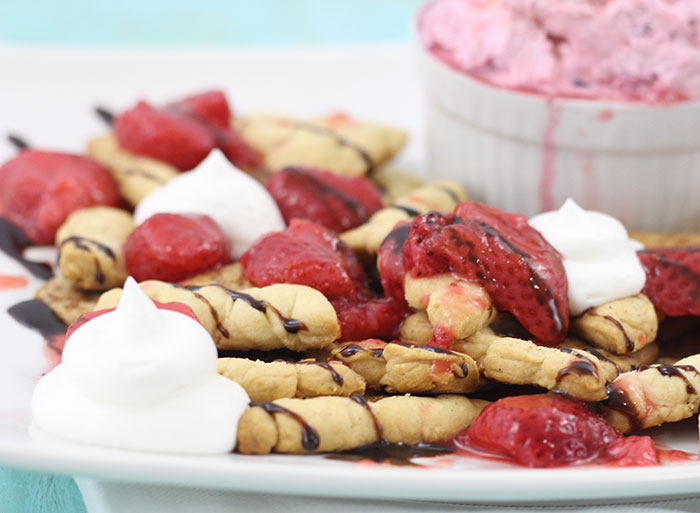 Feel free to be creative and add your own favorite toppings. The sky is the limit!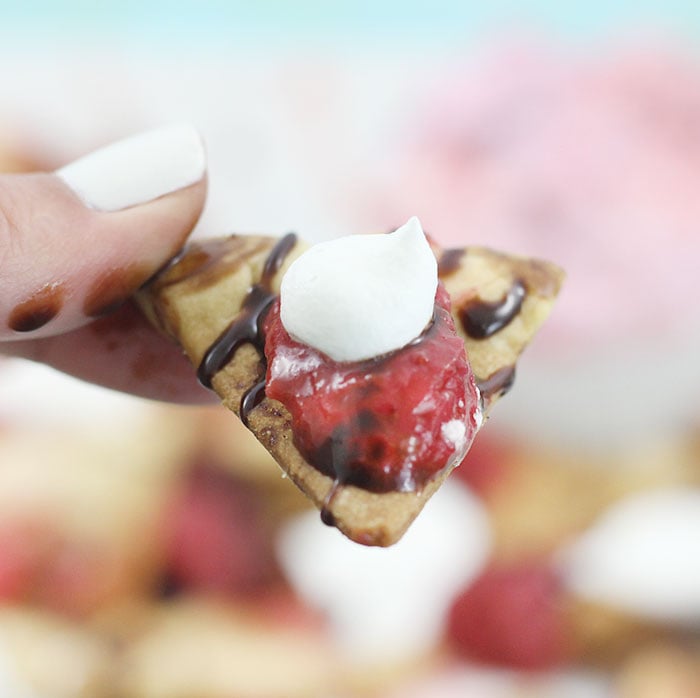 In honor of Frozen Food Month, I'm challenging you to explore something new. Are you up for it?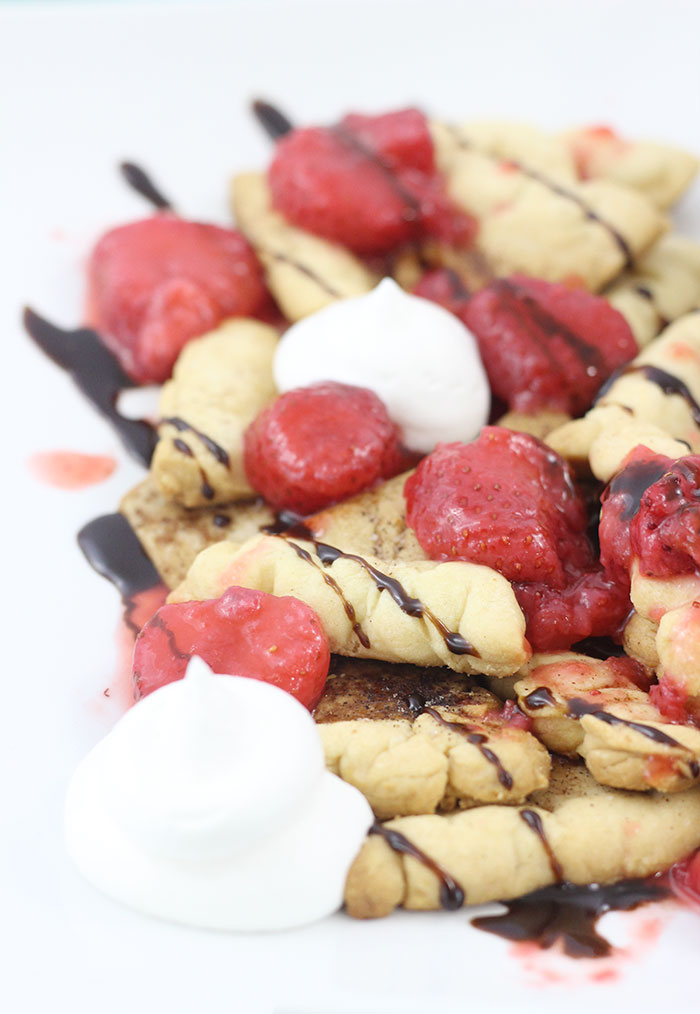 Want another tasty dessert recipe using Best Yet products? Visit Easy Home Meals for this Strawberry Parfait Recipe.
Which treat will you serve up in celebration of Frozen Food Month?