I've always been ridiculously crazy about the combination of pineapple and coconut. These easy Piña Colada Bars bring both of these flavors together perfectly. Delicious bars can sometimes be complicated to make, but these come together with a few clever ingredients. They are totally yummy and surprisingly not overly sweet. Yippee!

Playing with food is one of my very favorite things to do. Last week my mom and I were creating some ideas using Lorna Doone cookies. On the box, we spotted a recipe for Raspberry-Kissed Coconut Bars which sounded amazing. The idea of swapping out raspberry for pineapple would make this a dream come true for me. I have to admit it was a good move 😉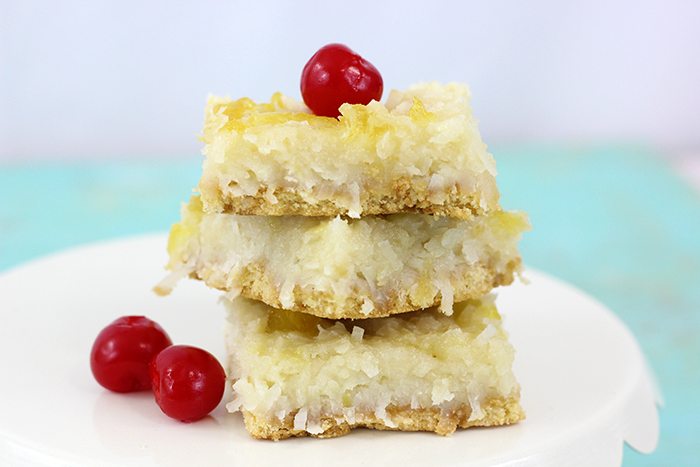 The flavors of pineapple and coconut come together perfectly and adding a cherry on top brings it all together. These bars are just too easy to whip up not to try. You know me, it's all about shortcuts, hacks and the easy route. 😉  Thise bar recipe is so easy to customize if you want to try new flavors, too! Strawberry is next on my list. Mmm.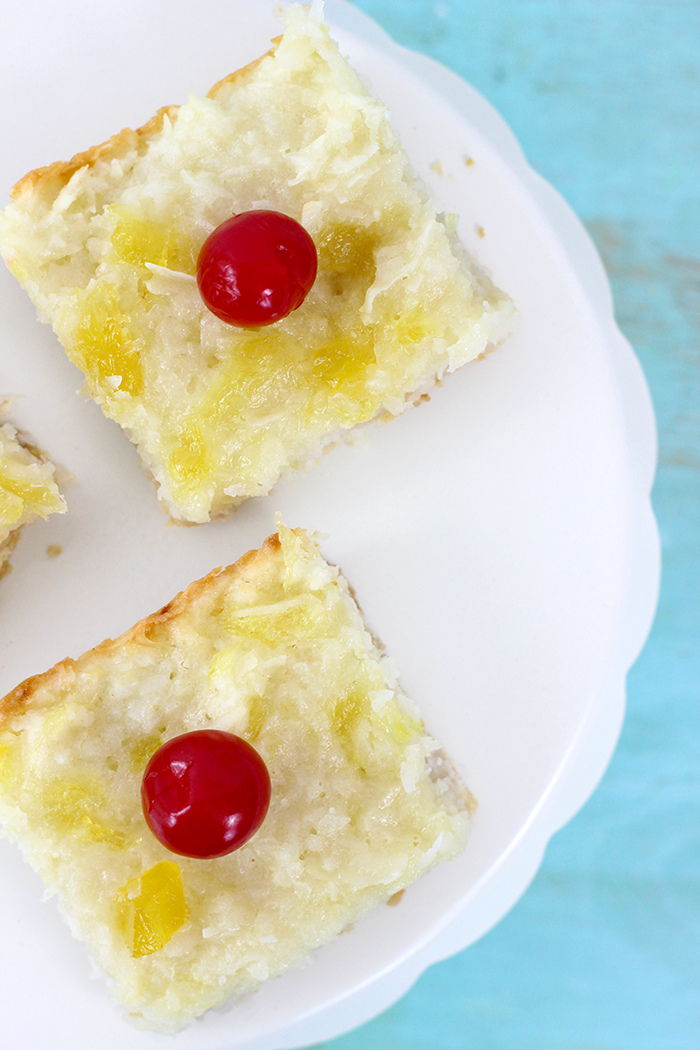 Piña Colada Bars
Get ready to taste the best flavors of summer with these simple Piña Colada Bars.
Ingredients
25 LORNA DOONE Shortbread Cookies
7 oz Package of Sweetened Flaked Coconut
1 Cup of Granulated Sugar
6 TBSP of All Purpose Flour
4 Egg Whites
1 Tsp. Coconut Extract
1/3 Cup of Pineapple Ice Cream Topping
9 Maraschino Cherries (Drained)
Instructions
Preheat your oven to 325°F. Line a 9" baking pan with foil and spray with nonstick cooking spray. Place the cookies in a single layer on the bottom of the pan and set aside. In a large mixing bowl combine the coconut, sugar and flour. Then stir in the egg whites and coconut extract until fully blended. Spread the mixture evenly over the cookies in the pan. Lastly, evenly swirl the pineapple topping over top using a spoon or a knife. Bake for 28-30 minutes. They are done when the center is set and the edges are a golden brown. Remove from oven and allow to cool. Remove the bars using the foil and then cut into 9 even pieces. Top each bar with a Maraschino Cherry for an added touch. Enjoy!
7.8.1.2
247
https://cutefetti.com/pina-colada-bars/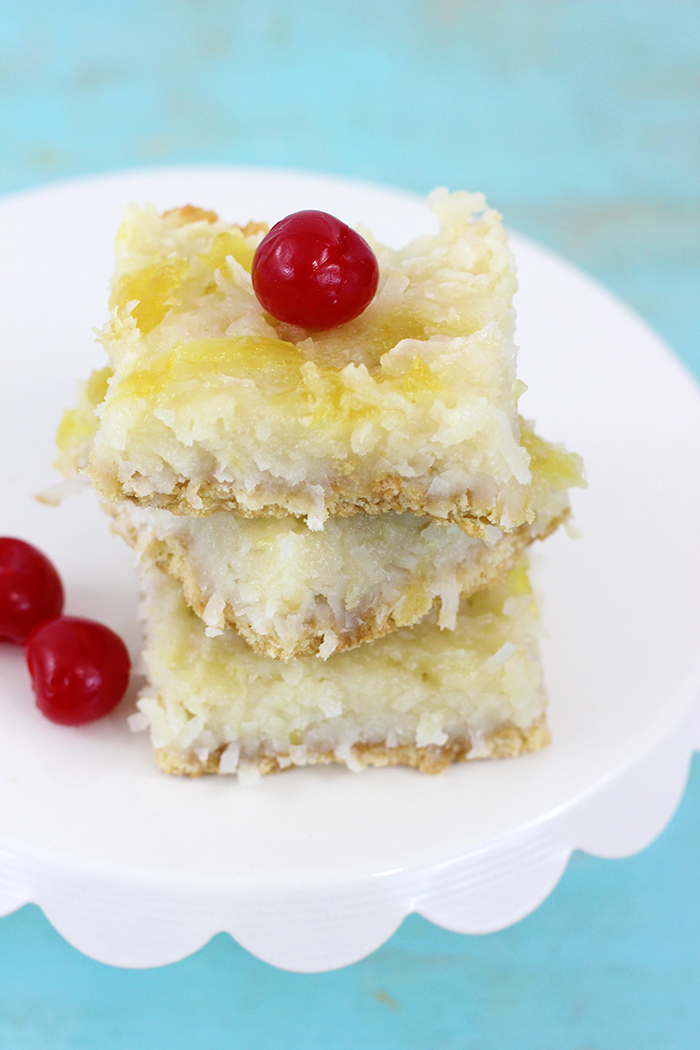 Are you crazy about the combo of pineapple and coconut too? What are your favorite ways to enjoy them?