Ready for some St. Paddy's Day fun? It will be here on March 17th, so lets get the festivities started. Yesterday I shared our printable gift idea for those of you who aren't Irish… but want to celebrate like you are for day. Maybe you are actually Irish, so today, as promised, I have the "Kiss Me, I'm Irish" printable to share. What better way to celebrate any day than with some chocolate? I know I personally can't argue with that! So, share some green or some Lucky Charms cereal treats and plan to have some fun this year!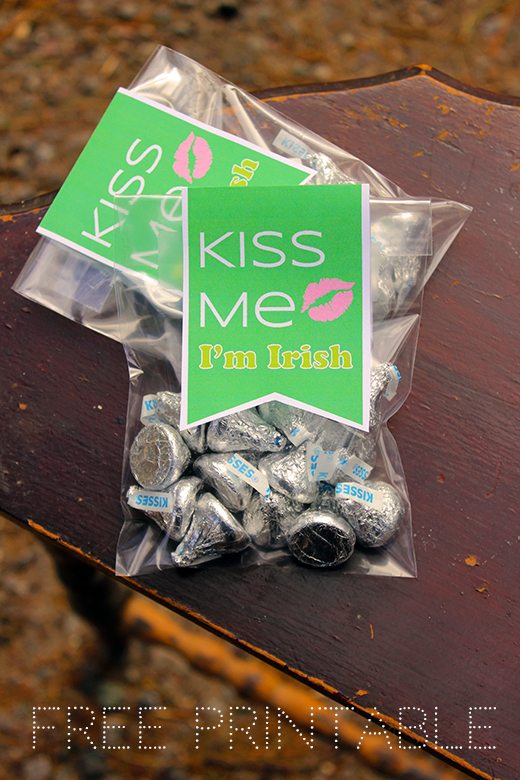 Printable St. Patrick's Day Craft: Kiss Me, I'm Irish
The little project is a breeze to put together. You'll just need a few things to make these little themed gifts. It's so easy that you'll have more time to party on St. Paddy's Day and doing the things that really count!
What you need:
-Print the Kiss Me, I'm Irish Tags below (4 per page)
-Treat Bags (You can use small clear or paper bags)
-Tape or a stapler
-Hershey Kiss Candies
Print off the number of gift tags that you need (these print 4 per page). Cut out each tag along the grey dotted lines. Fold each tag in half , then tape or staple over the top of your candy filled treat bags. It will just take a few minutes to put together, then you'll have a super cute almost homemade St. Patrick's Day gift to put smiles on everyone's faces! Easy peasy!
✂ ✂ ✂ Print St. Patrick's Day Gift Tags "Kiss Me, I'm Irish"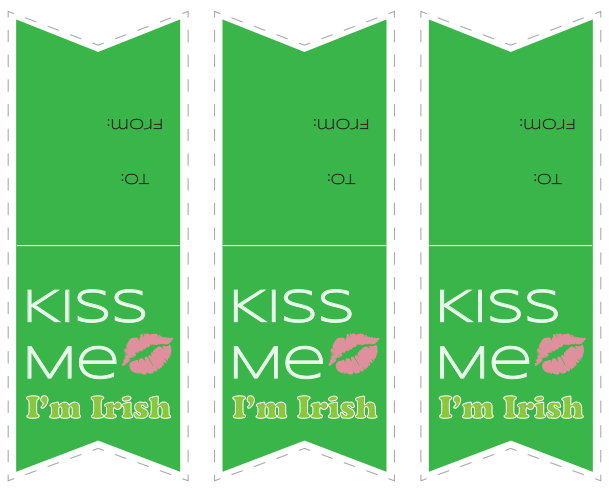 No Irish? Make sure to grab our special printable gift tag made just for you!
Do you celebrate St. Patrick's Day? What do you do for fun, what are your traditions? Spill the green!