Hey, hey. It's been while since I updated you on my living space makeover. I am SO close to my big reveal that I can practically taste it! Promise it's coming REALLY soon! Today, I want to share a couple of ideas on how to spruce up your look with texture and brushed metallic spray paints. I am seriously impressed with the little odds and ends that I painted, they really add to the complete look. This post is part of a sponsored series by Raymour & Flanigan. All ideas expressed are my own.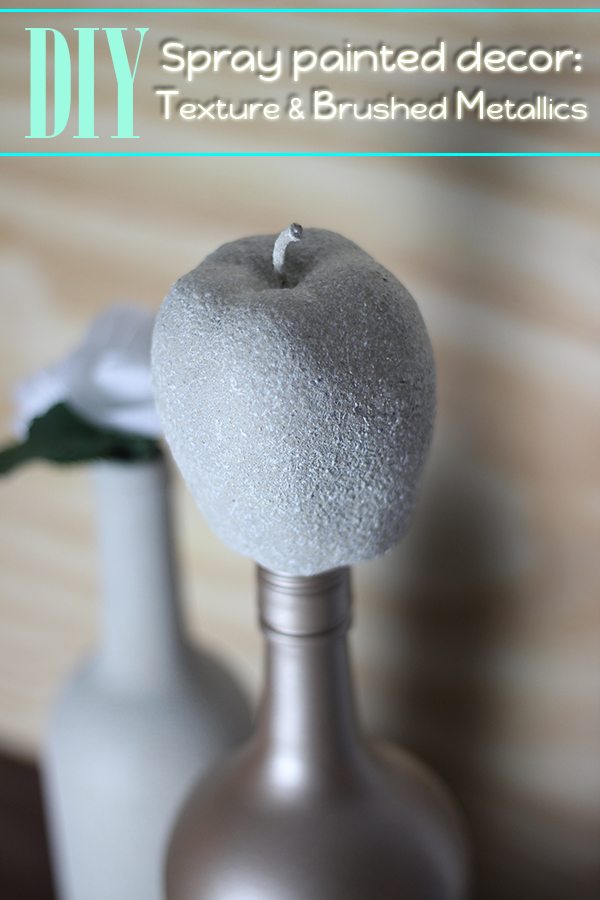 Plus, I can't lie… I feel really awesome that I was able to create most of the extra decor in the room. Everyone that's been over to visit has been impressed with the whole look. Mission accomplished! I already told you about all of the pretty antiqued mirrored pieces that we chose at Raymour & Flanigan. But, I haven't told you about all the fun chairs we picked out?
My husband had insisted that no matter how we set up the new living room, that there must… absolutely must be a recliner involved.
How could I deny my hardworking hubby a recliner?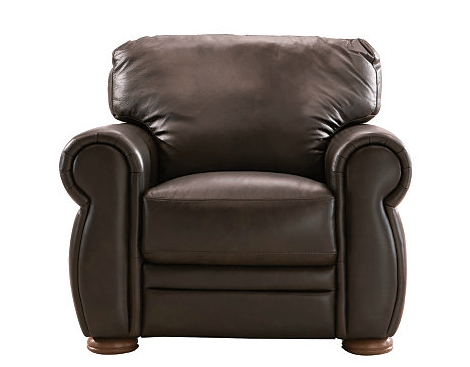 I just couldn't. He didn't realize that he wouldn't need to convince me after all, because when I spotted this Marsala Leather Recliner, I knew that I would most definitely NEED one too!  When we actually went to the store to check it out, we knew it was a must. They are so big and comfy and best of all they are so smooth and soft.  Since we chose so many lighter pieces of furniture we wanted to round out the look with a few darker accents, so this was perfect!  Make sure to check back so I can show you how it all looks together! Very, very soon. I promise! Now, back to the last couple of touches to make the look complete!
Spray Painted Decor with Texture and Brushed Metallics
This was my first time trying out textured spray paints and it won't be my last. I absolutely love how easy it is to not only change the look but also add texture to something. It really adds a unique touch. I used Rust-Oleum Stone spray paint. This offered excellent coverage and dramatic texture.  The dry time is rather long, but it's so worth it!  I wanted to showcase these white textured fruits on my mirrored server and the final outcome is awesome. Will share, keep reading!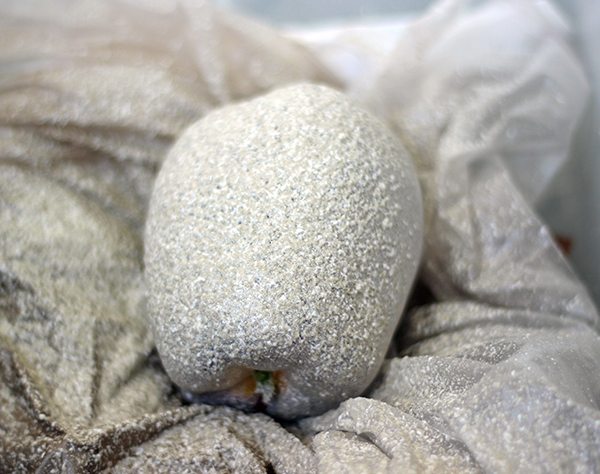 I had already mentioned my spray painted glass bottles. I used the Krylon brand for these in Natural Stone Textured Finish spray paint in "Limestone" and the Brushed Metallic Caramel Latte color. I loved the Limestone texture for glass, it's absolutely flawless. It almost looks like sand to me with look and feel. So pretty. I didn't so much like how it worked on plastic which is why I opted to try the other for the apple project.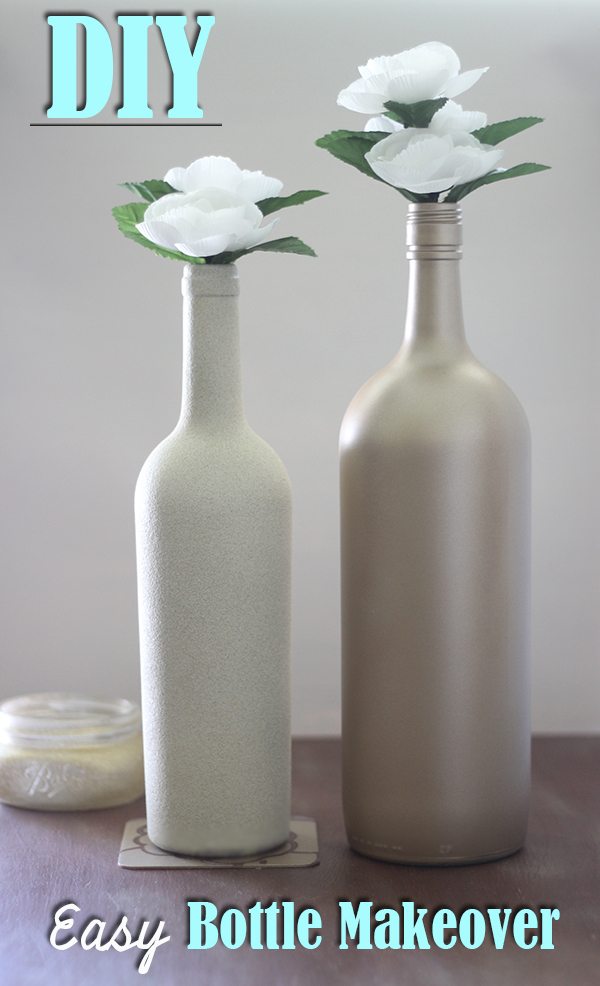 Once I was done with all of my planned projects to complete my living room look, something seemed to be missing. My hubby suggested spray painting these little mini candles we've had for years. Ahh, that was exactly the thing I needed. It's amazing how two little candles that have been sitting in a drawer for four years can suddenly be the magic missing piece!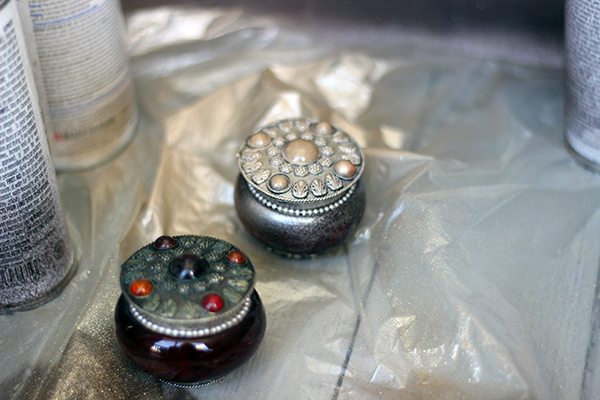 Again, I used the Krylon Brushed Metallic Caramel Latte color for these too. I LOVE the way they came out!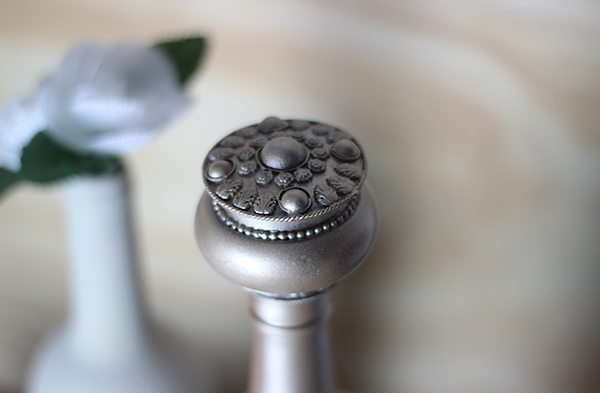 Apple time! Here is a sneak preview of the final look! Aren't my textured apples fun?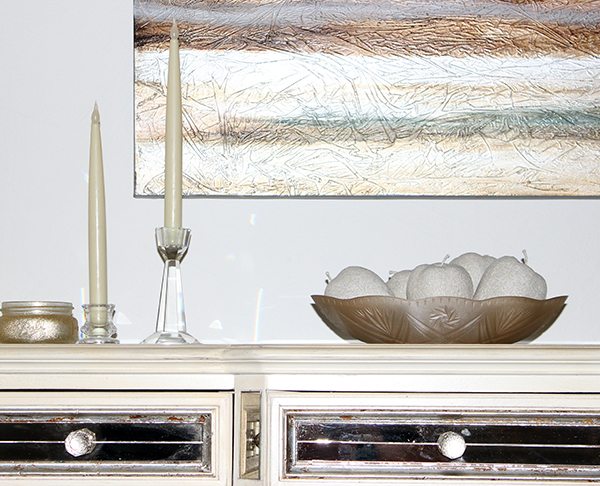 Don't go too far, I promise to share the complete living room SOON! 😉
Have you ever used textured spray paints? What did you use them for?