With St. Patrick's Day on the way I wanted to try something fun with Lucky Charms. After brainstorming a bit and sort of out of ideas, I thought why not a little cake made with the cereal and marshmallow topping? So, I grabbed my mini spring form pan and got to making it. It's really easy to put together, with the exception of plucking and separating some of the marshmallows from the cereal. My son thought it was the coolest thing ever, so it was totally worth doing.;)

This cereal "cake" is oozing with sticky marshmallow sweet goodness.. a kid's dream. You could use any cereal you like if Lucky Charms aren't your thing.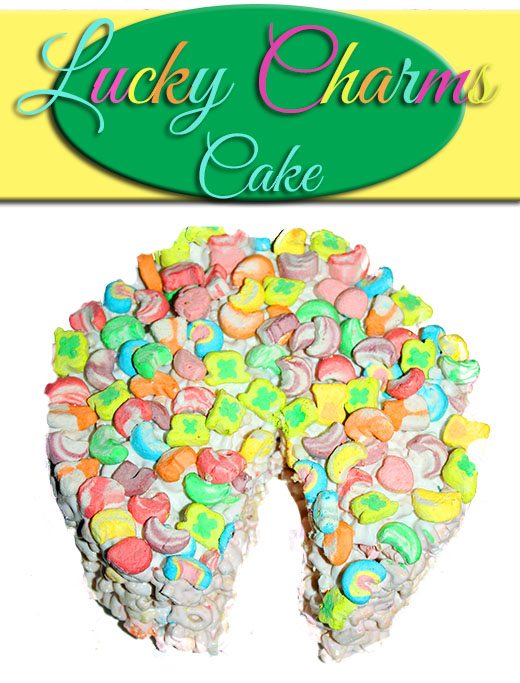 Lucky Charms "Cake" Recipe
Ingredients
9 oz Marshmallow Topping (like Fluff)
Lucky Charms Cereal 8 Cups (1.5 Cups of Marshmallows / 6.5 Cereal)
1/4 Cup of Butter
Non-stick Spray
**You will also need a small (8.5") spring form pan
Instructions
Separate 1.5 cups of marshmallows from your Lucky Charms and set aside. Add about 7 ounces of marshmallow topping and the butter in a microwave safe bowl. Microwave at 30 second intervals, stirring each time until fully melted. Stir in the 6.5 cups of remaining cereal until fully coated. Spray your spring form pan generously, then pour the cereal mixture in. Press the cereal mix down firmly and make sure the top is as flat and even as possible. Next, melt the remaining marshmallow topping in the microwave, pour on top of the "cake" and cover evenly. Place your individual marshmallows evenly on top of the marshmallow layer. Set for at least 4 hours before removing from the spring form pan. Serve and enjoy!
https://cutefetti.com/2013/02/lucky-charms-cake-recipe.html
Want more St. Patrick's Day inspiration and ideas? Follow my St. Patrick's Day Pinterest Board and check out my bloggy friends recipes below!

');