Over the last week, I've shared some spring time desserts using Kraft recipes. Today, I'm sharing a little something that I put together using some ingredients from the fun basket they'd sent along with their goodies and also some little tips I've learned on this delicious journey.  Ready for more easy to make goodness? I made Double Chocolate Cherry Filled Cupcakes! Are you hungry yet?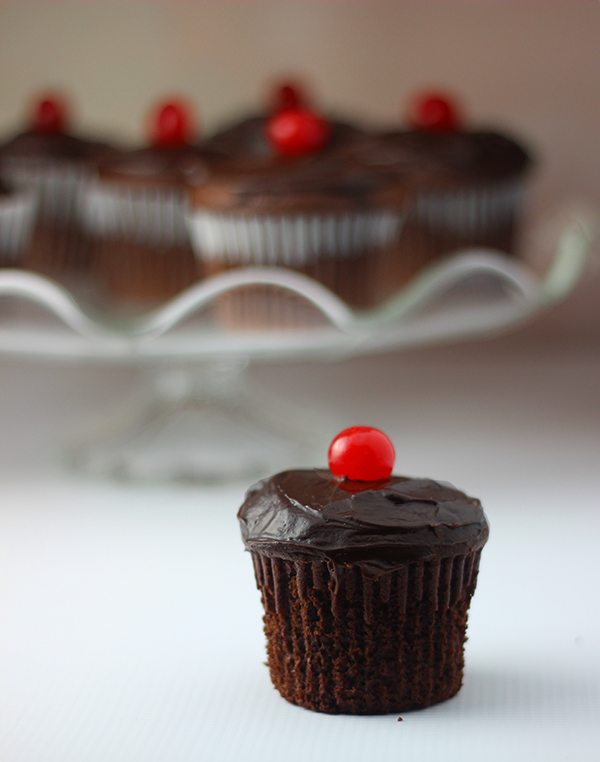 Remember the easy chocolate coating on the Easy Boston Cream Pie Cake? I used that on today's cupcakes. I really loved how simple it was to make using only Baker's Chocolate and COOL WHIP. I've always had a difficult time finding the right consistency when it comes to pour-able chocolate. The last time I attempted it, I ended up with a disaster and it looked anything but gorgeous. But, this mixture is just perfect. It's just perfectly thick to spread over a cake or cupcakes but not runny where it's dripping completely off the cake. It's perfection , I'm definitely going to be using this trick frequently when creating yummy!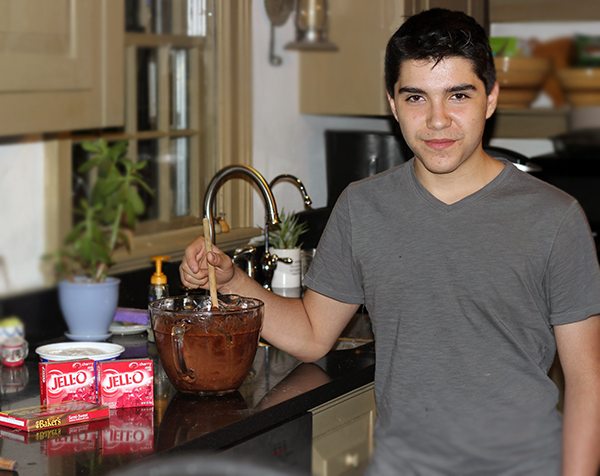 My son helped me whip up these goodies. We started by combining a devil's food cake boxed mix as directed and then added a box of JELL-O Chocolate Pudding to it.  We poured them into our cupcake liners and baked away. For the delicious cherry filling, we mixed 1 cup of boiling water with 6 oz of Cherry JELL-O until it was dissolved . Then, we placed that in the refrigerate to cool for about 15 minutes. After it cooled off, we mixed 3 cups of Cool Whip into it. This is such a delicious and simple way to add filling, I found this similar recipe used as a frosting after watching some Kraft cooking videos here.  It was used in a Black Forest Cupcake recipe, totally yummy!  After our cupcakes cooled completely, we inserted the tasty cherry filling into the center by using a thin round cake decorating tip. Voila!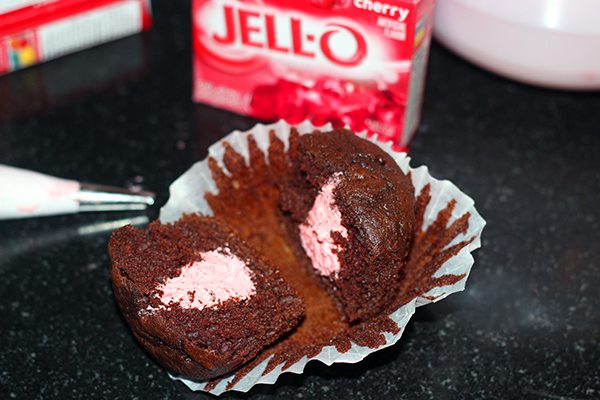 After the delish cherry filling was inserted, it was time to frost the tops of the cupcakes with that simple chocolate coating. It takes under a minute to melt together, then cover each one with it.  Totally yummy! For a final touch of fun, we added a cherry on top of each cupcake! Totally upping the cuteness factor! What do you think?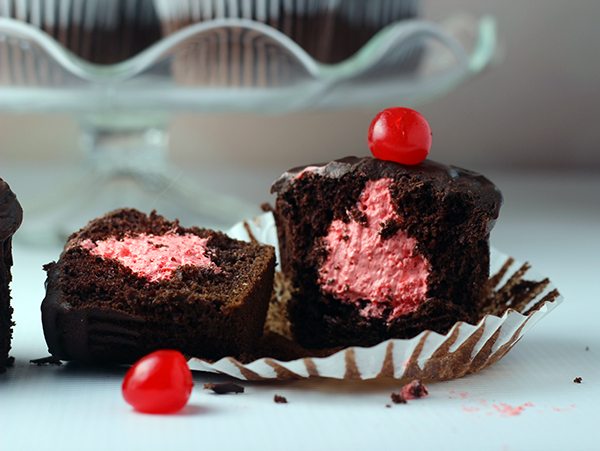 These cupcakes were so easy to make and I loved all of the clever ways to create and add flavor to treats using shortcuts with Kraft products.  I can't believe how many awesome things you can make from enhancing the flavors of cakes, frosting and filling by adding Baker's chocolate and JELL-O gelatin or pudding. Makes for easy fun baking with kids too!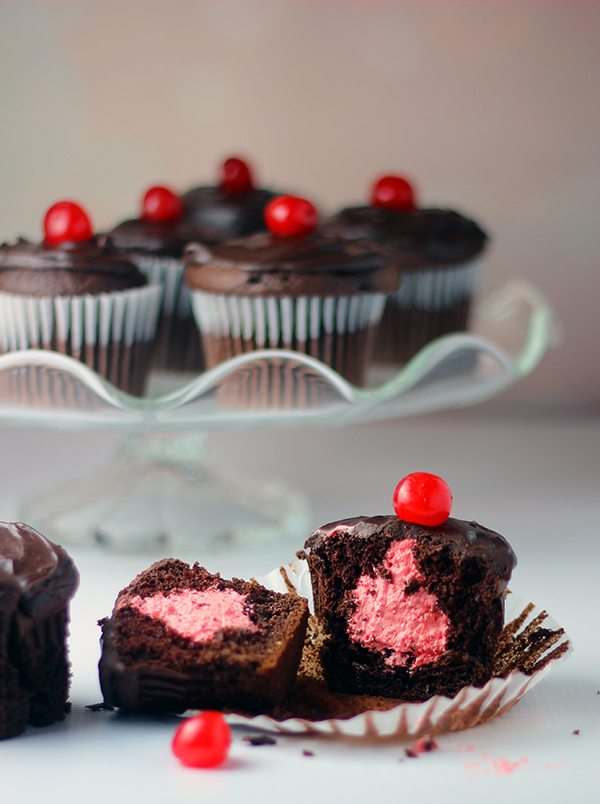 Double Chocolate Cherry Filled Cupcake Recipe
Ingredients
1 Box of Devil's Food Cake made according to directions replacing water with milk instead)
1 Package of 3 oz of JELL-O Chocolate Pudding
5 Cups of COOL WHIP
4 oz. BAKER'S Semi-Sweet Chocolate, chopped
2 Packages of 3 oz or (1) Package 6 oz of JELL-O Cherry Gelatin
24 Maraschino Cherries, drained
Instructions
Mix your Devil's Food Cake according to package directions (use milk in place of water) and add package of JELL-O chocolate pudding to the mixture. With cupcake liners, divide the mix into evenly. Bake according to box directions. Meanwhile, Add 1 cup of boiling water to (2) packages of the cherry gelatin. Mix until dissolved. Set in refrigerator for 15 minutes. Remove and fold in 3 cups of COOL Whip until fully blended. Put the mixture aside. Once the cupcakes are cooled, pipe the cherry filling into the center of each cupcake. Next make the chocolate topping by melting 4 ounces of BAKERS chocolate WITH 2 Cups of COOL WHIP. Add both to bowl together and microwave for 40 seconds and mix until the chocolate is completely melted. Top each cupcake with a thin layer of the chocolate topping.
https://cutefetti.com/2014/04/double-chocolate-cherry-filled-cupcake-recipe.html
Sweeten up this spring with easy dessert recipes from Kraft.

Want more? Visit KraftRecipes.com to find this and many other wonderful recipes. Bake up something fun with your kiddos any day of the week!

Disclosure: Compensation was provided by Kraft via Glam Media. The opinions expressed herein are those of the author and are not indicative of the opinions or positions of Kraft.
What are your favorite kind of cupcakes to make?