I told you it would be a sweet week around here and you know I aim to deliver. We've also been chatting it up about easy to prepare meals too. The weather is starting to warm up a bit, we'll inevitably want to spend more time outdoors than slaving away in a hot kitchen. This Strawberry Poke cake is made with simplistic glory to add to your collection of easy recipes.
This cake is easy enough to serve any night of the week and decadent enough to serve a crowd.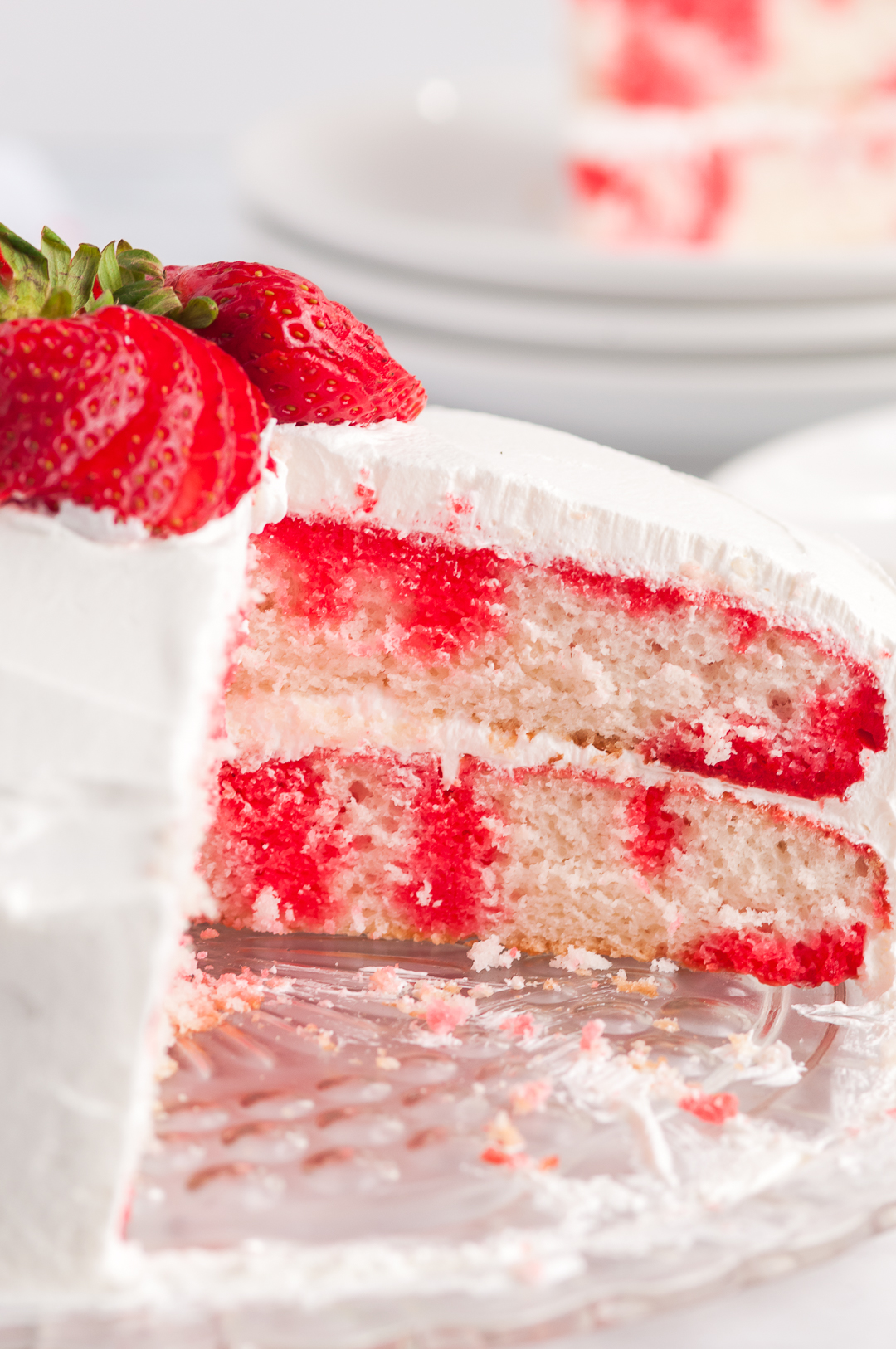 This easy old school style cake really brings me back to childhood with every bite. The exact kind of dessert that was served at almost any occasion you can think of. The best thing about this recipe is that all you need to do is swap out the JELLO gelatin flavor in order to make it completely different.
This one is classic strawberry, but you can really get creative here! The sky's the limit and they are always coming up with new flavors of gelatin to try. I just spotted Cotton Candy flavored gelatin. How fun would that be to try? I'm going to need to make that happen soon.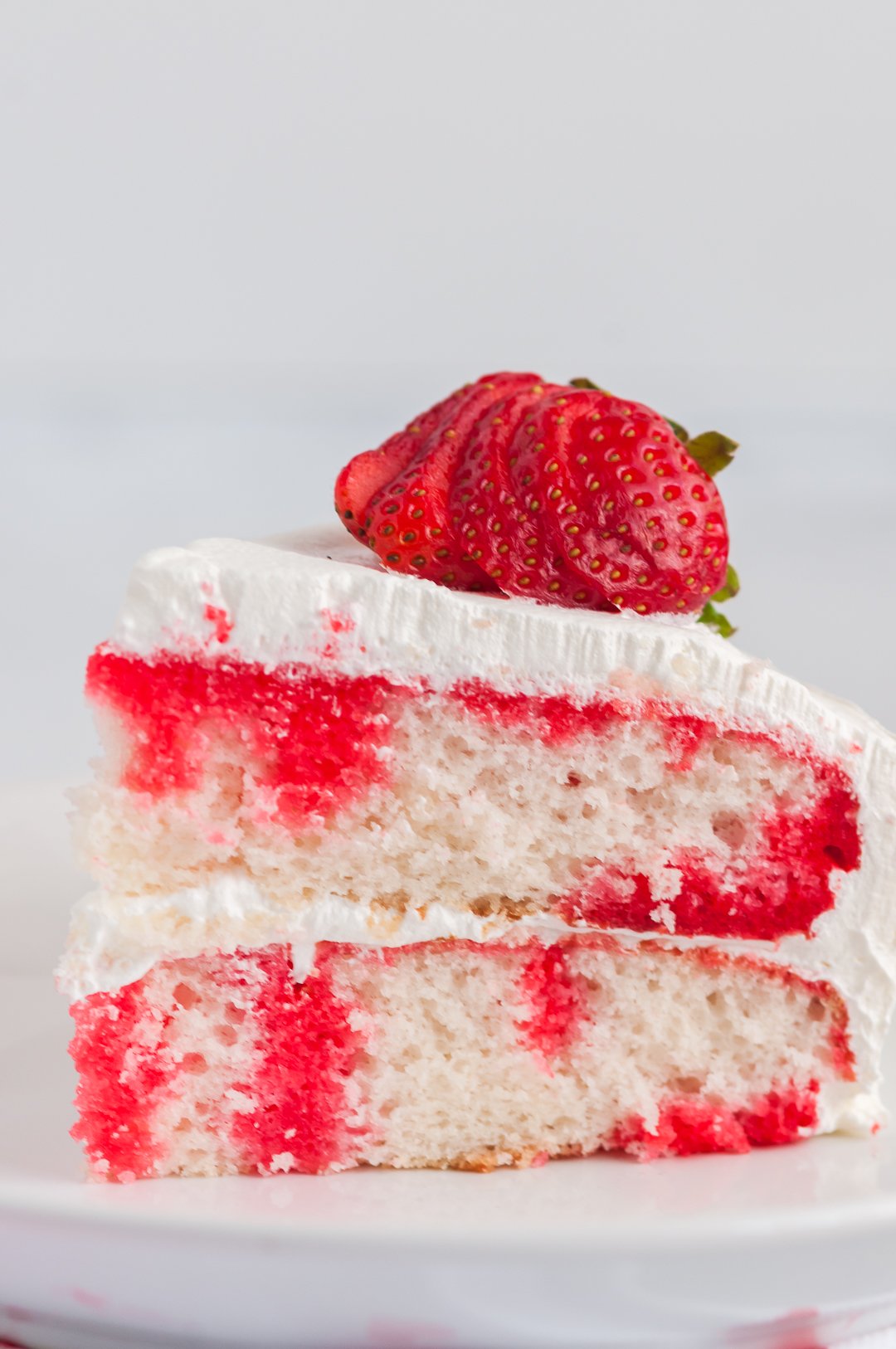 This classic poke cake recipe will easily become your new go-to easy dessert.
EASY LAYERED STRAWBERRY POKE CAKE
This simple understated cake packs a lot of punch in the flavor department. It's made with extremely basic ingredients that really come together to shine. Here is what you need for this cake recipe:
Strawberry JELL-O
Cool Whip
Boxed Cake Mix, Prepared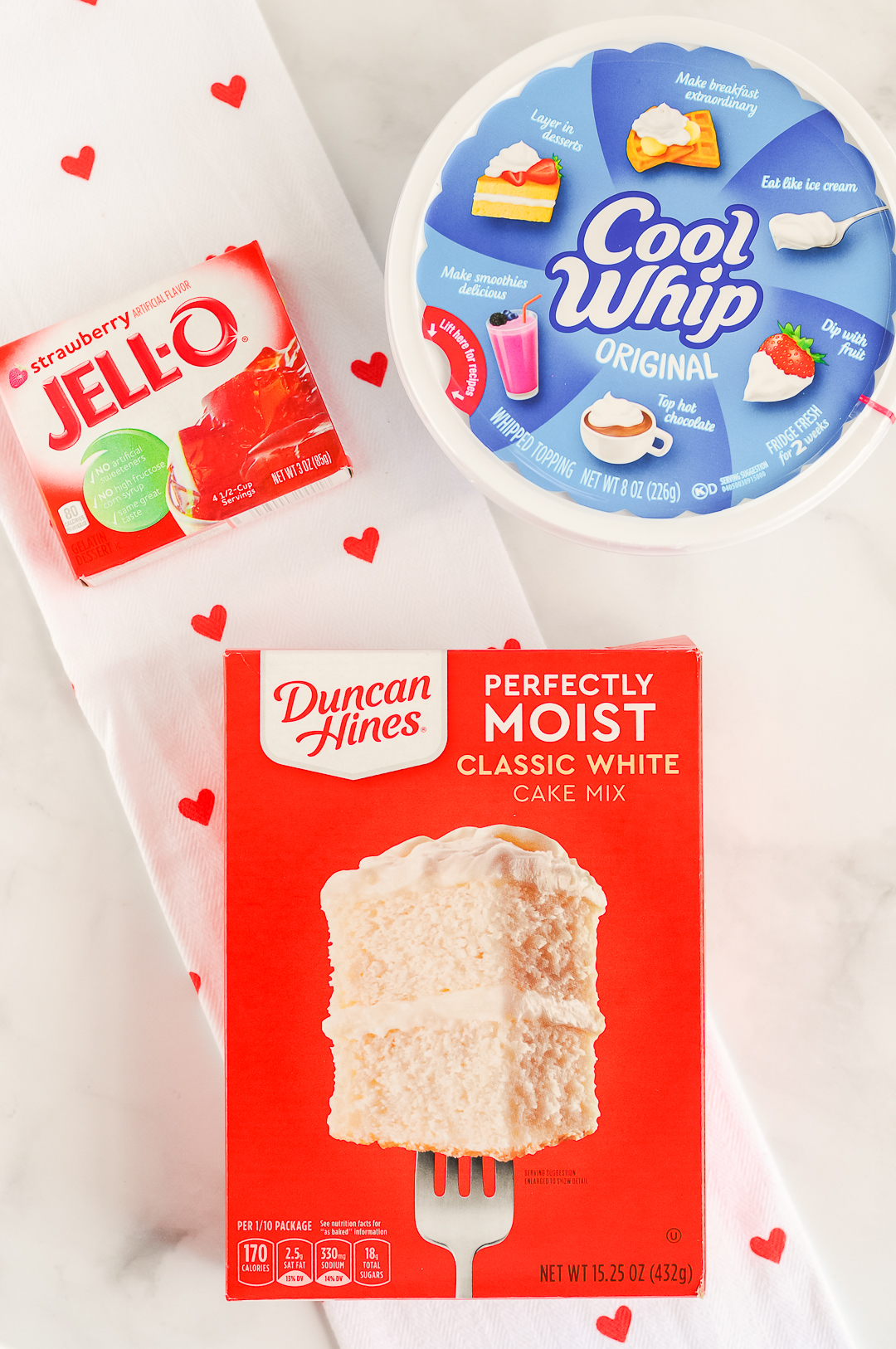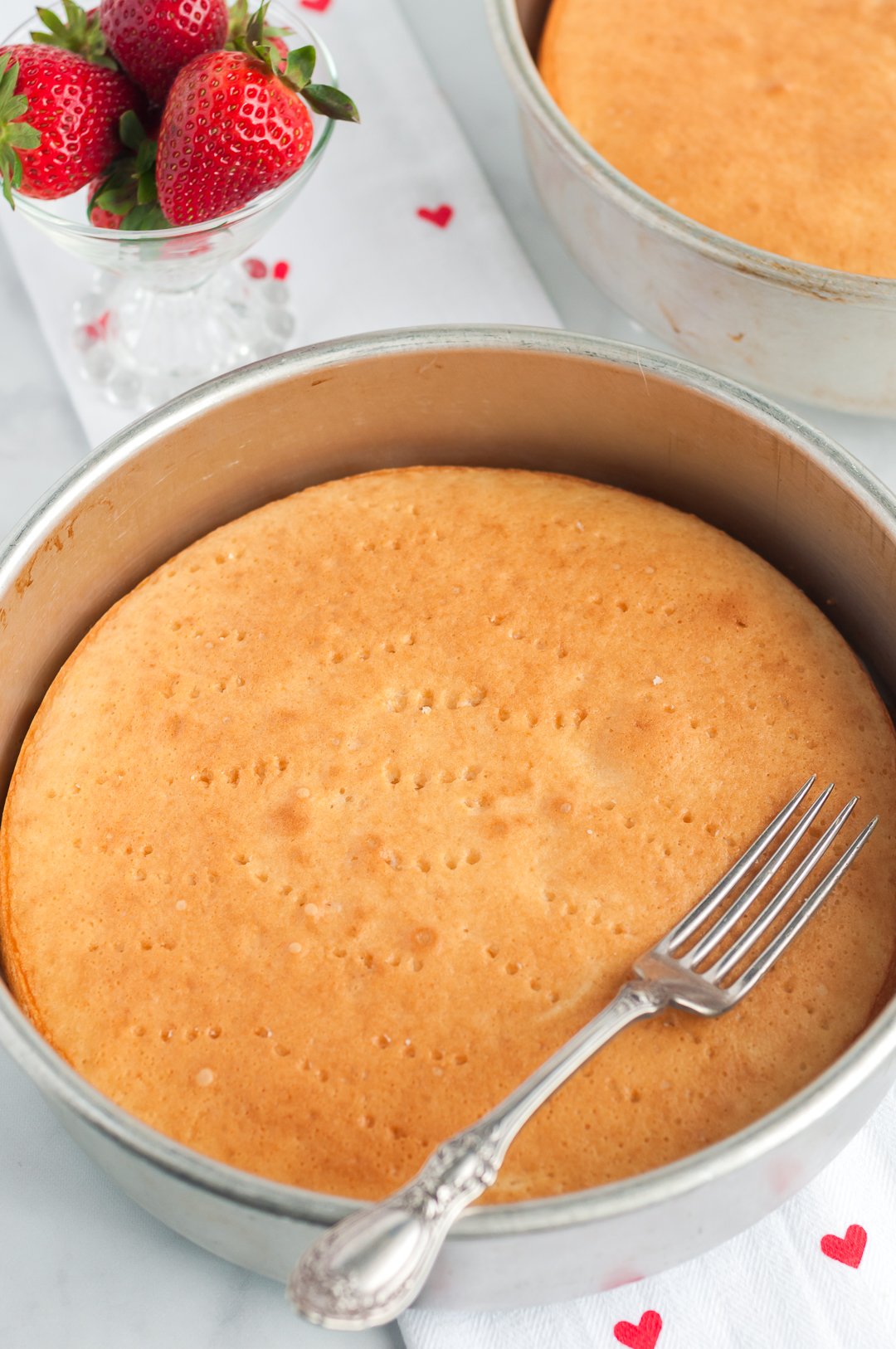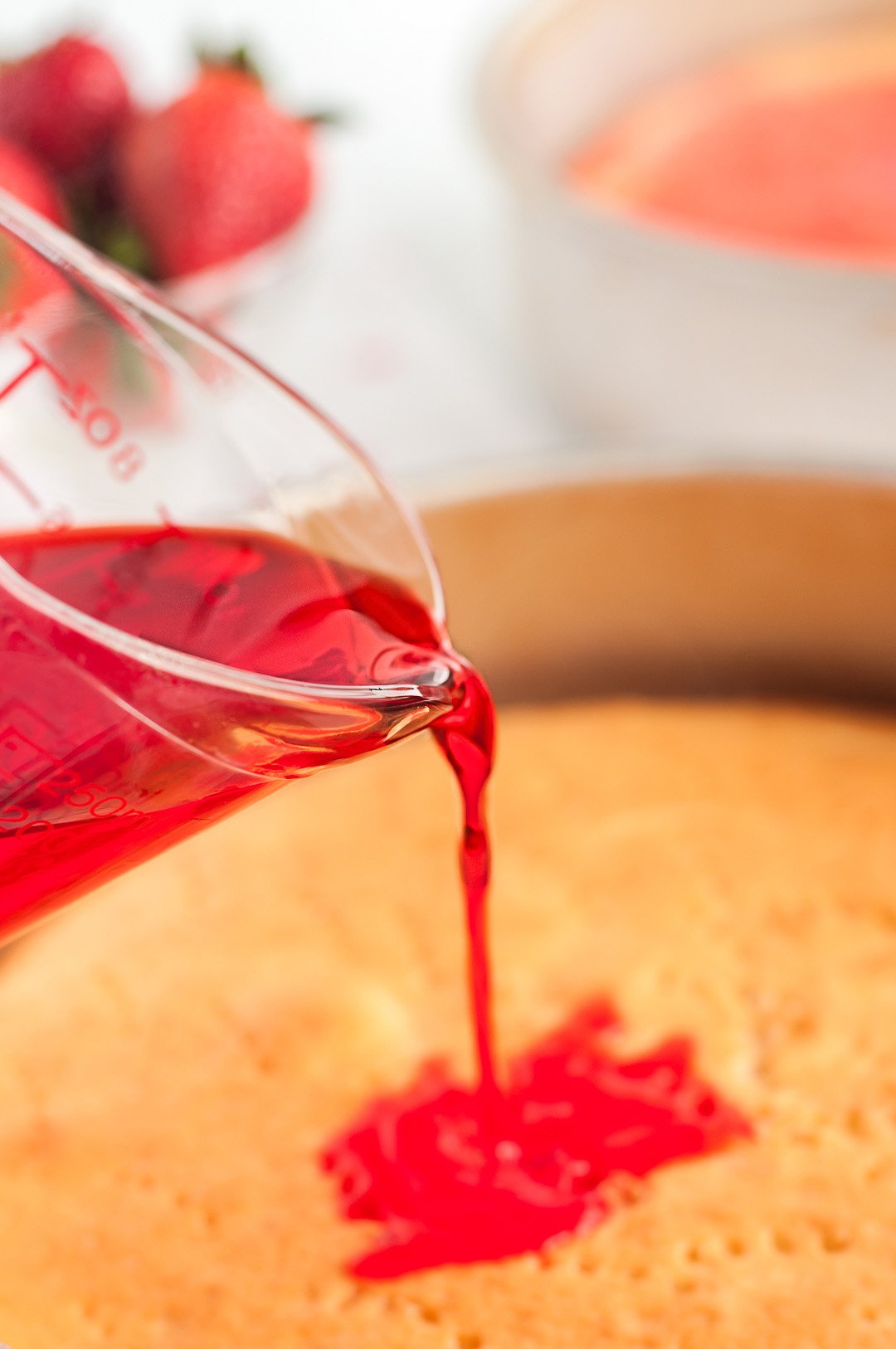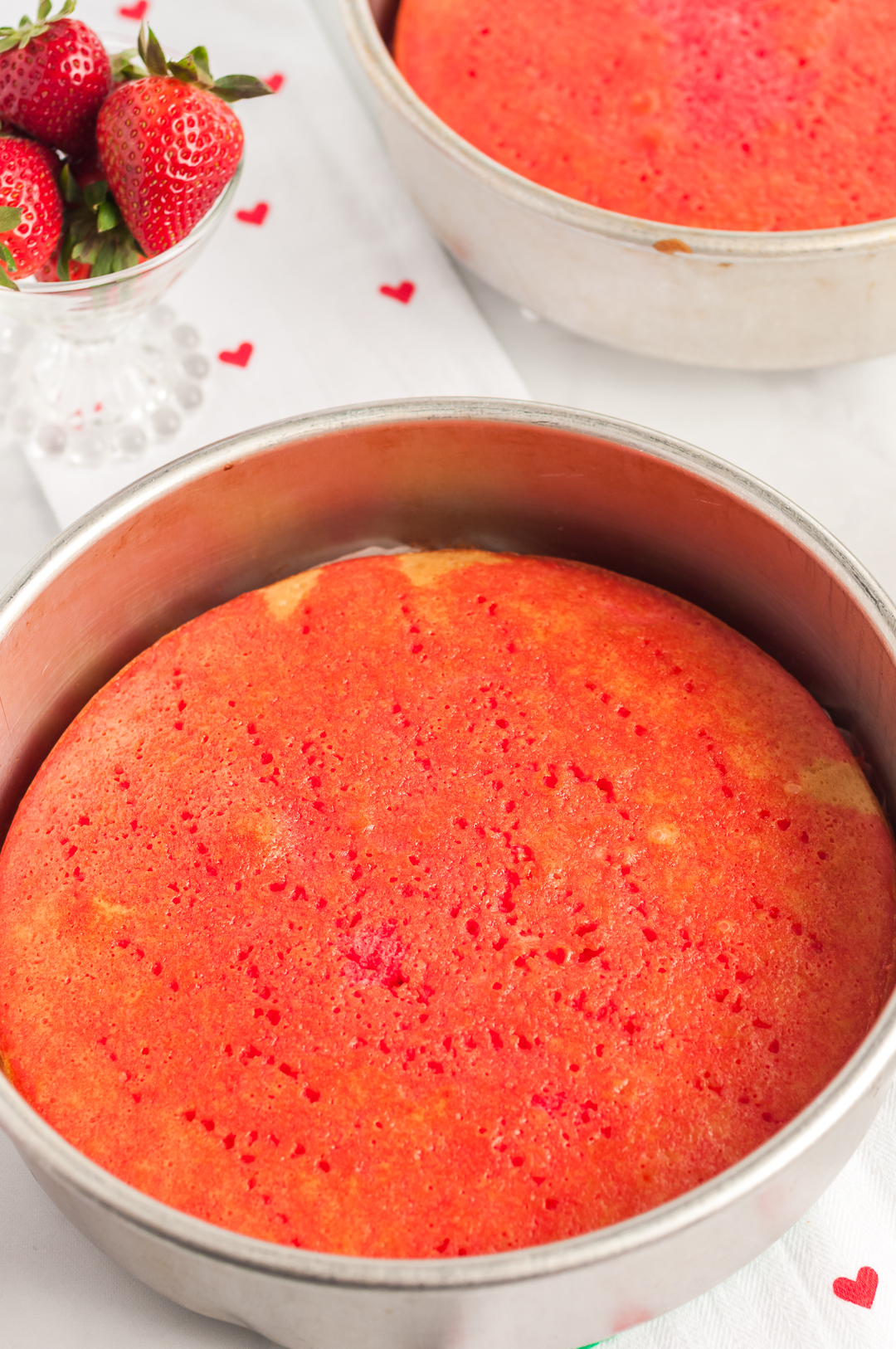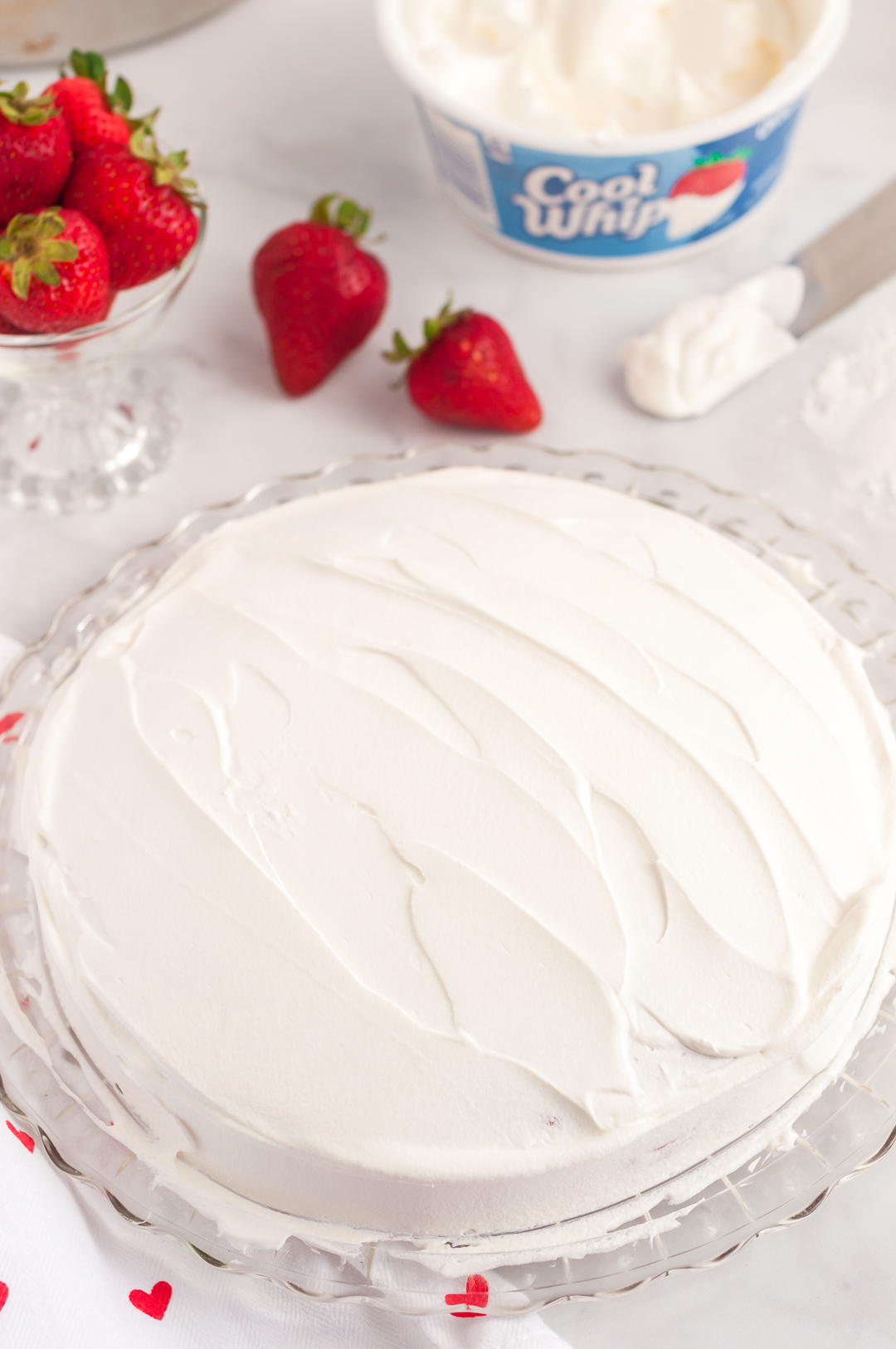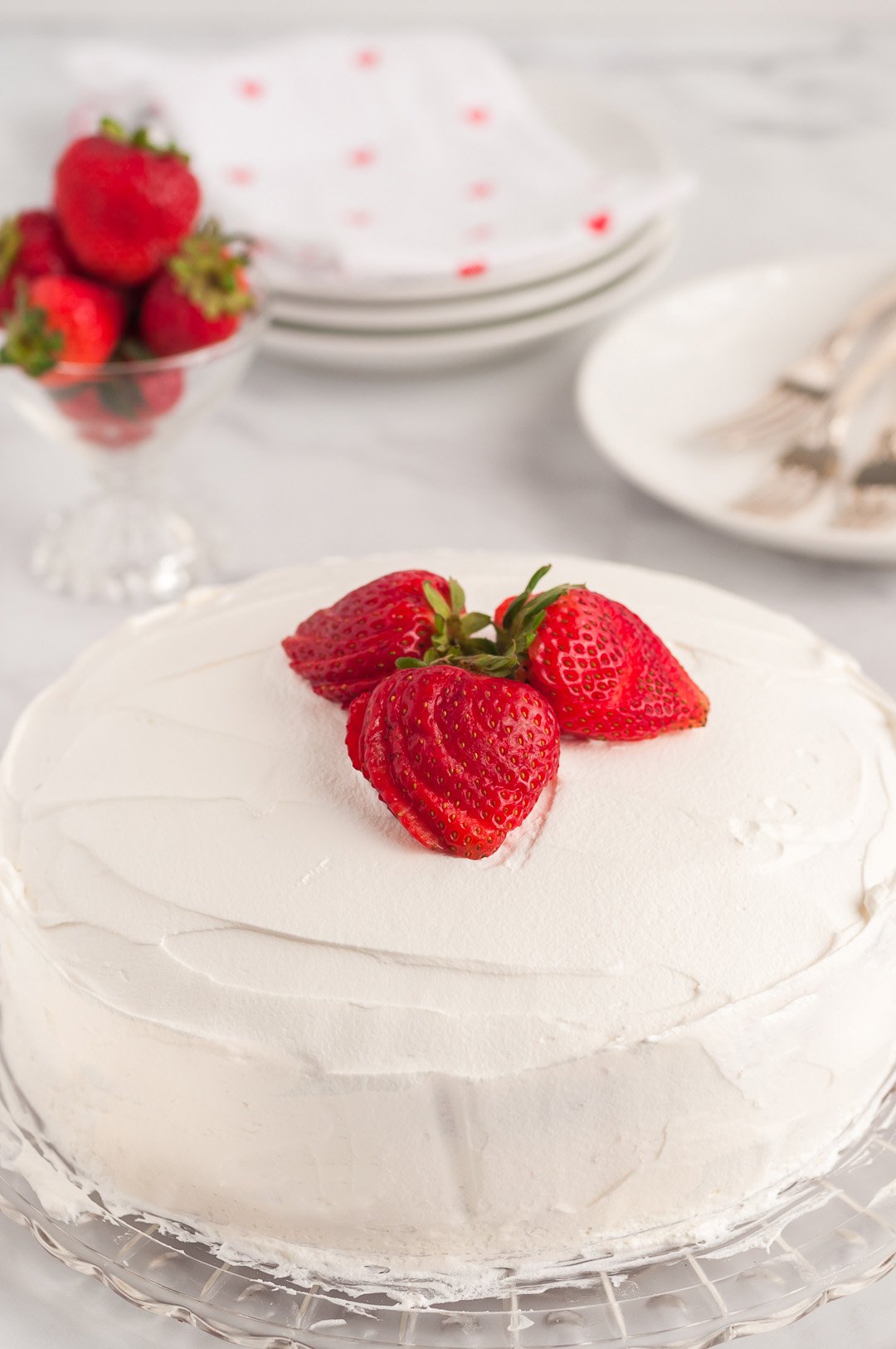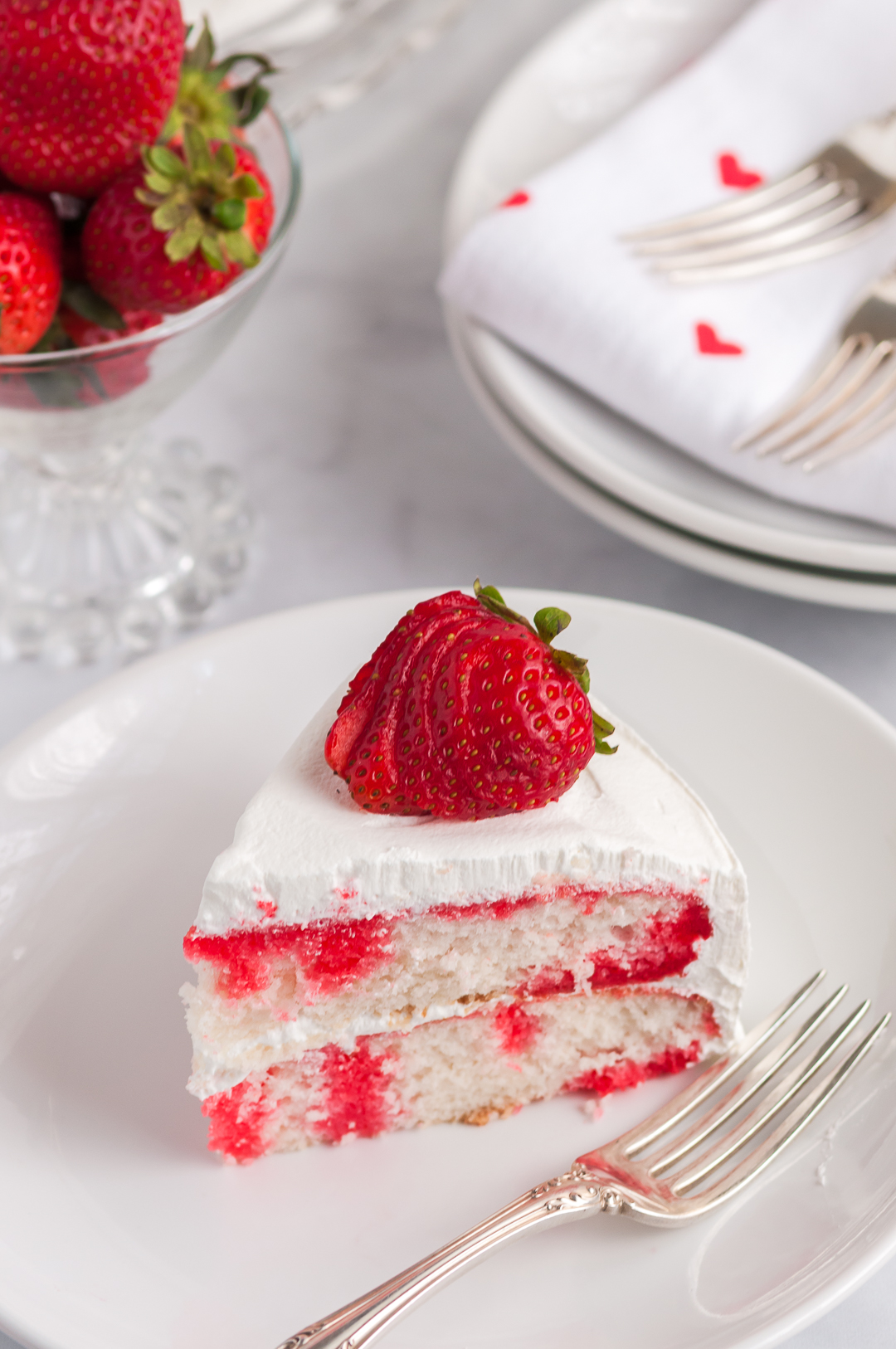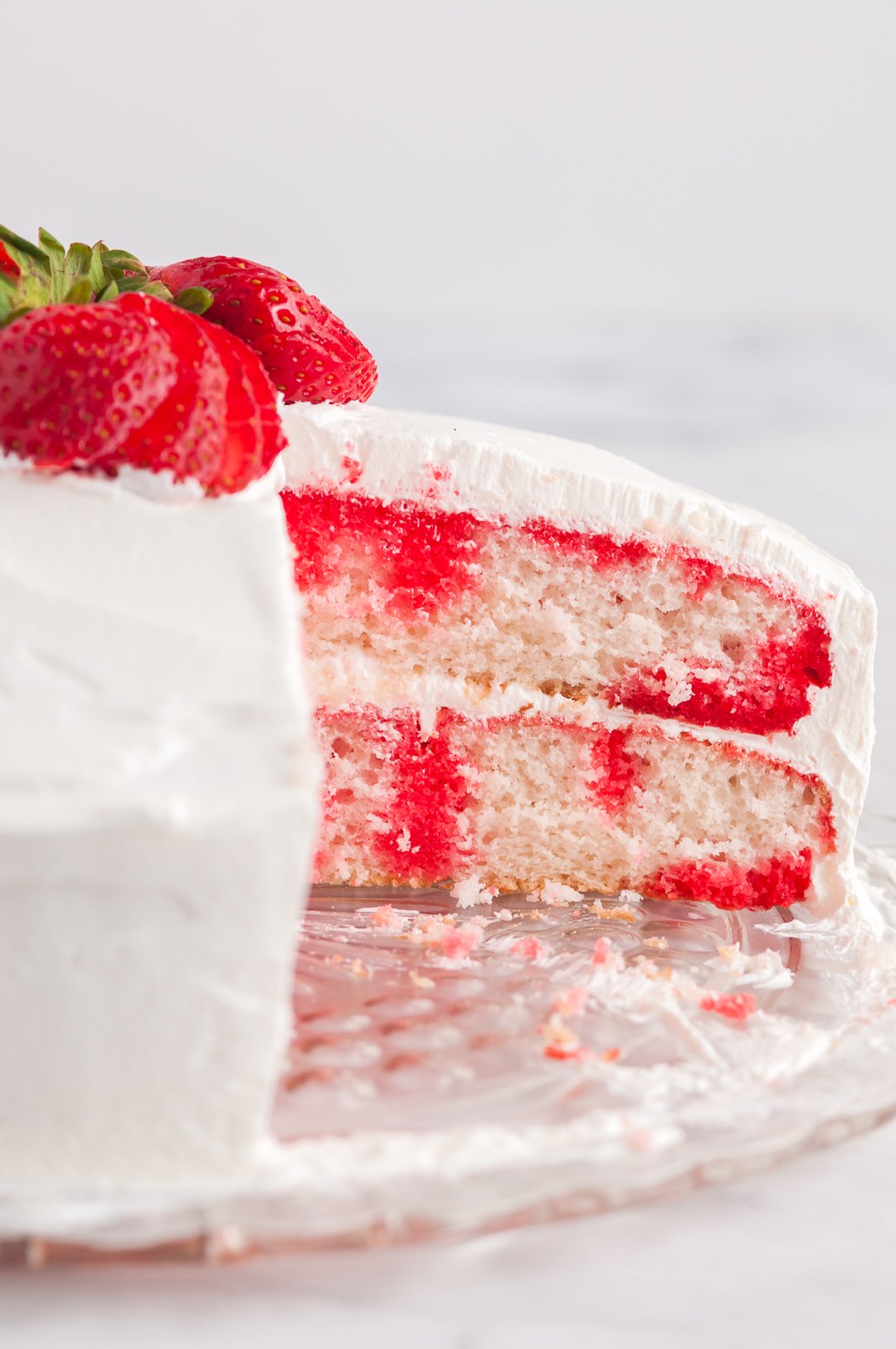 I really love this cake and still can't believe how simple it is to make! It was my first time making one of my own and it was definitely a big hit. I love that you can change it up by adding your choice of flavors!
Here's their scrumptious cake recipe that comes together so easily and with only a few ingredients!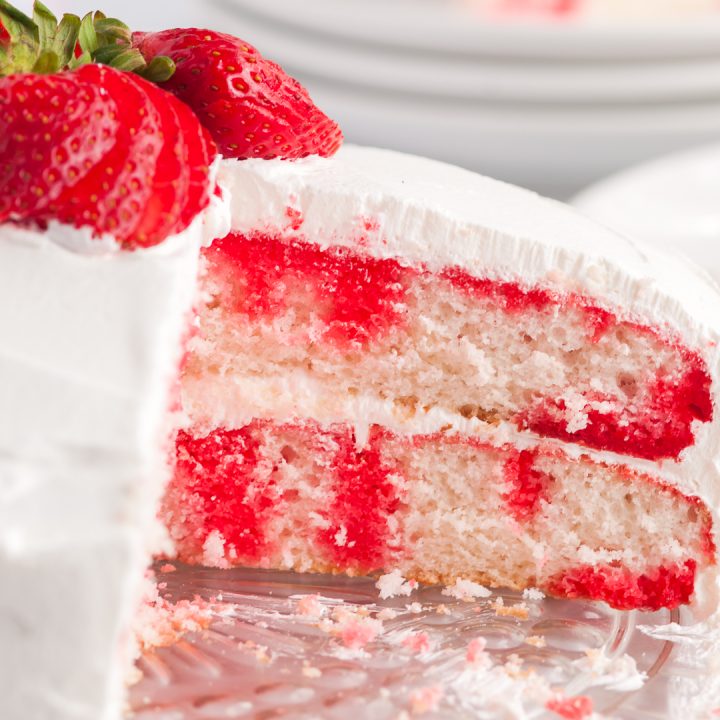 Strawberry Poke Cake Recipe
Prep Time: 30 minutes

Total Time: 30 minutes
Ingredients
1 pkg. (2-layer size) cake mix (white), prepared
1 pkg. (3 oz.) JELL-O Strawberry Flavor Gelatin
1 tub (8 oz.) COOL WHIP Whipped Topping, thawed
Instructions
PLACE 2 (9-inch) round cake layers, top sides up, in clean 9-inch round pans. Pierce cakes with large fork at ½ inch intervals.
ADD 1 cup of boiling water to 1 combined pkg. (3oz.) JELL-O Gelatin in bowl; stir 2 minutes until completely dissolved. Pour slowly over cake layers. Refrigerate 3 hours.
DIP 1 cake pan in warm water 10 sec.; unmold onto plate, Spread about 1 cup of COOL WHIP. Unmold second cake layer; carefully place on the first cake layer.
Frost top and side of cake with remaining COOL WHIP.
Refrigerate 1 hour.
Recommended Products
As an Amazon Associate and member of other affiliate programs, I earn from qualifying purchases.

What time saving techniques do you use in the kitchen?