Biscotti Bar? I have to admit that this idea got me all excited. There was a time that I thought I might become a party planner because I seriously LOVE it. BUT, it sure is a lot of work. I've definitely learned to keep things simple for home hosting. It's all about easy, yet fabulous ideas for me now. I hope you love these Biscotti Bar ideas as much as I do. This post contains affiliate links and some samples in this post have been received at no cost. Opinions and ideas are my own.

Biscotti Bar Ideas
When I was brainstorming about this tasty spread, I knew that I needed the perfect party sign. I took to Pinterest and Google to get some ideas on what would make this party pop. Seeing nothing that I could remotely create on my own, I ended up over on Etsy and instantly became smitten. I found these gorgeous party printables from Draw Me a Party. She does custom work, so I sent off an email and within a day, she sent me this gorgeous Biscotti Bar sign! I am SO in love! She also put it in her store for us so that you can purchase it too. Check out her store, she has the cutest stuff!
Buy Biscotti Bar sign, it's $4 to download.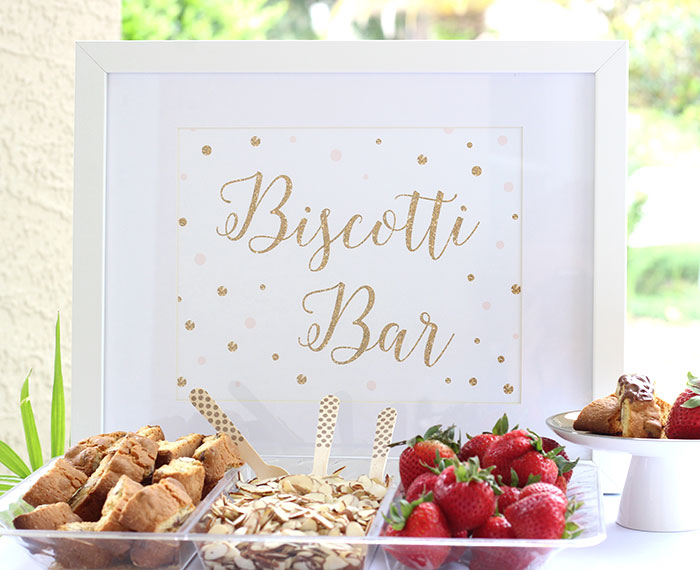 Make sure to print on white card stock and follow printing instructions for the best results. This is the white frame that I used to display this sign over here.
Biscotti Party Packs
I recently had the chance to try Italian Biscotti by Masoni. This is the perfect option for hosting parties because it's available in a 5lb package of authentic biscotti imported from Tuscany. Yum.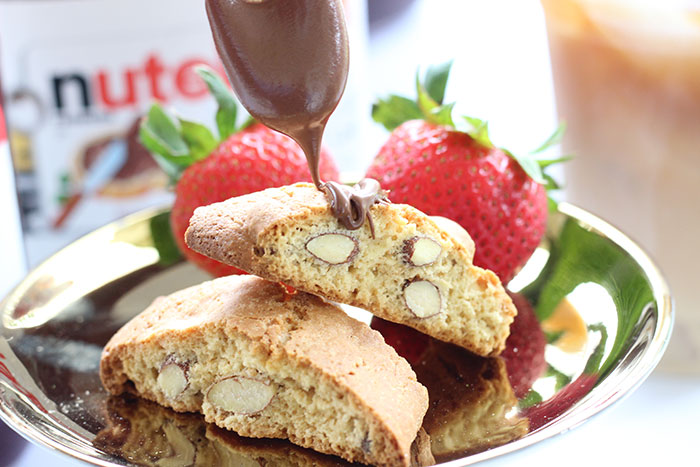 Biscotti Topping Ideas
Nutella or any chocolate spread
Honey Peanut Butter or any nut butter
Sliced Almonds or any nuts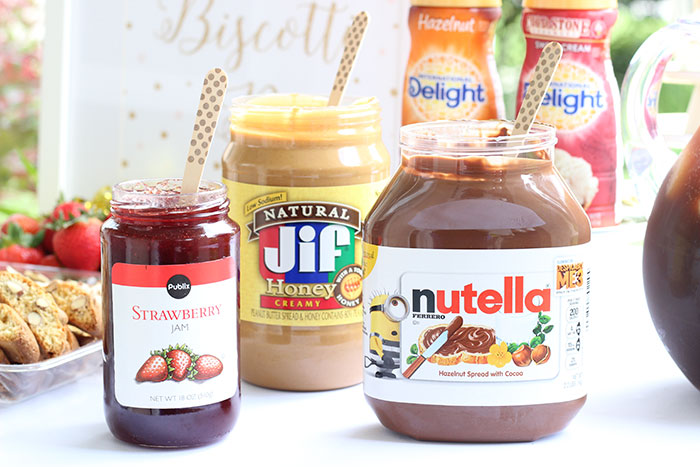 Fresh Fruits
Fruit Jam or jelly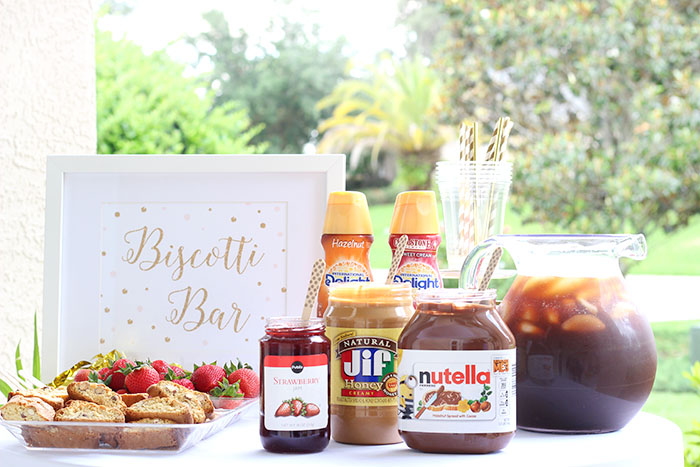 Biscotti Bar Beverages
Coffee is a must! Since it's summer time, hot coffee seemed a little… well, hot. So I suggest serving iced coffee for your summer-time biscotti bars. Brew up a big batch and serve along with some fun creamer flavors.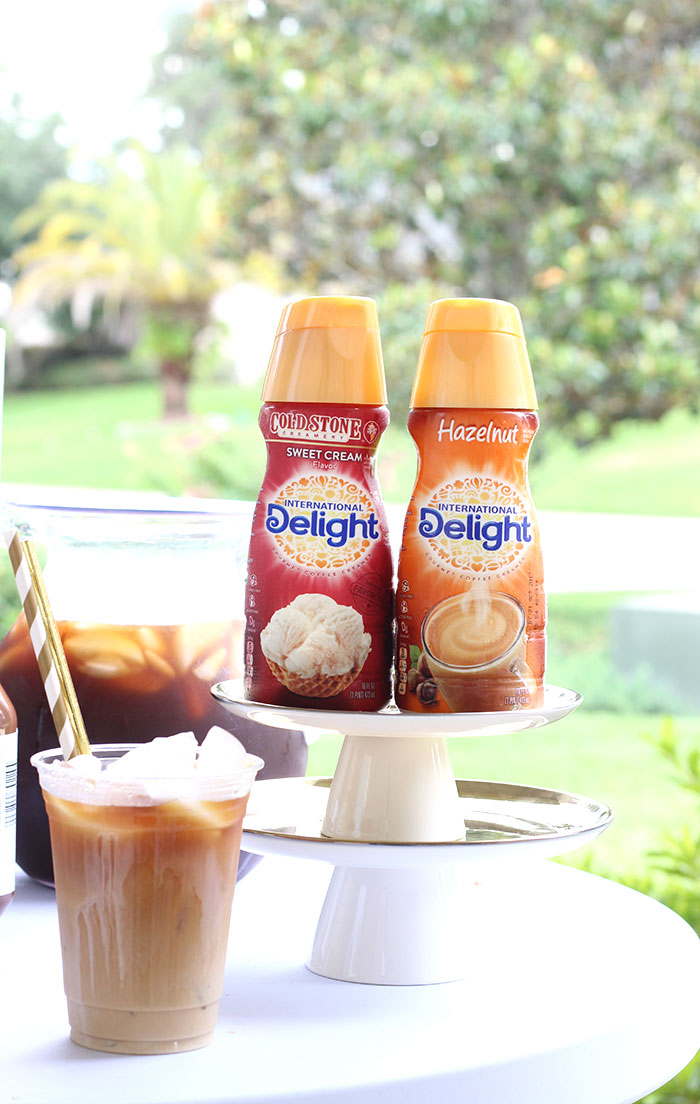 Can you think of anything tastier than Nutella drizzled over your biscotti? Ooh la la yum.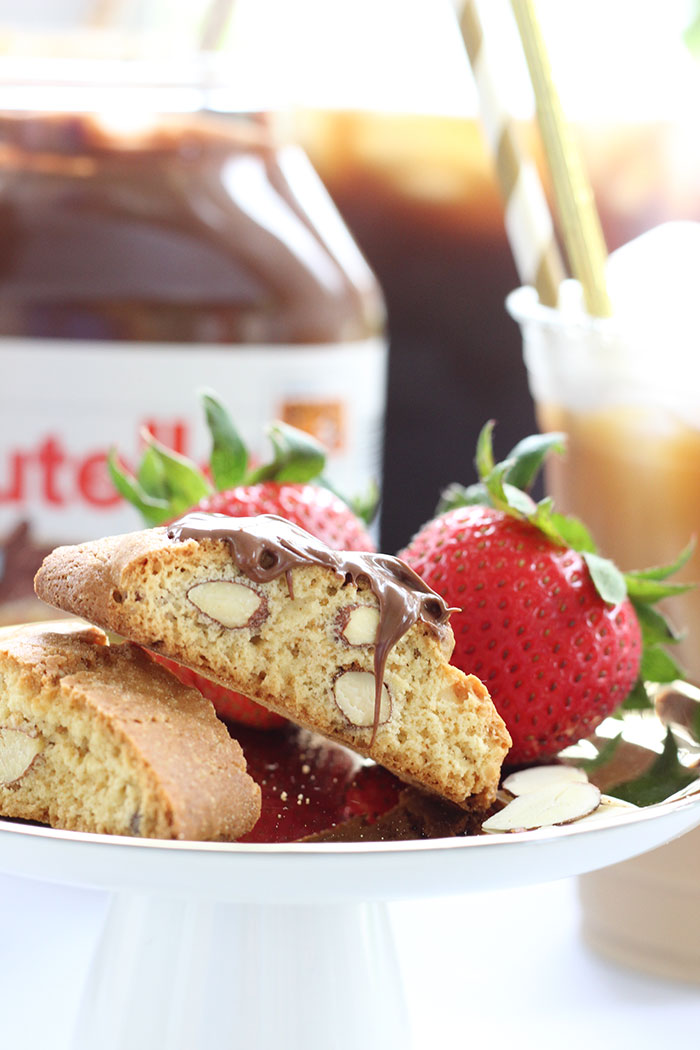 I hope you enjoy this tasty party, I had so much fun putting it together!
Let me know if you host a Biscotti Bar and what you serve with it!