We're all about super easy shortcuts around here. Recently I shared a completely easy way to make chocolate cookies in just 20 minutes and only 4 ingredients. This is a little play on the recipe for Valentine's Day using the basic recipe but instead of chocolate chips, I've used Hershey Kisses. Makes an easy way to share the V-day lovin without all the fuss because if you are like me... I'm way to busy for complicated.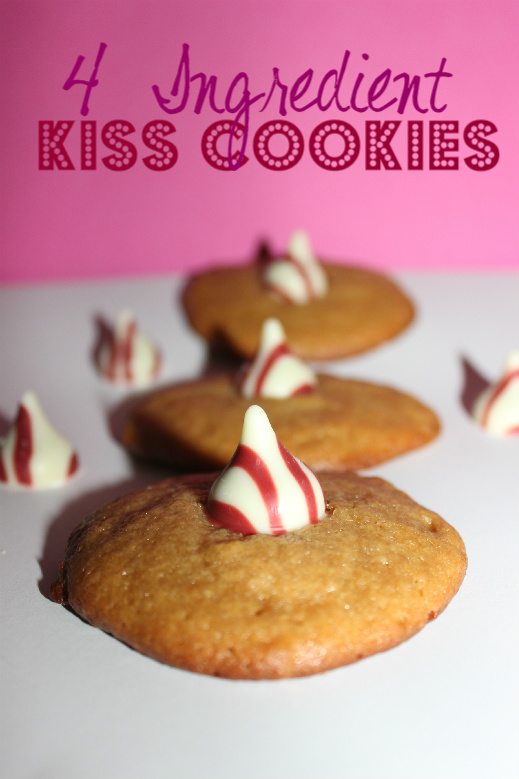 These are flour-less cookies, yet they retain a very similar taste to traditional flour based cookies. You definitely must give them a try to see what I mean. Peanut butter is one of the main ingredients, but baked.. it doesn't take on a very strong presence in the overall taste of the cookie.
You can use any Hershey Kiss flavor that floats your boat. I found these utterly wonderful seasonal Raspberry Valentine Hugs right at CVS. They are perfect for V-day celebratin'. But, try not to eat the whole bag before placing them on your cookies... it can easily happen 😉 So, don't say I didn't give you the warning. I wonder why my stomach hurts right now? Anyway, check out the recipe. Give them a try and make sure to come back and tell me what you think. I'll also be posting an M&M version of these cookies, so look out for that soon.
4 Ingredient Kiss Cookies Recipe
Ingredients
1 Cup of Creamy Peanut Butter
1 Cup of Granulated Sugar
2 Large Eggs
14 Hershey Kisses (flavor of choice)
Instructions
Preheat oven to 350
Combine peanut butter, sugar and eggs until fully blended.
Drop heaping tablespoons of cookie dough onto a non stick baking sheet.
Bake for 10-12 minutes.
Cool for about 5 minutes then gently press your Hershey Kisses into the center of each cookie.
Makes about 14 cookies.
Do you have an easy go to cookie? We want details!