Looking to freshen up your skin on a budget? Beauty products can cost nothing short of a small fortune these days. On top of it, there are zillions of products to choose from. How do you know which one to invest your money on? Well, instead of driving yourself crazy when it comes to body scrubs... save yourself the headache and a whole lot of cash with this fun little beauty shortcut! Not only is it economical and efficient, the best part is that you most likely have what you need to make it on hand already. If you don't, I will honestly be shocked.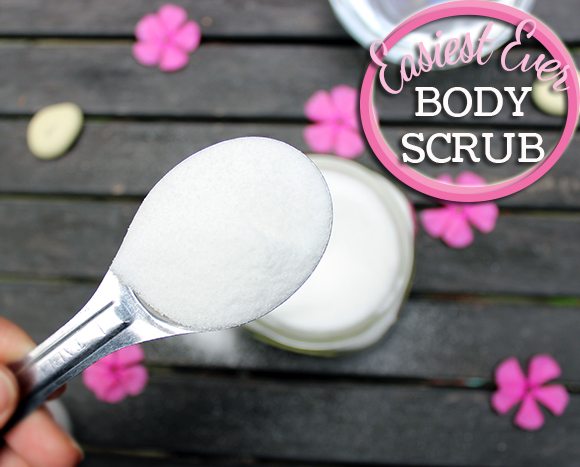 I originally found this idea from an old tear out that my mom had from an Almanac sometime in 2005. The section was caled Pantry Potion, perhaps you will remember my project with Kool-Aid from a while back? Pretty fun little DIY recipe to make with kids. Well you could say I am currently really addicted to trying out these old time shortcuts, so intriguing! There were a few more fun ideas and the body scrub has been on my to do list for a while now. Which is weird because it's so easy, I should have tried this ages ago! Better late than never they say!
So what is the deal already? Yes, I know... you just want to know what the recipe is right? Well, here you go!
Sugar + Water = EASIEST BODY SCRUB EVER
See... I told you that you would have the stuff on hand, was I right?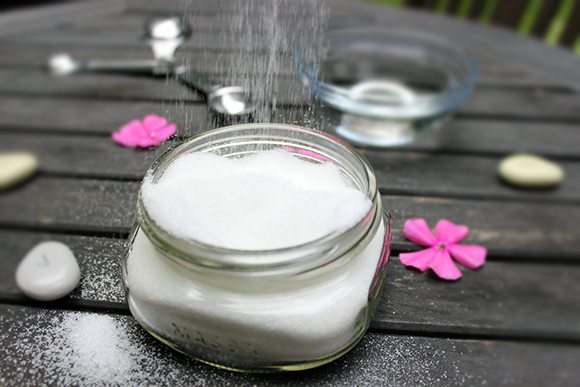 Benefits of using a Sugar Scrub
In addition to just being easy to make yourself, there are actually some known benefits of using a sugar scrub. Come to find out, sugar might be good for your skin. (Not to be confused with eating it, I like cake, but I am pretty sure there aren't many benefits of eating it, ha!) According to the article, sugar is a natural humectant which means it draws moisture from the environment. It could help hydrate and keep the moisture within your skin.
It may also be a gentler option than a salt scrub. For years I've been avoiding using scrubs on my face for fear that it might do more harm than good. It's possible sugar is the better choice. According to Pantry Potions sugar can actually help control oil buildup, cleanses pores and also works as an antibacterial.
That all sounds pretty sweet doesn't it?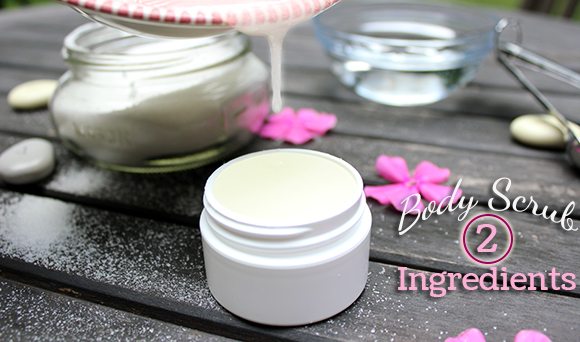 This scrub may not be all that suitable for gifting as it may not hold up as well as other recipes. It separates easily and may also dissolve quickly. I would just plan on making this when you plan on using it up.
So, all you need to do to make yourself some easy body scrub is to mix 1 Tablespoon of Granulated Sugar with 1 Teaspoon of Water and you are good to go! If you want to print, I made it easy for you below: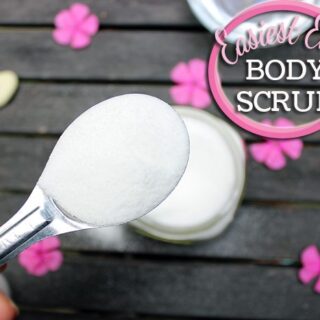 Beauty Hack: 2 Ingredient Body Scrub
Ingredients
1 Tablespoon of Sugar
1 Teaspoon of Water
Instructions
Place sugar in the palm of your hand or in a container, add water drop by drop to make a paste. Makes approx 1 Tbsp.
To use, gently rub the scrub onto your skin. Massage lightly with your fingertips, rinse with warm water. Enjoy!
Note: Thank you to our sponsor Coupon Trunk who made this project possible. At Coupon Trunk you will find a ton of coupon code savings from A-Z! Make sure to stop there before you're back to school shopping to find our much mich you can save. You will find big savings with online Macy's Coupons to The Children's Place which is always a back to school favorite for the little ones. The savings doesn's stop at just clothing, you can also save on the other essentials like Discount School Supply Coupons! Happy Savings!