Have you ever tried making a dessert in your slow cooker? I am relatively new to it, but boy is it a fun concept. It's kind of crazy that you can make desserts like cheesecake right in your slow cooker. Although, that is still on my to-do list. Maybe next week? Today, I'm sharing a fun little experiment adding Nutella to this already crazy chocolate molten cake for the ultimate "death by chocolate" experience. And, it is an experience.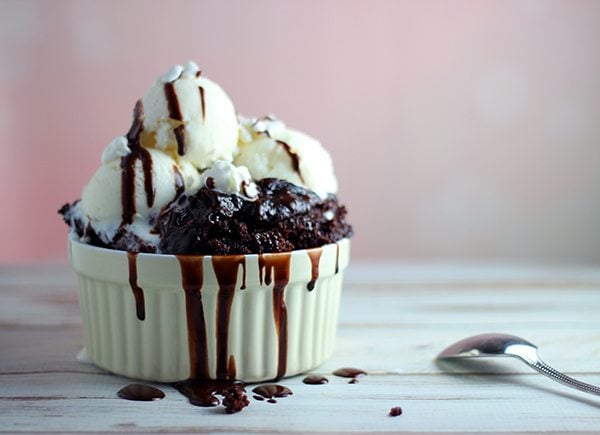 Creating molten cake in the slow cooker has been around for a while, it's like magic. It's not fool proof, that is for sure. Of course you need to take into consideration that there are many shapes and sizes of slow cookers.
Slow Cooking Hack #1: Adjust recipes and cook time according to the size slow cooker you use.
For example, I used 6 quart slow cooker for this recipe, if yours is smaller or larger could certainly effect the outcome. When experimenting with recipes for the first time, keep an eye on the cook time and check along the way to make sure everything is cooking properly. There are some great slow cooker cooking tips over on the Crock-Pot website for reference.
There are a couple of tips more things that I learned along the way to make "baking" in the slow cooker a little smoother.
Slow Cooking Hack #2: Place paper towel under your slow cooker lid to absorb extra moisture.

Slow Cooking Hack #3: Line your slow cooker with parchment or a liner to reduce overcooking and to make for easy clean up.
Now back to chocolatey business! After all, that's why you're reading this, right?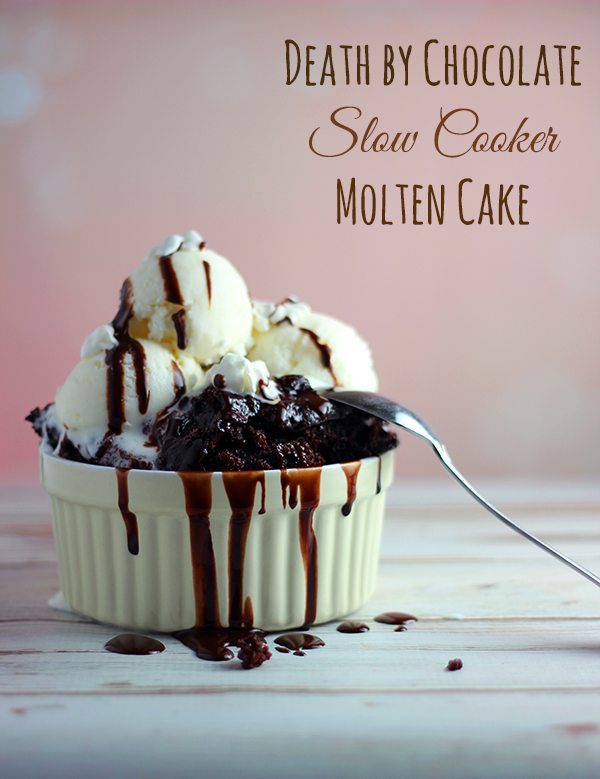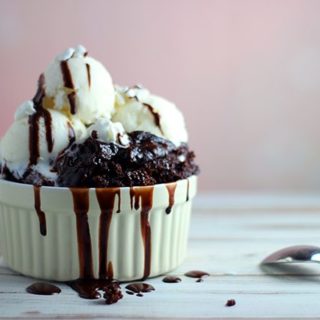 Death By Chocolate Slow Cooker Molten Cake Recipe with Nutella
Ingredients
16 - 18 oz Devils Food Cake Mix
1 Box Chocolate Pudding Mix
1 Cup Nutella
8 oz Sour Cream
1 Cup Milk
1 Cup Semi-Sweet Chocolate Chips
4 Eggs
½ Cup Butter or Margarine
Recommended: Line slow cooker with parchment paper
Instructions
Line your slow cooker with parchment paper. Mix all ingredients except chocolate chips until fully blended. Fold in chocolate chips. Add to slow cooker. Cook on low for approximately 4 hours. Cooking time will vary depending on your size. The larger it is, the less cook time will be needed. The cake will be slightly "wet" in the center. This is a good thing, you don't want to overcook it or you will not have the delicious molten effect. It's best when the center is cooked just slightly beyond it's original liquid state. Enjoy!
Nutrition Information
Serving Size

1
Amount Per Serving
Calories

3958
Total Fat

188g
Saturated Fat

77g
Cholesterol

189mg
Sodium

5222mg
Carbohydrates

526g
Sugar

390g
Protein

66g
Is that enough chocolate for you? Devil's Food Cake, Chocolate Pudding, Chocolate Chips and Nutella. Whoa chocolate heaven! Honestly, this is the best dessert I've had in a while. It's crazy good. Slather with whipped cream, ice cream and chocolate sauce if you can handle it. Yum!
Have you ever made a dessert in your slow cooker? What did you make?