Live on slow cookers! I just love the ease of creating delicious meals and beyond in my little cooking wonder. No matter how busy life gets, there is always time to toss something in that big ole pot. Checking out recipes around the web is one of my favorite guilty pleasures. It just amazes me at all the options and the creativity too. So, on that note, it's about time for a new slow cooker roundup. I've covered a great list of slow cooker recipes with 3 ingredients or less as well as slow cooker recipes with 4 ingredients or less. So, now it's time for a big list of recipes with 5 ingredients or less! What do you think? I've summoned the help of some of my favorite blogs to put this great resource together. Visit each link to get their recipe. Hope you enjoy!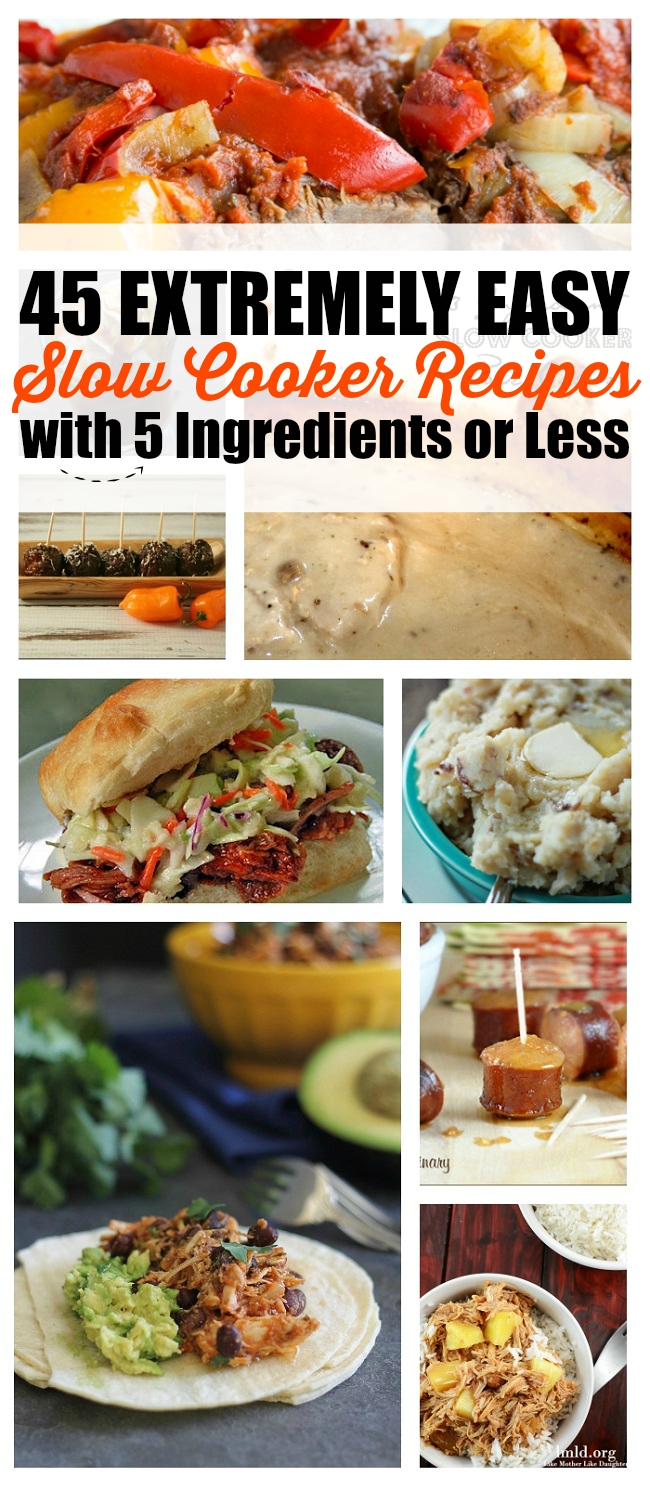 This is exactly what I need! Big list of 5 ingredient slow cooker recipes!
Chicken Recipes with 5 Ingredients or Less
Slow Cooker Fiesta Chicken from Cutefetti
Portabella Mushroom Chicken from Cutefetti
Chicken and Potatoes from Cutefetti
Apricot Orange Chicken from A Mom on Time Out
Slow Cooker Pulled Chicken from Running To The Kitchen
BBQ Pulled Chicken from Jew Hungry
Honey Garlic Chicken from Our Table for Seven
Chicken Chili from 2 Boys + 1 Girl = One Crazy Mom
Creamy Italian Chicken from Persnickety Plates
Salsa Chicken from The Taylor House
Salsa Chicken and Black Beans from Cupcakes and Kale Chips
Hawaiian BBQ Chicken From LMLD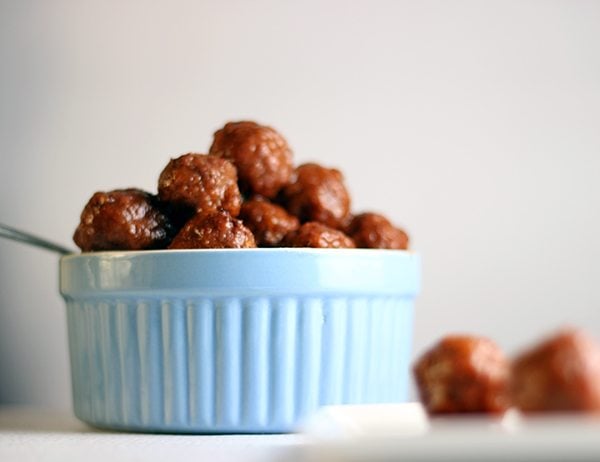 Beef Recipes with 5 Ingredients or Less
Steak Pizzaiola from Cupcakes and Kale Chips
Party Meatballs from My Catholic Kitchen
Kickin Meatballs from Yours Mine & Ours
Crock Pot Taco Meat from Crock Pot Ladies
A1 & Dijon Steak from 365 Crock Pots
Pork Recipes with 5 Ingredients or Less
French Onion Soup Pork Chops from Savvy Saving Couple
Crock Pot Kielbasa from Very Culinary
Slow Cooker Pork Chops from Sweep Tight
Spicy Dr. Pepper Shredded Pork from Chic n Savvy Reviews
Coca Cola Braised Pork from Miss In The Kitchen
Rootbeer Pulled Pork from Cupcakes and Kale Chips
Slow Cooker Pulled Pork from Our Life Tastes Good
Creamy Ranch Pork Chops from Persnickety Plates
Pork Chops and Stuffing from 2 Boys + 1 Girl = One Crazy Mom
Brown Sugar Ham from Julie's Eats and Treats
BBQ Pork Ribs from Chic n Savvy Reviews
Other Meat & Poultry Recipes
Venison Roast from Chic n Savvy Reviews
BBQ Rubbed Turkey Breast from Cupcakes and Kale Chips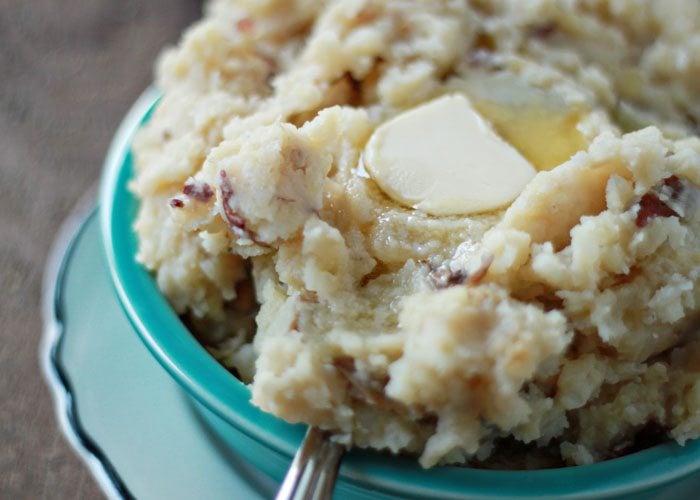 Photo Credit: Kitchen Treaty
Fruits & Veggie Recipes with 5 Ingredients or Less
Crock Pot Apple Sauce from A Cedar Spoon
Apple Sauce Recipe from Menu of Musings
Garlic Mashed Potatoes from Kitchen Treaty
Breads, Breakfasts & Desserts with 5 Ingredients or Less
Cinnamon Roll Monkey Bread from Call Me PMC
Dulce de Leche Blueberry Banana Bars from Kleinworth & Co
1 Hour Slow Cooker Bread from Cutefett
Crock Pot Flan from Confessions of an Overworked Mom
Steel Cut Oats from Call Me PMC
Cherry Dump Cake from Tammilee Tips
Slow Cooker Pancake Bake from Cutefetti
Pineapple Crisp from Noshing with the Nolands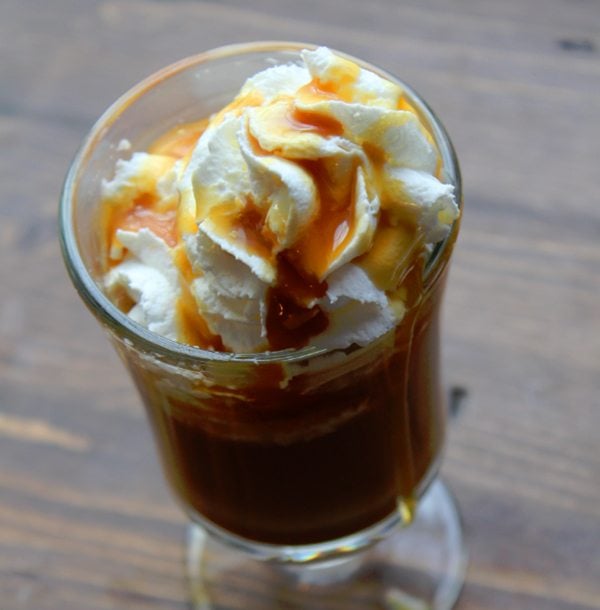 Photo Credit: Tammilee Tips
Beverage & Snacks & Soups Recipes with 5 Ingredients or Less
Crock Pot Caramel Latte from Tammilee Tips
Peppermint Hot Chocolate from Jen's Favorite Cookies
Beer Cheese Dip from About.com
Camp Dip from A Mom's Take
Want more? Check out these posts:
25 Slow Cooker Recipes with under 3 Ingredients!
44 MORE Slow Cooker Recipes with 4 Ingredients or less.
15 Gluten Free Slow Cooker Recipes.
Of course, no meal is complete without dessert!
12 Delicious Desserts you can make in a Slow Cooker.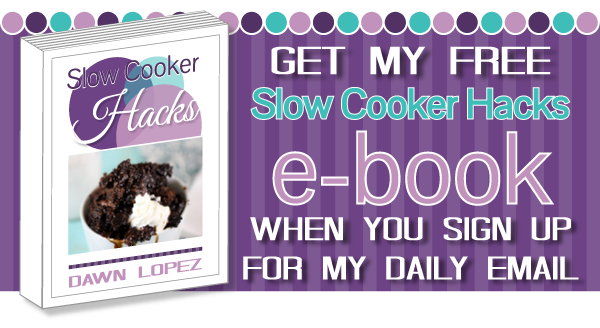 Are you ready to get cooking? Do you want some scrumptious recipe ideas? Find Slow Cooker Recipes here or on my elite Slow Cooking Recipe Board on Pinterest. I promise you'll walk away hungry!
Happy Cooking!
What is your favorite recipe in the slow cooker?