Piñatas are like a kid's dream come true. There is just no other way to get rewarded for beating something up! These simple to make Piñata cupcake style cups recipe will be a much less messy ordeal. My inspiration for this idea comes from all of the seriously amazing piñata cakes, cupcakes and cookie recipes that I've seen all over the place on Pinterest. I love the clever and creative things that I've seen, but knowing myself, I could never pull all of that off. I mean these things are elaborate and seem very time consuming. Seriously, you have to check out this cake over at A Subtle Revelry. Total genius, but I can only imagine how bad I would totally ruin mine! And these cookies over at She Knows, amazing! Probably the cutest cookies in history.
Maybe I'll dare to try some of those recipes, but for now... it's all about shortcuts! You won't even believe how easy these are! It will take about 20-25 minutes to simply put together. Your kids will get a kick out of them! Can you guess what the cake is yet?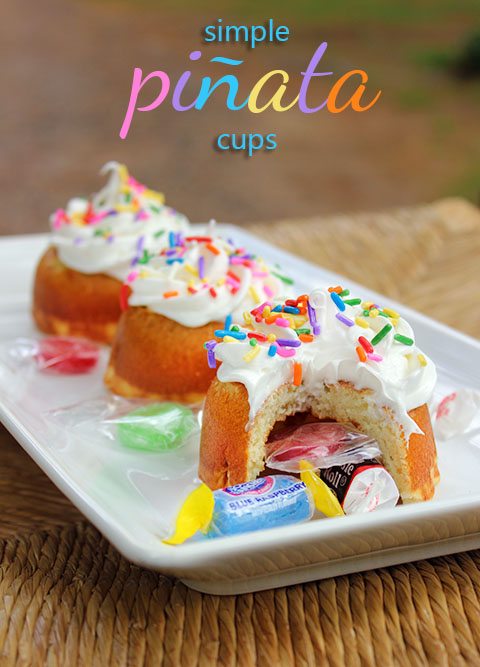 It's simply frozen pancakes baked in a muffin tin! Remember the easy breakfast pancake cups that I posted? Well, if you flip em, add some delicious frosting on top, throw some candy under them, you'll have the easiest Piñata inspired treat ever! My son got the biggest kick out of these. At first he wasn't sure what it was. He grabbed the "cupcake" to pick it up and was totally surprised with the candy inside. He really thought it was the coolest thing ever. The only downfall is you'll need to prepare on serving plates because they won't be very transferrable if you truly want to surprise the kiddos. Keep that in mind if you plan on surprising them or serving them at a party! So, are you ready to make these?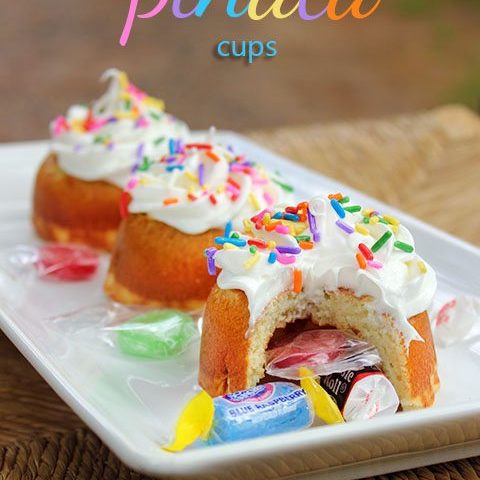 Easy Piñata Cups Recipe
Ingredients
Frozen Pancakes (I used store brand)
Non-stick cooking spray
Frosting
Multi-colored sprinkles
Your choice of candy
Instructions
Preheat your oven to 375. Defrost desired amount of frozen pancakes in the microwave. Spray your muffin tin with non-stick cooking spray. Press each pancake delicately into the center of your muffin tin. Press the sides of each pancake into the side of the muffin tin. Cook for 14-16 minutes until lightly crisped but not overly browned. Remove from tins and set aside until completely cooled. Once cooled, top with frosting and sprinkles. Hide candy underneath your cups. Fits about 3 small pieces of candy.
Super simple, right? They look very cute, but they also taste quite delicious. Surprisingly the frosting tastes quite yummy with the pancakes. Makes for a tasty and surprising treat!
So, when are you making these?