My love for lemons is no secret. I put them in just about everything, from savory dishes to desserts. And this Lemon Love Cake is no exception. It's tangy, sweet, and delicious — perfect for any occasion. Plus, it's really easy to make! With pretty layers of Ricotta, cake and lemon frosting this dessert will impress guests. For a perfect treat, look no further than this recipe. You won't be disappointed.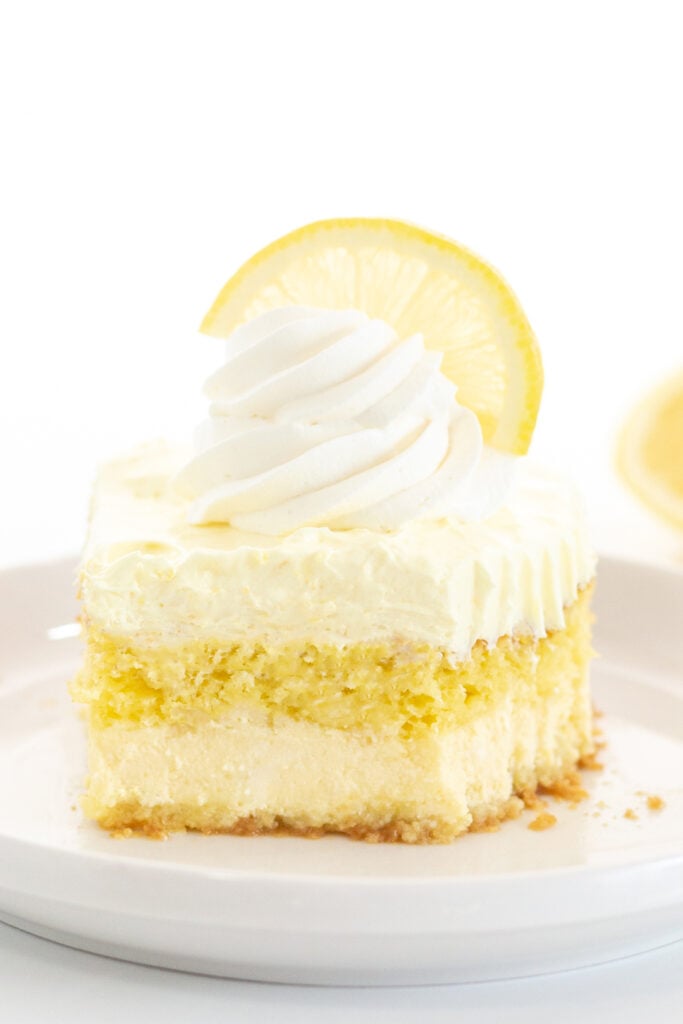 This easy layered lemon cake recipe only requires a few basic ingredients and a little bit of time. What's even better is that it doesn't have to be perfect but it still turns out delicious!
This fruity lemon cake is perfect for your next party, and the light and sweet lemon flavor makes for an excellent spring dessert. Hello Easter!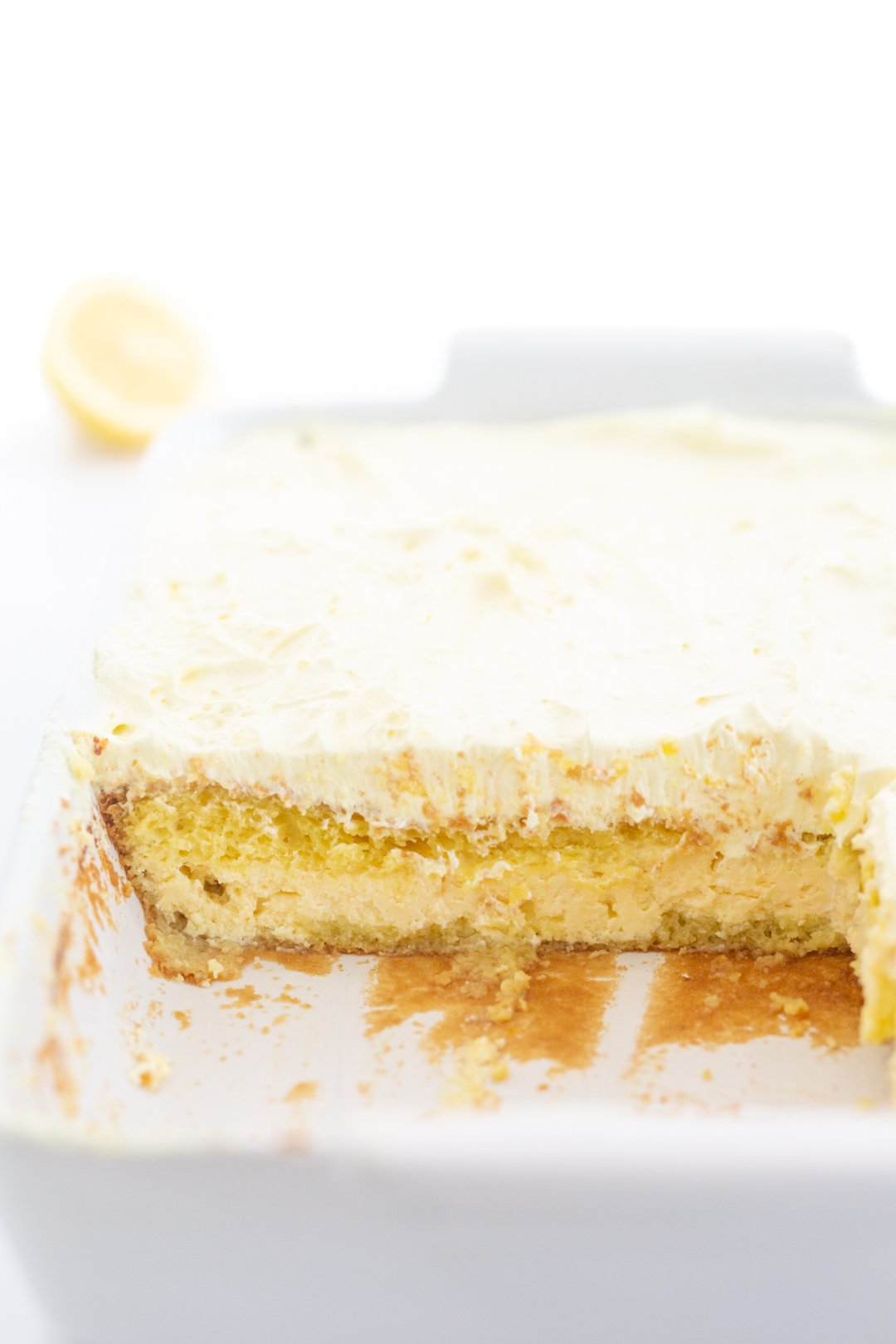 Now let's talk about how to make this delicious dessert recipe.
LEMON LOVE CAKE RECIPE
What could be more delightful than a moist and delicious lemon cake? Especially when it's topped with creamy lemon frosting. This is one dessert that definitely won't leave you feeling sour. Cue the confetti, because it's time to celebrate with some Lemon Love Cake!
LEMON LOVE CAKE INGREDIENTS
You only need a few ingredients to make this delicious lemon cake, gather these ingredients and get ready for moist and delicious layered lemon cake.
Here is a quick list of all the ingredients needed to make this delicious cake. Be sure to scroll down to the recipe card to print the full recipe instructions that include the exact measurements needed.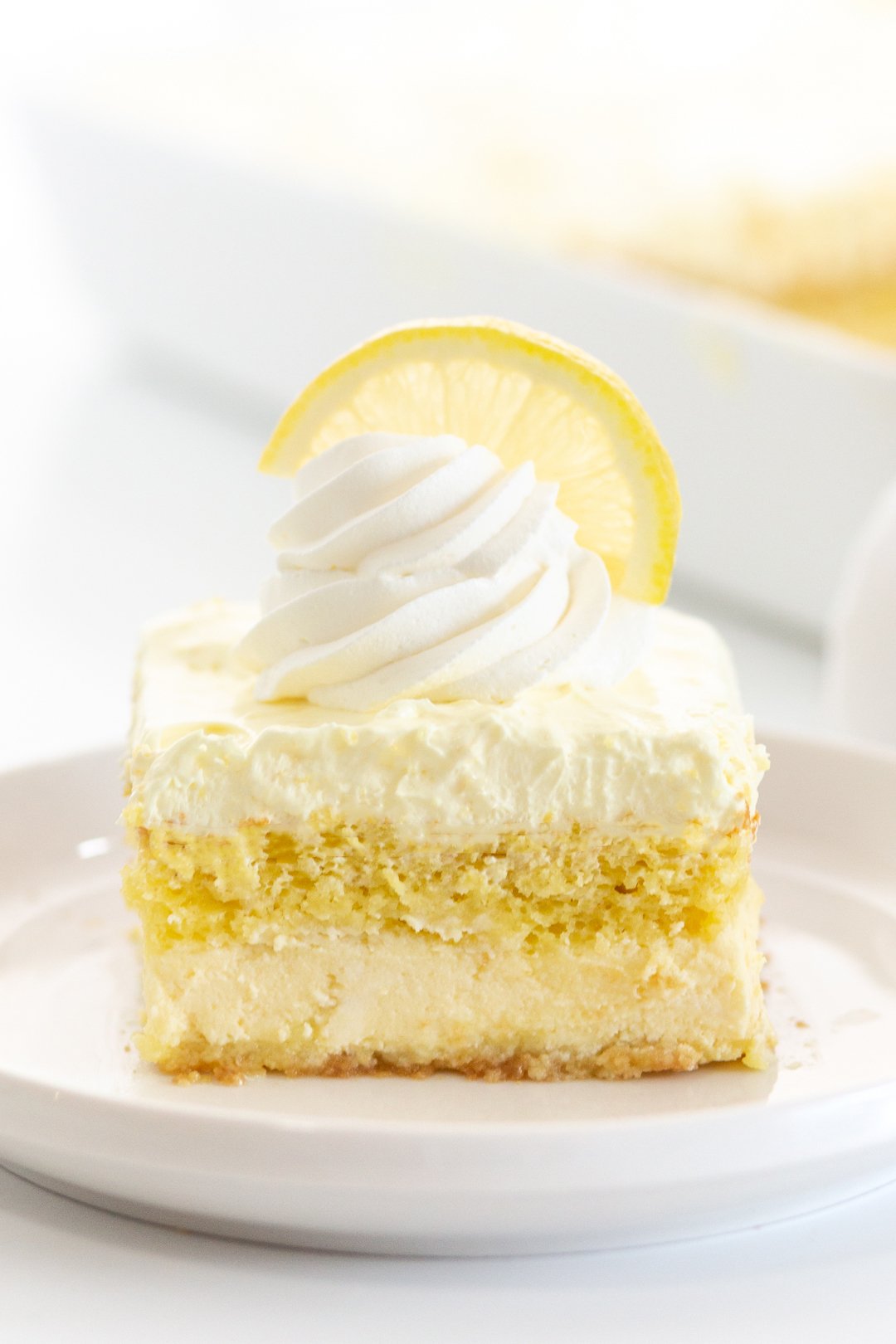 Lemon Cake Mix (+ ingredients needed to make it according to box directions)
Ricotta Cheese
Eggs, Large
Sugar
Vanilla Extract
Instant Lemon Pudding Mix
Whole Milk
Cool Whip or Whipped Topping
That's all you need to make this simple dessert recipe.
LAYERED LEMON CAKE TOOLS AND EQUIPMENT
You only need a few basic kitchen tools to help you make this cake, here are some tools you'll need to make this recipe.
9x13 Baking Pan
Medium Bowls
Measuring Spoon
Measuring Cup
Hand Mixer or Whisk
Large spoon
HOW DO I STORE THIS LEMON LOVE CAKE?
This cake needs to be kept cool, so you will need to store this cake in the fridge tightly covered. It can be stored for up to five days.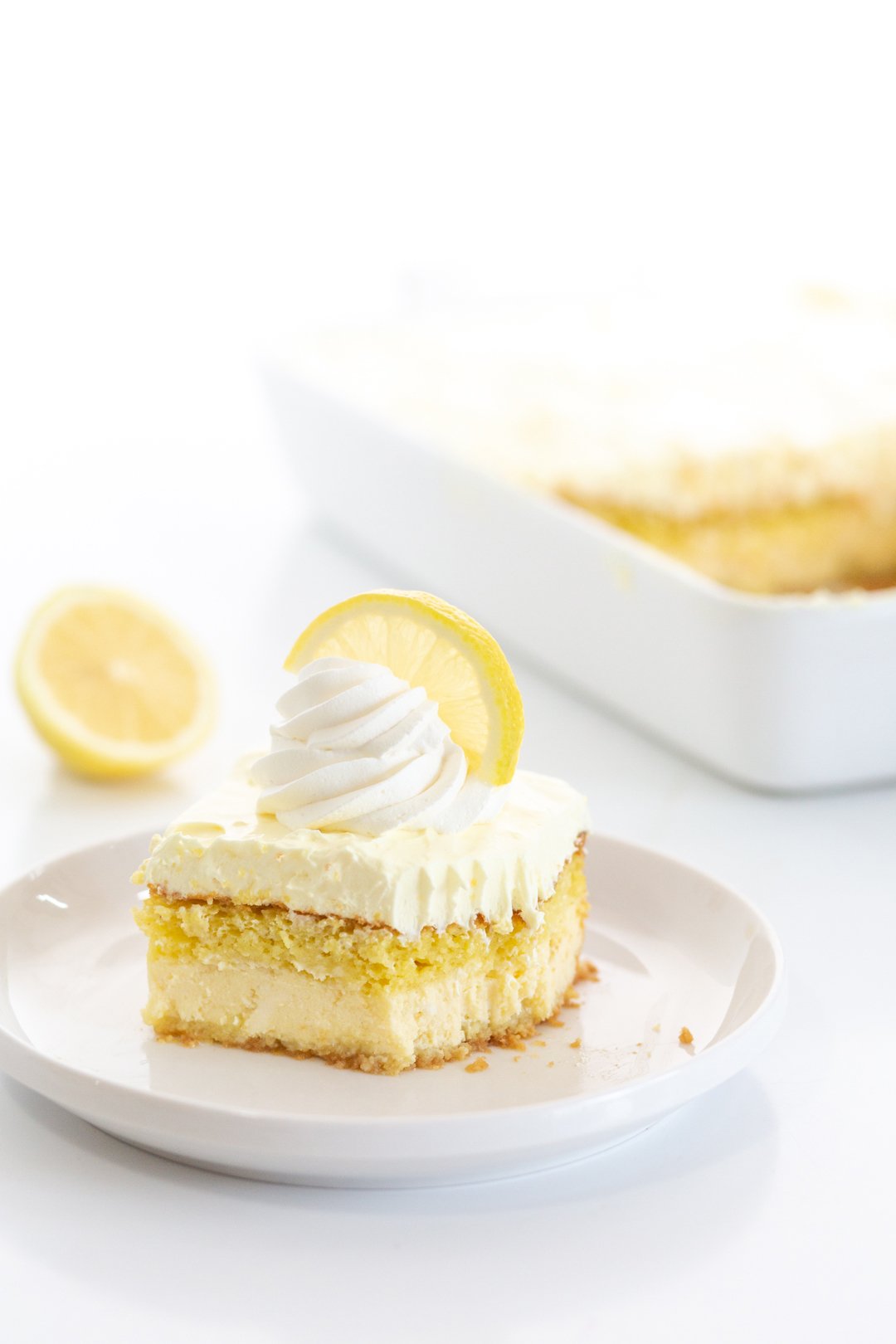 WHY DID MY CAKE TURN OUT DARK?
This cake may look dark when it comes out of the oven, but don't worry the cake will be just fine. The frosting will soak into the cake and soften it up.
CAN I FREEZE LEMON LOVE CAKE?
Yes, this cake can be frozen. You will need to wrap your cake tightly with plastic wrap and foil and store it in the freezer for up to three months.
HOW LONG DOES THIS CAKE TAKE TO COOL?
It usually takes about two hours for this Layered Lemon Cake to cool. Don't rush the cooling process or you will melt the frosting.
There's nothing like the sweet, tart flavor of lemons to put a smile on your face. This delicious lemon love cake is perfect for when you need a little pick-me-up. Packed with lemon flavor, this cake is sure to brighten up your day!
If you love lemon desserts, you may also enjoy these Raspberry Lemon Cake, Pineapple Lemon Dessert, Blueberry Cake with Lemon Frosting recipes.
There's something about lemons that just makes everything seem a little bit brighter. Maybe it's the tartness that brings out the sweetness in other flavors, or maybe it's their cheerful yellow color. Whatever the reason, we can't get enough of them around here, and this lemon love cake is our latest obsession. It's moist, fluffy, and full of bright citrus flavor - perfect for Spring!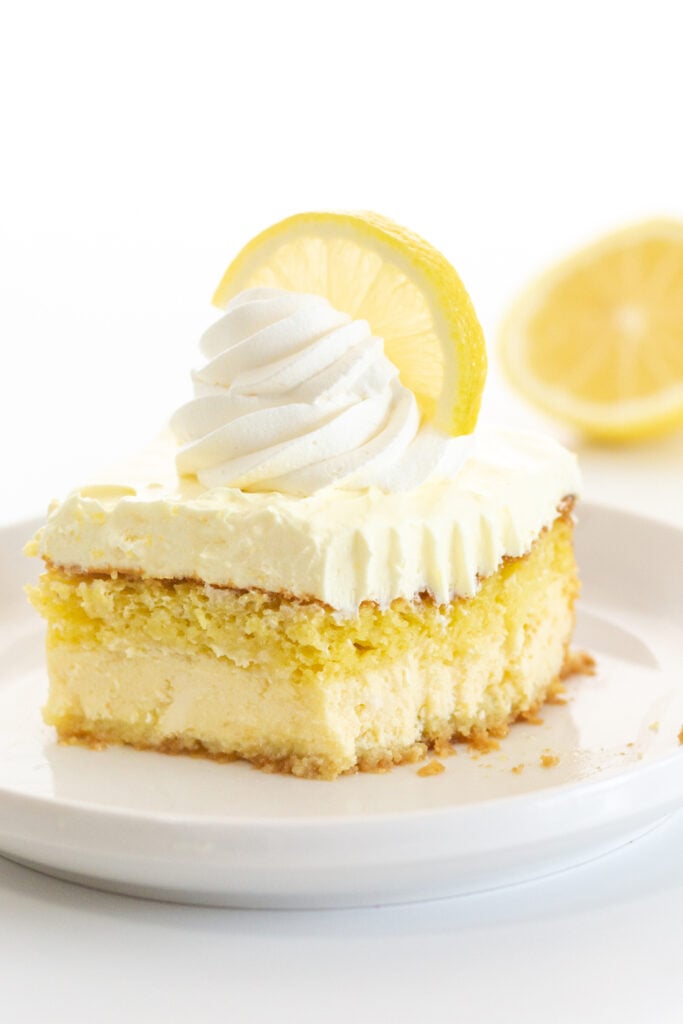 Follow these instructions closely and enjoy this delicious Lemon Love Cake recipe.
If you try it out, don't forget to tag @cutefetti with a photo on social media so we can see how this sweet lemon love cake turned out!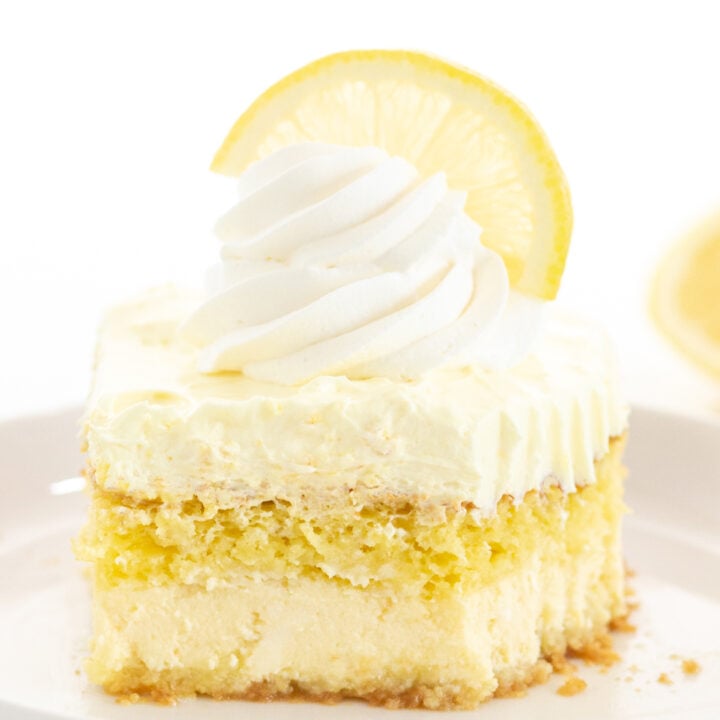 Lemon Love Cake
Total Time:
3 hours
8 minutes
Lemon Love Cake is light and fluffy, with a delicious lemon flavor that will brighten up any day. So go ahead and indulge in a little bit of lemon love!
Ingredients
1 Box Lemon Cake Mix (+ ingredients needed to make it according to box directions), 15.25 oz
32 oz Ricotta Cheese
4 Eggs, Large
¾ Cup Sugar
1 Teaspoon Vanilla Extract
1 Box Instant Lemon Pudding Mix, 3.4 oz
1 Cup Whole Milk
1 Tub Cool Whip or Whipped Topping, thawed, 8 oz
Instructions
Heat your oven to 350 degrees. Spray a 9" x 13" baking pan with non-stick cooking spray.
Prepare cake mix in a medium bowl according to the package directions. Then, pour evenly into your baking pan.
In a medium bowl, beat the ricotta cheese, eggs, sugar, and vanilla extract until completely smooth.
Carefully pour the ricotta mixture over the cake mixture in the baking pan. Cover as much space as you can evenly. Use a spoon to carefully cover any areas and sides that are difficult to cover.
Bake for 53-57 minutes, cake is done when a toothpick can be pressed into the center and come out clean. Cool the cake completely before adding frosting. This will take about 2 hours.
Prepare the topping. Mix milk with dry pudding mix for two minutes in a medium bowl. Refrigerate for 10 minutes. When the pudding is set, fold in the Cool Whip gently until it is completely blended.
Once the cake is completely cooled, spread the frosting evenly on top. Store in your refrigerator.
The cake is best served very cold or the next day.
Optional garnishes: Dollop of whipped cream or additional Cool Whip. Fresh Lemon Slice or Wedge.
Notes
It is okay for the cake to bake up a bit dark and look as though it's burnt. Don't worry, this is normal. The frosting will soak in and make it taste perfect.
Cake can take up to 2 hours to cool
The cake layers swap during the baking process
I hope you enjoy this delicious layered lemon cake recipe as much as we do!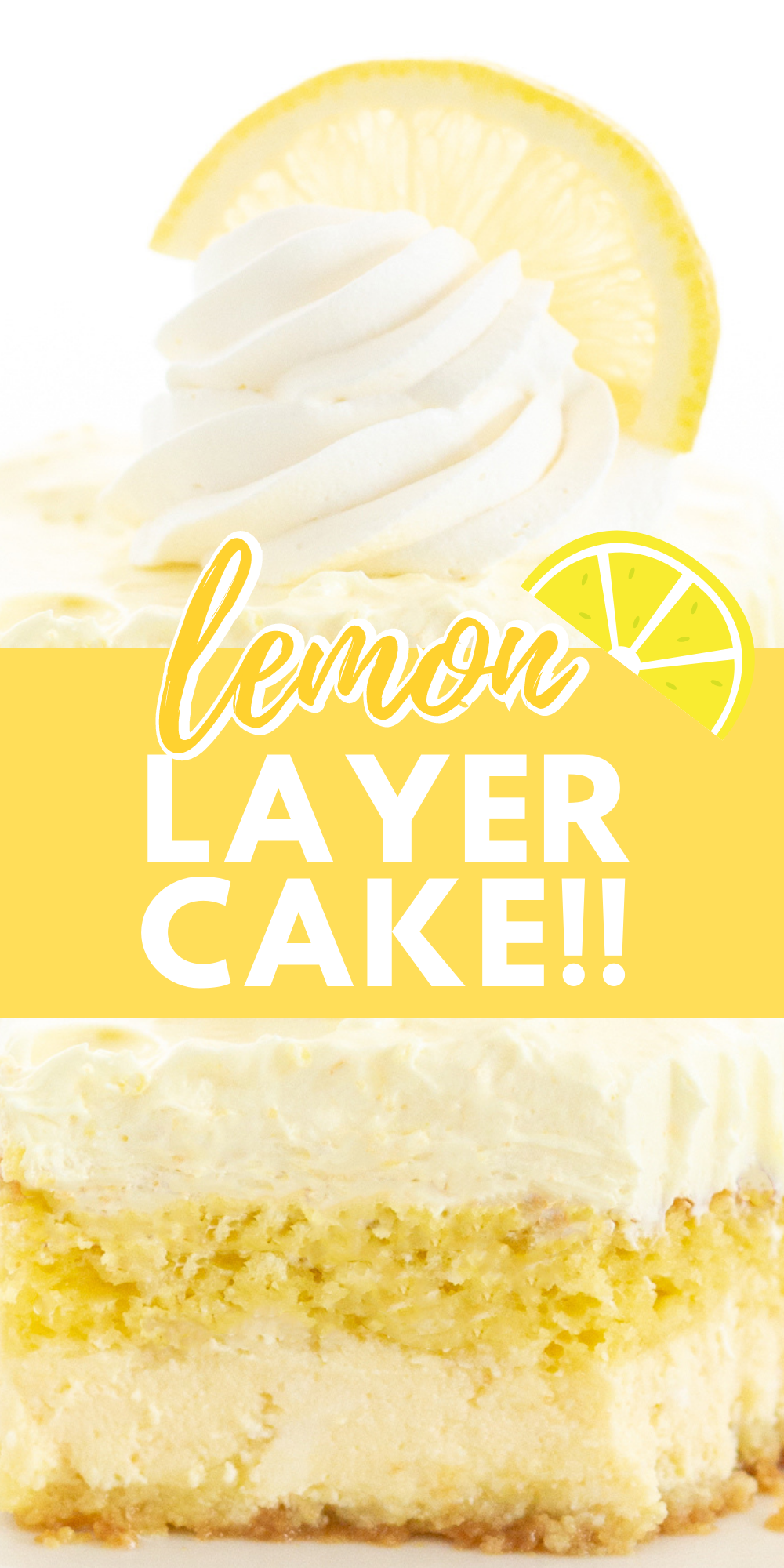 And don't forget to share it with friends who might also love these tasty treats too.