This post is in partnership with Amazon Kids.
Are you ready for a bit of magic? Today, I'm sharing some super mysterious cupcakes to celebrate the new Amazon Original Kids series Lost in Oz that is available on Prime Video NOW! This fun show is anything but ordinary, so it's only fitting that we make some unique treats for the whole family to enjoy while watching. Are you ready to join Dorothy Gale on an unplanned trip... to Oz?
Get ready to embark on a journey to Oz, where nothing is quite as you'd expect. When you watch the Lost in Oz trailer, you'll quickly learn that magic is the key to unlock all that is Oz!
The new series is a magical, modern adaptation of the beloved Oz books from L. Frank Baum. Join Dorothy and Toto as they find themselves lost in a spectacular and peculiar new land. They will be joined by new friends and will face unexpected enemies in this fun, exciting and modern take on a true classic.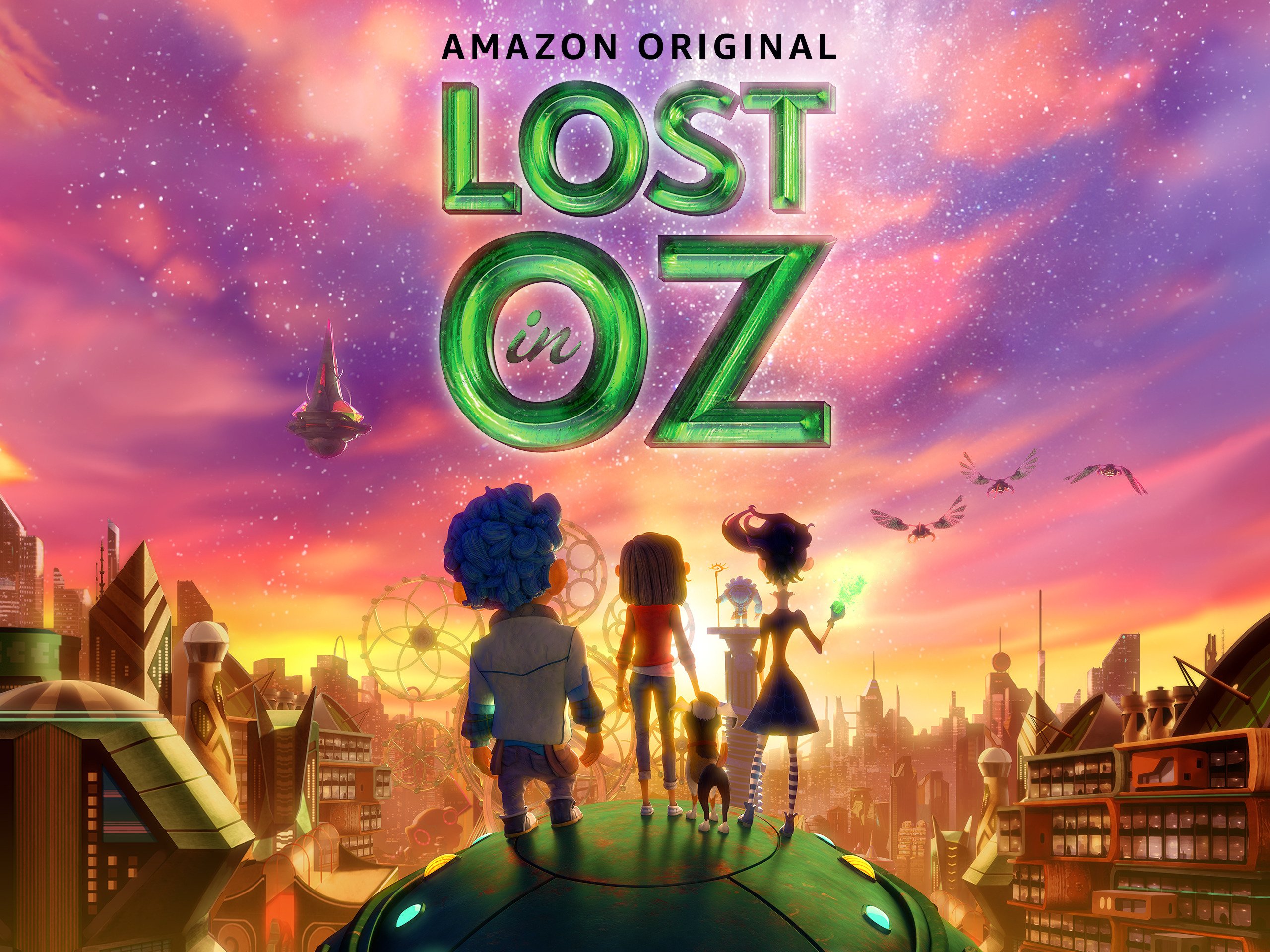 Ozonium is one of the rarest and most powerful magic within Oz, and Dorothy needs it in order to get home to Kansas. Don't fear! With her determination, creativity, and her new found friends West, Ojo, Reigh the Lion, Scarecrow, and Glinda the Good anything is possible.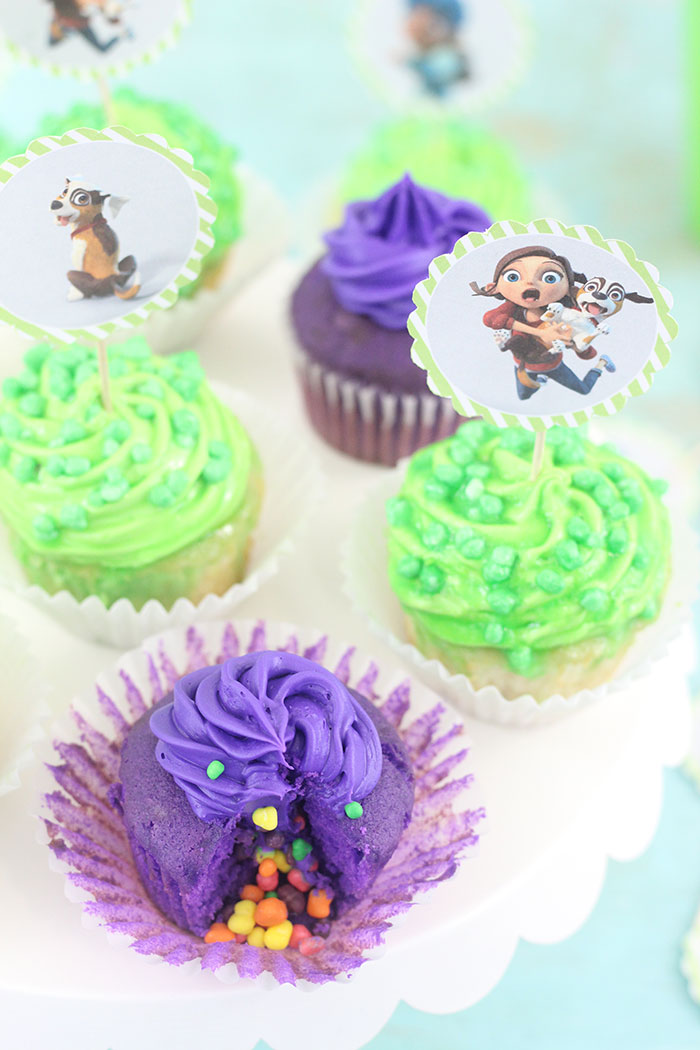 Enter my first cupcake idea! Ozonium cupcakes glow a little and change colors when under a blacklight. Let's make these mysterious cupcakes and help Dorothy get home!
Ozonium Cupcakes
Here's what you need to whip up these crazy cupcakes.
White or Vanilla Cake Mix to Make Cupcakes. Follow directions on the box.
White Frosting mixed with Neon Green Food Coloring.
Green Colored Nerds Candy
Download these Lost In OZ Cupcake Toppers - Printable - pdf. Print as many as you need, trim them out and tape or glue them to toothpicks.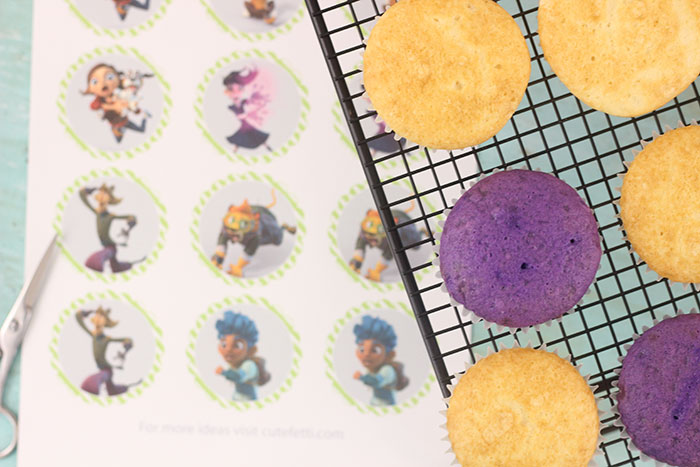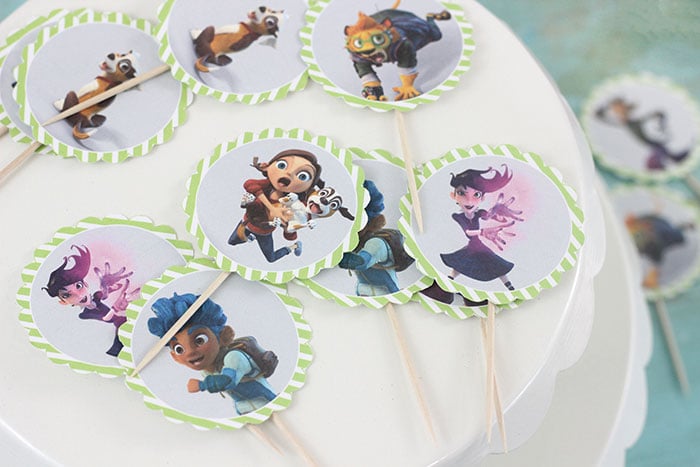 Once your cupcakes have cooled, add your neon green frosting. I like piping mine on with a star tip.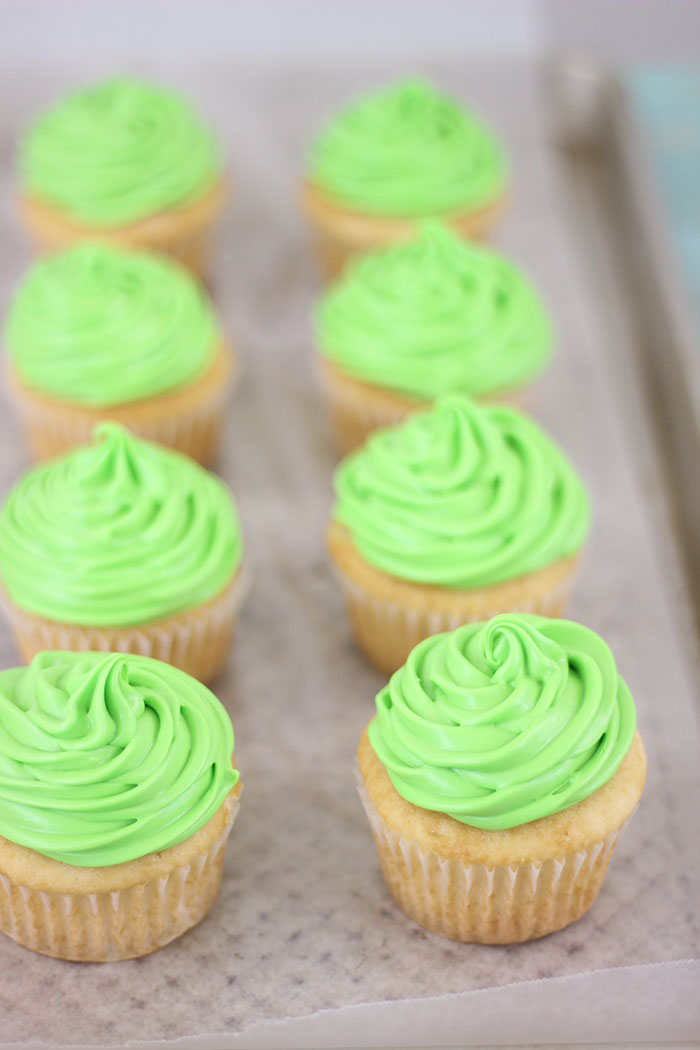 Once all of your cupcakes are frosted, sprinkle your green Nerds candy over the frosting.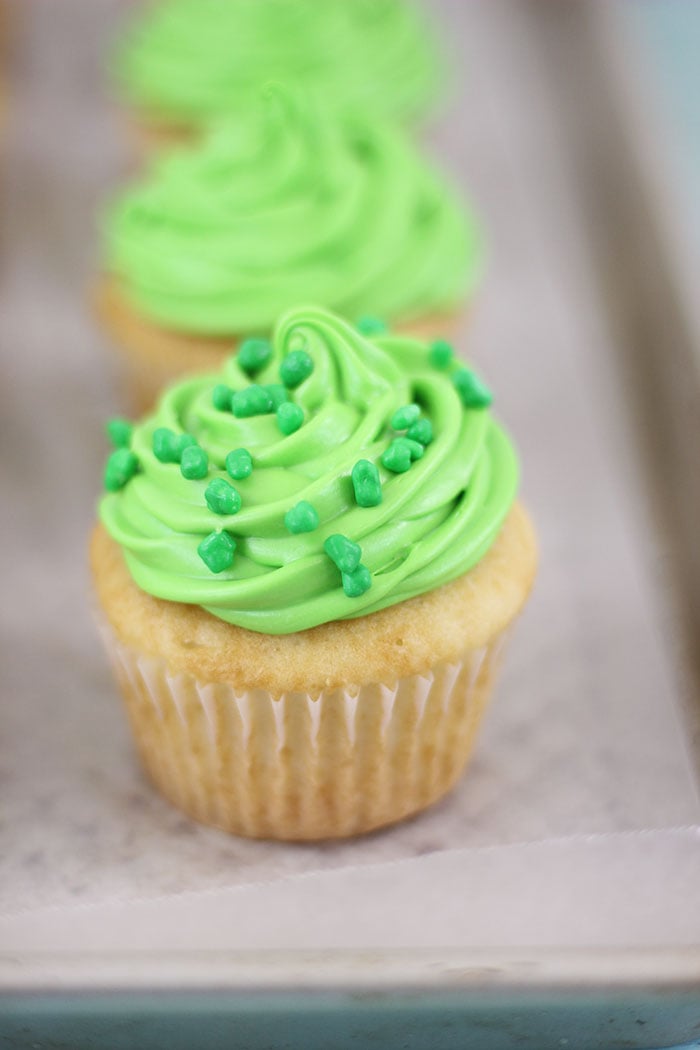 Immediately store your cupcakes in the FREEZER for 30 minutes before making the glowy frosting.
Blacklight Frosting
For an added touch of glowy magic, tonic water and a blacklight is the secret key. These won't do anything magical unless you have a blacklight. I recently ordered a blacklight flashlight to use personally. Tonic water essentially glows in the dark on it's own so it's a great way to get your recipes glowing. After researching how to make cupcakes glow, I found the answer: making Jello with tonic water. So, that's what we're doing to make these. After about 6 dips into the tonic Jello and some fast freezer action, something magical starts to happen... but only under a blacklight. So, don't forget that part. You can also completely skip this entire final process if you want to just make cute Ozonium themed cupcakes without the flair.
Here's what you need:
2 Cups of Tonic Water
1 Lime Jello Mix, 3oz
2 Tbsp of Sugar
To start this process, you will need to divide your cupcakes. We need to rotate the cupcakes in and out of the freezer in batches. So place between 4 and 6 cupcakes on their own plate and make sure they can all safely fit in your freezer before moving on.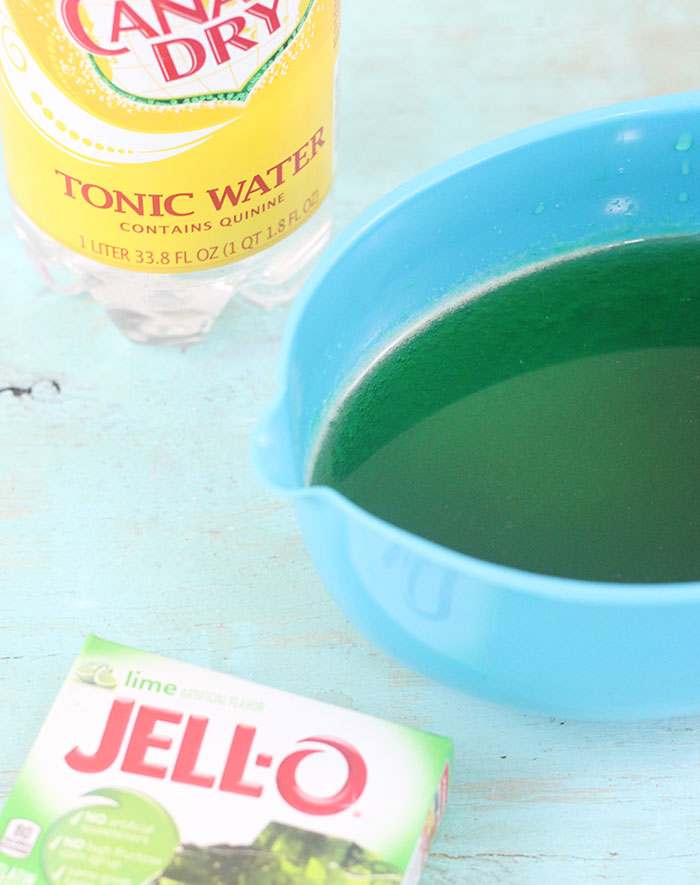 Once your cupcakes have been in the freezer for about 30 minutes, you can start preparing the glowy frosting dip. Here's what to do:
Bring 1 cup of tonic water to a boil and then add to a deep and narrow bowl. Mix the contents of the Jello along with the sugar until it's all dissolved. Immediately add 1 cup of cold water and mix. Now it's time to get the party started. Don't put the mixture into the fridge at all, we want it to stay liquid. This process is very fast moving, so get ready! I definitely recommend getting the family involved for this.
We will be dipping just the frosting part of each cupcake into the gelatin in batches and immediately returning to the freezer to set each time.
Repeat this process 6 or more times for each batch of cupcakes that you separated in the freezer.
Dip each cupcake into the gelatin mixture and return to the freezer to set for a few minutes in between. Repeat x6.
Once you have dipped all of the cupcakes, put them in the freezer one final time for about 10 minutes. Once the gelatin is completely set, you can remove them from the freezer to serve or store away for later.
Ah! A lot of magic instructions to make these, but so worth it under a blacklight. These cupcakes not only give off a little glow, but they turn purple and become mysterious looking under a blacklight. Fun!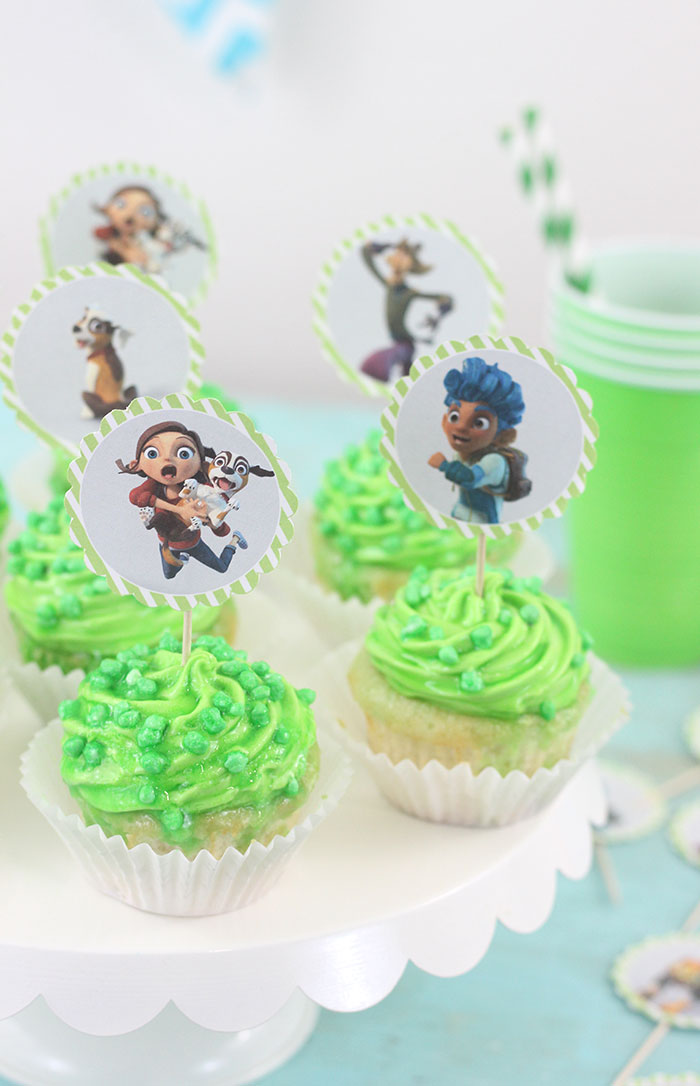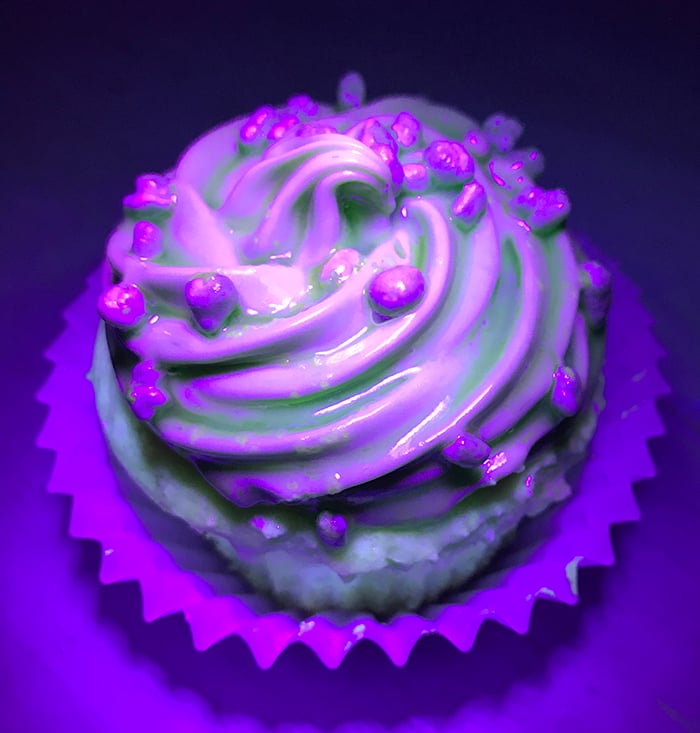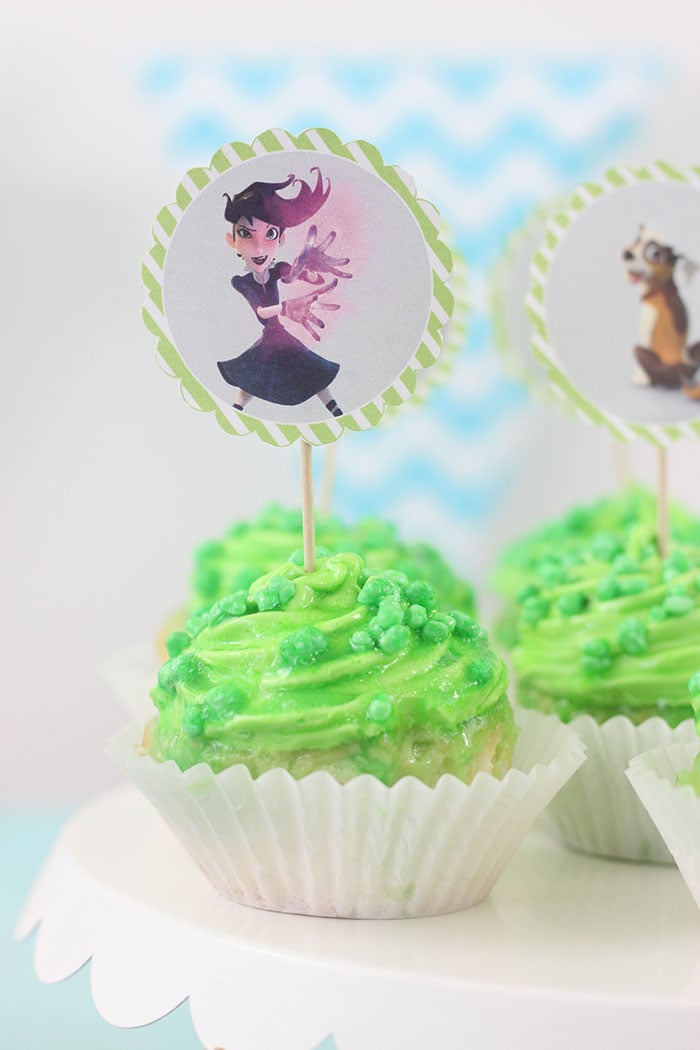 Now, it's time for some Kaplooeylooey Fruit Cupcakes. When you get lost in Oz, you soon learn that this coveted fruit will make you smile and turn your teeth into rainbow colors instantly. Sound like fun?
Kaplooeylooey Fruit Cupcakes
White or Vanilla Cake Mix with Neon Purple Food Coloring to Make Cupcakes. Follow directions on the box.
White Frosting mixed with Neon Purple Food Coloring.
Rainbow Colored Nerds Candy

Once your pretty purple cupcakes have cooled, using something like a apple corer to remove a small place in the center of each cupcake.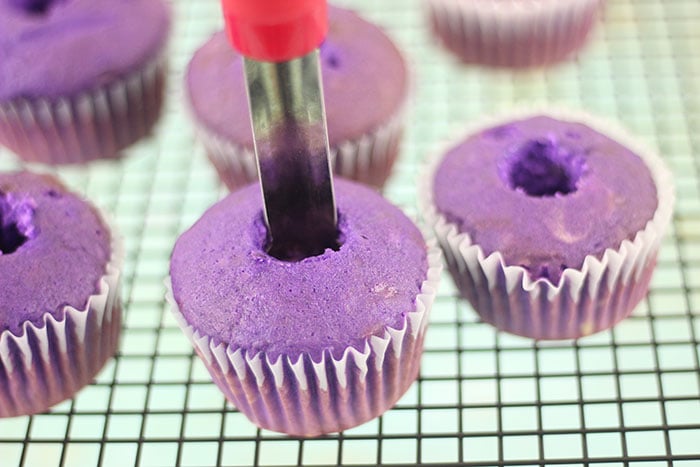 Then, fill each hole with rainbow nerds. Top each cupcake with a little bit of purple frosting. I also used a star tip for this to give it just a hint of a spiky look like the Kaplooeylooey Fruit.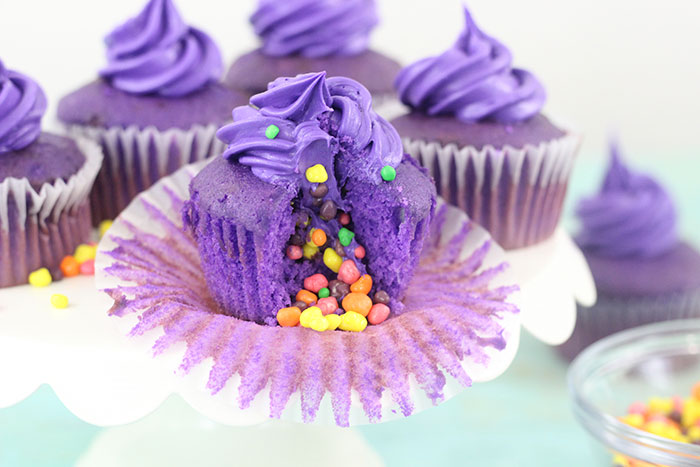 These perfectly purple cupcakes are so much fun, especially when the colorful candy spills out of the center.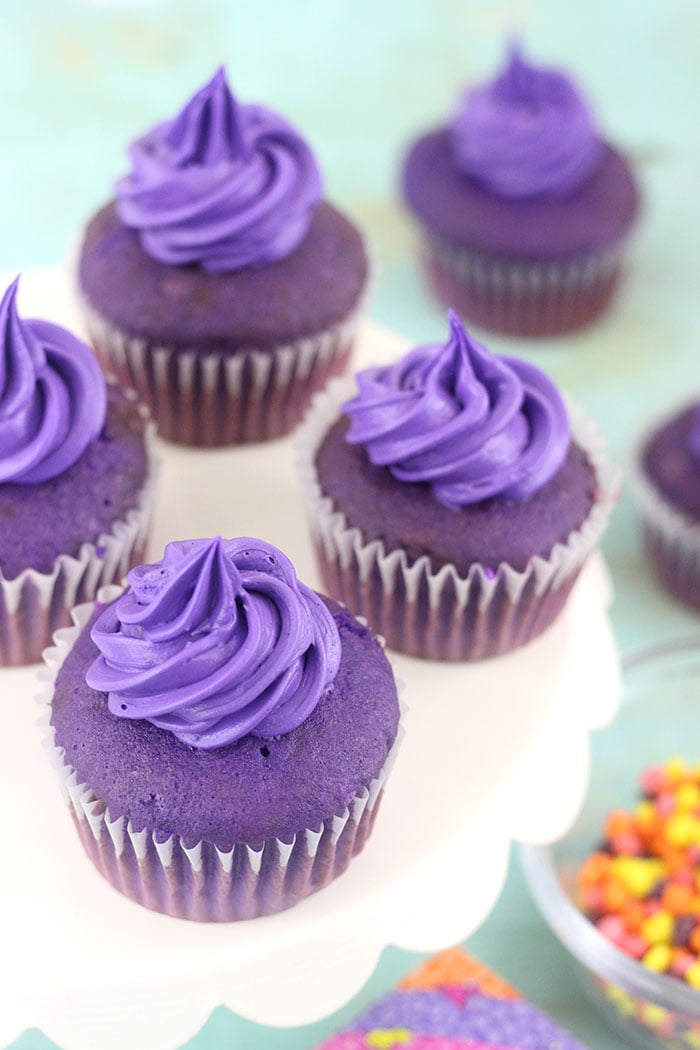 How is that for some cupcake fun?
Watch the Lost in Oz Trailer
Lost In Oz is available to stream exclusively for Prime members.
One of the many perks of being a Prime member is that you can also download Prime Video content to your mobile device for offline viewing at no additional cost. Great for when you're on the go with your family. Browse all the Amazon Original Kids Series at www.amazon.com/kidsoriginals.
Stay in the loop with Amazon Kids by following on Twitter, Instagram and Facebook.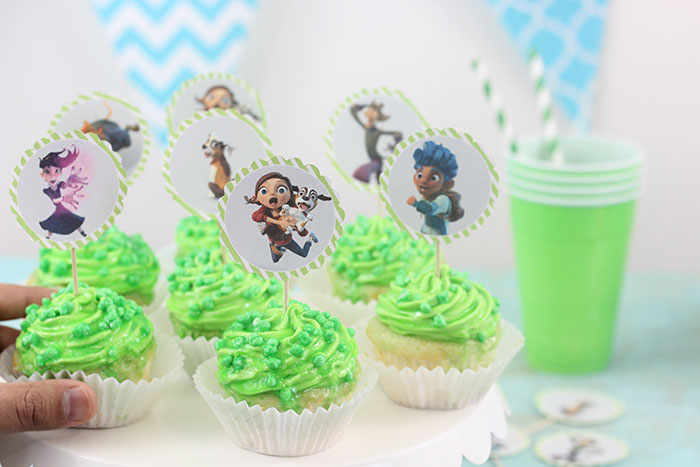 When are you planning a Lost in Oz cupcake viewing party?