There is nothing as delightful as a slow cooker meal, they're easy to prepare and the house smells fantastic. It's certainly a big family favorite here as you probably already know. Maybe you've been eating a Paleo diet or maybe you're curious about how to get started. Either way, you're in for a treat today. I've collected some delicious sounding Paleo slow cooker dinner recipes that will be perfect for fall. Who said you couldn't eat comfort foods on this eating plan? These warm and savory recipes will show you that you can.
Using Paleo friendly ingredients like meats, vegetables, herbs and spices, the recipes that I scoped out pack a tasty punch. Some of the recipes are classics re-made and others are more daring and unique. From chicken soup to meatballs all the way to jambalaya, get ready to explore some new recipes for your slow cooker this fall.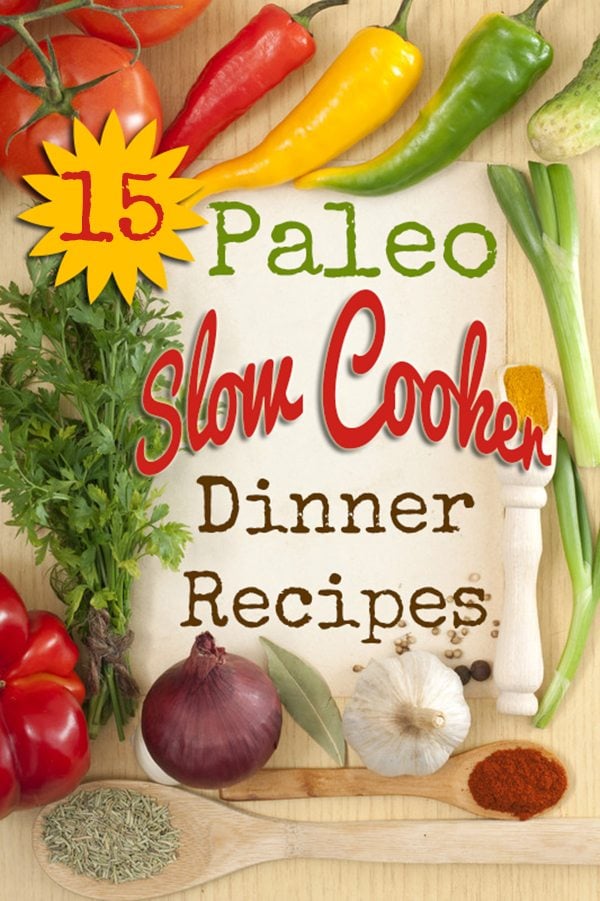 Ready to take your senses on a journey?
15 Paleo Slow Cooker Dinner Recipes for Fall
1. Paleo Chorizo Stuffed Peppers – I don't know about you but I adore stuffed peppers. Skipping on on the rice isn't a problem with this meaty stuffing.
2. Slow Cooker Tomato Soup – The ultimate comfort food has turned Paleo!
3. Slow Cooker Chicken Pot Pie – Mmm I remember pot pie growing up, a great way to warm up. You'll never miss that other stuff with this tempting recipe.
4. Stupid Easy Paleo Spaghetti Squash & Meatballs – I love excuses to eat spaghetti squash, these slow cooker meatballs round out this satisfying meal.
5. Paleo Vegetable Chowder – I love a good creamy chowder, this recipe aims to please.
6. Ground Beef Paleo Meatloaf – Meatloaf in the slow cooker? Please sign me up!
7. Chicken Breasts Stuffed with Sundried Tomatoes – Huge fan of sun dried tomatoes, why not stuff chicken breasts with them and toss them into your cooker. Sounds like a heavenly dish.
8. 5 Ingredient Roast – It's said that this Paleo recipe is as easy as they come. Check it out.
9. Clean Eating Thai Chicken – Have I ever told you how much I love the flavors in Thai foods? This clean eating slow cooker recipe sounds amazing and without all the extra stuff.
10. Pulled Pork Chili – Loving this twist on traditional chili, adding pulled pork sounds like the perfect way to try something new this season.
11. Carne Asada Lettuce Wraps – I love using lettuce wraps, great way to enjoy the flavor without the processed carbs.
12. Paleo Slow Cooker Chicken and Vegetables – This combo of chicken and veggies looks like a well rounded way to enjoy a filling Paleo dinner.
13. Hearty Beef Stew – Another classic comfort food made into a Paleo friendly dish.
14. Crockpot Jambalaya – Hmmm. Ready to spice up your night? This jambalaya dish seems like it could do the trick!
15. Pork and Green Chile Stew – Loved the idea of this unique combination of flavor. Pork and green chiles in stew form. Yum.
How is that for perfect tasty comfort food?
Which slow cooker recipe do you want to try first?