One of my very favorite meals is breakfast. Okay, fine you caught me. I do like every meal, but there is something extra delish about breakfast. Which, by the way I'd gladly eat for lunch or dinner! Throw a good slow cooker recipe that's made for a crowd and I'm all in.  This is a sponsored post by Lunchbox about Kraft holiday recipes, all opinions are my own.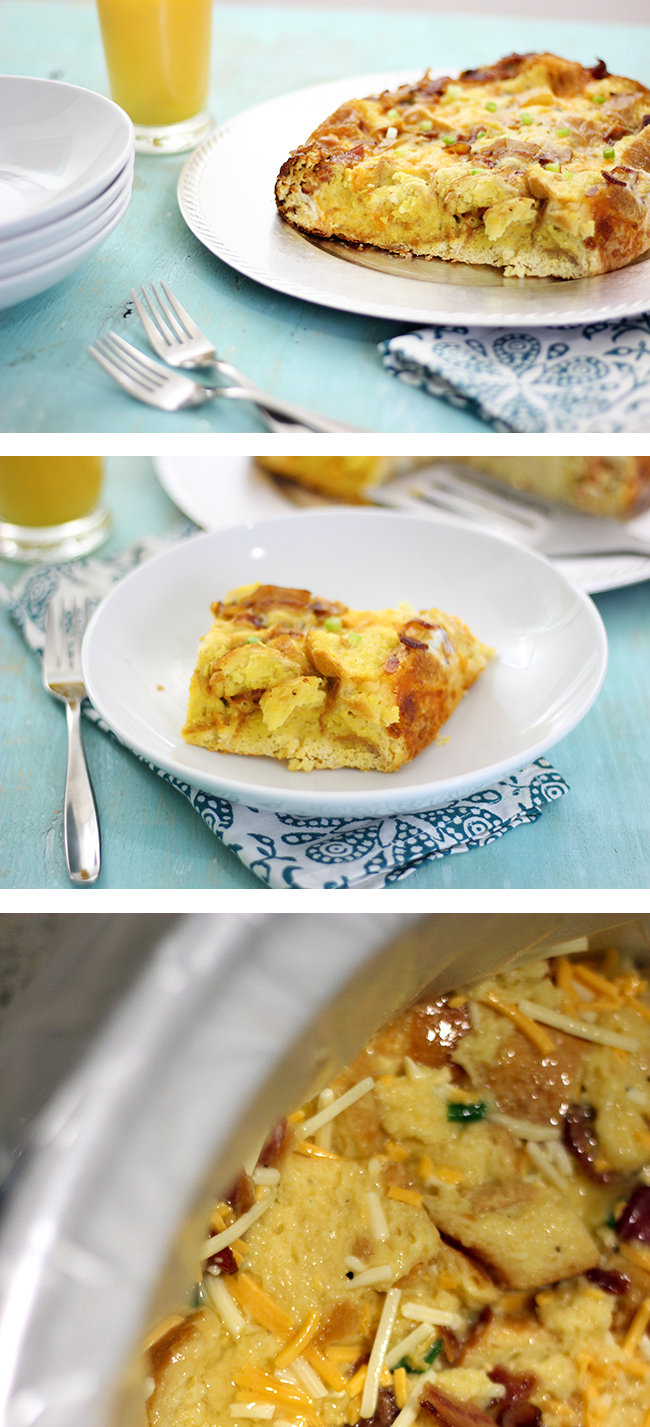 Matter of fact, I LOVE waking up on Christmas morning to a hot delicious breakfast that's ready to eat. That delicious scent of breakfast luring me out of bed knowing that an amazing day is just awaiting me? Someone get the coffee brewing, cuz' it's gift time! 😉 I jumped a little too far in the future, but it's clear I'm excited.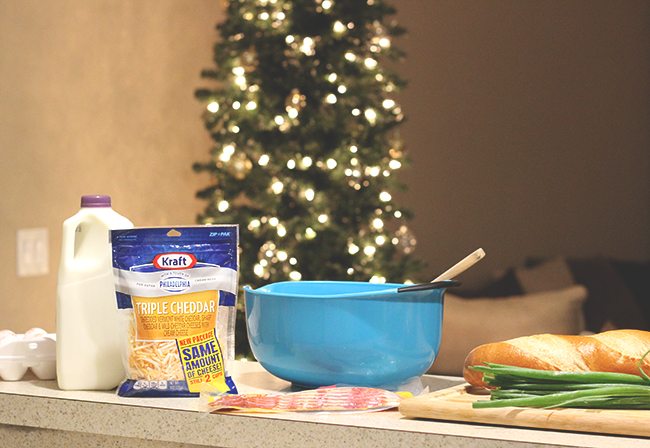 I've made slow cooker breakfasts before but this was the first time I've done a Strata. Essentially that means it has bread in it. Toasted French bread cubes to be exact. It's SO good. This recipe among many others is from the Kraft recipe hub over at Walmart.com.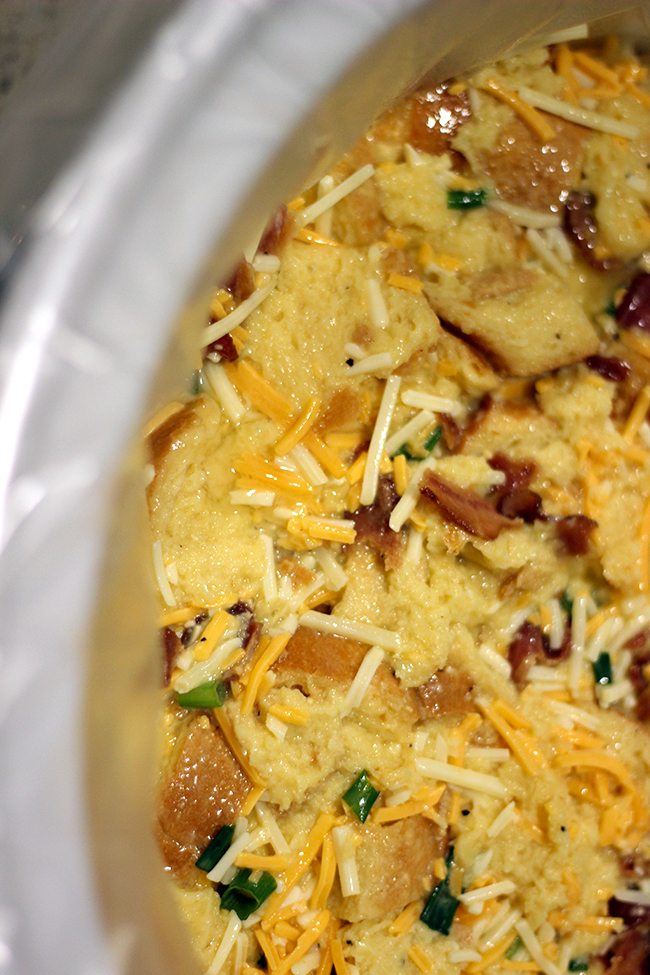 Are you ready to plan your future breakfast? This recipe is courtesy of Kraft and Walmart.
Foil is recommended as a liner in your slow cooker, I used a slow cooker liner instead and it worked awesome.
Slow Cooker Cheesy Bacon Strata
Ingredients
10 eggs
2-1/2cups milk
1/2 tsp. black pepper
1 pkg. (8 oz.) KRAFT Shredded Triple Cheddar Cheese with a TOUCH OF PHILADELPHIA, divided
16 slices French bread (3/4 inch thick), toasted, cubed
10 slices cooked OSCAR MAYER Bacon, crumbled
4 green onions, sliced
Instructions
WHISK eggs, milk and pepper in large bowl until blended. Reserve 1/2 cup cheese. Add remaining cheese to egg mixture with all remaining ingredients; mix well.
CUT 3 (30-inch-long) sheets of foil. Fold 1 sheet lengthwise in half twice; repeat with second sheet. Fold remaining sheet to fit inside back edge of slow cooker; place in slow cooker. Crisscross foil strips; use to line bottom and sides of slow cooker. Spray inside of slow cooker with cooking spray. Add egg mixture. If necessary, press toast cubes into egg mixture with back of spoon to completely moisten toast cubes.
COOK on LOW 4 hours, sprinkling with reserv,ed cheese for the last 15 min. Cool slightly. Use foil handles to transfer strata from slow cooker to platter; discard foil.
7.8.1.2
203
https://cutefetti.com/slow-cooker-cheesy-bacon-strata/
Once it's done cooking, it's ready to go. How easy!? I just pulled out my liner and gently removed the strata. Instant hit and I'll be doing it all over again next week. Can't wait!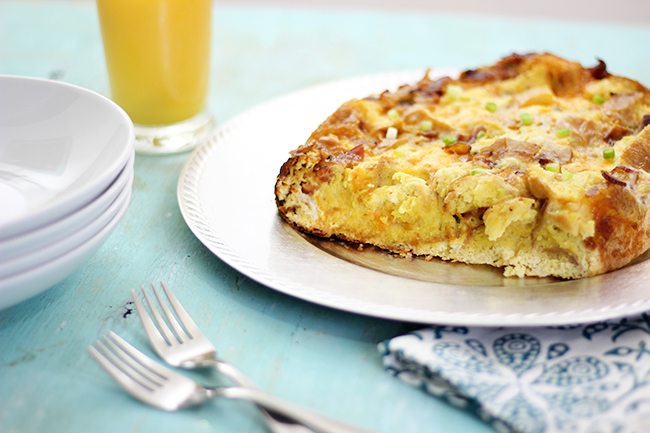 Want more delicious holiday recipes?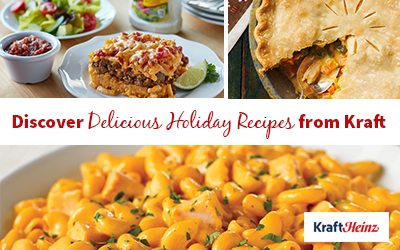 Try not to drool on your keyboard!
Buffalo Chicken Mac

Creamy Turkey & Noodles

Savory Mini Cheese Balls

Zippy Turkey Pot Pie

Cheddar & Sausage Cheese Board

The Single-Best Cheeseburger

Taco Bake

Cookie Butter Cheesecake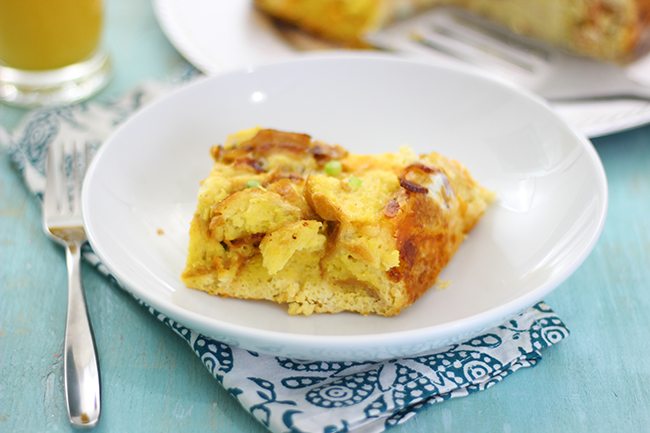 Snag up these Coupons on your Kraft favorites too and SAVE even more at Walmart. Every penny counts this time of year!
Which of these delicious Kraft recipes do you want to try first?