So we're almost there. The final stretch for the football season and no-doubt the most exciting. Have you ever wanted to throw an awesome tailgate party or tailgate themed party at home? I'm sharing some inspired ideas on how to make it happen the easy way. Daina Falk of HungryFan.com also shares her simple tips, tricks and ideas with us so we can get our party started. So, rev up your engines and get ready to par-tay! This is a sponsored post, regardless all opinions are mine.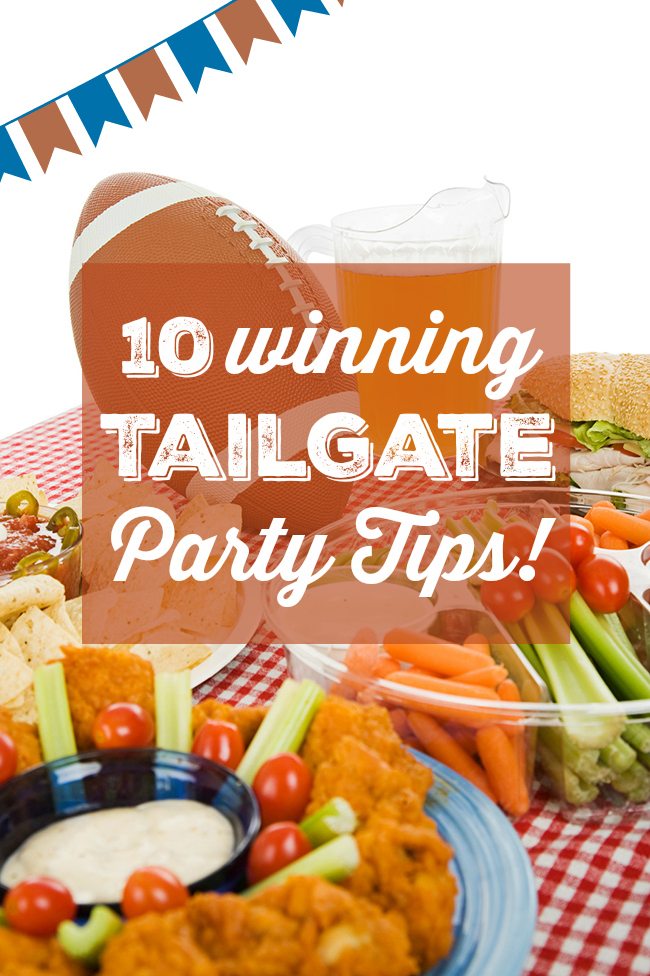 Tailgate Party Tips
Break it up. Daina Falk likes to break up her party like a football game. This is brilliant. Instead of trying to prepare a gigantic spread, simplify it by breaking it up into four. Simply plan to serve something new each quarter. For example, nuts for the first quarter, specialty drinks for the second, wings for the third and maybe a little something sweet for last quarter.
Elementary Decor. Don't go crazy and spend a ton of money on party decorations that can only be used once a year. Use elementary school basics like tissue paper, construction paper and a clip board to create simple decor. Make sure to grab your favorite team colors.
Serious Sideline. Boost party excitement by picking a pack of noisemakers up, check the party section at your local dollar or discount store. For a buck or two, you can easily add to the fun level of your tailgate party.
Simple sips. If you're going to offer something fancy, stick to just one or two signature drinks. Keep it easy. Another thing I like to do is store single serve drinks in a cooler filled with ice, even if your party is indoors. It adds a fun tailgate feel and you don't have to run back & forth to the kitchen to make or grab custom beverages. Win!
Go nuts. Nuts are definitely one of those game day tradition not to overlook. Daina talks about some of the awesome flavored pistachios that will keep your guests satisfied. From Salt & Pepper Pistachios to Sweet Chili flavored Pistachios by the Wonderful brand. Nuts are the perfect no fuss snack to rely on for the big game.
Platter time. Don't be afraid to pick up a pre-made veggie or fruit and dip platter at your local grocery store. You'll shave a ton of time off of your preparation time and everyone will love it.
Go Big or Go Home. Whether your party is at home or in the parking lot, prepare as much food as you can in advance. Use large aluminum foil food containers to keep things fresh and/or warmer.
Team Sprinkles. To seal the deal with a game day theme, serve up something sweet. It's as easy as buying or making your favorite dessert and simply adding your teams colors in sprinkles.
Games for Game Day. It's long been a thing at our house, my son is always psyched out to play a quick game of catch after watching a big game. Make sure to have a football on hand for your party and get a little fun going (won't hurt to burn off some game day calories too!)
End Zone. Make sure to plan for an easy clean up in advance. Have a trash can for a home party or garbage bag visible for a true tailgate party outdoors to encourage guests to use it. Have a plan for leftovers, have your chip clips, plastic storage bags or containers ready to roll when the party is over.
Visit www.getcrackin.com for more tasty ideas for your tailgate party.
Hope you found some fun game day tailgate ideas, what else you planning for the perfect party?