Nom. nom. nom. I am literally enjoying a more cookie and creamier cookies & cream ice cream sandwich right now. What's summer without a dreamy ice cream treat? It's a great way to kick off the last weekend of July, if you ask me. With the help of FatBoy ice cream sandwiches, these decadent treats are easy to make. Let's enjoy! This is a sponsored post about FatBoy ice cream sandwiches, all opinions are my own.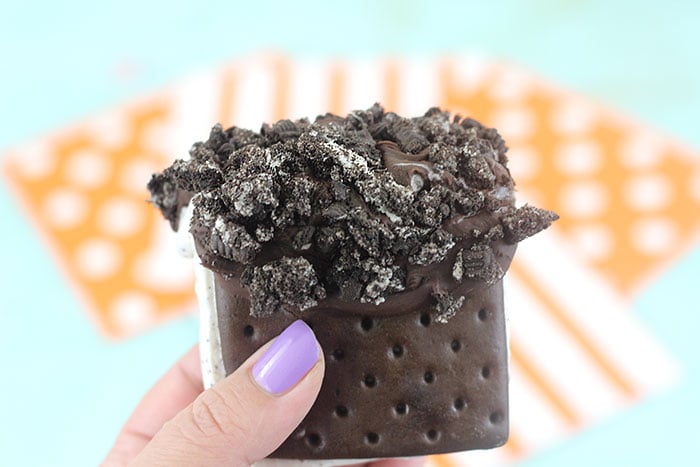 Have you tried FatBoy ice cream sandwiches yet? This was my first time and I have to admit, I'm loving that they have 25% MORE ice cream than some other brands. Speaking of MORE ice cream. I have a quick true story to share. Growing up, I would literally whine, fuss and even cry when I did not get the bowl with the most ice cream. I need to find out why my parents never bought FatBoy, since they've been around since 1925! I have some investigating to do. While I rarely cry over food at this point in my life, a good ole serving of ice cream is always in order for a tasty pick me up.
Ultimate Cookies & Cream Ice Cream Sandwiches
This week, I picked up FatBoy Ice cream sandwiches in their Cookies & Cream flavor and their S'mores. (insert heart eyes emoji here). They are both delish. I was challenged to make a FatterBoy recipe using one of their ice cream treats to see what I could come up with. I wanted to keep it simple yet over the top all at the same time. With minimal thought, I was able to find an easy way to cram in even more chocolate and cookies into this handheld bit of ice cream goodness. All it takes is some melted chocolate and crushed cookies to add on to this party for your mouth.
Want to make these? Line a baking sheet with wax paper first and remove all of the FatBoy Cookies & Cream ice cream sandwiches out of the packaging. Store them back in the freezer until you're ready to dip into the chocolate so they stay ice cold. Next, crush some chocolate and cream filled cookies and add them to a shallow dish for coating. Melt some chocolate chips low and slow in either the microwave or stove top. Once your chocolate is ready, dip the ice cream sandwiches into it. You might need to use a spoon to help coat, too. Then, immediately dip the chocolate into your dish of crushed cookies and place onto your wax paper lined baking sheet. Repeat until all of your sandwiches are looking loaded.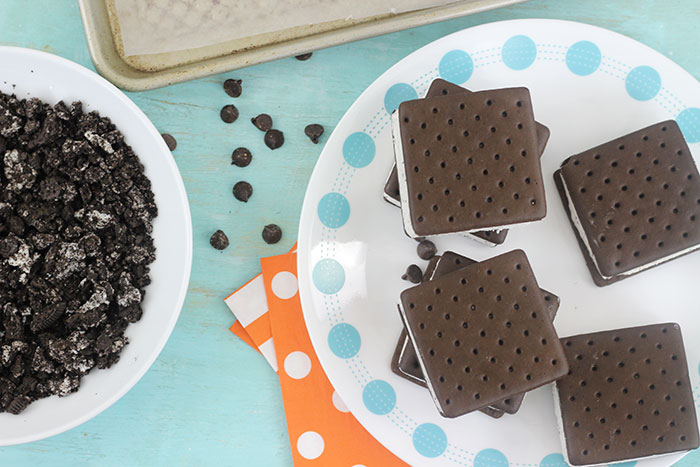 Stick the baking sheet into the freezer for about 20 minutes or until the chocolate has completely hardened. Then, you can either ENJOY or pack them up in a freezer safe container for later. Don't wait too long though, these ice cream sandwiches are seriously yummy.
Oh and if you're the type that needs an excuse to enjoy a treat like this, I have you covered. August 2nd is actually National Ice Cream Sandwich day.
So, there you go. You're welcome!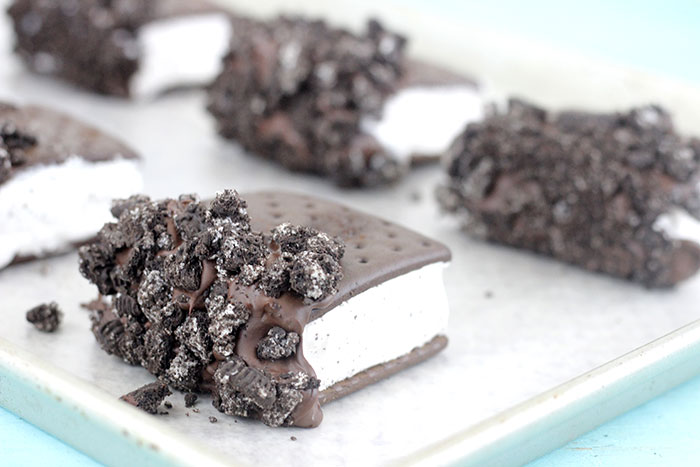 Have you tried FatBoy before? Stop everything you're doing and see where you can buy them right this instant.
Check out these yummy FatBoy hacks here.
How would you turn a Fatboy ice cream sandwich into a FatterBoy treat?