Have you seen cakes baked right into empty eggshells yet? I remember the first time seeing these and thinking about how darn brilliant it was and how much patience you must need. This was until my friend and new Homemaking Hacks helper shared just how simple it really was. I'd like to take a moment to introduce Kelly, who will be sharing awesome projects here from time to time. She is one of the most clever and creative people I've had the pleasure of meeting. I just knew I had to somehow convince her to share a smidgen of her awesome talents with HH readers. My plan has finally turned into a reality. Oh yay! I'm excited to be able to share even more fun crafts and hacks around here. Are you ready to see her ultra easy version of cake baked in empty eggshells? Here we go!

My version of the egg cake is super simple. Semi-homemade. ha! I used box cake and the simple icing recipe over here from this donut party idea. Everything else is stuff that I think all moms will already have in their pantry, food coloring, and sprinkles!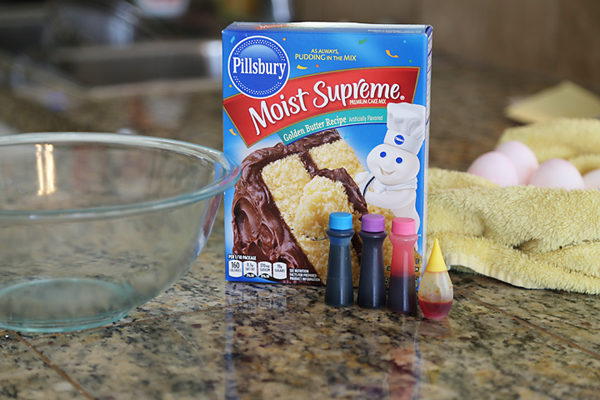 You'd think that this was time consuming, but it really isn't! I think what took the longest was my fails at dying the eggs and getting the egg yolks out. My son was SUPER excited when he got home and after telling him a million times, he now thinks I'm a rockstar! WIN!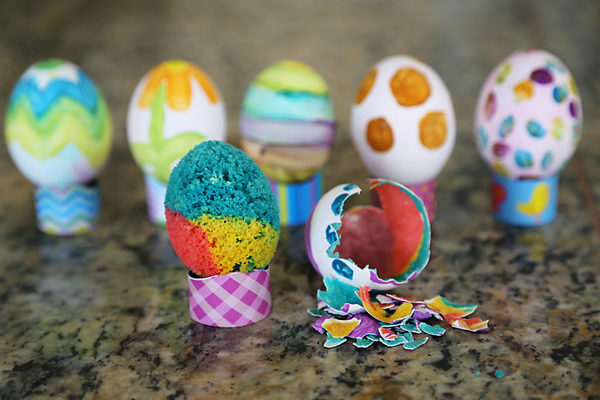 Anyways, the list for what you'd need to recreate this fun Easter project is really small, with BIG fun.
10 Large eggs (3 of the yolks were used in the boxed cake - zip locked up the other 7 yolks for another use another day)
Decorating materials: kids paint, markers, stickers...etc.
Cake decorations: icing, paint brush, sprinkles, little candies
Mini muffin tin.
If you don't have a mini muffin tin, you can use a regular one, make birds nest shapes out of tinfoil (like they've done in the video tutorial here). The eggs should stay put when placed in the center of these "nests" when it comes to the baking step.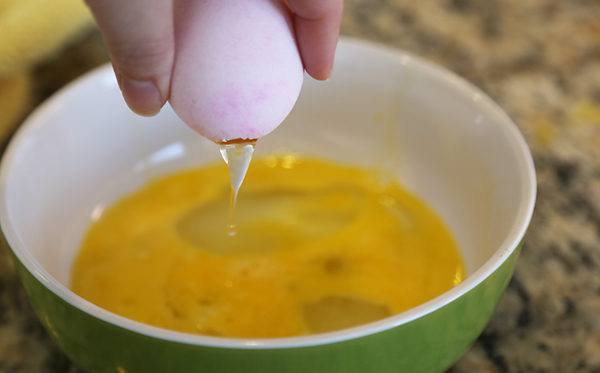 First things first. Get the Yolk of the egg! You'll want to poke a hole in the bottom end of each egg (the bottom end is the rounder/bigger side). I found using a paring knife to "peck" then peel away a small hole was easier. I may have busted an egg just by banging the hole bigger. I used a wood skewer to help guide the yolk out (aka by plunging the snot out of it!)
Give the eggs a quick rinse and then submerge them in salted cold water for 30 minutes. While they're in the salt water, mix up your box cake!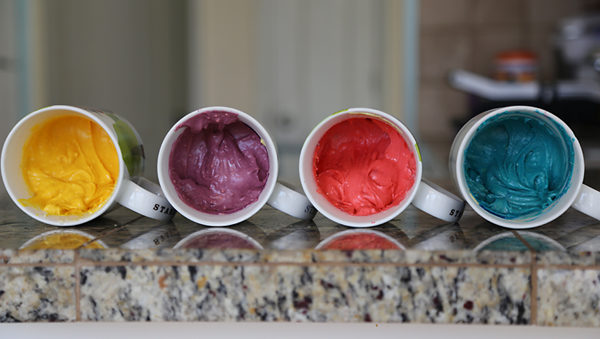 I went with 4 colors. After following the boxed cakes directions, I separated the batter in to 4 cups and added the colors to each one. I used Ziploc baggies for each color, filled each one up, and snipped a corner.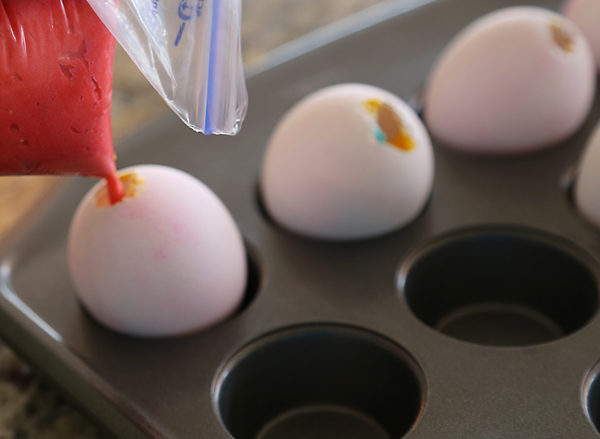 I drained the sink that had my eggs soaking and rinsed each egg out. I then placed them on a towel, hole side down to dry. Once dry, I put them in the muffin tin and used my colored batter in the Ziploc bag. I proceeded to fill the eggs up while alternating the colors. I would recommend only filling the eggs ¾ full. The batter will overflow, but that's a fast/easy fix. It will wipe right off.
Put in the oven at 350° for 20 minutes, or until a toothpick comes out clean.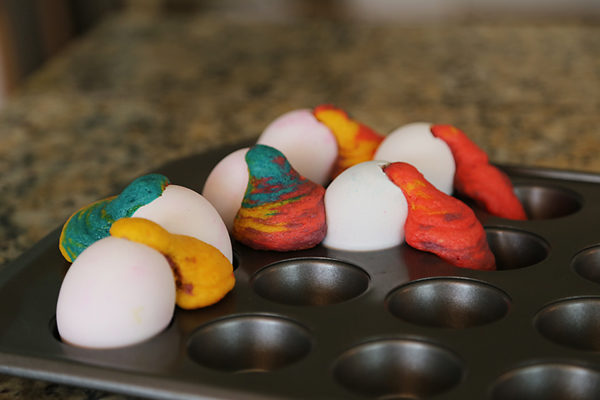 Once done, remove the tin from the oven and let the eggs cool. There will probably be batter that came out during baking, so just take a knife & scrape it off. It comes off easy and then you can use a damp cloth to clean up the sides.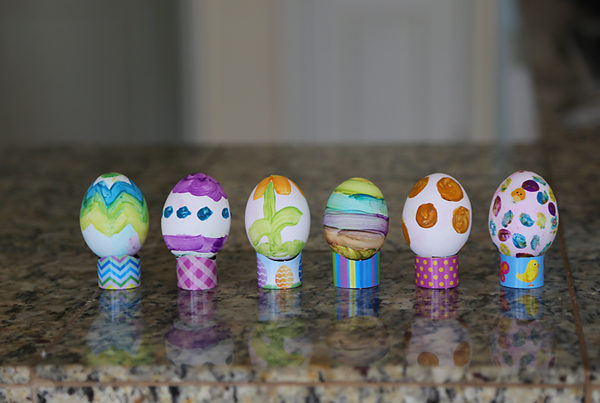 Your eggs are now done! You can let the kids get their craft on by decorating the eggs! We painted ours and used stickers. When the paint dried, I set up each area with a plate, paintbrush, icing, and sprinkles. Let the kids have fun!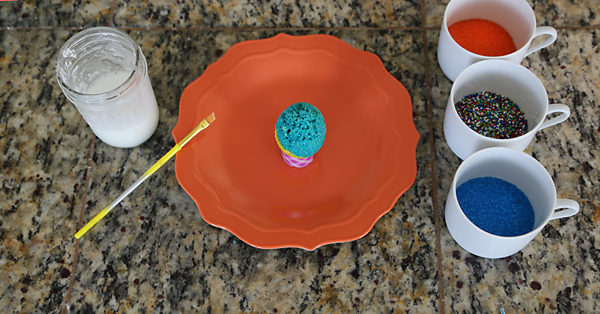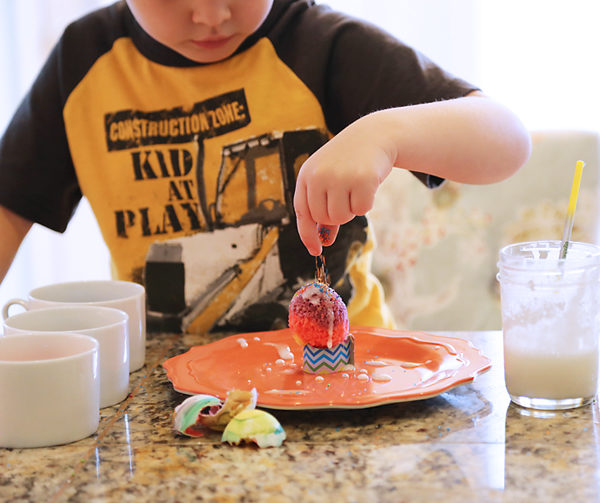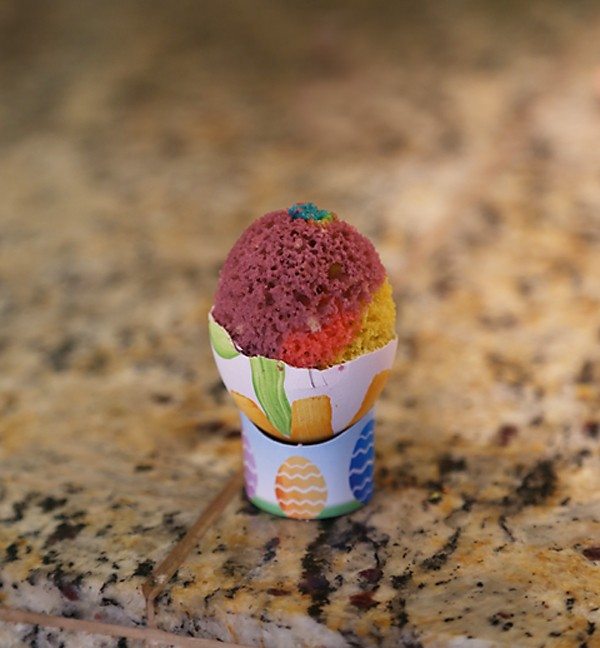 It was a super fun project and the end results were adorable!
What do you think? Would you give these a try?