This is a sponsored post written by me on behalf of SOLO® Brand Products. All opinions are 100% mine.
It's almost Thanksgiving, which means holiday parties are being planned as we speak. I can't be the only one that loves hosting parties, but not the chaos that can be a big part of it all. Not to mention the mess that needs to be cleaned up afterwards. Makes me tired just thinking about it. I'd rather be focused on friends, family and the raw joy of the season. I've brainstormed some really easy ideas using SOLO® products for creating a memorable get together without all the stress! Sounds pretty good, doesn't it?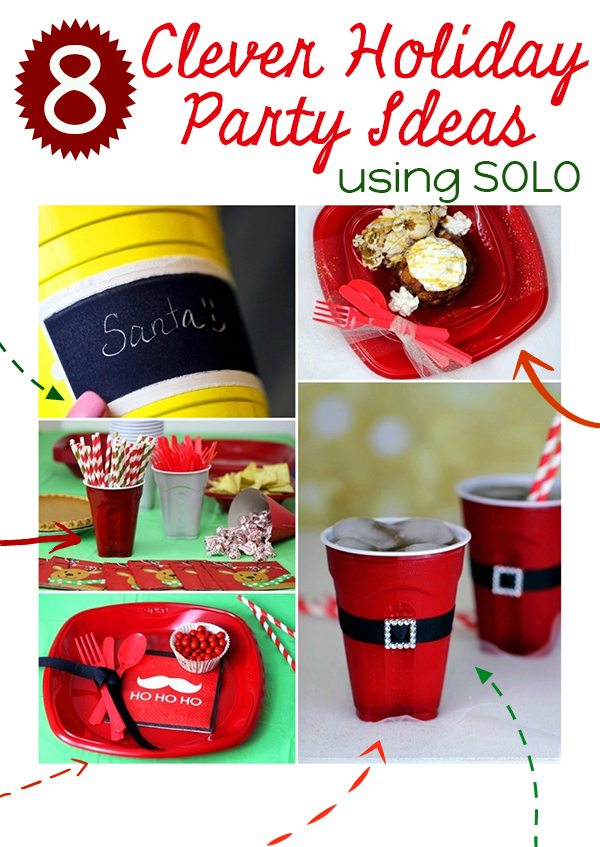 8 Clever Holiday Party Ideas using SOLO
®
We've been using SOLO® products for as long as I can remember, they're kind of a classic party product. Don't be fooled by other red cups out there, only SOLO® is squared. I just stocked up for the holidays because they're seriously sturdy. I feel pretty confident that we won't have any leaky cup messes to clean up. Now, let's get to these clever ideas I've been blabbing about, shall we?
1. Use SOLO® cups for holding utensils. They make the perfect no-fuss way to keep things simple and ready to serve a crowd. No need to break out the fine china, I think this will keep your party just as tidy all while keeping up a fun up-for-anything party theme.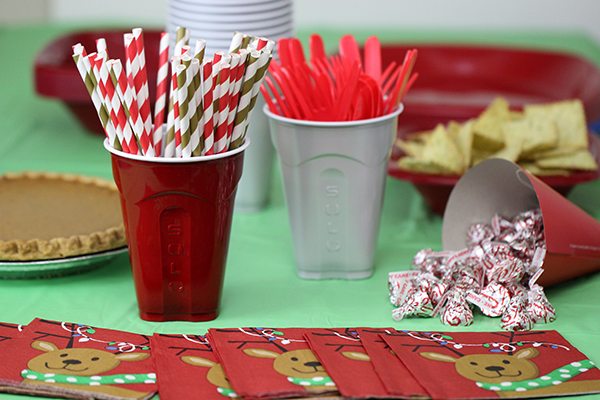 2. Use SOLO® Squared Plastic Plates to dress up your party. I'm really digging the new squared design for a fancier look and these plates are unbelievable sturdy too. Just because it's disposable doesn't mean you can get all fancy with it. The addition of a simple ribbon to tie up utensils, a nice themed napkin and cupcake liners filled with a treat can make a really stunning place setting.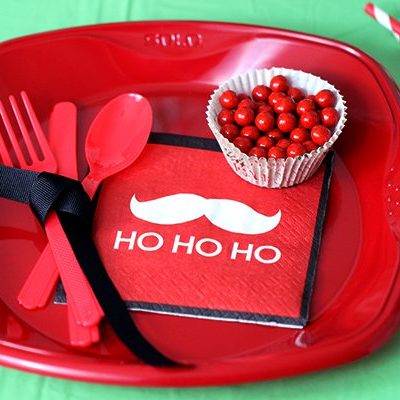 3. Get fancy with dessert. For a dashing way to serve dessert, place a SOLO® Squared Plastic Bowl on one of their squared plates. I added a strip of glittered tulle between the bowl and plate and then tied some utensils up with a bit of it too. It's a really cheap way to glamorize!
4. Personalize it! Guess what? You can now easily personalize cups with the new My Solo Cup®. All you have to do is peel back to reveal a chalkboard like name tag on these cups. Then, you scratch in the name. I don't know about you, but one of my biggest party pet peeves are misplaced cups. Label it and chances are, you can keep it to only one cup per person. Whoo hoo!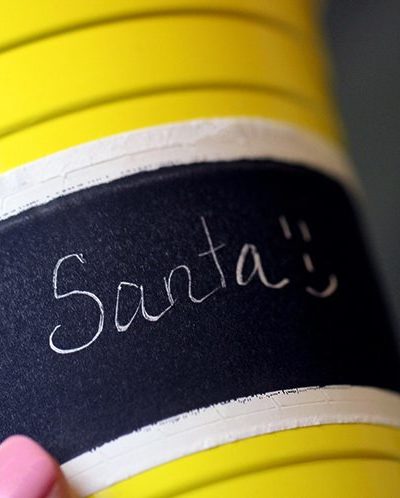 5. Santa's Milk & Cookies. Kiddos will be delighted that they can help write Santa's name on a cup, fill it with milk and leave him some cookies on Christmas. Just don't forget that you did this after the kids fall asleep. Wink wink.
6. Turn a SOLO® cup into Santa. I have to go on and admit that this is my favorite idea. I took plain black ribbon, buckles and glue to attached "Santa's belt" around my red SOLO® cups. I found these cute buckles right at Walmart in the sewing section. They were under $1 for 2.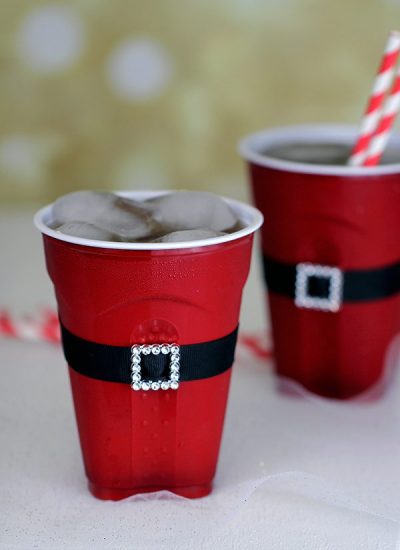 7. Serve veggies & dip in a cup. Put dip in the bottom of a cup and add fresh sliced veggies. Not only super convenient, but it also looks pretty cool in my humble opinion.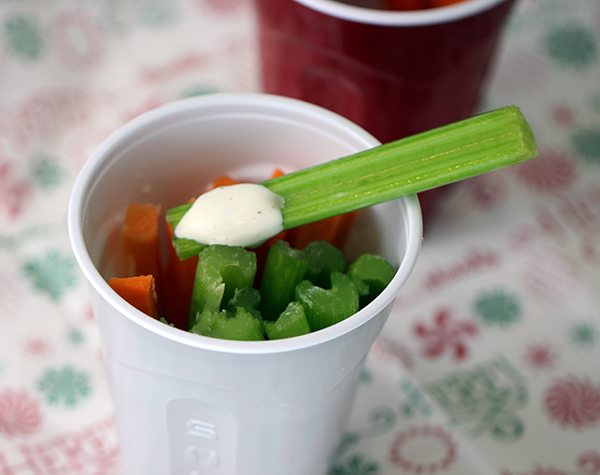 8. Use for Party Favors. Last, but not least, you can use SOLO® cups for party favors and gifts. Add tissue, tulle or other gift filler and tuck a small gift inside. Works great for adding holiday candy too and everyone gets a cute take away that only took you a couple of minutes to throw together!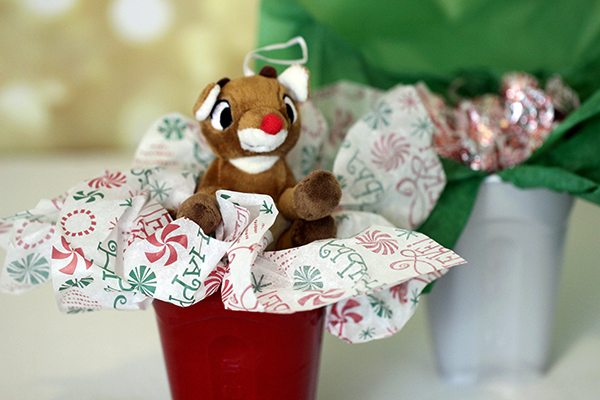 SOLO® also has so much more to offer for your holiday parties. They also offer Paper, Heavy Duty and Premium Strength products. A little something for everyone. Hope you enjoyed these simple, but clever ideas to make your holiday parties more awesome-er! Need to get in the party planning spirit, check out these cute SOLO® Up for Anything videos to get into the groove.

Want more clever ideas?
Be sure to visit SOLO's Pinterest page and like SOLO's Facebook page for good measure.
Do you have any fun holiday party ideas using SOLO® products? Share yours!