I haven't met many dips that I haven't liked, but this one is right up there with being one of the best ever. It's not only because of the out of the park flavor, it's also because I can't believe how easy it is to make a dip that tasted that darn good. Hence the reference to "mind blowing" dip up there in the title. There was quite a bit of rephrasing it for me. I started off with "best dip eva" but didn't know if you would get that I meant ever. So… you get what you get. Hopefully you "get" that I seriously LOVED this recipe! This is a sponsored post, all opinions are my own.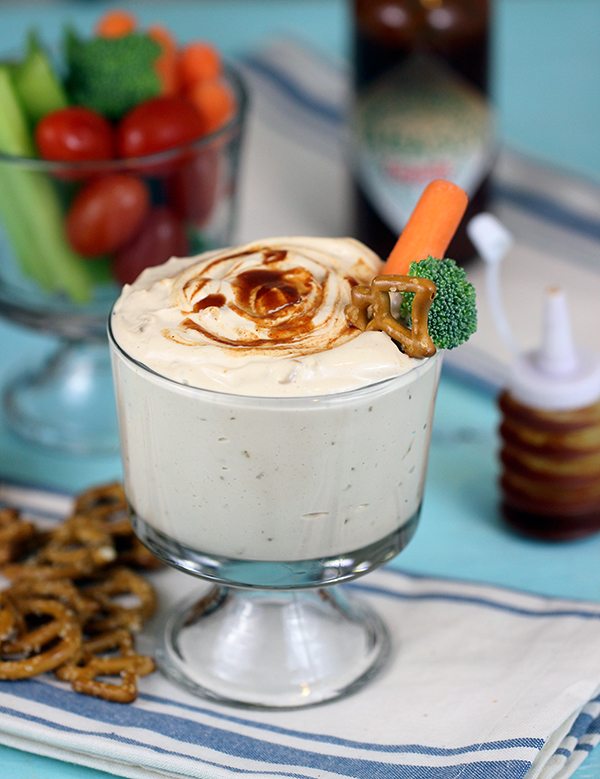 I'm always on the look out for delicious munchies for game day. I am still mad that we got our dates mixed up last week, but it's totally on this week. Whether you're tail-gating or just getting all snacky with the family, you can pick up all of your ingredients right at Walmart! Don't forget the chips and veggies to dip in!
Ready for this 4 ingredient dip that will blow your mind?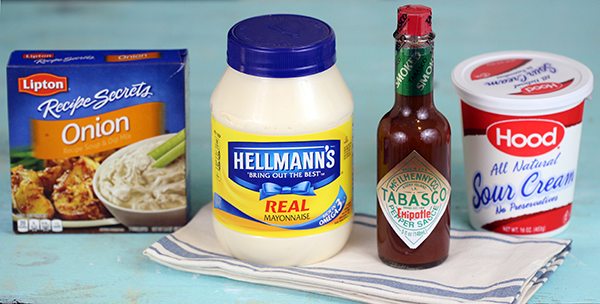 Make this?
TABASCO Creamy Chipotle Onion Dip Recipe
Ingredients Needed:
1 cup Hellmann's Real Mayonnaise
Add in 2 Tbsp. TABASCO Chipotle Pepper Sauce or 2 Tbsp. TABASCO Original Pepper Sauce
Stir in 1 envelope Lipton Recipes Secrets Onion Soup Mix
Blend 1 cup sour cream
Directions:
Chill if desired. Serve with your favorite dippers. I used fresh veggies and pretzels. Chips, tortillas, pretty much anything dip worthy would taste might delish in this dip.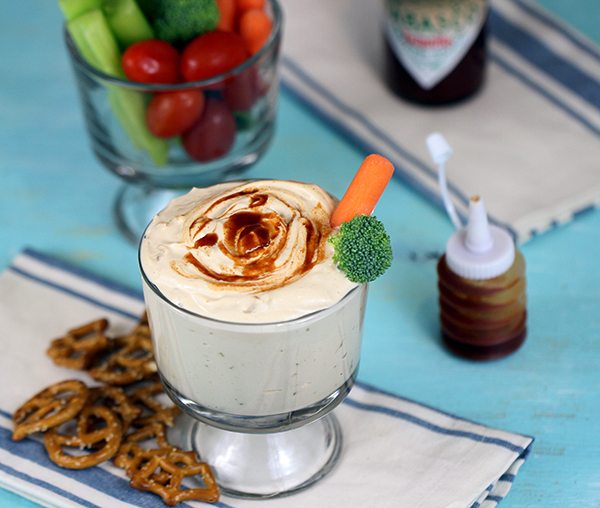 I opted to try the TABASCO Chipotle Pepper Sauce in mine since I had never tasted it and plus we love smoky chipotle flavors. It was a definite win. I'm definitely keeping this sauce on hand for future creations. It's oh-so-good.
Try before you buy!
Visit your local participating Walmart to see creamy chipotle onion dip being made. Pick your favorite dip delivery snack (chip, pretzel, etc.) and give it a try.
Find an in-store demo near you from October 23rd – 26th.
Which will you be adding to your dip? TABASCO Chipotle Pepper Sauce or TABASCO Original Pepper Sauce?