We just celebrated mom, now Father's Day is in the horizon. I am so excited to be sharing a guest project from Olivia at DIY Mother. She is so clever and crafty, so I know you are going to really enjoy this special treat! Can't wait to see what you think! This post contains affiliate links.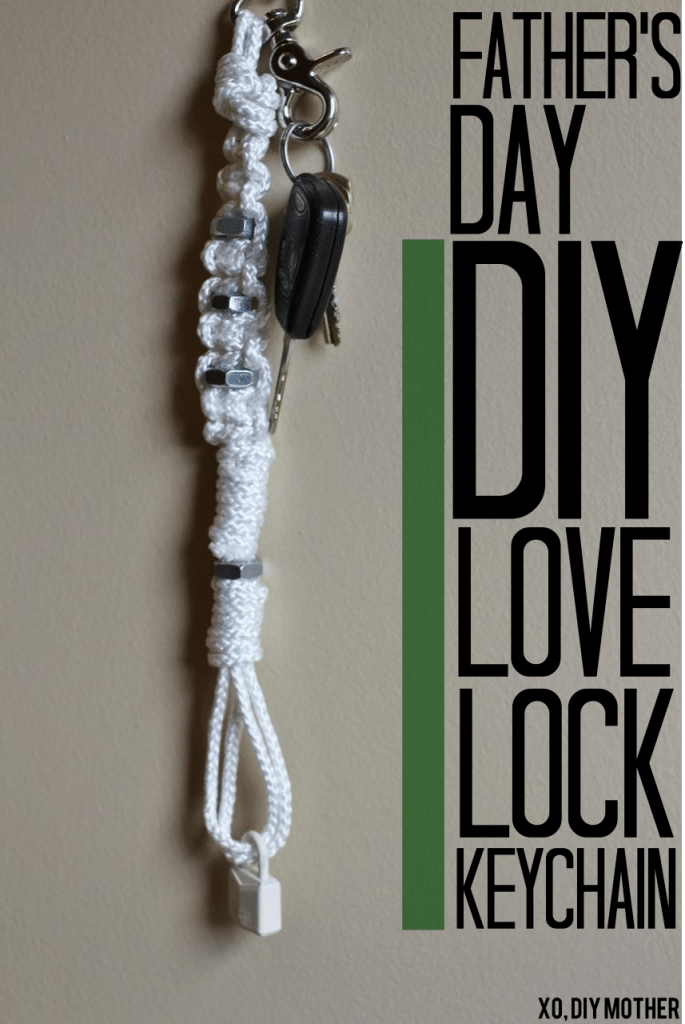 My husband is still a relatively new father, but I've come to realize a very important thing in the (almost) 2 years we've been parents: Even though he may not know the inner workings of our home on a day-to-day basis, he is more sentimental than he wants me to believe he is.
So this Father's Day, I decided to take a little bit of inspiration from a place we probably won't be able to visit for another 10 years: Paris. More specifically, Pont de l'Archeveche. People go there and attach padlocks to a bridge overlooking the Seine RIver. Before they fasten their locks to the bridge, they adorn the lock with their initials, or a special message.
I would love to bring our family to France one day, and Paris is a place we've always dreamed of visiting-so I decided to make my husband a love lock keychain from the kids and me. That way, when we finally do go, we have something to put on the fence.
Hey, at least it's not a tie or coffee mug, right? Here's what you'll need:
Polypropylene cord
Snap hook
Nuts (or beads, if you prefer)
Padlock
Spray paint
Sharpie (optional)
1. First, take your two pieces of cord and thread them through the bottom of the snap hook so that there are 8 pieces hanging. Tie a knot toward the top to secure the cord.
2. To create the macramé part of this keychain, all you have to do is tie a bunch of square knots. They're super easy to do.
You will be working only with the outer two pieces of rope. The inner two won't move. Take the piece of rope on the far left and fold it over the two inner pieces and under the outer piece on the right. Bring the outer piece on the right under the two inner pieces and up through the hole. Pull it taut.
Repeat this process using opposite pieces of rope. Again, the inner pieces will never be used. Just go back and forth with the square knot technique, switching the pieces of rope you use each time.
3. Once you have about 3-4 square knots done, thread a nut using the inner two pieces of rope. Then, make another square knot around the nut and continue the process. You can add as many nuts as you want, or switch them out with beads if you prefer.
When you've reached the bottom of the keychain, fold the remaining loose cord into a loop and tie a gathering knot around it. You'll hang the padlock on the loop.
I didn't take pictures of this part because I needed both of my hands, but gathering knots are generally used to finish off macramé projects. Check out this tutorial for a better explanation.
4. Attach the padlock to the loop, and you're done! I spray painted the padlock white and originally wrote my daughters' initials on it, but spray painted over it when I realized that my penmanship is laughable.
What do you think? Do you have any creative ideas for Dad's day gifts? Any projects that your kids can help you with?