It's almost summer time and that means more reasons to celebrate. Hosting parties can be so much fun, but they can be tiring, especially when it comes to clean up. I've whipped up some seriously easy tips to create your own decor in literally under an hour! I'll also share easy clean up ideas, because after a fun and successful party you deserve a big break!
1 Hour DIY Party Decor and Easy Clean Up Tips
Creating your own party decor will help make your party a success! The best news is that it's probably a lot easier and less expensive than you think! With the help of basics and simple color coordination, you can make all different types of matching party goodies in under an hour.
* Choose your color theme first. I chose to make pink party decorations to show you how simple it can be. You can use solid colors or a design. To make this decor, you'll need string and your choice of colored tape. It can be colored masking tape or washi tape. There are many brands that sell it, you can find it at most stores.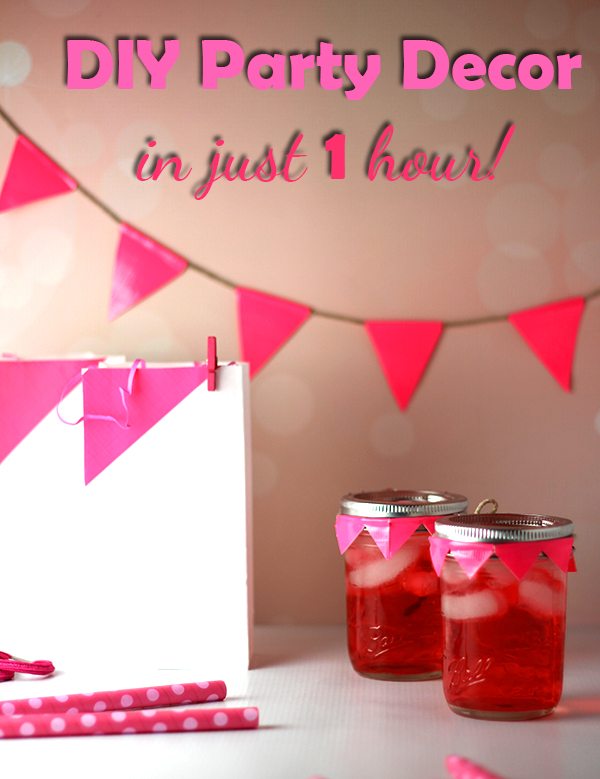 * You can make a simple bunting with your colored tape. It's not even funny how easy this is to do. Simply cut your desired size strips of the tape and the amount you would like. Fold each piece of tape that you cut out over your string. Once you adhere each piece of tape over itself, you can easily cut out a "V" shape on each. Be careful not to cut your string while doing this. Repeat until completed! Voila, you now have a pretty matching backdrop for your party. This can be used on walls, hung from the ceiling, draped around tables or chairs and so much more. Make as little or as much as you need!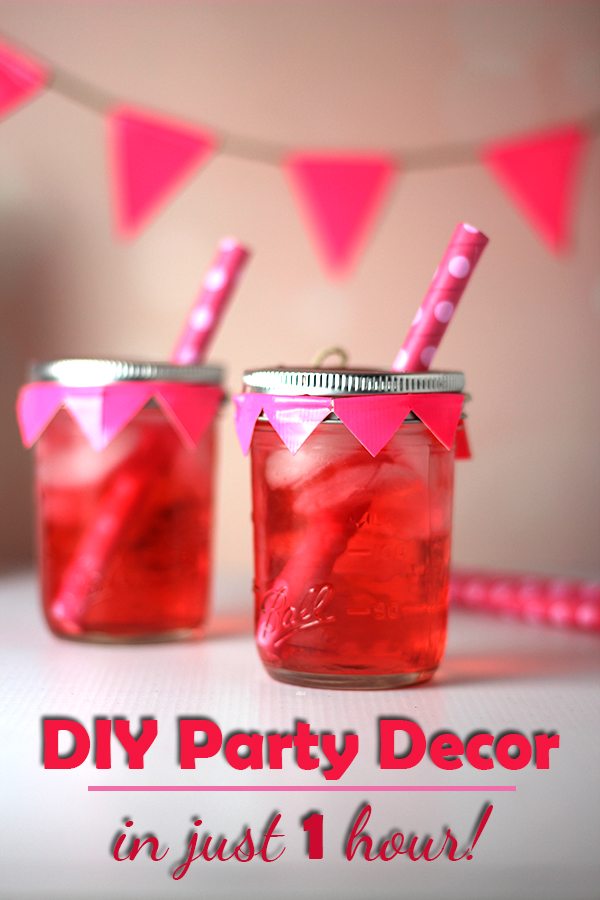 * Create matching drinking cups using a similar "bunting" method with your tape and string. This time, you'll want to make a continuous line of the folded tape to trim instead of leaving a space in between. Trim your "V" shapes out. When you are done, simple tie around the top of your cups. So cute and so unbelievably easy to do!
* I love goody bags at parties, now this is the easiest part! Simply purchase small plain paper gift bags or you can even use larger brown "lunch" bags if you'd like. Take a piece of your colored tape of choice and adhere it to the corner of each bag. Trim off excess. In just a few minutes, you'll have the perfect matching set of bags!
* Have more tape? The possibilities are endless on what you can create! You can make mini-bunting and wrap it around utensils, serving bowls and platters, pitchers. The sky's the limit!
* Now that you've planned, created and celebrated. Why not make clean up just as easy? That's where keeping stocked on garbage bags come in handy! When setting up for a party, make sure that you have a garbage can nearby! This will encourage your guests to help throw away any trash during the party. Once the party is over, team up and get all the disposable trash out of the way. Once you're done, the rest will fall into place easily, I promise!
EASY PARTY IDEAS
How do you pull off a party? What are your best tips?