Are you looking for a completely easy to make pizza recipe? This is quite a treat with such little effort and just a few ingredients. They are really rewarding and rather delicious!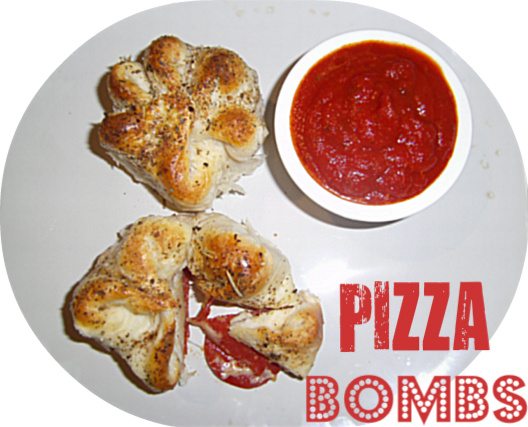 Pepperoni and Cheese Pizza Bombs Recipe
Ingredients:
2 Cans of Pillsbury Grands! Homestyle Biscuits
48 Slices of Pepperoni
16 cubes of Block Cheese (I used mozz in these pics, but jalapeno is also amazing!)
1 egg (beaten)
Grated Parmesan Cheese
Italian Seasoning
Non Stick Spray
Directions:
Heat oven to 425. Coat a non-stick baking pan with non stick spray.
Take each individual Pillsbury Bisquit and flatten by hand. On the flattened biscuit, place 2 pieces of pepperoni, a cheese block and then another pepperoni slice on top of that. Once you get the pizza toppings stacked, then you want to take "corners" of the dough, pull and push down into the middle of the toppings. Continue to take each "corner", pull and press into the middle until you have sealed the entire thing. Repeat to all.
Place each pizza roll into your baking pan. Then with a cooking brush, lightly coat each individual pizza roll with the beaten egg. Then sprinkle some Italian seasoning and grated Parmesan cheese over the tops.
Bake for approximately 22 minutes. Place in the middle rack if possible so that the tops won't burn as the dough is cooking through.
Serve as you wish. We like to dip them in marinara sauce. Delish!