My husband is a serious chocolate chip cookie addict and is very particular about them too.
This super easy recipe has made midnight cookie making sessions less nightmarish when the hubs is panicking because he's run out of his weekly cookie stash.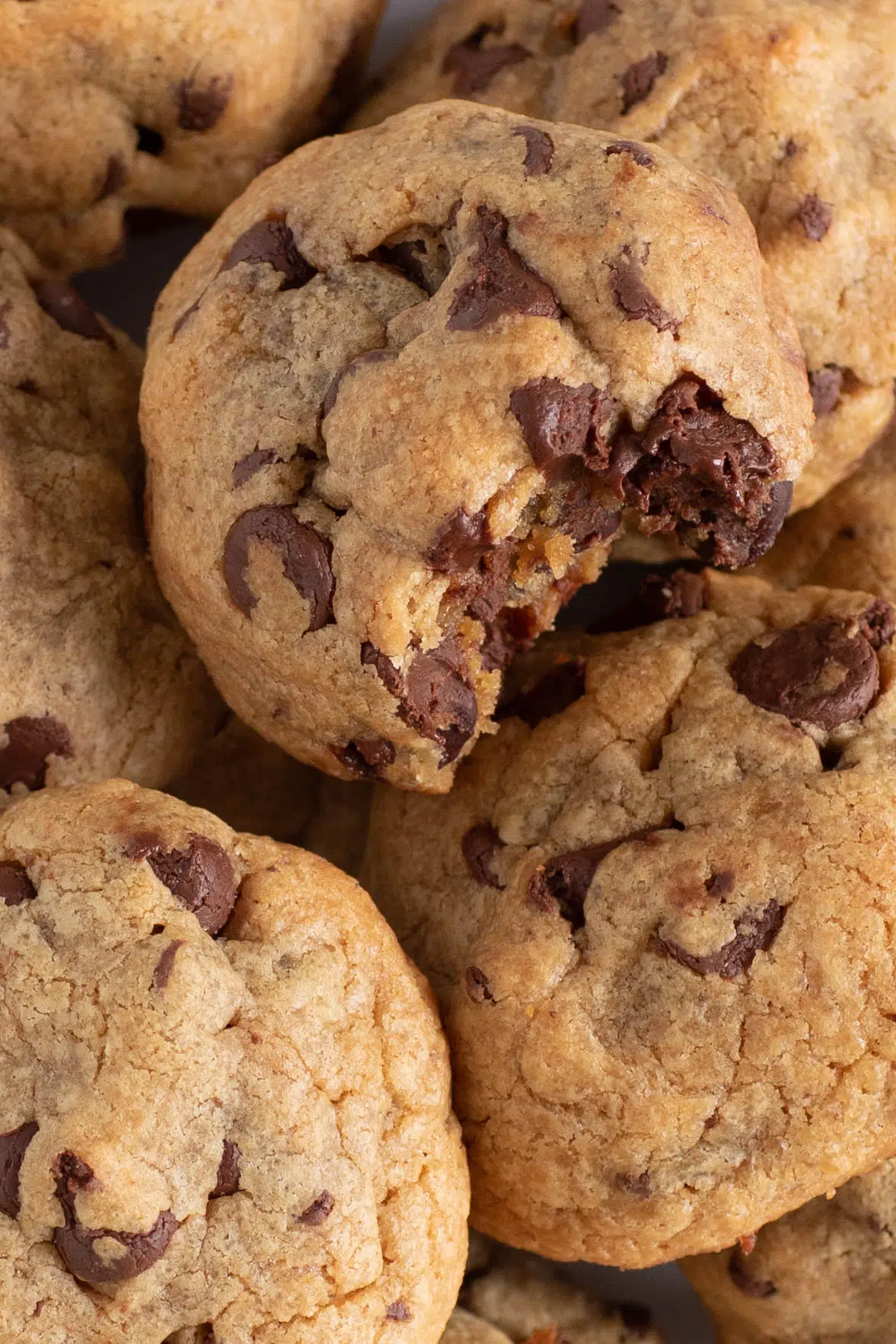 Does this happen at your house? This recipe features only 4 ingredients that I usually have on hand already so its a total winner.
This is a tried and true recipe that I've been making for quite some time now, you can even swap out some chocolate chips for nuts or do half and half.
Matter of fact, my husband's favorite combo is chocolate chips, white chips and walnuts in these. I've found that you can reasonably swap around 1 cup instead of chocolate chips such as chopped nuts, etc.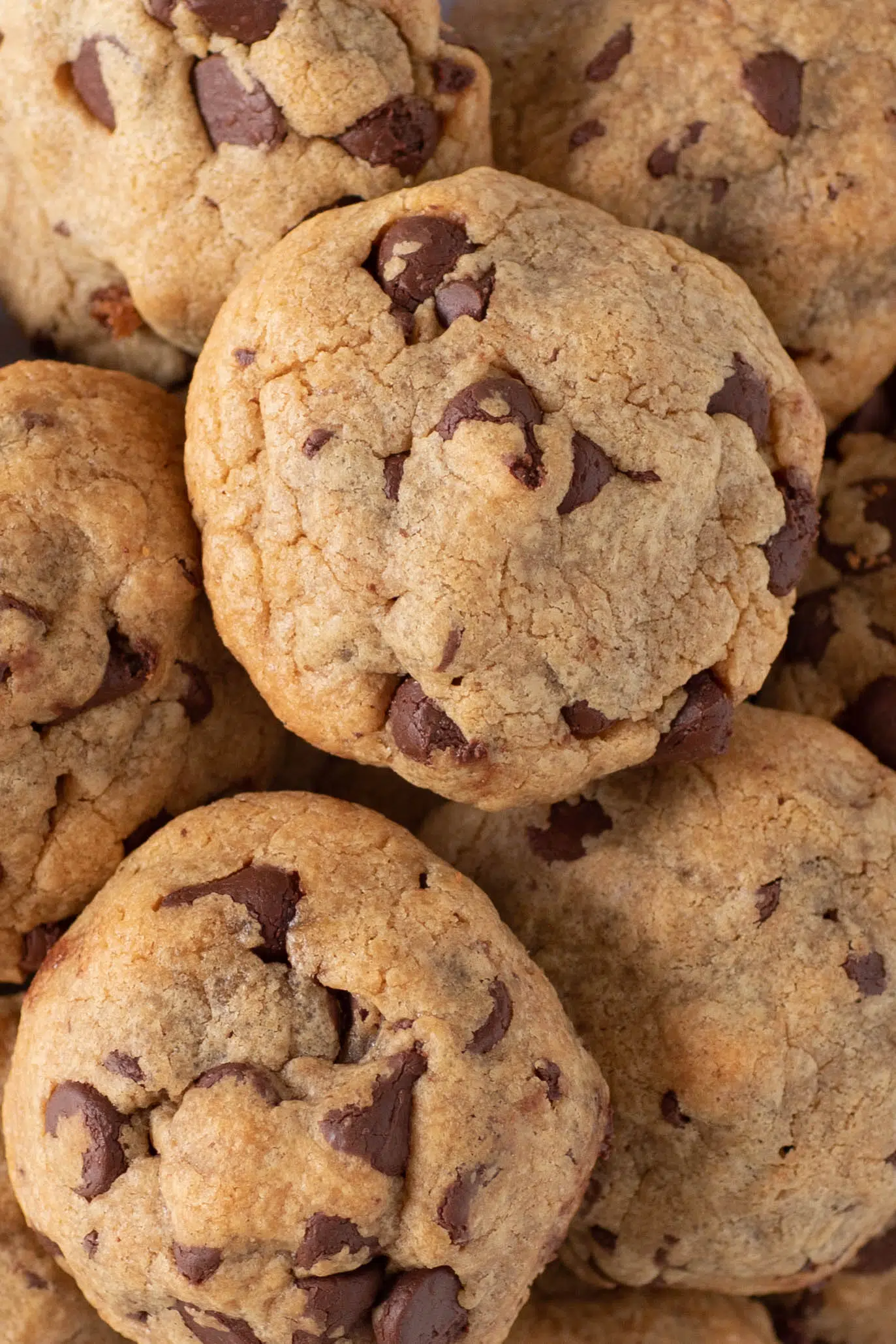 The end result is a seriously freakin delish cookie, its shocking really. I'll personally continue avoiding baking with a million ingredients whenever humanly possible... its admittedly not my strong suit in any way shape or form.
You'll definitely want to keep an eye on these cookies while they are baking up and I definitely strongly recommend using parchment paper when baking, the bottom tends to crisp up very quickly. Since I started using the paper, the cookies have really improved greatly.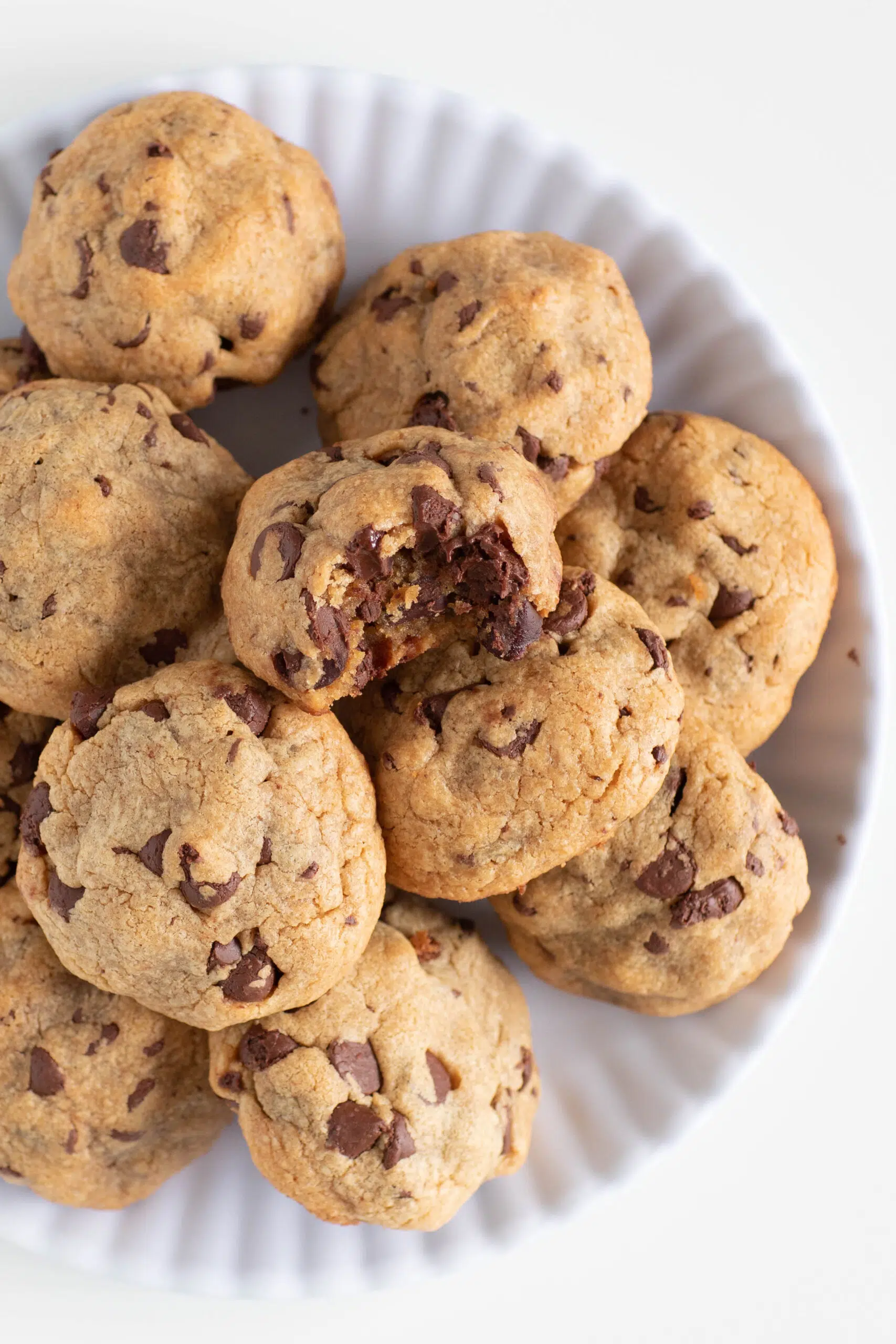 Once you nail your baking time, these cookies just might be the most amazing soft and scrumptious cookies ever.
I'm updating to add that there are two measurements that I've been liking for these.
¼ cup batter for each cookie and press them down and they come out extra large.
OR
2 Tablespoons for each cookie, roll into balls and bake that way, which come out fat and chunky.
If you have a chocolate craving, these are calling out to you!
Can you hear them?
Craving something sweet and decadent but strapped for time? This 4 Ingredient Chocolate Chip Cookie Recipe is just for you. I bet you already have most of the ingredients on hand right now... so go for it! You can have these mixed and baked in under 20 minutes.. chop chop.. and enjoy!
Read more

: This 4 Ingredient Chocolate Chip Peanut Butter Cookie Will Be Your Favorite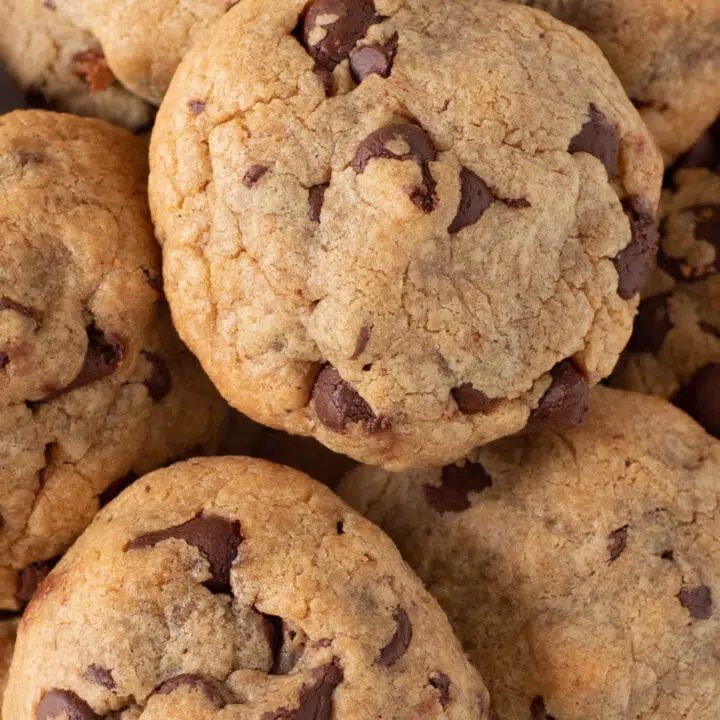 4 Ingredient Chocolate Chip Cookies
Cookies with only 4 ingredients and no flour. Peanut butter base instead of traditional cookie ingredients. Loads of chocolate chips.
Ingredients
1 Cup of Creamy Peanut Butter
1 Cup of Granulated Sugar
2 Large Eggs
2 Cups of Semi-Sweet Chocolate Chips
Instructions
Preheat oven to 350
Combine peanut butter, sugar and eggs until fully blended. Gently fold-in the chocolate chips.
Drop ¼ Cup of dough flattened (for large flat cookies) or 2 TBSP of dough rolled into balls (for smaller chunky cookies) onto a parchment lined baking sheet.
Bake for 11-13 minutes.
Makes about 8 large cookies or 16 smaller cookies.
Notes
Parchment paper is recommended because the bottoms tend to crisp more quickly than traditional cookies.
Nutrition Information
Yield

16
Serving Size

1
Amount Per Serving
Calories

257
Total Fat

15g
Saturated Fat

6g
Trans Fat

0g
Unsaturated Fat

8g
Cholesterol

23mg
Sodium

88mg
Carbohydrates

30g
Fiber

2g
Sugar

25g
Protein

5g