I'm all for celebrating the flavors of the season. Are you with me? It's time to enjoy Vidalia Onions! They're here and you might not realize they are only available for the tasting until August. To celebrate their delish sweet flavor, I am sharing some epic Grilled Sausage Bar ideas that will be perfect for all of your summer festivities. Prepare for your mouth to water! This is a sponsored post about Vidalia Onions, all opinions are my own.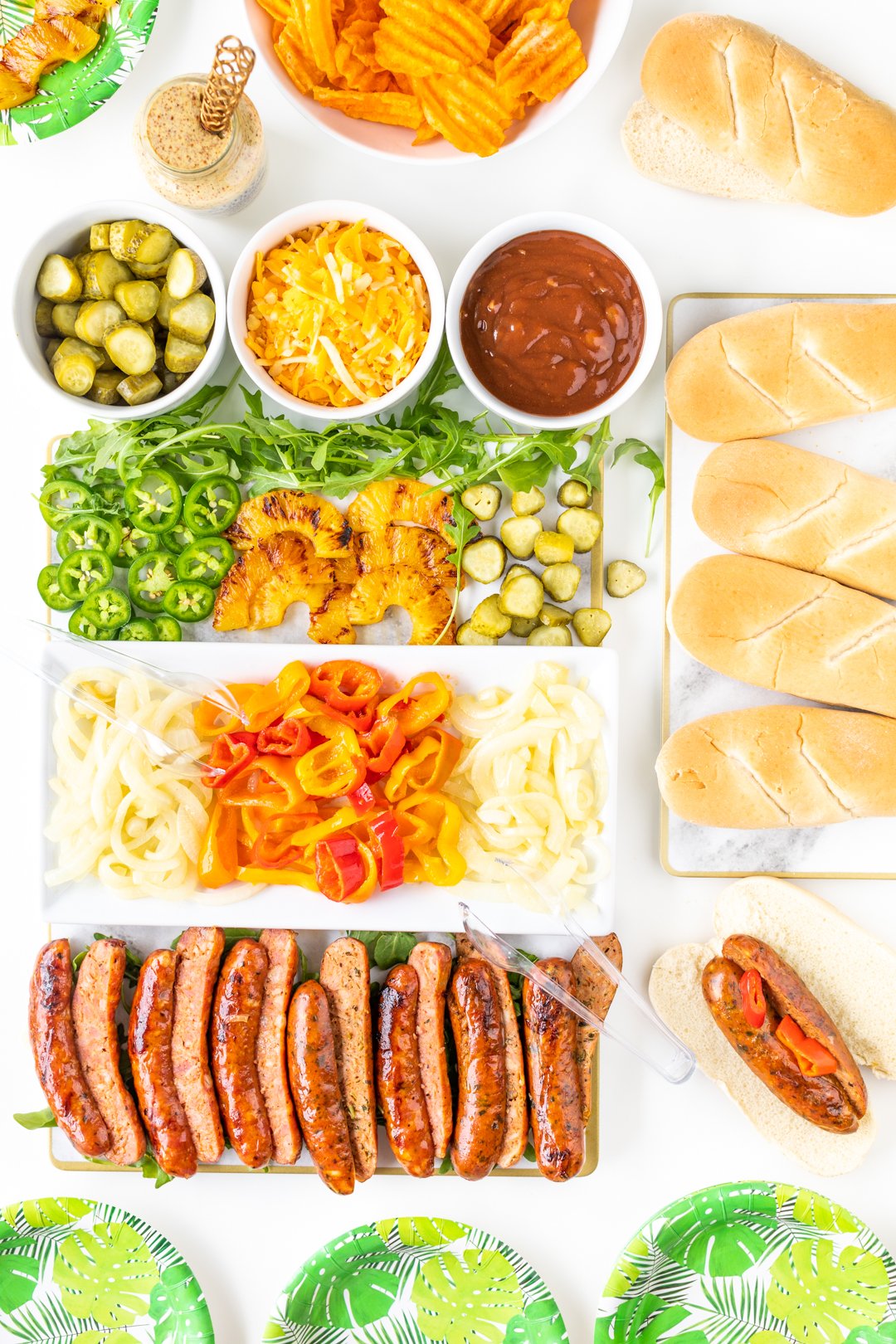 Vidalia Onions are the mildest onions around making them not only versatile but loved by many. They are so perfect for salads and pretty much any meal from breakfast to dinner. Amazing fast fact for you... these sweet southern beauties get their distinctive taste from their Georgian roots, literally. Their unique taste is due to the combination of weather, water and soil found within only 20 South Georgia counties.
SAUSAGE AND PEPPER BOARD
This delish spread of food offers up sweetness from Vidalia Onions paired with other sweet toppings like sweet peppers and pineapples. Amping up the sweet side is fun and makes adding toppings like jalapenos and spicy BBQ even more fun. I'm a huge fan of sweet and heat together. Loading your grilled sausage board up with all the best toppers will make guests super happy. Let's chat about some of the best ideas to make your summer gathering tasty and memorable.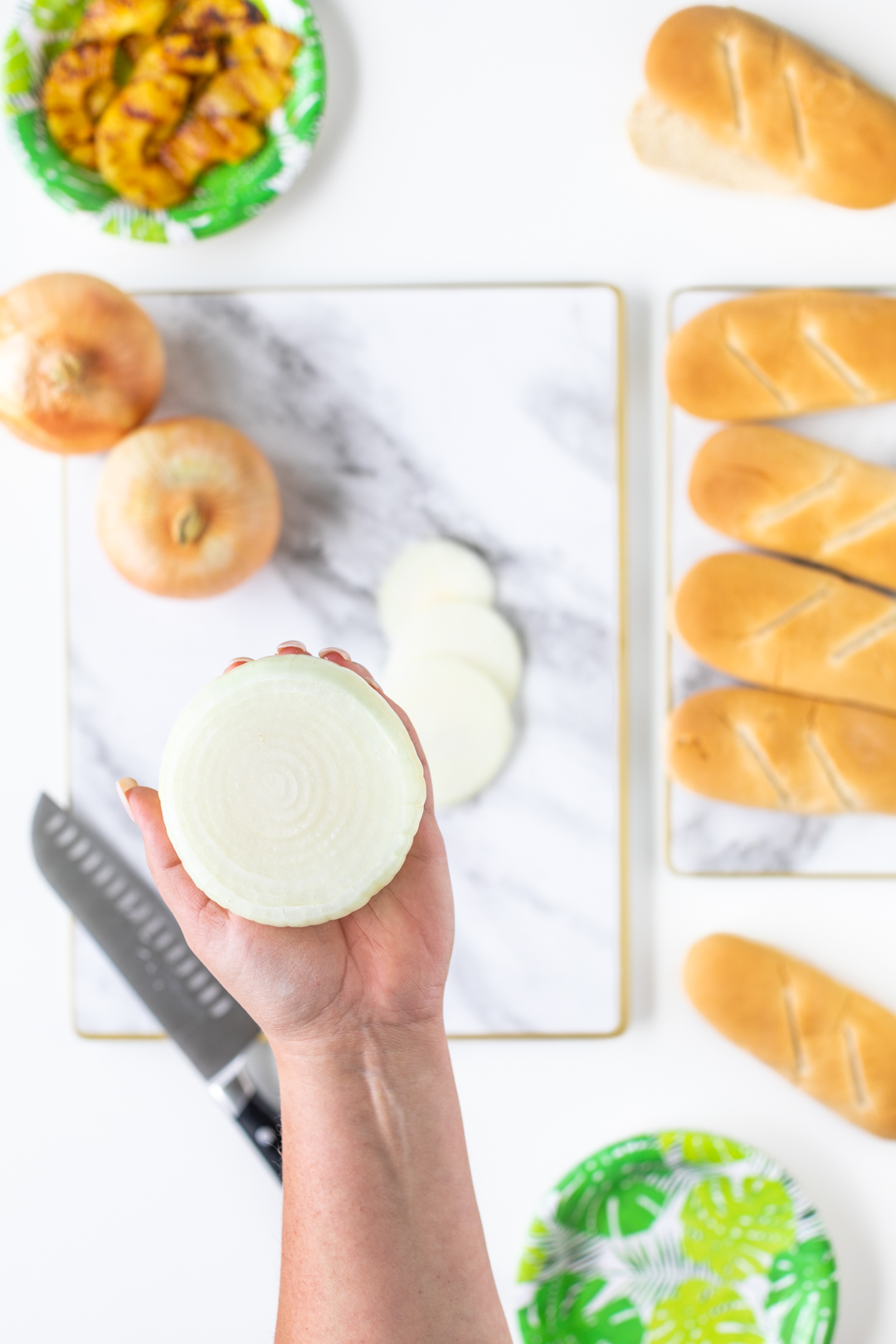 BEST GRILLED SAUSAGE TOPPINGS
It's no secret that peppers and onions are of the most popular grilled sausage toppers. You can create a tasty twist this year by making it sweet! Choosing Vidalia Onions and pairing with Sweet Peppers will be an instant win.
Whether you slice or dice your Vidalia Onions, a quick saute or grilling makes them perfect for topping your sausages.
I tossed mine in some olive oil and sauteed for about 5 minutes on medium heat.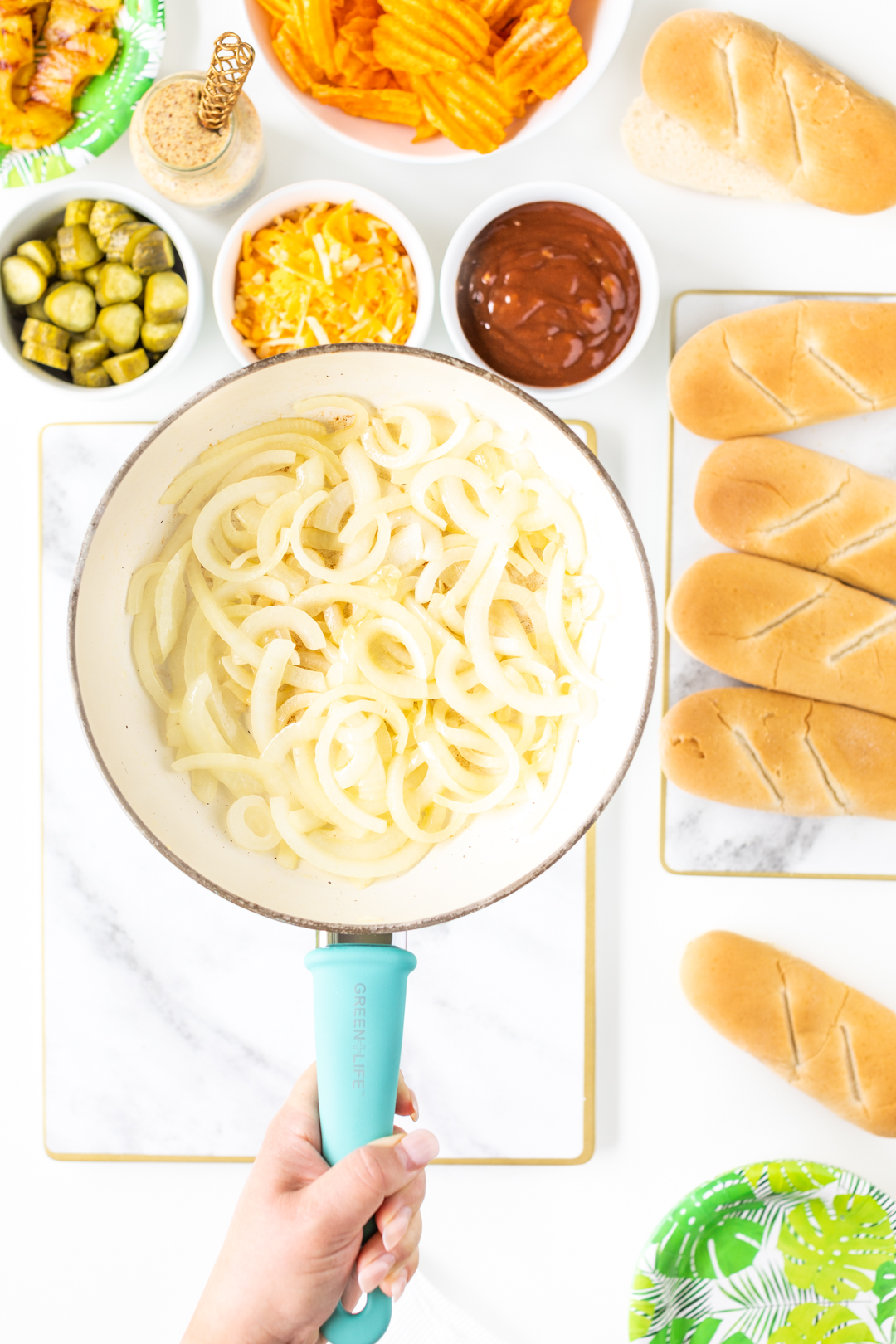 Add your onions and peppers to a separate dish to keep the goodness contained. Be sure to add utensils so your guests can easy grab these yummy toppings.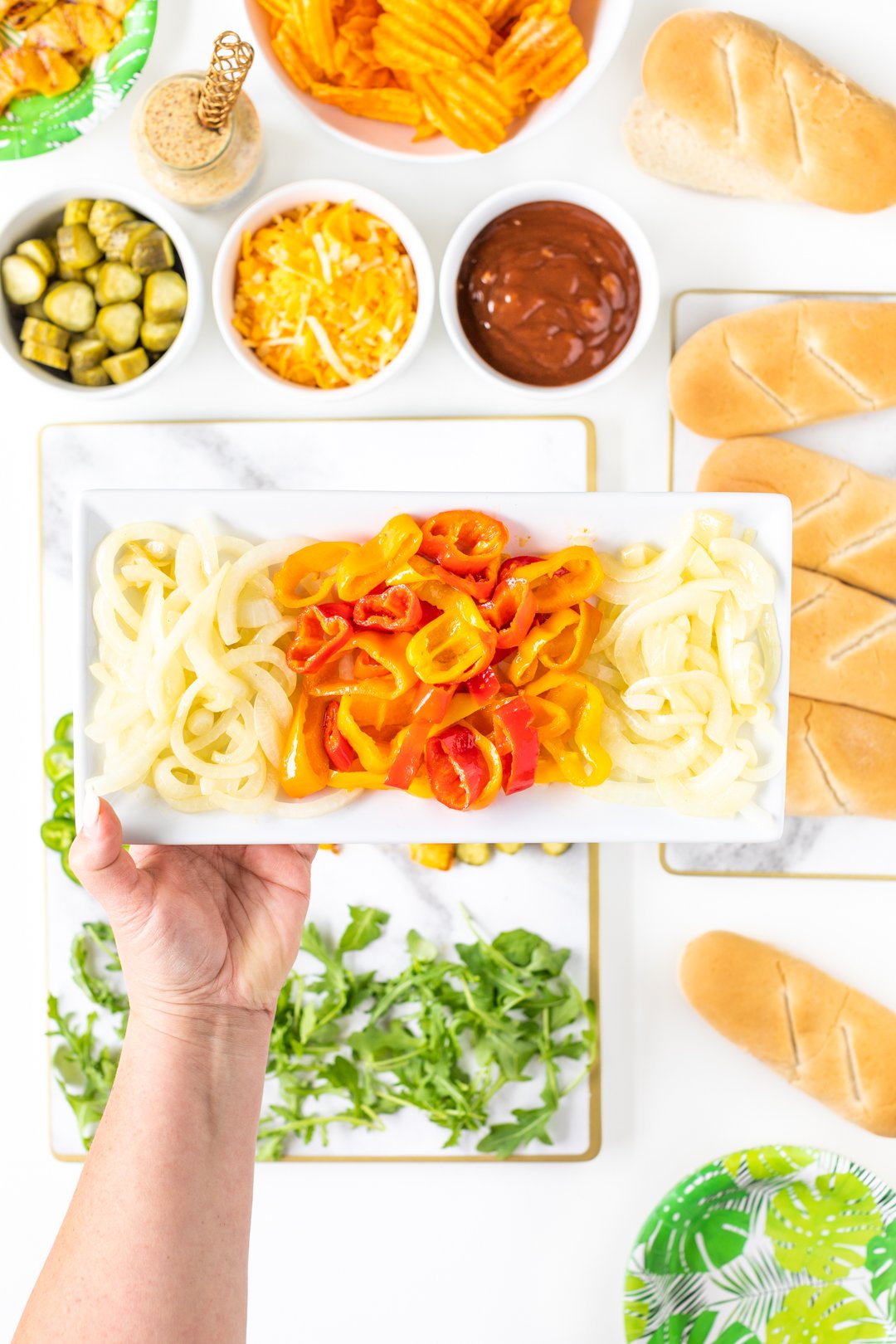 MORE GRILLED SAUSAGE TOPPERS
Here are more yummy sausage topping ideas to get you planning.
Grilled Pineapple
Shredded Cheeses
Pickles
Jalapeno Peppers
Condiments (Dijon Mustard, Spicy BBQ)
Cheese Sauce
HOW TO ASSEMBLE A FOOD BAR BOARD
A food board is one of the easiest types of food bars to make for guests. You don't have to get fancy with decorations or party backdrops making them an extra win. To get your food bar started, you will need a base and some smaller serving containers.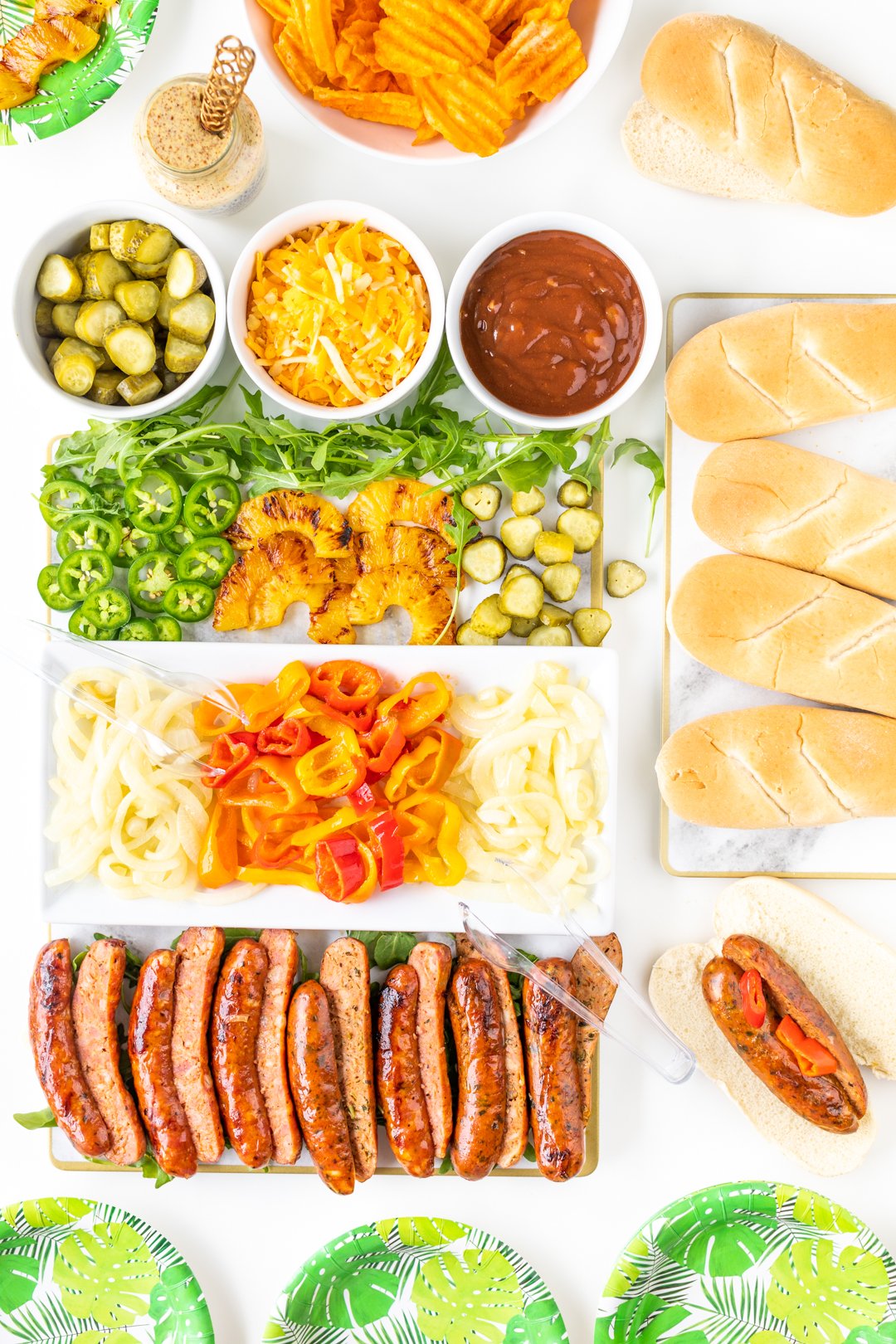 Once you decide on all of your complimentary grilled sausage toppings, use a large cutting or serving board as your base. Then layer the toppings on the board. I like to do a quick brainstorm before I start laying the food down. Use small containers or bowls for serve wet or messier items such as sauces and cheeses. I also started using arugula to help fill in and separate some of the foods. You can't go wrong because it's as pretty as it is a yummy addition to your food board.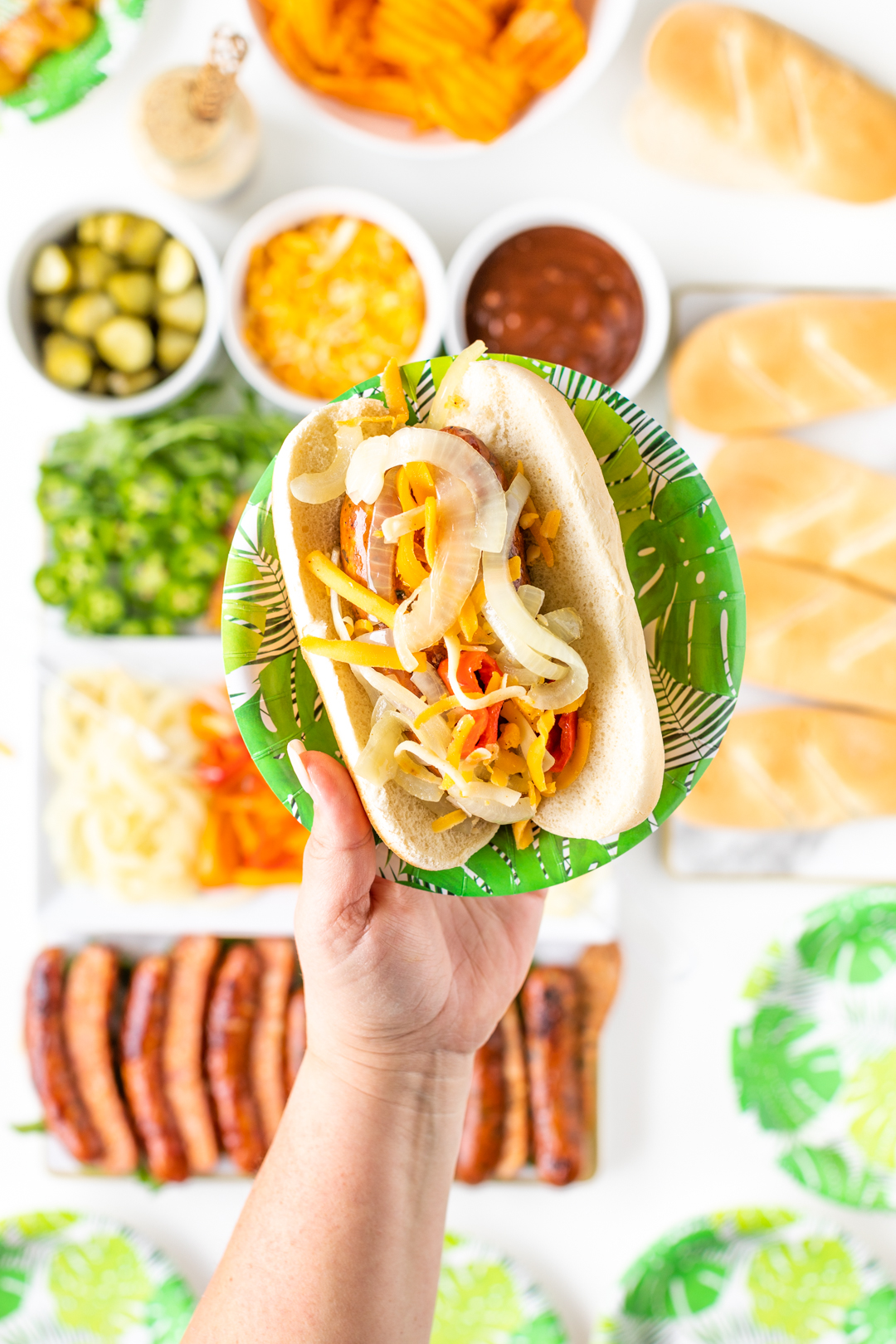 For smaller condiment jars like dijon mustard, you can simply just add a serving knife and put it out as-is. Easy, peasy.
Don't forget the serving utensils and side dishes to seal the deal! It's that simple to entertain with a summer sausage food bar!
Grilled Sausage Bar for Summer
Yield: 6

Prep Time: 45 minutes

Cook Time: 12 minutes

Total Time: 57 minutes

Grilled sausage food bar with the perfect toppings.
Ingredients
Grilled Sausages, Variety
Rolls or Hotdog Buns
Vidalia Onions, Sauteed or Grilled
Sweet Peppers, Sliced, Sauteed or Grilled
Pineapple, Slicked, Grilled
Shredded Cheeses, Variety
Pickles, Sliced
Jalapeno Peppers, Sliced
Dijon Mustard
Spicy BBQ Sauce
Cheese Sauce
Arugula
Instructions
Select the toppings you would like to serve.
Use a cutting board or serving board as your base.
Use small containers and bowls for wet condiments, pickles and cheeses.
Layer Arugula under savory items.
Layer the rest of your toppings on the board.
Add your grilled sausages to your board.
Serve and enjoy!
Notes
Choose which grilled sausage toppings you want to serve before planning your food board.

Live the sweet life this summer with Vidalia Onions!
For more delish recipes and info about Vidalia Onions here.
MORE FOOD BAR IDEAS
Loving the idea of diy foodie stations? Check out more of my food bar inspo: