Easter is on the way and it's time to start getting some sweet ideas together. With the hot cocoa trend still going strong, I thought it would be fun to share another Easter hot cocoa idea. We're going to turn another store-bought hollow chocolate Easter bunny into the perfect treat. This hot cocoa melt idea makes for the perfect Easter basket filler, too! Any bunny will really love to get one or two of these on Easter morning. This post may contain affiliate links.
With just a few simple ingredients, you can make these adorable hot cocoa melts. The magic happens once the chocolate melts through and the marshmallows pop out. Feels like magic, but I'm going to show you just how to make these little cuties.
EASTER HOT COCOA SURPRISE MELTS
My fun little hot cocoa hack is perfect for creating a special treat with none of the fuss. Not all of us love to mess around melting chocolates. THIS is the perfect alternative. You don't even need a mold for these hot cocoa melts. We're going to melt our way through our chocolate Easter bunnies and add hot cocoa mix and pastel marshmallows and then reseal the bunny. In minutes, your hot chocolate treats are ready. Sweet. Literally.
Here is what you need to make these little hot cocoa melts:
Important note! Make sure to carefully handle your chocolate bunny because they melt easily with body heat and you want to avoid leaving finger prints all over it. You will have the best luck by handling it by holding it around its perimeter.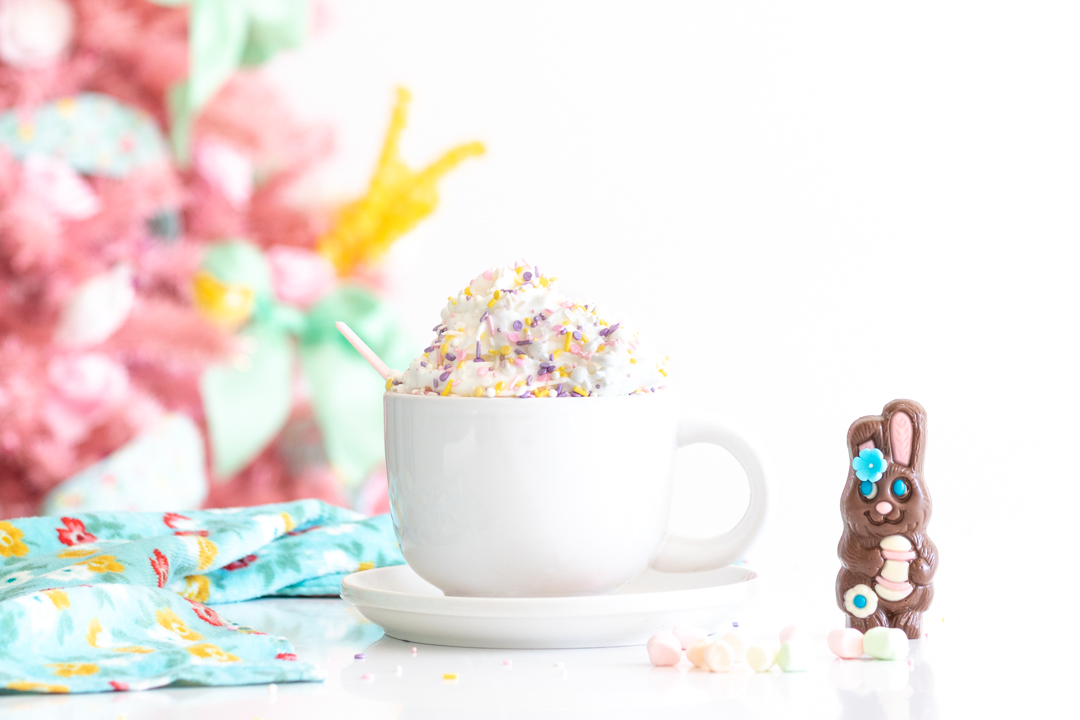 Now let's get these bunnies loaded up with the good stuff. After you gather the simple ingredients needed, you will also need a way to lightly melt through the chocolate bunny with a knife.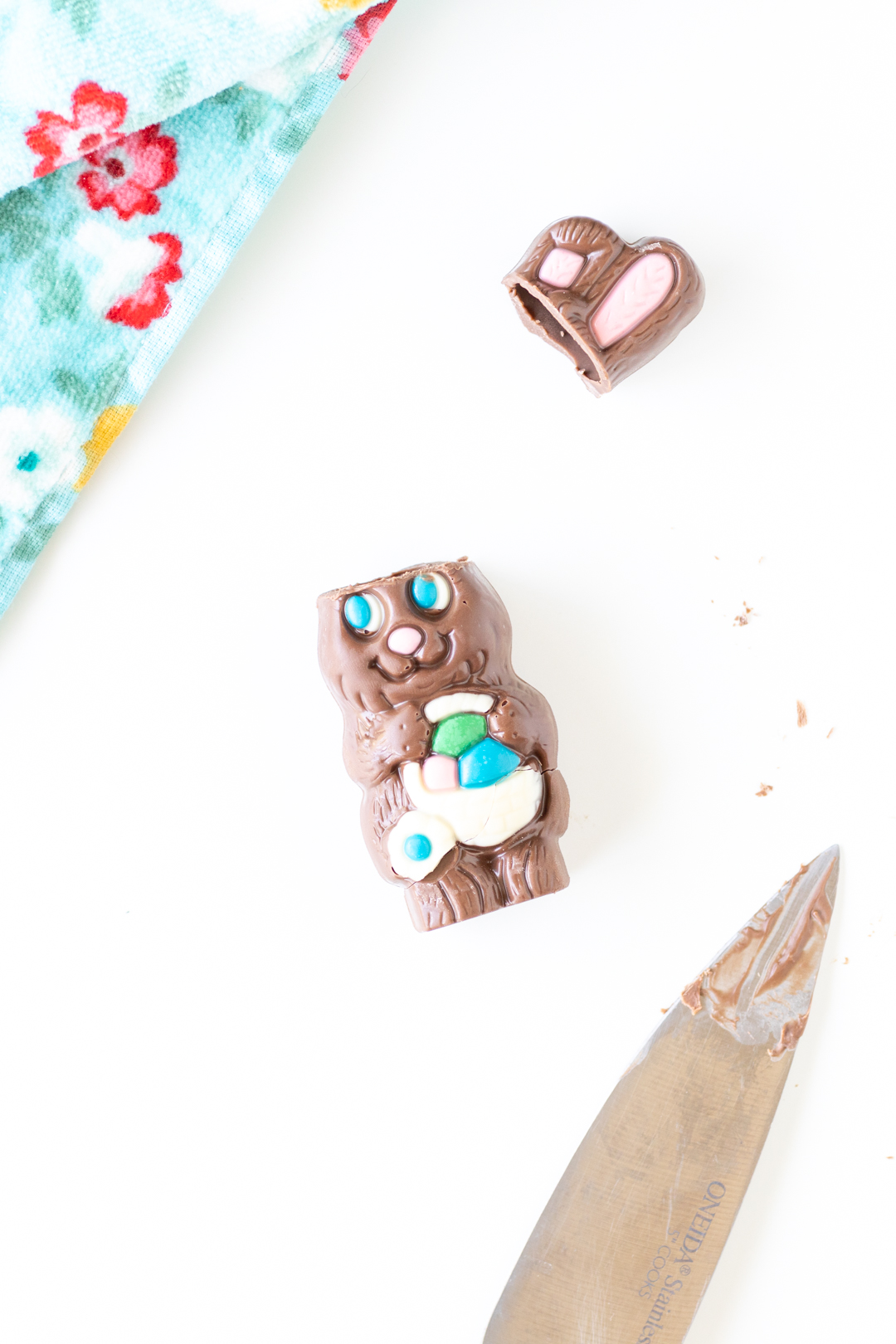 EASY WAY TO MELT THROUGH CHOCOLATE
Cutting the hollow chocolate bunnies can lead to a mess, so we will melt through them instead. Using a hot knife and melting through the hollow chocolate is your best option.
You could use a small lighter to heat your knife (safely and at your own risk) . Alternately you can use a hot plate to press the knife against OR run under super hot water and dry completely before use.
Use the heated knife instead of forcing a cut through the chocolate. Patiently melt through it while pressing through instead. It will take a few minutes to complete this task as you have to reheat the knife several times to melt through completely.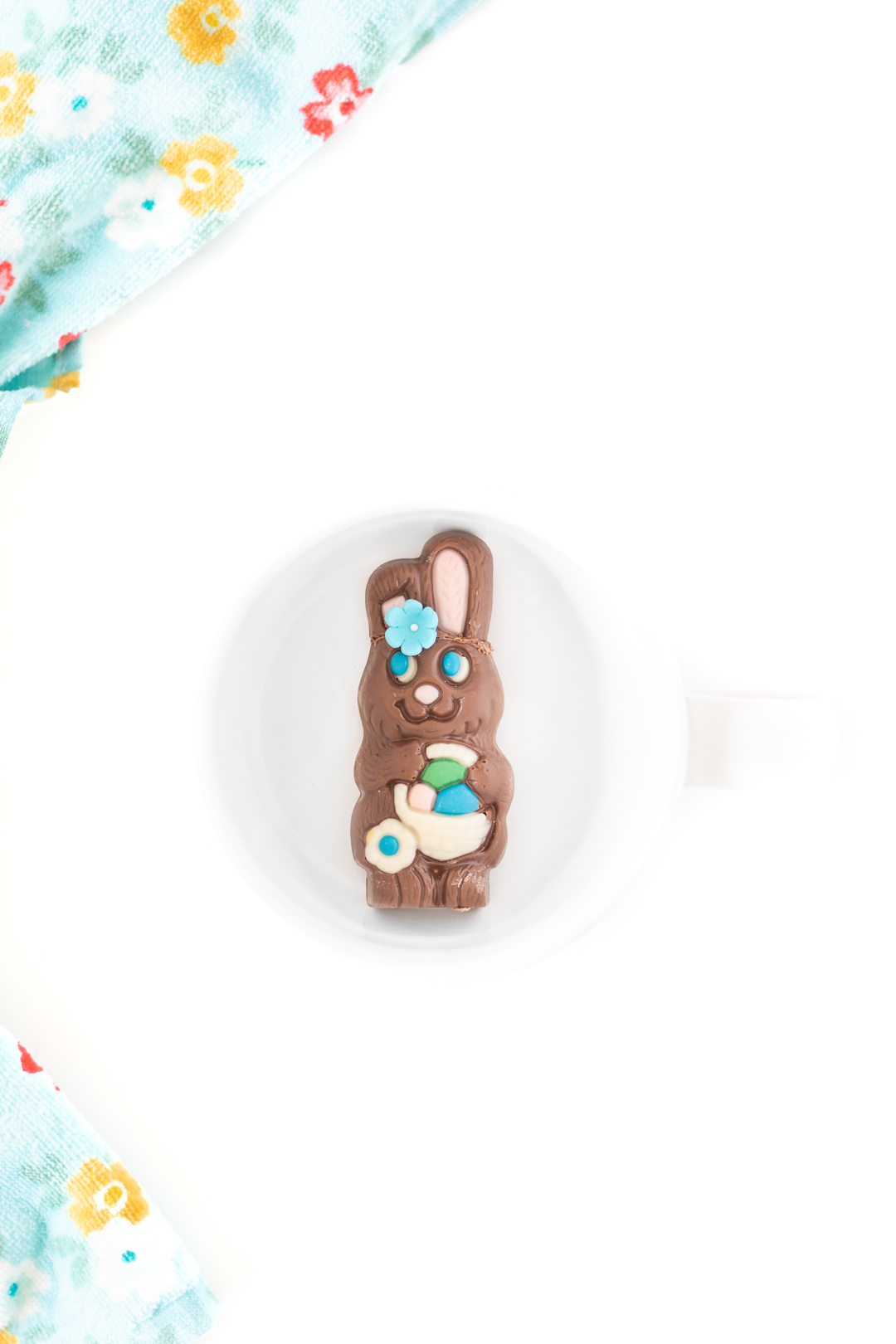 HOW TO FILL A HOLLOW CHOCOLATE BUNNY
Once you have cut off the bunny's ears, it't time to fill it up with your hot cocoa mix and mini marshmallows. I find it's easy to do this by pinching a hot cocoa packet so that it's aimed right into the open bunny. You could also carefully use a small funnel or rolled up paper especially if you are using a mix from a container vs. individual packets.
I like to fill the bunny up with hot cocoa mix about ⅔ of the way to leave room for a good pinch of the mini marshmallows.
HOW TO SEAL CHOCOLATE MELT
Once you have filled up your bunny, it's time to melt the ears back on. To do this, I carefully used a lighter to quickly melt the outline of the bunny ear base and press back on. You could also use that hot plate method that I mentioned above to warm the base of the chocolate ears.
It does not take much to warm the chocolate enough to get it to seal back onto itself.
The chocolate will reset after a few minutes but in a warmer climate, you could stick it in the refrigerator or freezer for a minute. Easy!
Once the chocolate is set, you can optionally adhere a small icing decoration on such as a flower. I like to do this to both make it extra cute and to distract from the cut line. You can use a dab of melted chocolate from the crumbs or a dab of frosting or icing to adhere it. Give it time to set before packaging up.
Now it's time for the REAL fun! Just add hot milk to watch your bunny melt in a mug.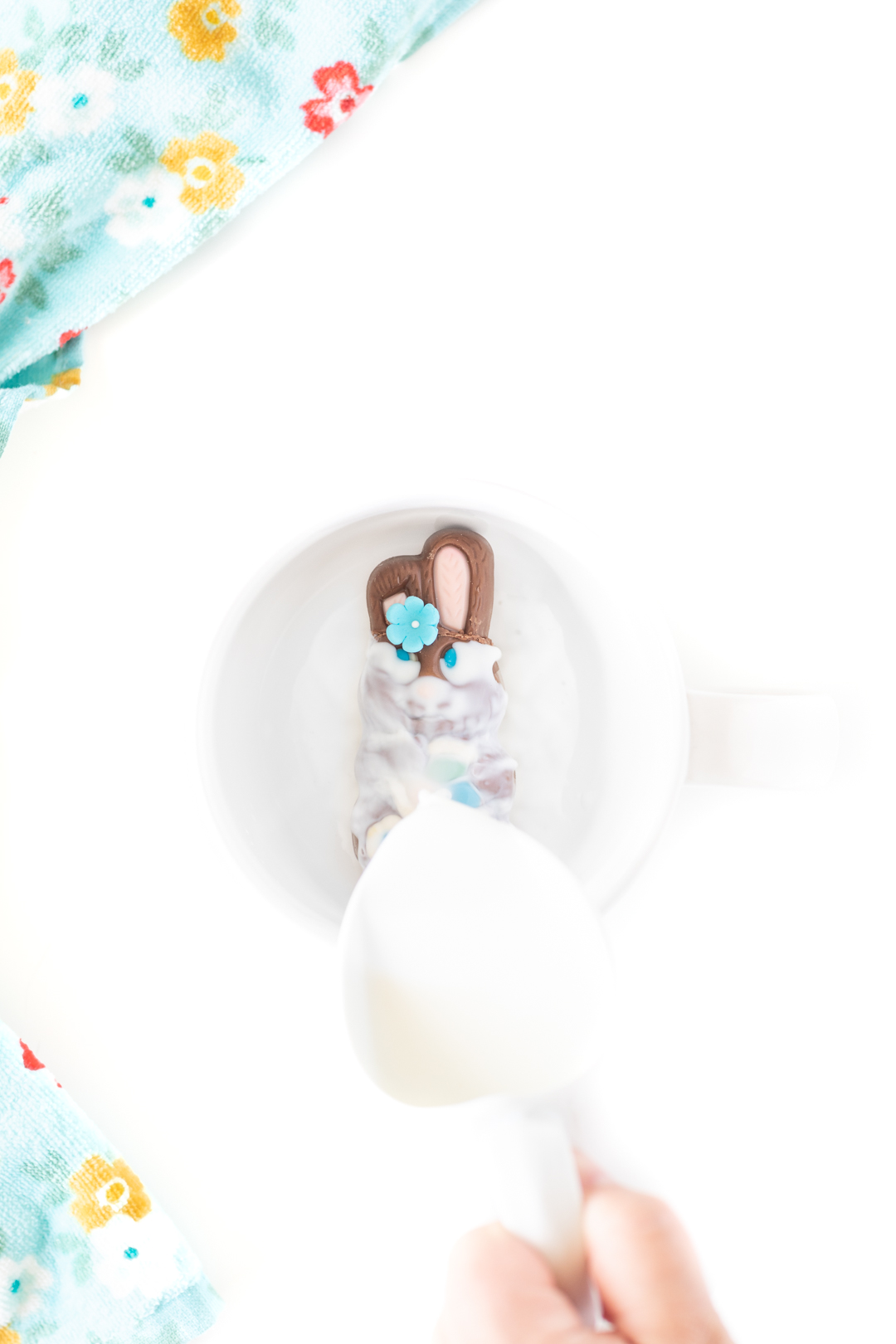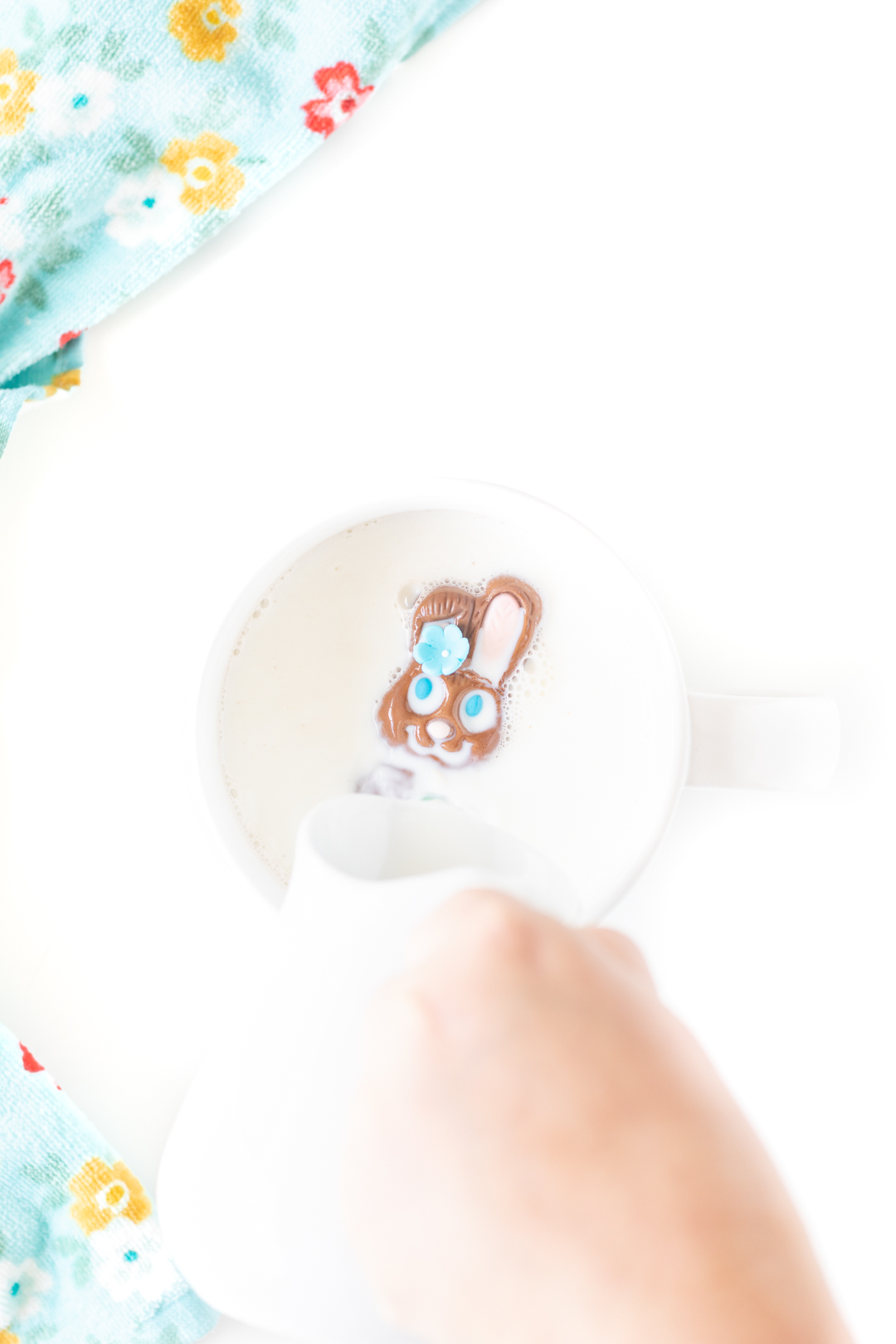 The absolute BEST part is when the marshmallows POP out... so don't blink.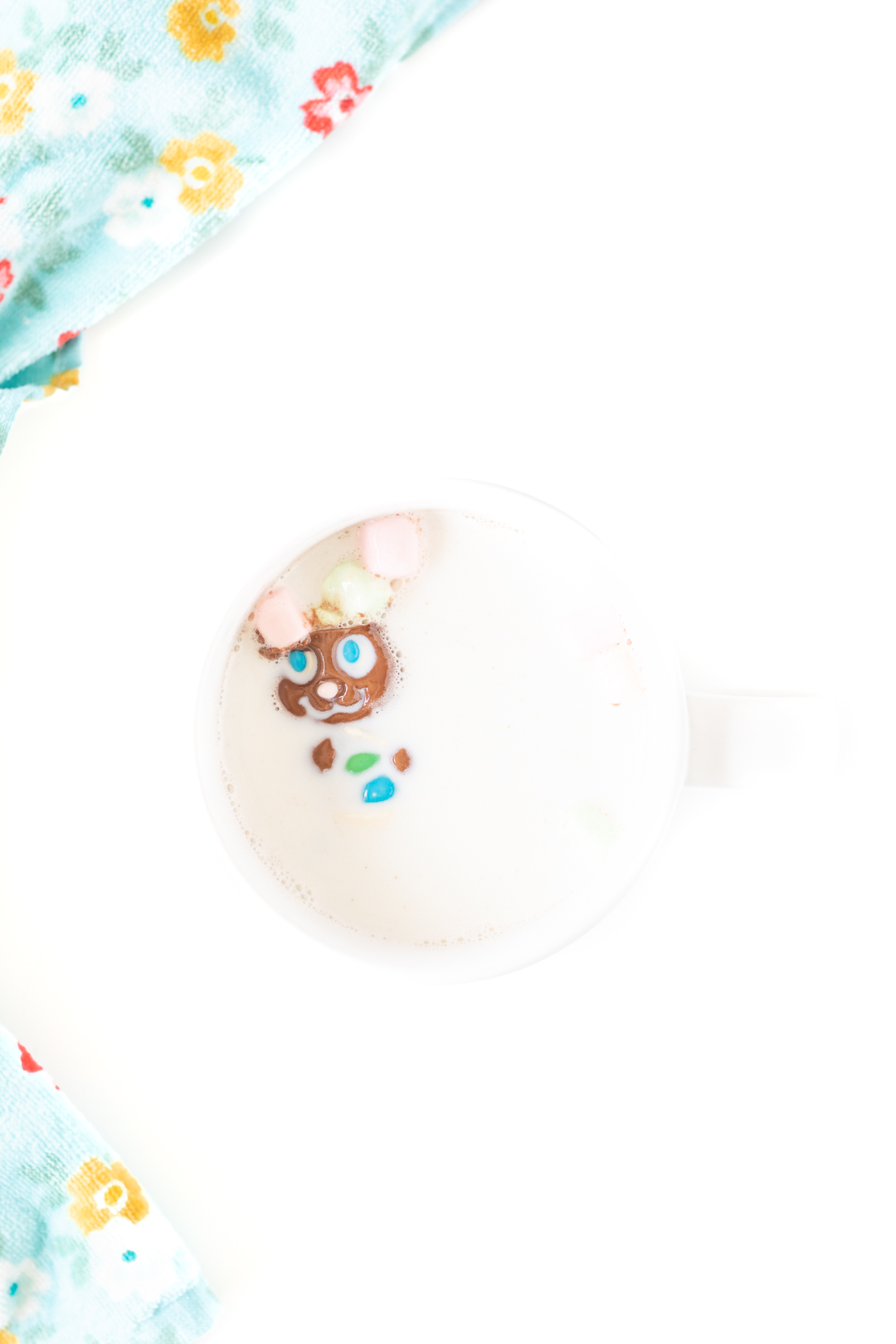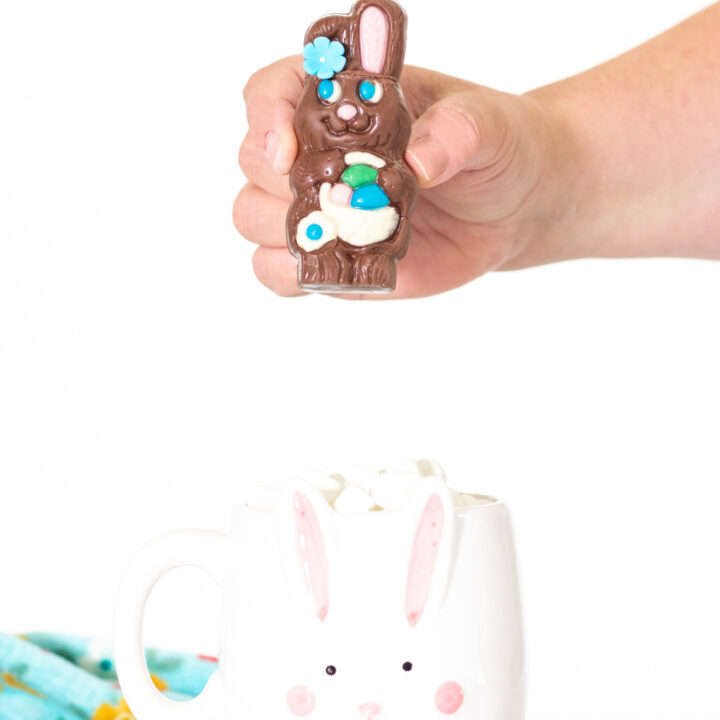 Easter Hot Cocoa
Easter hot cocoa made with a hollow chocolate Easter bunny, hot cocoa mix and pastel mini marshmallows. Perfect homemade Easter Basket filler.
Ingredients
Palmer Hollow Chocolate Easter Bunny, (1.5 oz)
½ Packet Hot Cocoa Mix
1 TBSP Mini Pastel Marshmallows
Optional:
1 Small Icing Decorations Flower
Dab of Chocolate Frosting or Melted Chocolate
Instructions
Unbox your chocolate bunny.
Remove the bunny ears. Use a heated knife to gently press into the base of the ears of the bunny to slowly melt through the entire bunny. The knife will need to be reheated several times to break through cleanly. Get extra tips below..
Pour hot cocoa mix into the bunny. Fill it about ⅔ of the way.
Add the pastel marshmallows until you fill to the top.
Use heated knife to lightly melt the chocolate around the base of the ears. Quickly press them back into place. Let it set for a few minutes for the chocolate to solidify. Add to refrigerator or freezer if your house is warm.
Optional: Use chocolate frosting or a tiny amount of melted chocolate to adhere the icing decoration where the ears were reattached to help conceal the cut line and make it extra cute.
Notes
To heat a knife, run it under very hot water and dry completely and use immediately. Repeat as needed. At your own risk, you can heat your knife with a lighter as well. Repeat as needed. You can also try pressing onto a hot plate to transfer heat to the knife if desired.