St. Patrick's day tree using a mini light green Christmas tree with glass rainbow ornaments, green and white striped ribbon, mini shamrock ornaments and a mini shamrock piñata as a tree topper.
With unique ways to celebrate at home trending, the idea of year round Christmas trees is he perfect idea. Putting together a simple St. Patrick's Day Christmas tree is the perfect way to get more festive at home in 2021. You don't have to go all out, this perfect mini lime Christmas tree sits on any tabletop like a bookshelf and can even be used as part of a St. Paddy's themed tablescape. This post may contain affiliate links.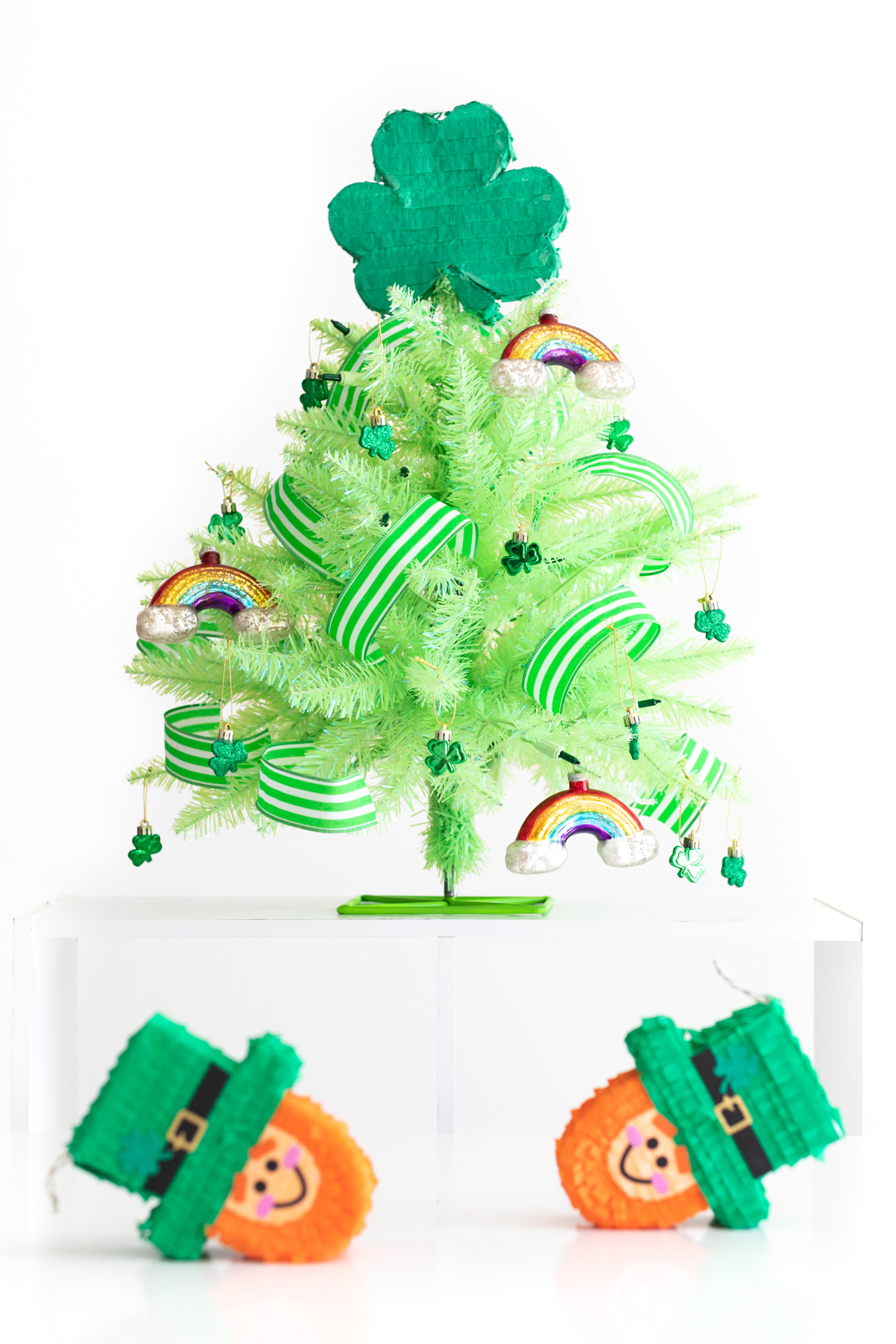 If you are looking for the perfect St.Patricks' day decorations, you have come to the right place. A themed tree will be not only fun to decorate, but the perfect focus point of any home come March 14th every year.
ST. PATRICK'S DAY CHRISTMAS TREE
For the perfect festive decor, start with a mini green St. Patrick's Day tree. Simplicity is key for making a smaller tree shine. I settled on the cutest mini Christmas tree that is lime in color. I love that this color tree will work for Christmas, too. I find that these trendy colors come in and out of stock, so you will have to look around to find just the right one for you. The excellent part is that it's easy to find a regular mini green Christmas tree, so options are always available throughout the year.
ITEMS NEEDED TO DECORATE TREE
Here is what you need for this St. Patrick's Day Christmas Tree idea: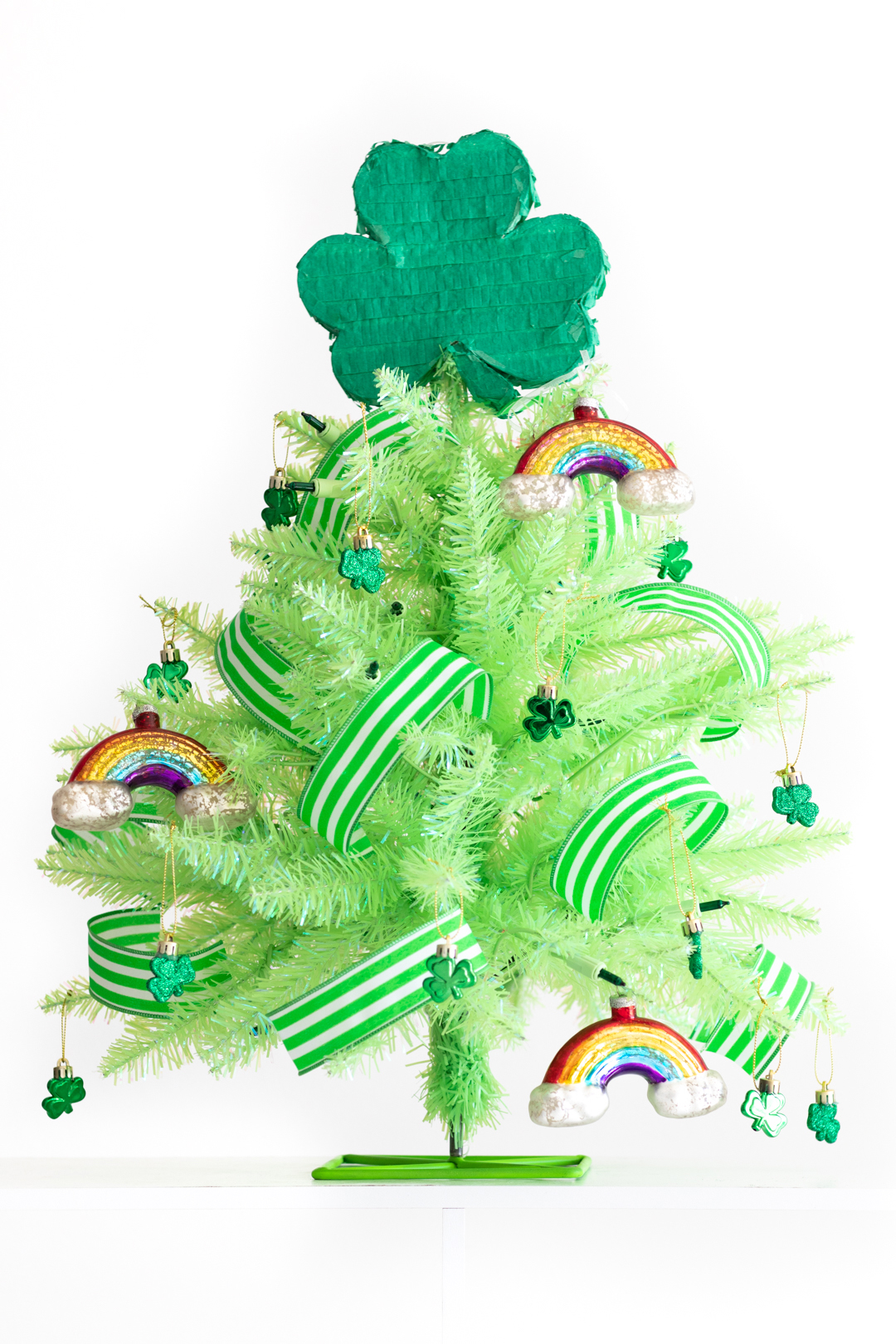 ST. PATRICK'S DAY TREE TOPPER
The use of a mini shamrock piñata is the perfect St. Paddy's tree topper.
You may have noticed that I'm obsessed with using piñatas for Christmas tree toppers, so it was only natural to find a mini piñata for this tree. There really aren't a lot of options when it comes to off season tree toppers, so using a bit of creativity is a must. A piñata also gives a mini tree a little height.
I also found the cutest mini leprechaun piñatas that would work, too.

ST. PATRICK'S DAY TREE ORNAMENTS
Looking for St. Patrick's day decorations for a tree? Here are some thought-starters to use as a spring board.
To make this tree stand out, I focused on simple but perfectly themed ornaments. Since the tree is just so tiny, I feel like that is the best way to help it shine.
Rainbow Ornaments -Every festive St. Patrick's Day tree needs a dash of rainbow goodness. I fell in love with these glass rainbow ornaments, but there are so many options available to fit your needs.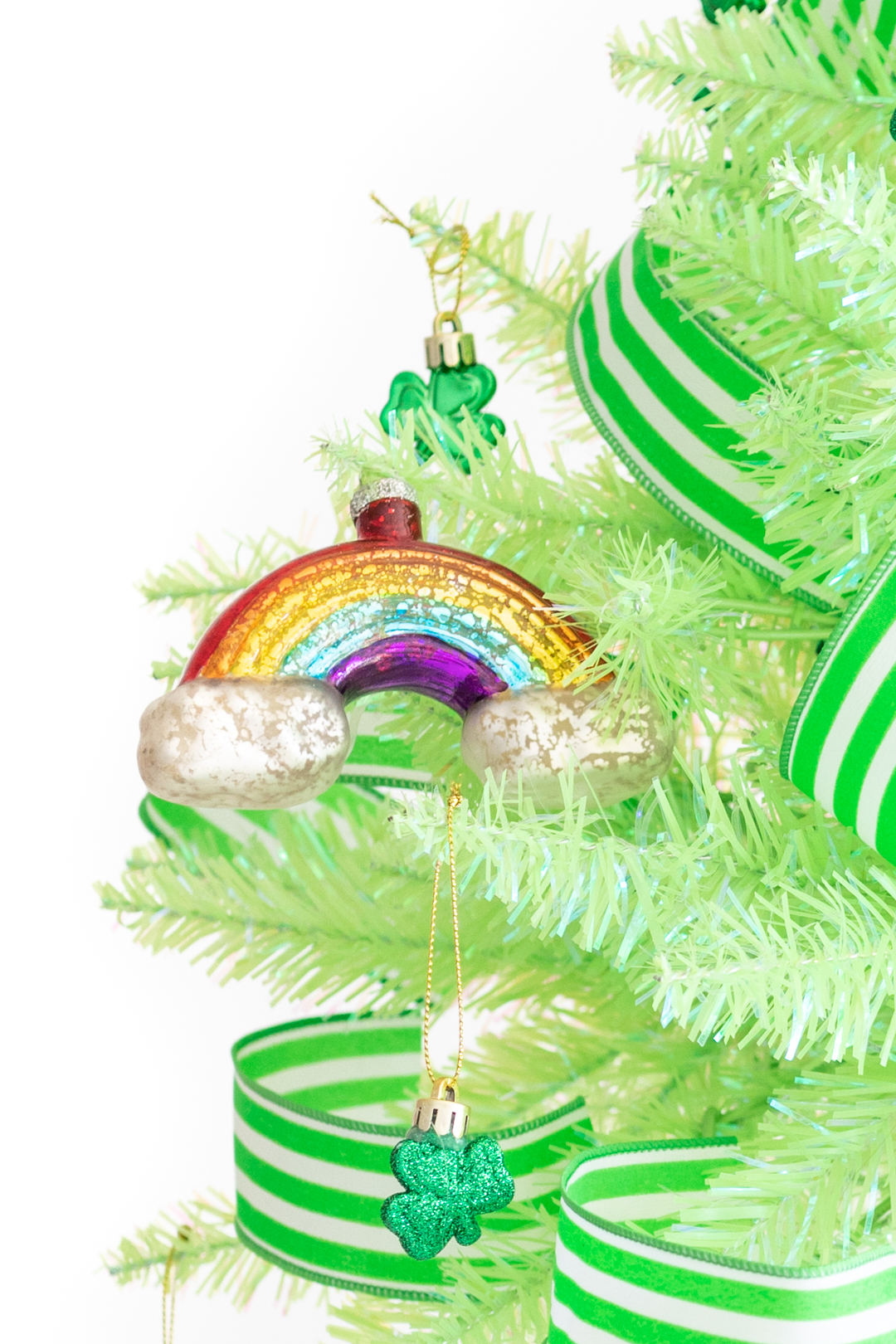 Green and White Striped Wired Ribbon – ribbon is the perfect way to give a tree some flair. You can use it like a garland, make bow s out of it and use as ornaments or do something like I did. Cut strips out of the ribbon and position loosely around the tree. Because it is wired, it is easy to position and will stay where you place them. You could also use something like pipe-cleaners to lock them into place as well.
Mini Shamrock Ornaments – is it really St. Paddy's day without shamrocks? I think not. I found a fun multi pack of mini shamrock ornaments that was perfect for this. Half are glitter and the other are pretty and shiny. There are many varieties available if you take a look online.
Year Round Christmas Trees
Keep your Christmas Tree up Year Round by Decorating it for every holiday or season.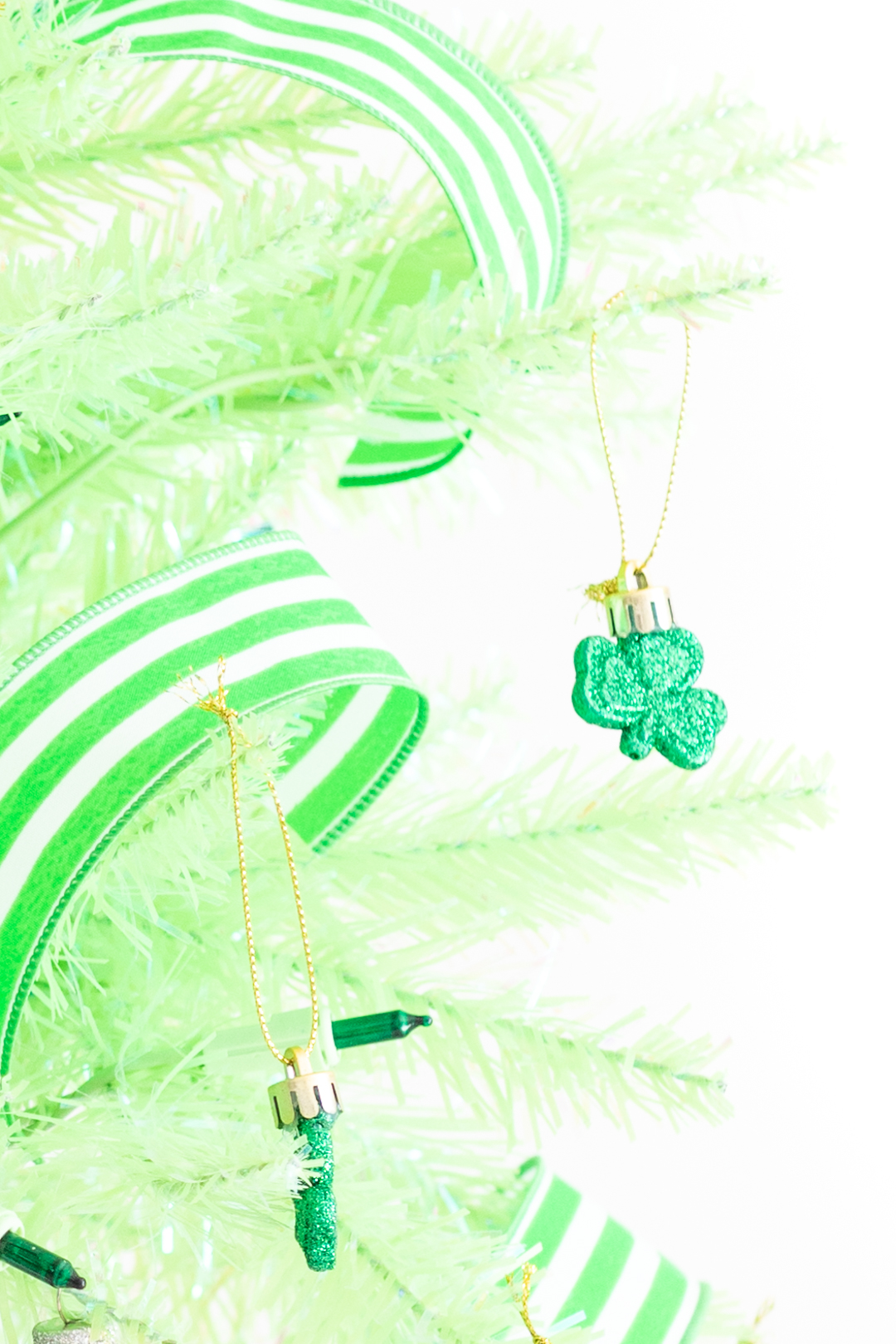 HOW TO DECORATE MINI TREE
Putting the tree together is super easy. I put the tree topper on first, then I positioned the rainbow ornaments.
Then, I went in and balanced out the strips of ribbon.
Lastly, I filled out all of the available spaces with the mini shamrock ornaments. I'm so excited with out it all turned out.
I hope that you love it, too!
If you make your own fun tree at home, please tag me on social media. I would love to see it!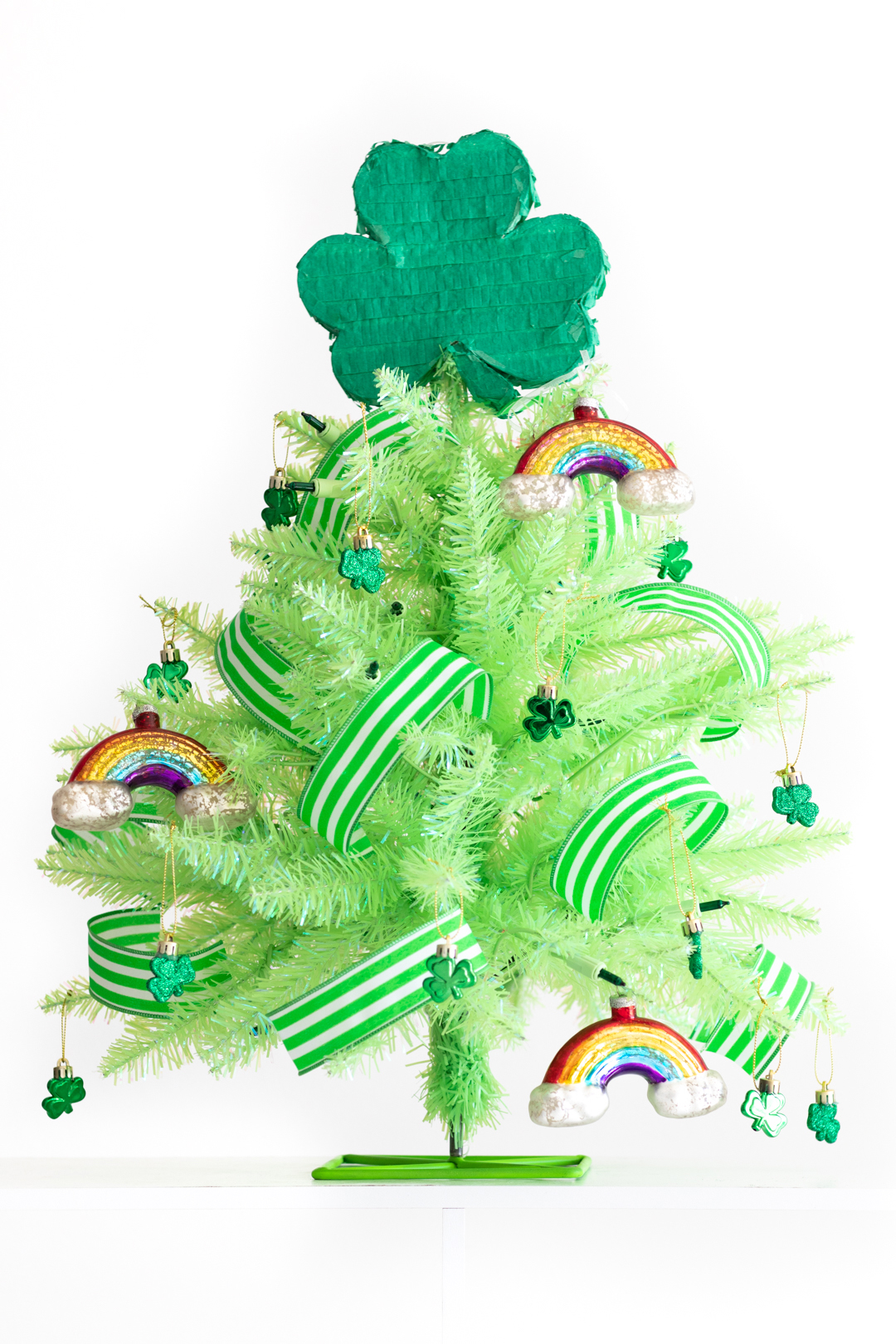 How to you celebrate this fun green holiday?
A